139 Reviews
Recommended by 100% of couples
Quality of service

5 out of 5 rating

Average response time

5 out of 5 rating

Professionalism

5 out of 5 rating

Value

4.9 out of 5 rating

Flexibility

5 out of 5 rating
4 User photos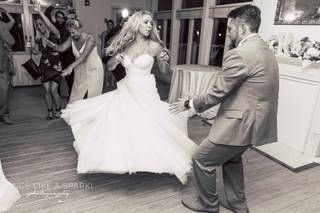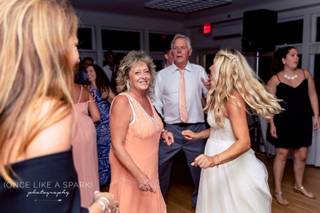 Maura

Married on 09/14/2018

we love brett!

We had an absolutely amazing experience working with Brett! From our first meeting we felt extremely confident that he would be able to set a great vibe for our wedding and keep everyone dancing and having fun. And we were right! He definitely has a knack for reading the room and playing music that kept everyone on the dance floor. He also nailed our ceremony music and kept the flow of the whole ceremony/cocktail hour/reception moving at a great pace. I would definitely recommend brett to any bride and groom looking for a great dj!

Alex

Married on 09/23/2017

We had a great experience working with Brett. Before our wedding we met with him twice and exchanged several emails going over what we wanted and logistics for the wedding. There were many things I wouldn't have thought of if Brett had not been so thorough. We liked being able to make lists of songs to play, and noting when during the event they should be played. During the wedding, Brett kept everything flowing smoothly, and was great at communicating with us when needed, so we could relax and enjoy the day. Everyone had a great time on the dance floor. We will definitely recommend Crackerjack Entertainment to our friends and family!

Kerri

Married on 09/02/2017

Brett kept our wedding guests dancing ALL NIGHT. Not only did he keep the dance floor crazy (which was our request), he was more attentive and helpful than our actual wedding coordinator. If we could give Crackerjack Entertainment 10 stars we would. Thank you for everything!

Crackerjack Entertainment's reply:

Thank you Kerri! You guys made my job easy, and...so much fun!!! Could have played all night for you! It was a pleasure working with you guys and seeing you both again. Congrats & enjoy!!!

Are you interested?

Send a message

Dan

Married on 07/08/2017

Brett was terrific! One could argue that our wedding would not have been the same without him. His music selection was perfect for our crowd and he was very flexible with our guests' numerous requests. Our dance floor was never empty and everyone agreed that our wedding was a fun time had by all. I would highly recommend this company for any special occasion and Brett will be organized, professional and easy to deal with. I would even be shocked if you weren't best friends with him by the end of the night. I know I sure was!

Ryan

Married on 07/01/2017

Brett was brilliant at our wedding. He was so professional and prepared ahead of time and made sure every one of our requests was heard. Most importantly, Brett is a wonderful person with a great personality. He keeps everything organized and doesn't overdo the production. The musical selection was perfect for our crowd and his communication throughout the process was fantastic. I would highly recommend him for any event or function. He made our night amazing and carefree!

Crackerjack Entertainment's reply:

Hey Ryan! So happy to hear you and Sasha were happy with my services! With your being in the business/industry, I was more than honored to have been asked to take part in your wedding day! It was a pleasure working with you both throughout the planning process, and I enjoyed working with everyone to help make your day one that was filled with great moments and memories to last a lifetime! Thank you both! I hope to see you again soon. In the meantime, congrats and enjoy!!!

Erika

Married on 06/24/2017

Brett was by far our favorite vendor! He was professional, organized and helpful throughout. Music can make or break a wedding and we couldn't have been happier with everything Brett did to make our day the best one of our lives. To top it all off, he surprised us afterwards with some videos he took of all of our friends and family dancing and singing the night away. Our guests still talk about how much fun they had on the dance floor! During the planning process he provided everything you need to put together the perfect playlist and then brought it all to life in such a fun way! In addition to being extremely professional, Brett was also laid back and so much fun to work with. We cannot thank Crackerjack Entertainment enough and would recommend Brett to any couple!



Crackerjack Entertainment's reply:

Thank you, Erika! So glad to know that you were happy with everything. It was so much fun being a part of your wedding day! Your dance floor was in full force all night long!! Congrats again to you and Steve. Hope to see you both sometime soon. Enjoy!

Whitney

Married on 06/11/2017

Brett from beginning to end was an absolutely amazing vendor to work with. He created this seamless process that made it easy to plan for all of the musical details on the day of. I felt like he really got to know my husband and I and made sure that our day was about us. The timing was great, his pricing was perfectly in our budget and I did not leave the dance floor the entire time. Brett is the best DJ and knew when to speak and when to let the music play. We could not have asked for anyone better.

Crackerjack Entertainment's reply:

Hi Whitney - thank you so much for your wonderful review! I so glad you and Alex were happy with my services!! It was a pleasure meeting and planning your wedding with you both. I did feel as if we ended up knowing each other pretty darn well in the weeks leading up to "Game Day"! Congratulations to you both - Enjoy!!! Thank you again, Brett

Sherri

Married on 12/10/2016

Brett was one of our absolute favorite vendors! From the beginning, he was extremely detail-oriented and also seemed genuinely excited about our wedding. On the wedding day, our guests danced from the moment the music started until the very end which is exactly what we wanted. Everyone complimented us on our DJ and thought he made the night run so smoothly. I can't say enough good things about him - he made it awesome!

Jessica

Married on 10/15/2016

Music was a very important part of our wedding. We really wanted to set a 'fun' tone for the night, and Brett made sure that we did exactly that. From the cocktail hour to the final dance, and everything in between, Brett made sure everyone was having fun and the dance floor was never empty. Our wedding was an absolute blast. I'm still blown away by how much fun all of our guests had. Some people (including myself) never left the dance floor and that is all due to the amazing job done by Crackerjack Entertainment.

Brett is very detailed, organized and professional. He played every song request we had, and so much more. There were a lot of special (nontraditional) moments that we wanted to happen throughout the night, and Brett remembered every single one and found the perfect time to make those things happen. If it wasn't for Brett, we would have forgotten about these small details.

If you're only concern on your wedding day is to have fun, then I highly recommend Crackerjack Entertainment. You'll be in great hands!

Jenn

Married on 09/24/2016

Having Brett as our DJ was one of THE BEST decisions! From our first meeting to our wedding day Brett was responsive to our every need and request. The day of our wedding he did so many things above and beyond what you think of when you think DJ. He set my mind at ease better then our own wedding coordinator we had through our venue. Brett had everyone on the dance floor and everyone raved to us about him. He was perfect! He is so thorough, so organized. His experience shows!! We highly recommend Brett! When we think about our wedding we always remember and talk about what an amazing job he did and how happy we were with him!

Katie

Married on 09/17/2016

Brett did such a great job at our wedding!!! Our dance floor was packed all night long and we will forever remember the memories we made dancing the night away with our guests. We are so grateful to him for this gift!! We would absolutely recommend him to another couple!

Crackerjack Entertainment's reply:

Katie, thank you so much for your kind words. I'm so happy to hear that you and Andrew had such a wonderful time on your wedding day! From the minute family and friends arrived right up to the last song of the evening, it seemed everyone thoroughly enjoyed being a part of your celebration. It was a pleasure meeting and working with both you and Andrew, and was honored to have been given the opportunity to provide you with my services. Thank you and congratulations again on your marriage! Enjoy!!! Brett

Tim

Married on 09/10/2016

Trust the reviews! I think we met with two DJs ahead of our 9/10/2016 wedding and I was first impressed by Brett's level of detail. He made it clear from the beginning that he considers every little detail (which was great because there was a lot that I hadn't even considered). He has a website that is very helpful and easy to use for submitting song requests and other special requests. He also has you complete a survey (which he reviews with you) and makes sure everything is perfect (he can review this with you online/phone/in person). Also, Brett was still accommodating requests on the morning of our wedding! Friends and family have told me it was the best wedding they've ever been to based on the DJ services and music. Book Crackerjack and Brett before it is too late and you will be happy with your decision!

Deena

Married on 09/03/2016

Brett did an awesome job at our party. He was easy to work with, he responded immediately from first contact to any questions or concerns I had leading up to our event. He had a vast music selection with a wide range of different styles. The music brought the party to life and Brett has a great voice. I would highly recommend Brett to anyone!

Kelli

Married on 08/21/2016

From start to finish Brett made this the best experience. We planned or wedding out of state which can be very stressful. Who you choose for your entertainment is a big deal. I Brett is your guy. He is so organized, responds right away, affordable, and flexible. The dance floor was filled the entire night!! Everyone was dancing and singing along and had the best time! Once you book with Brett he gives you a username and password for his website where he has THOUSANDS of songs you can choose for your playlist. It was so easy to use and had clips of the song just to make sure you're choosing the right one. If he doesn't hace it on there, he will look it up and add it for you! Not only does he work well with his clients, but he works well with other vendors too. For instance, if you have a special song or your parents have a special song...if you tell Brett he will give the photographer a heads up so you can have that captured. His amazing. I had no worries or doubts working with him. You will not regret booking crackerjack entertainment!!

Crackerjack Entertainment's reply:

Hi Kelli! I'm very happy to hear of your experience with Crackerjack Entertainment. It's music to our ears! I personally enjoyed working with you and Ryan throughout the planning stages of your wedding, and was thrilled and honored to be a part of your wedding day! I do understand that planning a wedding from out of state does have its challenges, and that is why it's a priority of ours to make your experience with Crackerjack Entertainment painless and enjoyable. Thank you for your trust and commitment in our services. I hope we cross paths again sometime in the near future! Happy Holidays!!! Brett Heeney / Crackerjack Entertainment

Gaelan

Married on 06/11/2016

Brett was the DJ at our wedding reception and he was amazing! We really couldn't recommend him more. From planning and organizing to the day of the event it was a pleasure to work with him. He's incredibly organized, professional, and enthusiastic. He was really easy to get in touch with and always replied to us right away.
He was a fantastic DJ, but he did so much more than that. He helped us organize the timing of our entrance, speeches and generally kept things flowing smoothly. We could relax and have fun because we knew we were in good hands. Our guests loved him! He kept everyone up and dancing the whole night!
Highly recommend!

Music can make the most spectacular event even more incredible. It sets the tone, lifts the crowd, creates memories, lightens the mood, and can bring a tear to your eye. Whether it's the song best suited for you and your crew to walk into, the father of the bride/bride dance, or the last song of the night – you know, the one you want everyone to remember as they do a final toast to your special day - Brett Heeney and Crackerjack Entertainment are the folks you want with you creating this experience.

From the moment you sit down with Brett, you'll immediately recognize that his commitment to make your day special matches your own. His experience in this industry allows him to take all those ideas in your head and turn them into a reality. Quite honestly, I can't think of one question we had that he wasn't able to draw on his experience and answer for us. If you asked us to spit out one word to describe working with Brett, it would be trust. Almost instantly, we knew we had a level of trust with Brett that he would not only be efficient and reliable in his duties the day of our wedding, but he also cared about the entire experience as much as we did. If you're just looking for some guy to create a playlist for you, Brett's not your guy. If you want someone who is going to pay attention to every detail of your wedding, every idea you have, every request, every question, while also having an energy and genuine happiness about working with you and being a part of the best day of your life – you should call Crackerjack Entertainment today.

All this said, probably the highest compliment I can pay Brett is that he's just an all-around great guy. He's constantly smiling and he loves what he does for a living. We are blessed with so many great memories from that day and we couldn't imagine working with anyone but Brett for our entertainment. If you haven't dialed his number just yet and hit send…do yourself a favor a do it now.

Anna

Married on 11/07/2015

Brett was incredibly thorough --from the first meeting that we had to the very end of the night, where he took pictures of the last of the bridal party in front of his van. He is detailed oriented, but not overwhelming. He is talented and organized. He is professional but has an excellent sense of humor --and we cannot be more satisfied with his DJ-ing!

He listened to our vision from the start --and helped us think through the transition from the cocktail hour to the reception. He helped ease our nerves about the timing/ flow of the evening and helped to execute the event perfectly. All of our guests --from young to old --were impressed with his music choices. His goal was to keep people dancing and having fun. It worked; our family and friends were on the dance floor the entire night. We heard positive feedback again and again about the array of music he played. Not only was Brett an excellent communicator with us, he also did a fantastic job of coordinating with the events' staff and our photographer. We would highly recommend him to anybody! You cannot go wrong with Heeney!

My husband Nick and I loved working with Brett. We planned our entire wedding 3,000 miles away (we live in San Francisco but got married in MA), and Brett was on top of every detail and had great recommendations on the music selections as well as the flow/cadence of the wedding activities. Prior to the wedding, he created a comprehensive day-of schedule so that there was absolutely no confusion for us and the venue staff. Everything that evening went smooth and there were no surprises! We felt he went above and beyond for us! Another thing that made Brett stand out from other DJs was his personal music database that allows the couple to build their own music list, which is a fun way to organize all your favorite songs. It even provides suggestions on father/daughter and cake cutting songs, which is super helpful when you are trying to make a million other decisions related to wedding details. Brett has a great sense of humor which comes out through his email correspondence, and he takes a personalized approach with each couple he works with. Would highly recommend him!!

Annalise

Married on 09/26/2015

We used Crackerjack Entertainment for our wedding in September and couldn't be happier with Brett's DJing services. We had to plan our wedding long-distance and Brett's website along with his thorough interviewing and questionnaire really helped put us at ease. Our wedding was a blast, many of our friends are saying it was the most fun wedding they had ever been to, and Crackerjack Entertainment had a lot to do with that. The dance floor was full all night long and our guests were sad when the party was over. I highly recommend Crackerjack Entertainment if you want your wedding to be the best party of your life!

Meghan

Married on 09/19/2015

There are not enough words to describe how fantastic Brett/CrackerJack entertainment was for our wedding. From the first meeting last fall up until our wedding day (9/19), Brett's attention to detail made our wedding perfect. Our family's and friend's were on the dance floor from the moment we opened the floor up until the end of the night. Since the day, we've gotten compliments from everyone who attended- specifically for our music. Brett made sure our night ran smoothly, helping to transition our venue between dinner and dancing, and kept everyone on the dance floor the entire evening while not only playing our chosen favorite songs, but playing the music that fit our crowd. We will recommend Brett and Crackerjack Entertainment to anyone and everyone we know getting married! Thank you so much Brett!

Alison

Married on 09/12/2015

Hiring a DJ is one of the most important decisions you can make when planning a wedding in my opinion, as it sets the tone for the party. Brett certainly did not disappoint. He was EXTREMELY organized. He gives you a timeline, holds a detailed planning meeting and constantly updates it along the way. He works with your other vendors to ensure everything runs smoothly. Our guests loved him and everyone of all ages packed the dance floor the entire night. He even took photographs of the wedding and sent them to me after. I had to make a few last minute changes and he was so accommodative. I cannot say enough great things about Brett and I would highly recommend him!

Danielle

Married on 08/28/2015

Brett was absolutely amazing, from start to finish! I found him because he was the DJ at my best friends wedding a few years back, and she had nothing but great things to say about him! I got in touch with him and was thrilled that he was available on my wedding date! To begin the process, he had us fill out a questionnaire. It was a bit lengthy but it was super fun to fill out! Brett has so much character and enthusiasm about his job, and it shows! The questionnaire had us laughing the whole time! Brett was also very helpful (and patient!) during the song choice selections. I must say, after planning my entire wedding, that picking the songs was the hardest part for me! Brett was very patient and understanding when I kept changing songs on him! Fast forward to the wedding, he set up early and was completely out of the way during the madness. He even videotaped our wedding details and photographed so many pictures that he passed along to us after the day! It was so awesome! He definitely went above and beyond his duties. During the wedding he had the dance floor going the whole time, it was a party for sure! He didn't play any cheesey songs or make any cheesey comments on the mic. He made sure to find me and come up to make sure that everything was going as planned and on schedule. Brett was a pure joy to work with, absolutely hilarious man! I would 200% recommend him to DJ your wedding, we couldn't of been happier with the results. Love you Brett!!!

Shawn

Married on 08/22/2015

Brett handled our Wedding ceremony, cocktail hour, and reception to absolute perfection. From the first meeting, it was clear that this guy takes the job extremely seriously and is the most thorough and organized guy in the business. He truly did not miss a single detail throughout the planning and day of our wedding and worked seamlessly with all of our other vendors.

Most importantly, he knew we wanted an up-tempo day full of energy and set the tone with perfect music the entire time. The online song selection system allowed us to choose some of the songs we wanted and the rest was left to Brett to work his magic; a perfect mix. An absolute pleasure to work with, we have only had compliments since, amazing work. Thank you very much Brett.

Kelly

Married on 06/28/2015

We love Brett and Crackerjack Entertainment! He DJed our wedding and people are still talking about how much fun they had on the dance floor! Throughout the entire planning process he was nothing but professional, organized and SO easy to work with! I am so glad that we chose Crackerjack Entertainment and would recommend Brett to anyone. I never had to worry about the music or the flow of the night because Brett made me feel at ease. He was able to read the crowd of people to keep the dance floor full all night!! Thank you Brett!!

Tovah

Married on 05/09/2015

Brett was unbelievable the whole way through - from planning to communication to the big day. We couldn't have asked for a better experience - he delivered exactly what we were looking for and what we had talked about at our meetings. Brett is extremely professional, and very talented. It was great not having to worry about any of the music on the day of and the evening flowed fantastically! Many of our family and friends have told us it was one of the most fun weddings they've been to and I will give Brett a huge amount of that credit. Cannot go wrong with Brett!
Are you interested?
Send a message