Reviews
4.4 out of 5 rating
Quality of service

4.3 out of 5 rating

Average response time

4.4 out of 5 rating

Professionalism

4.3 out of 5 rating

Value

4.4 out of 5 rating

Flexibility

4.4 out of 5 rating
87%
Recommended by couples
31 User photos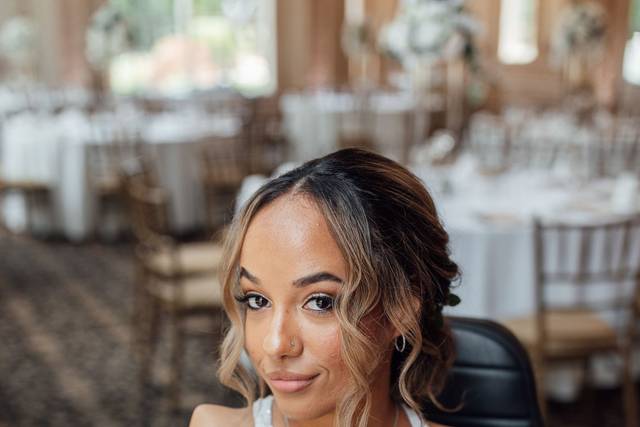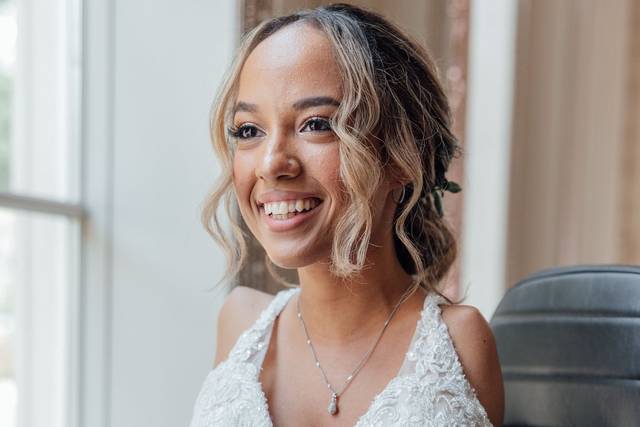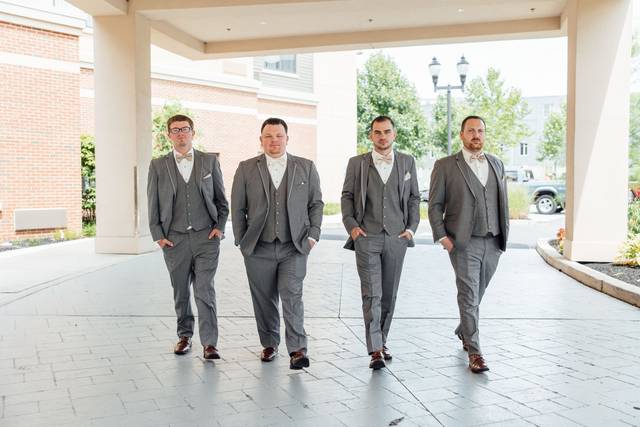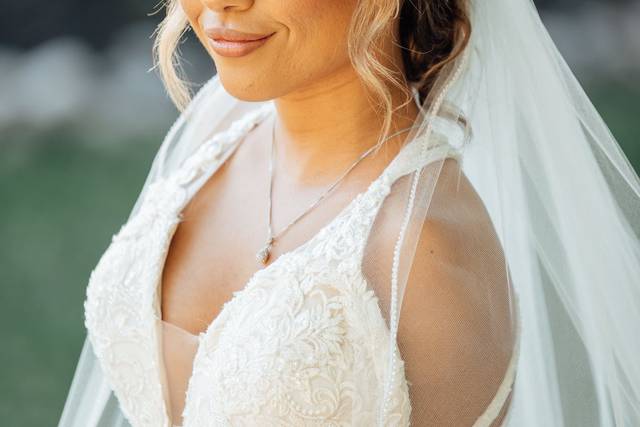 + 27

photos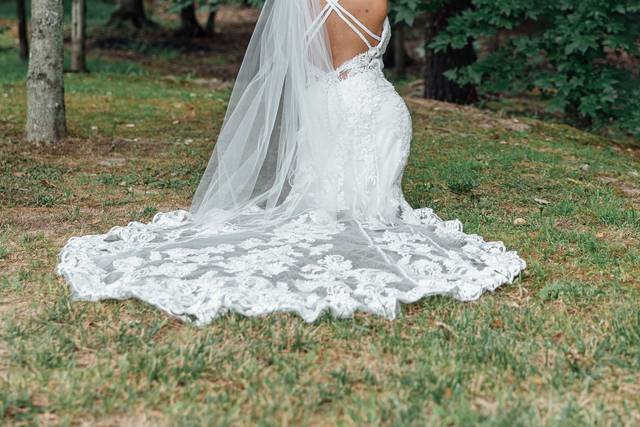 Beth V.

Married on 09/02/2023

Andre was amazing !

Country Bride and Gent was not the first place I had looked for wedding dresses but it was certainly the last! They had every kind of dress you could possibly imagine. I told Andre what I was looking for and pulled a few dresses that I liked and wanted to try. Andre also pulled dresses that he thought I would like. I tried on my two favorites that I picked and really like them both! Then Andre told me to try on one of the ones he picked out. Before I even fully got into that dress I knew that his pick was going to be my dress! It was absolutely beautiful! I felt beautiful and I just knew I was done looking ! I had eight months from the time I got engaged to my wedding day. Country Bride and Gent had my dress ordered and ready to pick up with plenty of time before my wedding! Ladies trust Andre's picks because he knew what I wanted better than I did!

Moira

Married on 06/17/2022

Wedding gown

I bought my wedding gown here. From the moment I tried on my gown I knew it was the dress. Country bride and gent was able to have me try my dress on as soon as it arrived and I was able to do the alterations in shop. They also kept the dress at the store until 2 days before the wedding so I didn't have to find a way to store it- which I really appreciated.
I had a great experience with buying my wedding gown here.

Samantha A.

Married on 09/18/2021

A Dream!!!

From picking my bridesmaids dresses to selecting my actual bridal gown - everything was SO easy at Country Bride and Gent. In fact, my dress was picked out by one of their amazing staff members because I had no idea what I wanted - they nailed it!! Thank you!

Are you interested?

Send a message

Courtney R.

Married on 05/22/2021

Once in a lifetime memorable experience!

I can't say enough positive words about country bride and gent! The place is beautiful and the staff is so nice and helpful. It was everything I dreamt of while trying on wedding dresses! They give you their honest feedback about what dress looks the best and what style looks the best for your body. I even came back to get all my bridesmaid dresses, jr bridesmaid dress and mother of the bride dress. I love it there and will recommend it to any bride, bridesmaid or for prom!

Country Bride and Gent's reply:

Thank you so much, Courtney for the wonderful testimonial about our staff and location. We're so thrilled that we were able to help you find the dress of your dreams and then found your bridesmaids dresses and mother of the bride dresses too! We appreciate you and truly thank you for choosing to work with us for your special day! Wishing you and your love continued joy, love, and happiness together for years to come!

Becky A.

Married on 10/24/2020

Said yes to the dress

Had the dress I envisioned in my head and fell in love. The staff were extremely helpful and patient. Even helped me pick out the style of jewelry I should wear. Their seamstress did everything we asked and it came together so well. Their new location is absolutely beautiful.

Kyle S.

Married on 10/04/2020

Beautiful Dress from a Local Business

Beautiful selection and had the style of dress that I was looking for. Having this location local made it extremely easy going in for alteration appointments and fittings. I could not have been more pleased with the experience provided.

Country Bride and Gent's reply:

Thank you, Kyle for your lovely review. We're pleased to learn you are happy with the service you received in addition to our location working out well for you with regard to alterations and fittings! We'd love to see you on your special day so be sure to send us some pictures! Thanks so much for choosing Country Bride and Gent!

Caitlin

Married on 06/19/2020

Great Experience, So many Options and Great Prices

I can't thank Country Bride and Gent enough. Flossi was simply amazing! I ended up going to try on wedding dresses twice, there were so many options to choose from. Flossi knew exactly what I was looking for, and when I went back for my second appointment, she had a dress waiting for me that had just came it. That ended up being my dress! The staff was very helpful. I will be going back for my fittings, as well as too look for MOB, MOG and bridesmaids dresses.

Country Bride and Gent's reply:

Thank you so much for the wonderful testimonial, Caitlin! We are so pleased to learn that you're happy with the service you received from our staff and especially from Flossi! We look forward to being of service to you again when you return to the shop for MOB, MOG, and bridesmaids dresses!

Jackie

Married on 10/19/2019

Fantastic service

They have so many options and the customer service is always phenomenal

Ashley J.

Married on 08/03/2019

Amazing Experience

I am so happy with this bridal store. I went to four places prior and tried on over a hundred dresses. I told the bridal consultant what I was looking for and the second dress was the one! The alterations went perfectly and I would highly recommend this store for any bride

Country Bride and Gent's reply:

Hi Ashley! Thank you so much for your wonderful testimonial about our store and our bridal consultant. We're so thrilled to learn that you were pleased with the service you received from us. We appreciate you and the recommendation!!

Casey

Married on 06/29/2019

Wonderful Service

The staff at Country Bride and Gent are all so nice and helpful! I purchased and had my wedding dress altered here, as did my mom for the mother of the bride dress. I'm thoroughly happy with how everything turned out! The seamstress was extremely nice and did a wonderful job fitting my dress to me. I would highly recommend this shop to others

Country Bride and Gent's reply:

Thank you, Casey for the wonderful review!! We very much appreciate it and loved working with you and your mom. Congratulations to you and your husband! Wishing you both a lifetime of love and happiness together!!

Heather

Married on 05/11/2019

Great experience and amazing alterations

I would recommend Country Bride and Gent. From the moment I walked in, the customer service was great. I tried on a few dresses before I found my wedding dress. Once I knew it was the one, they did not rush me to get out of the dress - in fact they let me walk around the store for about 45 minutes in it to make sure I felt comfortable with the dress. I also did alterations there and the seamtress Denise was AMAZING! I was considering major alterations beyond just the fit and they scheduled a consultation with me before any fitting to discuss my needs. I ended up only doing alterations for the fit and each appointment was provided enough time to address my needs. I never felt rushed.

Country Bride and Gent's reply:

Thank you, Heather for such a wonderful testimonial! We're so glad you were pleased with the service you received from us!

Monet

Married on 05/10/2019

It was a pleasure working with everyone at Country Bride and Gent. Both the Bridal and Groom sales representatives were very friendly and accomodating.

Country Bride and Gent's reply:

Thank you, Monet for your wonderful testimonial! We enjoyed working with you as well. Congratulations to you both! Wishing you a lifetime of love and happiness together!

Stephanie

Married on 03/30/2019

Great Selection and Service

There were so many dresses to choose from on the sample rack and to order. My consultant never let me feel rushed or forced into the decision. I tried on about 15 dresses but made my decision that day. I tried on 3 dresses 3 times just to make sure I was making the right choice. I loved it!

Country Bride and Gent's reply:

Thank you Stephanie for the wonderful testimonial!! Wishing you and your husband many years of happiness, love, and joy together!

Kylie

Married on 09/15/2018

Country Bride and Gent has been a part of my life since my first homecoming dress needs. I have returned occasion after occasion from prom dresses to bridesmaid dresses for friend's weddings. So it only made sense to return here for my wedding dress. The people here are so thoughtful, accommodating, and genuinely interested in making you feel beautiful or handsome. I went in thinking that I had an idea of what I wanted and nothing was working quite the way I thought it would. So, instead of getting frustrated with me, the lady helping me was calm and patient and suggested we switch gears and try a range of things. There is a reason she is the expert! That is exactly what I needed to do to get a sense for what really made me feel beautiful.

The prices here are also very reasonable and the quality is always impeccable! I am also renting my father and brother's tuxes from Country Bride and Gent and they are amazing!!!! We went to Men's Warehouse first and I honestly had a slight panic attack. The selection was limited, you could not try on the actual styles (only things for size), and the prices were a bit high. We then returned, yet again, to Country Bride and Gent. The selection, quality, and customer service we found here was out of this world! I could not be more thrilled with my dashing men and I know they will look fabulous on the big day!

Tori

Married on 09/08/2018

We got my dress, the bridesmaids dresses, and the groomsmen suits here and it was a very pleasant experience. They answered every question (even if it wasn't clothing related, just wedding questions in general!) The wedding process was stressful, but they truly helped make it as easy as possible!

Lauren

Married on 08/25/2018

Wonderful Find!

Country Bride was the 2nd place I went to in search of a dress. After the 1st try was unsuccessful, I was a little worried about whether I'd find what I was looking for. Country Bride had a good selection and although it seemed rather overwhelming when I first arrived, I found the exact dress I was imagining. Krystyna was very helpful in helping me find "the one". The entire process from picking the dress through alterations was relatively easy and clear. I'm glad to have worked with them in finding my dress.

Eric

Married on 07/14/2018

I read the other reviews on here and it seems like people just get upset for little things and then write about them. I had a very different experience. I am the groom and got fitted and picked out a tux for me and my groomsmen. I have to say that my experience here was one of the best "service" experiences I have ever had. Ed is the definition of a professional tailor. I truly felt like a million bucks. He made this experience a memorable one. Ed cared about the big items and down to the tiniest details. He addressed all of the concerns for me and my spouse (We are getting remarried - Renewing our Vows getting married in the Church) . I am on the heavier size so I had to get a custom shirt made and a larger size of the Michael Kors Dark Grey Tux which was awesome and GQ smooth!! He made sure everything fit perfect to where I was comfortable. He did not rush me, in fact I spent several hours there both times to ensure I was satisfied. I really appreciated his humbleness and his true knowledge of the industry. His experience is second to none. What Ed did for us, I do not think I could thank him enough with words. I thought to myself and explained to my wife, I'm only renting these and not spending much at all, and look at all of the attention he has given us. It blew me away. So if you are getting married, going to prom, or even needing a tuxedo for a special occasion, It is worth it to go and see Ed even if you are within 100 miles from the shop - its worth it. And if you do, you will find a way to comment on my review to thank me for referring you to Ed. It was that awesome!!! So if you want to be treated like a king and not have to spend a lot of money, go and see Ed at The Country Bride and Gent!

Melissa

Married on 11/18/2017

CB&G was the BEST to work with for my bridal gown and mother of the bride dress!
The entire staff is so flexible to work with. They really go above and beyond to accommodate ANY wants/needs you have for your big day. Their hours will accommodate any schedule.
The gowns were all beautiful and they had ample sizes available to try on in the store. I went to two other shops that had great reviews, but neither came close to comparing to the service and quality I was offered at CB&G. I was VERY impressed with how much we were able to get with our budget. The prices are super competitive. You will not find a better price for the dress you love elsewhere! They definitely have the BEST service AND bang for your buck!
The consultation was great. I was not rushed or pressured which was the case at other shops. After I purchased my gown and the MOB gown, they kept in touch with me to let me know the status and when it was delivered. I had a few follow up appointments for fittings and the seamstress was incredible to work with as well.
Hands down, THE BEST experience! I will recommend to everyone we know. Take a visit and see for yourself! You will NOT be disappointed!


Amanda

Married on 10/28/2017

i had a great experience here with my wedding dress! Tons of options and won't show you things out of your price range! The seamstress there is such an amazing, nice woman. Everything was perfect!

Justyne

Married on 09/09/2017

I had such a great experience finding a wedding dress at Country Bride and Gent! Alyssa was able to see my vision and stay within my budget to find the perfect dress! Stacy did an incredible job with alterations making the dress fit like a glove and bustle beautifully! They took the same care with my mom as they took with me, helping her find an amazing dress right off the rack and making it fit just right! Our groomsmen and fathers rented their tuxedos here with the help of Ed and Davante, who could not have done a better job making everyone look perfect. They had great attention to detail and took the time to remember our past interactions and thoughts about the look we were trying to achieve. We could not have been more pleased with our decision to work with Country Bride and Gent!

Sarah

Married on 07/16/2017

Love the team here! They were super helpful getting my wedding gown as well as all the bridesmaids & moms dresses! They also did all the tuxedos for the groom, groomsman and the ring bearer!

I recently just got engaged and went to Country Bride and Gent to try on wedding dresses! Sandy was more than accommodating and helpful! I was very picky with my selection and she still managed to find a few dresses of my liking! I would defiantly recommend this place to anyone!

Dominique

Married on 04/30/2017

This place is amazing. They found me my dream dress with just 3 tries and made sure i had my dress in time for my wedding that was 5 months away. The alterations were perfect and their staff makes you feel so comfortable and work with you. I will recommend this place to any and everyone.

Country Bride and Gent was a pleasure to work with. My husband, his groomsman, and both our dads got their tuxes there. Gene was great to work with and made sure we were happy and comfortable with all the different options, plus the price and quality could not be beat (we looked around a lot). Strongly recommend!

Rhonda

Married on 08/05/2016

This is the place that I got my dress from. I got the first collection of David Tutera dress off the ru way plus size for my wedding. It was the most awesome dress in ivory lace needed n blinged out. I would not trade it for the world. The ladies were so helpful I looked so beautiful my wedding is still being talked about my dress was so beautiful I can't even explain I was in tears and that's how I knew it was my dress my mom was crying also it was breathtaking a memory that will last forever this will be it the girls were so helpful the tailor lady was awesome I couldn't ask for more. Am sending my sisters there for their wedding. Look out Country Brides here we come again!

Are you interested?
Send a message