31 Reviews
Recommended by 95% of couples
Quality of service

4.8 out of 5 rating

Average response time

4.6 out of 5 rating

Professionalism

4.7 out of 5 rating

Value

4.9 out of 5 rating

Flexibility

4.7 out of 5 rating
Awards
7 User photos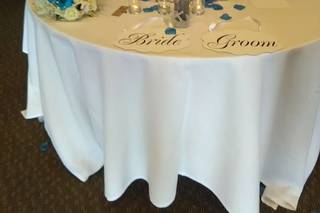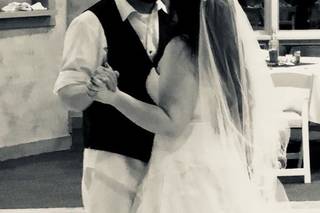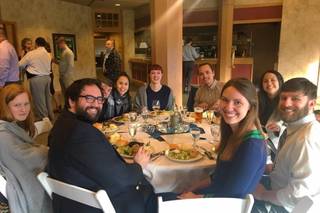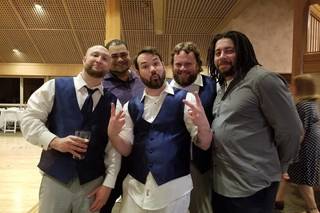 + 3

photos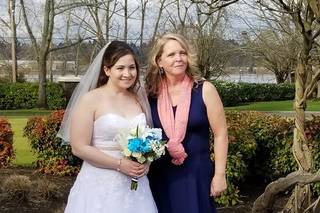 Kaylee H.

Married on 07/23/2020

Sarah was very sweet and understanding to our needs

WE MET WITH SARAH SHE SHOWED US THE VENUE AREA LISTENED TO WHAT WE NEEDED AND WANTED AND HELPED US DECIDE TO BOOK THERE

Columbia Edgewater Country Club's reply:

Hi Kaylee,

Thank you so much for the kind words! We are really looking forward to hosting your wedding next year. Let's start planning soon!!

Best Wishes,

Sara

Featured

Raghad B.

Married on 06/20/2020

Wonderful, caring, and accommodating staff!

Sara, Kevin and staff are just WONDERFUL. Sara, is just simply sweet. She truly went above and beyond to make sure I was happy. She is very responsive and very caring. If she can't help then she finds who can. I would genuinely recommend this venue to any pride who wants her wedding to go smooth. sara will make that happen for you. Kevin was incredible day one. when I stopped at the venue, he was very welcoming and answered all of my question and gave me all the time I need. He was so respectful and so caring. He made me feel I come first. The staff is just wonderful. Every single person their deserves a big golden star for being so patient as the deal with stressed brides! On top of all that, the venue is just gorgeous. If you are looking for a country or rustic theme, don't book any venue before stopping by CECC!

Columbia Edgewater Country Club's reply:

Hi Raghad,

Thank you so, so much for such an amazing review! It has been a pleasure getting to know you and Chris. I am so happy we have formed such a good friendship that will last for years to come.

You have been such a great person to work with!

Looking forward to see where life takes you two :)

Sara Gilbert

Marisa R.

Married on 08/10/2019

Highly recommend

We had our wedding at CECC and think it was one of our best wedding decisions. The planning was so easy because they will take care of basically everything. Sara was so easy to work with and made us feel relaxed during a stressful process. She was flexible and very responsive, and we really appreciated that she never tried to upsell us on anything. She would literally tell us we didn't need certain services or extras like extending the bar or doing a champagne toast, which really helped us keep our budget in check. The food was great, service was excellent, the place and views are beautiful, it's actually a fairly good value for everything you get, we literally have nothing negative to say! Book here!

Columbia Edgewater Country Club's reply:

Hi Marisa and Austin,

Thank you so much for such a fantastic review. It warms my heart to hear you both had an amazing wedding day. I feel honored I got to be part of your special day.

I wish you the very best!

Sara

Are you interested?

Send a message

Thera

Married on 09/30/2018

Sara Gilbert is great to work with. We are in the early planning stages so looking forward to the tasting in July. Sara has wonderful ideas and has been flexible to have our wedding and reception a unique experience.

We held our wedding and reception at Columbia Edgewater Country Club on September 30, 2018. The feedback from guests attending has been outstanding. The venue was beautiful overlooking the golf course and the food prepared with delicious.

Sara Gilbert, the country club coordinator was exemplary. She was great to work with from the planning stage to our actual wedding day. Unfortunately, the weather wasn't what we had hoped for, so literally right up to a few house before the ceremony, Sara stood ready to accommodate our decision to be outside or inside for the wedding. We decided on having everything inside o that everyone would be comfortable rather than risk the element of rainy weather.

Our 170 guests had a wonderful time, enjoyed the venue, great good, danced the night away in celebration and so did Jeff and I. Thank you Sara and Columbia Edgewater Country Club, for working with us to create memories that will last us a lifetime.

Blessings,
Thera Bradshaw and Jeff Sleight


Holly

Married on 07/21/2018

We had such an amazing experience having our wedding and reception at Columbia Edgewater. Sara was so helpful in putting it all together. And the costs were really reasonable. Columbia Edgewater takes care of all set up and tear down of the tables, chairs, etc. The staff was fantastic during the entire day. We really felt well taken care of. The food was fantastic! We had our ceremony outside on the balcony. It was perfect with a beautiful view of the golf course and the balcony ceremony spot seems to be the perfect size for up to 100 people. The front yard is also just as beautiful of a spot to have an outdoor wedding ceremony. We would recommend this venue to anyone looking for a beautiful setting, great service for reasonable cost. We are so happy with our choice and we have heard nothing but great things from our guests as well.

Christine

Married on 10/14/2017

We chose Columbia Edgewater for our daughter's wedding and would recommend it to anyone. Jacque Warren was exceptional every step of the way. She made us feel like we were the only clients she had to work with. The venue is lovely, the services and food were delicious, the staff prompt, courteous and accommodating. Our wedding was held off site, but we had access to the Club early in the day to dress and take photos. Guests complimented the food, location, and staff. Thank you, Jacque and Josh and crew for making our day perfect!

Columbia Edgewater Country Club's reply:

Christine.
THANK YOU for going out of your way to write such an amazing note! It was so great working with you and your family as well. You were very organized and made may job easy:). I will pass on the kind note to all of the staff involved. I wish you and your family the best!

-Jacque

Stefanie

Married on 09/23/2017

We truly could not have found a better venue than Columbia Edgewater for our wedding. From our first visit to the site, we knew it was "the place"! Jacque was AMAZING to work with, from the initial consultation all the way to the day of the wedding. She was so easy to communicate with and always got back to me right away, answered all of mine and my parent's questions and was genuinely enjoyable to work with! She made the process seem easy and stress free. She worked with us to stay in budget and was so flexible in arranging additional visit times to the venue during the planning process. Aside from how amazing Jacque is as an event coordinator, the food was fantastic- we got so many great reviews from our guests, and the staff throughout the entire day was helpful, friendly and easy to work with. They pay attention to every detail throughout the day, and the bridal and groom suites are beautiful. As a bonus, the venue itself is gorgeous, both the indoor ballroom where we had our reception, the outdoor patio (the patio furniture is worth it!), and the front lawn where we had our ceremony. I would highly recommend Columbia Edgewater to anyone looking for a wedding venue!

Whitney

Married on 08/26/2017

Working with Jacque (the coordinator) was the highlight of our wedding planning experience. She was timely with responses to our questions, responsive to our requests, and so helpful during the time before and during our reception. We would recommend them 100%

Columbia Edgewater Country Club's reply:

Thank you Whitney for taking the time to write a review! I very much enjoyed working you and your family on your awesome event. You both looked stunning on your wedding day!!!

Take care!!

Alicia

Married on 08/19/2017

We would highly recommend Columbia Edgewater Country Club and would love to host another event there. Jacque, Events & Catering Manager, was wonderful to work with. She was very supportive, helpful, responsive and had great ideas to make sure our wedding day went smoothly. We felt we were in good hands and everyone at the venue accommodated us from the day we toured, all the meetings in between to the actual day of and through the wedding. We did a family style service for dinner and the food was delicious- we received a lot of compliments from our guests. We were very impressed with all staff that made our special day PERFECT. THANK YOU!! If only we could relive the wedding day again!

Columbia Edgewater Country Club's reply:

Thank you for taking your time to review us and thank you for the kind words. AND thank you for the thank you card, etc! That's a lot of thank yous.

All the best to you and your HUSBAND!l

Khristeen

Married on 05/28/2017

Very happy we found Columbia Edgewater Country Club for our venue. Jacque was great to work with and responsive. Food was excellent as many guests have been telling us. Staff was always polite when we had to visit. The rooms to get ready are great and Jacque made sure everything was in the right place and what we wanted. A beautiful place for a wedding and reception and pictures also. Thank you Jacque for a wonderful wedding!

Columbia Edgewater Country Club's reply:

Khristeen,
Thank you so very much for such a nice note. You two were amazing to work with and I feel lucky to have been part of your special day. I wish you two the absolute best!!!
-Jacque

Darlene

Married on 05/05/2017

Would recommend this facility to everyone, it's gorgeous! Very affordable compared to other locations. Our indoor wedding flip to dinner was exceptionally quick less than 15 mins for our wedding of 120, 15 tables! Tables are all preset and hidden behind doors making the wedding in front of the fireplace beautiful. The food is extremely delicious and their team couldn't be friendlier.

Columbia Edgewater Country Club's reply:

Wow, thank you for this great review! I very much enjoyed working with you and Laura on this. You ladies put together a beautiful wedding:).

Janice

Married on 12/17/2016

I would book this venue again in a heartbeat! I really can't say enough good things about it. We had absolutely no issues. Excellent staff, superb, high quality food & drinks! The venue is beautiful, clean, safe, has plenty of restrooms and parking. The event coordinator Jacque was knowledgeable, helpful and supportive throughout. The wait staff was beyond courteous to us and all of our guests. We had salmon as an entrée and it was cooked to perfection and served hot to all. That's not easy to do with a large group. We visited numerous venues and this place is top notch for quality and value. THANK YOU COLUMBIA EDGWATER STAFF!!!


Diane

Married on 10/15/2016

I would say that you are not going to get a better meal anywhere. Our guest talked about the food quite a bit. Also, there are lots of options as to having your ceremony inside or out. Separate dressing rooms for the wedding party and a great size dance floor. It is the perfect place for a wedding!!

Columbia Edgewater Country Club's reply:

Diane, Thank you very much for the nice review and kind words:). Your wedding was beautiful and everyone was so wonderful to work with. I wish you and your family the best!!


Will

Married on 05/31/2014

Columbia Edgewater and Erin Jaso did a great job providing for our wedding. We took a gamble hoping to have an outdoor wedding in late may in Oregon, but they gave us the peace of mind knowing within only a couple hours of the wedding ceremony time we could move the whole thing indoors. Needless to say, we had perfect outdoor ceremony weather and everything went off without a hitch. We still are getting compliments on the staff, decor and the great food they served. What a great venue!

Bekah

Married on 12/01/2013

I couldn't have picked a better venue :)
Erin was so flexible and willing to accommodate us and we are so thankful for everything CECC did for our wedding! It was beautiful!

Everything was perfect. Highly recommended. Beautiful venue.

Lisa

Married on 07/01/2012

I cannot say enough good things about Columbia Edgewater Country Club. Their food was amazing, their facilities are beautiful and well-kept. Their event coordinator, Kelly, was completely on the ball and always answered my emails promptly (even the long, rambling ones I sometimes sent). I can't think of a single thing that they could've done differently to make our day any better. Service is stellar.

Once my RSVPs were in I realized that my guest list would be much smaller than anticipated (numbers are always a guessing game when you're working with an almost entirely out-of-state guest list). Kelly helped me figure out some options to increase our food/alcohol options so that we weren't left with money on the table at the end of the night (since this venue works on a food/beverage minimum). Perhaps other venue managers would take that opportunity to milk a couple past their intended budget, but not Kelly. She was always conscientious of the budget we had to work with and made fantastic suggestions to help us out.

I would recommend this venue, no hesitations!

Elizabeth

Married on 09/24/2011

The CECC was a fabulous place to get married. We have received a ton of very positive feedback about the venue from our guests and were really impressed ourselves at how beautiful it turned out. The staff was extremely friendly and I am looking forward to going back for lunch or breakfast sometime soon when we're in town. Great food!!

Kelsey

Married on 07/02/2011

We had such a great experience with CECC. Kelly was amazing to work with, so well organized and easy going. The food was excellent and the prices were great. We were able to have a nice sit down dinner for the same price as buffets elsewhere. Our guests had a great time and loved having a patio on a beautiful day for cocktail hour. I wouldn't change a thing about CECC, it was perfect!

Sierra

Married on 04/30/2011

Simply Amazing. Kelly did a spectacular job at making my day perfect. I would not have changed a single thing about my venue. Every guest enjoyed the night too. They made everything so simple on me, and we all had a blast. Every person on the staff made it wonderful as well. The price is right at this place, even though it looks like it would cost a bundle. I can't say thank you enough for the team and CECC!

Emily

Married on 04/29/2011

Amazing! A beautiful location for a wedding. The staff is very helpful with planning and coordinating through the day of the wedding. The event coordinator Kelly did an excellent job with every detail, she helped guide the rehearsal and on the day of the wedding she was right there well into the event to help with any and everything.

Paul

Married on 11/21/2010

What a wonderful place for a wedding. Kelly was very helpful with my needs and the place was beautiful. The food was suburb as I got many compliments on it. We had the Prime Rib and Chicken, highly recommend.

Abby

Married on 07/08/2017

Our wedding at Columbia Edgewater was an absolute dream. Jacque was amazing to work with and answered my many questions throughout our year engagement and was there all day long on the big day to help out. The setting was beautiful and the food was excellent! Many of our guests commented on how delish dinner was. If I had one critique it would be to pay close attention to the bar cutoff time in your contract. If your reception goes past 4 hours you may need to pay extra or ask your guests to pay for their own drinks at that time.

Columbia Edgewater Country Club's reply:

Abby! Thank you VERY much for the nice note and great review. You had a beautiful wedding with an awesome group of guests. All the best! Cheers!!

Lindsay

Married on 10/07/2016

I cannot say enough good things about Columbia Edgewater Country Club. I booked my date in 2015, just over a year out from my wedding date and the coordinator, Jacque, was very responsive and accommodating all my questions through the process.

I was SO impressed with the staff the day of and during the reception. The staff got us anything we needed for decorating purposes the morning of while we were getting the space ready; our food in the bride and groom suites was there on time and delicious; a server came up to the bridal suite immediately following the ceremony and asked us if we needed any drinks (was SO not expecting that and it was delightful); and during the entire reception, I had multiple servers ask me if I needed something, how I was doing, if there was anything they could do for me. I was VERY impressed by that. The bartender was on point, the staff was amazing. And the food ... .we did a taco bar which was a cost effective option for us and it was better than I could have hoped! The whole thing was truly outstanding.

All events have a few snafus, however, and I believe in being inclusive. The ONLY criticism I have was that there were beautiful hand made edible flowers on our cake that the staff didn't save. The flowers took the cake maker 4-6 hours a piece to make by hand so it was disappointing to not get those back. I think I'd be more upset about that if it weren't that everything else was truly perfect and on point.

I have NO hesitation recommending CECC as a wedding venue. Jacque is great to work with and has a wonderful calming demeanor and tried to meet our every need (and did a great job) and the staff overall definitely went above and beyond what I would have expected. On the whole, I'm more than happy with CECC! :)

Columbia Edgewater Country Club's reply:

Lindsay,

Thank you so much for the kind words! I very much enjoyed working with you & your family on this special event! I will share your comments with the staff. I wish you two the absolute best!! Happy Happy!!

Jacque

Sarah

Married on 06/24/2011

I would recommend Columbia edgewater to anyone getting married. It is a great value compared to similar venues. Another thing I like was how affordable sit down dinners where. Not to mention the food was excellent.
Are you interested?
Send a message