Reviews
5.0 out of 5 rating
Quality of service

5 out of 5 rating

Average response time

5 out of 5 rating

Professionalism

5 out of 5 rating

Value

5 out of 5 rating

Flexibility

5 out of 5 rating
100%
Recommended by couples
154 User photos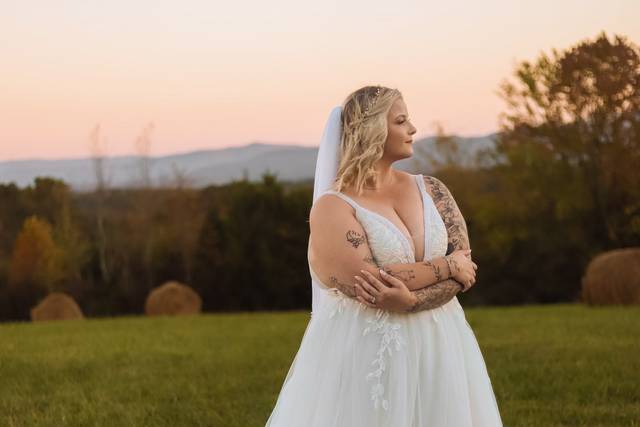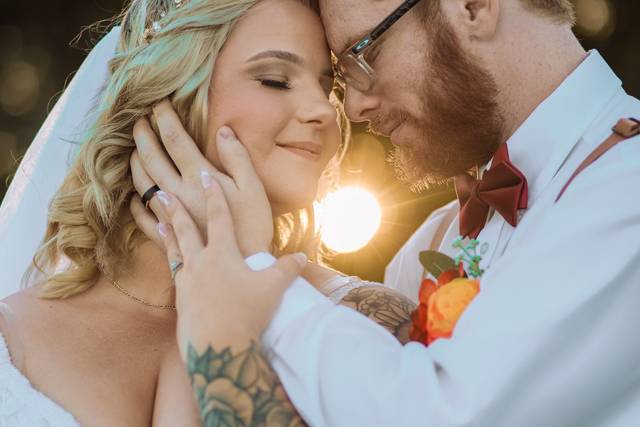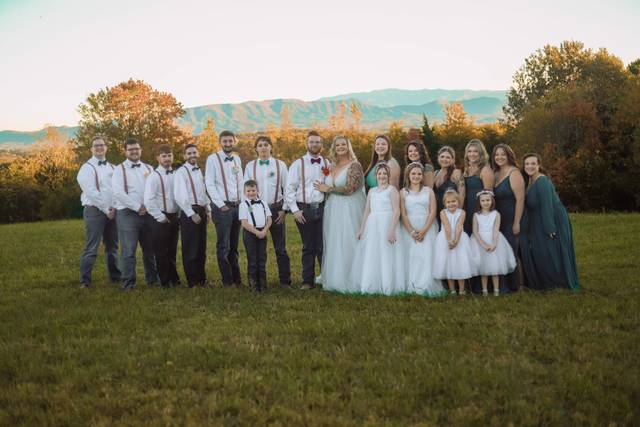 + 150

photos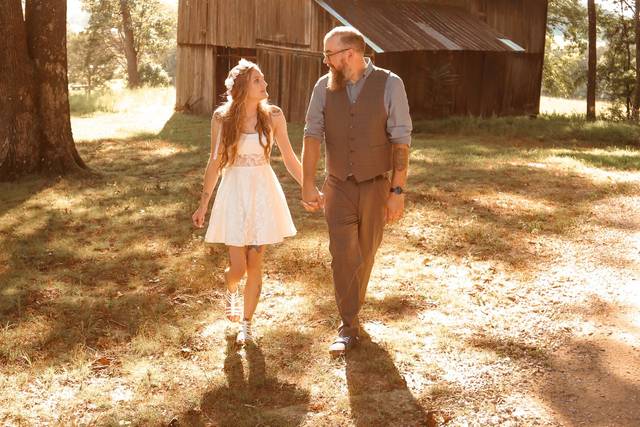 Featured

Jenna C.

Married on 05/14/2022

Breathtaking Venue

Call Hill Farm was an experience of a lifetime! Natalie and David are very professional and was willing to help out with any thing that we needed for our event! We had access to the farm the day before and all day of! They provide you with tables, chairs and , decorations of flowers, candle holders, tea lights, vases, cake stands, signs, and so much more! We were very grateful to stumble upon this venue on wedding wire. They called us same day to come tour the place and also gave us their recommendations for anything that would be fit for our event to help us out. The venue is spacious and everything turned out wonderful! We greatly appreciate everything Natalie and David offered. They're Truly genuine people! I would definitely recommend to anyone that is getting married in the upcoming seasons!

+ 4

photos

Colley Hill Farm's reply:

Thank you for your review! We are glad you loved the venue and were pleased with our services! We wish you and riley a lifetime of happiness! Loved the dress!!

Marissa J.

Married on 10/21/2023

Wonderful!

It was the perfect place to get married ! They were 10/10 easy to communicate with and they have tons of things that you can use for your wedding ! It was the perfect weather too!

Colley Hill Farm's reply:

Thank you Marissa! We appreciate you using the farm for your beautiful wedding! We hope you are able to come back and take more photos in the future! Best wishes to you both for a wonderful lifetime of love!

Jen

Married on 09/02/2023

My fairytale farm wedding brought to life.

We searched 3 states and too many to count venues for our wedding, we were wanting the beautiful mountain views. Colley Hill had those views and then some, and for the price it wasn't even a choice for us. Colley Hill provided all the chairs and tables, as well as a lot of the decorations. Everytime we spoke with them they were so nice and helpful. 10/10 all the way around!

Colley Hill Farm's reply:

Thank you for your awesome words! We are thrilled that your experience here met your expectations! We wish you both happiness and love for a lifetime together!
David and Natalie

Are you interested?

Send a message

Tonya R.

Married on 08/26/2023

Beautiful venue

Beautiful day at a gorgeous venue- David and Natalie were amazing there for everything we needed and so helpful and friendly. Highly recommend Colley Hill Farms for your wedding day

+ 2

photos

Colley Hill Farm's reply:

Thank you Tonya! We wish you both a lifetime of happiness together! Feel free to reach out if you ever want to take anniversary photos on the farm!

Sarah F.

Married on 06/17/2023

Absolutely Incredible

We had the best experience with Colley Hill Farm! David and Natalie helped ease mine and my fiancées mind over our wedding. 10/10 would recommend

+ 4

photos

Colley Hill Farm's reply:

Thank you Sarah! We appreciate you choosing the farm for your beautiful wedding! We wish you both all the happiness in the world!

Beth C.

Married on 04/22/2023

So glad we chose this venue!

This venue is nothing short of breathtaking. If you love the outdoors as much and we do then this is the venue for you! The farm is so well taken care of but still represents the history of the property. Which we loved. Natalie & David truly care about their clients and will help in any way they can. We are so happy we got married at Colley Hill and as a wedding vendor myself I can't wait to be back for more weddings in the future!!

+ 3

photos

Colley Hill Farm's reply:

Thank you friend! We appreciate you and Garrett using the farm with all the choices out there! We were honored to have you here! We are so happy you had a beautiful day! Can't wait to see you here again ❤️

Dusty C.

Married on 11/13/2022

Would not have went anywhere else!

David and Natalie were phenomenal in assisting us with our wedding. Any questions or help we need was quickly taken care of. The reception area was clean, the props and equipment were new and there were plenty of supplies for us to use along with decorations. The farm overall is beautiful. The view along with the old barns and equipment they have placed sets this place apart from the rest of the venues. You will not go wrong whether you are a wedding planner or this is your first time you will not find a better place! We have recommended Colley Hill to several of our friends and will continue to do so!

Colley Hill Farm's reply:

We appreciate you Dusty! You had such a beautiful wedding! David was thrilled to have you here for such a special event! We wish you all the best life has to offer!

Lori B.

Married on 11/04/2022

5 Stars Aren't Enough

The setting , the structures , the props, the people, the view , the service, the price ….. everything about this farm is amazing . They go above and beyond to make your event special. It's nice to know there are still people doing things because they live it not just to make money . You can't go wrong booking with them

Colley Hill Farm's reply:

Remembering your beautiful event this time last year! We have enjoyed many weddings this year! Our heart is still in it and we're always amazed at the joy that is had on the farm! We hope you have a wonderful anniversary! Thank you!

Bgcdv V.

Married on 08/20/2022

Chief Development Officer

We have used Colley Hill Farm as our venue for our Draw Down Fundraiser for the Boys & Girls Clubs of Dumplin Valley for almost 5 years now. David & Natalie are the model of professionalism and go above & beyond to make sure our events are highly successful, accommodating our needs and assisting in any way they can.

+ 10

photos

Colley Hill Farm's reply:

The biggest event here at the farm, we always look forward to the BGCDV and their exciting event every year! They put a tremendous amount of work into their club and we are happy to support them!

N. Tharp

Married on 07/27/2022

Amazing couple and venue!

They were the sweetest people and made our day special. They allowed multiple visits to the venue before the big day- that was super helpful. Even to the last couple hours before the wedding they were perfecting details and checking in to make sure we had everything we needed. Our pictures turned out beautiful with the wonderful background of their venue. Highly recommend using them for your big day!

Colley Hill Farm's reply:

Your wedding was a highlight at the farm this year! We appreciate you spending such a special time here with us! Best wishes for a wonderful life and journey together!

Shileena A.

Married on 06/11/2022

Absolutely beautiful!

Couldn't have picked a better place! Staff super friendly and helpful! This property is gorgeous! Our day was perfect!

Carol S.

Married on 06/04/2022

Wonderful Venue

Well worth the money! Wonderful venue with beautiful views. Lots of decorations to choose from. Owners were extremely helpful and easy to deal with. We had a wonderful time and would definitely recommend this venue! Great experience! So glad we used this venue! The price is great and this place is absolutely beautiful!!!!!!

Barbara C.

Married on 04/15/2022

Perfect day

We held our wedding and reception here and loved every minute of it. David was very responsive and helpful. The grounds are beautiful and very well maintained. We couldn't have asked for anything more.

Whitney W.

Married on 11/14/2021

Amazing venue!!

Highly recommend this venue to anyone. Natalie and David were amazing and very accommodating! We were more than pleased with our experience. They allowed us to make several trips prior to the wedding to make sure we had everything planned correctly. Never felt rushed. We had our rehearsal, ceremony and the reception at the venue. This venue offers so many props and locations to take pictures. Not to mention the view is gorgeous!! We had so many compliments on how beautiful this place was. Five stars for sure!

+ 13

photos

Colley Hill Farm's reply:

We appreciate Whitney and Tyler! They truly made the most of the venue! Thanks you two! We wish you the best in your life together!

Katelyn S.

Married on 11/06/2021

Absolutely amazing

David and Natalie were both very responsive and professional. They made our whole wedding process with the venue go smooth! They have chairs/benches, tables, arches, and many other decorations all for your use. Colley Hill is absolutely GORGEOUS! We couldn't be more thankful we chose it as our venue! You will definitely not be disappointed!

Colley Hill Farm's reply:

Thank you Katelyn!! We appreciate you trusting us with your wedding and are glad you had a wonderful time! Best wishes!

Haley S.

Married on 09/26/2021

AMAZING and so helpful!

We loved it so much! We couldn't have asked for a better/prettier venue. We got so many compliments on how beautiful the view was. The owners were amazing and so helpful. We recommend colley hill to everyone!

Haley

Married on 09/25/2021

Amazing venue!

David & Natalie we're so helpful and sweet when I wanted to come look at the farm, had questions, and helping the day of our wedding. This venue is perfect. I'd pick it over and over!

Mike D.

Married on 08/29/2021

extraordinary.

The venue is beautiful; the facilities are well maintained. The owners are more than personable and extremely accommodating. Excellent experience here.

Colley Hill Farm's reply:

Thank you so much for your review! We appreciate your kind words and your trust with your event! Best wishes!

Ella D.

Married on 08/29/2021

Amazingly beautiful, quiet venue.

First of all, the drive out to the venue is gorgeous rolling farm land, the venue has a beautiful view, fire pit and plenty of space under the pavilion for dancing/eating. They provide alot of decorating options as well, thats a big help when your on a budget. David and Natalie took great care of us!!

Colley Hill Farm's reply:

Thank you Ella! We appreciate your review! Absolutely LOVE your wedding dress! Best wishes to a wonderful future together!

Suzanne M.

Married on 08/06/2021

We had the most beautiful day for our daughters wedding. The owners of this venue are absolutely amazing in every way possible. in

The venue owners were so easy to work with, helpful with ideas and able to provide answers and suggestions for decorations, setup and parking. I would recommend this venue 100 times over and over. It is the most beautiful setting, lots of decorations to use on site and owners amazing!

Jonnie W.

Married on 05/15/2021

Absolutely Beautiful Venue!

From the start David stayed in contact with me about everything. He was easily reachable at anytime by phone or email. He was there in the background to help with any problems throughout the day of the wedding. The Farm House is quaint & clean, and perfect for the final prep for the bridal party, and loaded with a ton of decorations to use for your event. The pavillion was a perfect size and we even added a dance floor so my daughter & her husband could waltz for their first dance. Looked amazing by the time the decorator put all my ideas into play. Beautiful background setting for their wedding with Arbors to use and swings with a firepit. We even invited the inlaws to host the rehearsal dinner there, so it was all in one place. She utilized some of the decor in the farm house, to make the dinner perfect as well. It was an amazing experience, and I'm glad we chose it. Thanks Ms. Natalie & Mr. David!

+ 5

photos

Sara M.

Married on 11/07/2020

Best venue ever

Colley Hill does everything they can to make your day incredible. They have so many props available to use. The owners are incredibly kind and flexible. They will let you use the venue for other events leading up to your day. We couldn't have asked for a better place to share our love story with our family and friends!

Colley Hill Farm's reply:

Thank you Sara! We are so happy that you were pleased with your experience here a the farm! We are incredibly grateful to have been able to host your event! Beast wishes to you all in the coming year!

Kristin B.

Married on 09/26/2020

An absolute pleasure to work with

David and Natalie are fantastic! They will do whatever it takes to make your day special! I highly recommend their property for special events!

+ 4

photos

Colley Hill Farm's reply:

Thank you Kristin! We wish you and your beautiful family a lifetime of love! We appreciate you coming out to the farm!

Kayla

Married on 09/19/2020

Beautiful!

Colley Hill is absolutely beautiful. David was a pleasure to work with and made our night run smoothly. The props they have for you to go through and use are great and we ended up leaving several of ours there as well for other brides.
We couldn't have asked for a more perfect place to have our wedding. We highly recommend Colley Hill to anyone looking for a beautiful outdoor venue.

Veronica

Married on 09/10/2020

When we went to view it it was breath taking

We haven't got married there yet but its the most flexible and beautiful place and an amazing price

Colley Hill Farm's reply:

We are thrilled that you have chosen Colley Hill as your venue and look forward to your event! Thank you!
Are you interested?
Send a message