Reviews
5.0 out of 5 rating
Quality of service

5 out of 5 rating

Average response time

4.9 out of 5 rating

Professionalism

5 out of 5 rating

Value

4.9 out of 5 rating

Flexibility

5 out of 5 rating
99%
Recommended by couples
3 User photos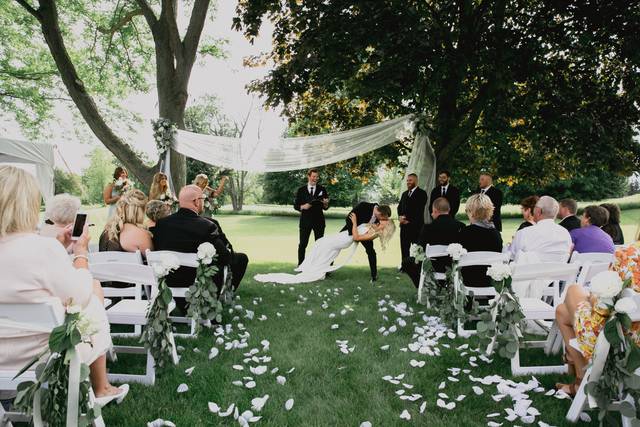 Kelly F.

Married on 09/10/2021

10/10 Would Recommend!

Coastline Studios filmed our wedding on September 10, 2021 and I cannot praise this company enough!!! We had a team of 3 AMAZING videographers who I would recommend to ALL couples looking for this service. From the start of the day, I felt so connected to the crew and all throughout the day, they checked in to make sure they were getting ALL desired footage. It is RARE that guests reach out to the bride/groom to pass along positive feedback about the videography company and that is exactly what happened with us! SEVERAL guests contacted us to let us know we had an amazing team and they were ALL over the place ensuring the best footage. Not only were they all very professional, but by the end of the night they almost felt like friends! They were so personable and friendly, with the most infectious positive attitudes. It was the best experience I could have asked for! I cannot WAIT to receive our Cinematic film and relive our day over and over again. I just KNOW that Coastline will deliver a wonderful video based on their day-of effort and performance :)

Rebecca D.

Married on 07/12/2021

Best Videographer Ever

My husband and I cannot speak highly enough about Coastline Studios and their incredible team. They pulled off everything we could have imagined and MORE with our wedding videos. We received a trailer and also did a large 12 minute video, and we are so grateful we did both! They were incredible professional, had outstanding quality, were fun to work with, and truly put us first the entire time! The process was extremely straight forward and easy, as well.

Picking Coastline Studios was one of the best decisions we made when it came to wedding planning! If you're even considering making a budgeting decision and potentially not having a videographer like we originally were....do what we did. Bite the bullet, invest in both a great videographer and photographer. You will NEVER regret it! These are the memories that will literally stay for a lifetime. Worth every single penny with zero regrets.

Aubree C.

Married on 06/12/2020

Incredible Company

Seth and I got engaged in February of 2019 and it only took a month for me to commit to Coastline Studios as our videographer for our big day (June 12, 2020). While I did a considerable amount of research and reviewing other companies, it was evident that Coastline made the videography portion of the day a tailored experience for the bride and groom. They provided extremely organized questions which allowed for our videographers to get to know Seth and I better and as the big day neared it gave them a clear idea of what we were looking for in our highlight video. We wanted everything captured without feeling like we had paparazzi surrounding us (ha) – and they absolutely nailed it! When COVID-19 struck hard in Michigan we were forced to change every aspect about our day: location, party-size, etc. The lines of communication were outstanding! Coastline was willing to take it day-by-day to ensure the safety of everyone involved, but also understood the emphasis I had placed on having them capture our special day. I also lost my Nana a week prior to the wedding which was held in her backyard. When I informed them via email, they were so gracious and particularly kind the day of the wedding. Everything we requested emphasis on for our highlight video was included so beautifully. The song Found A Heart by Emily Hearn was used in our video and I had never heard it before, it is now one of my favorites! I feel like while editing they listened to every single word and knew just how fitting it was to display the love we share and the simplicity of our special day. I am beyond thankful we chose Coastline Studios to capture the best day of our lives, we will watch our highlight film (and raw footage) for years and years to come. THANK YOU Jon & Josh for working with us!

Are you interested?

Send a message

Greg

Married on 05/23/2020

Worth every penny

My wife and I had the pleasure of having Coastline film our wedding.

Not only did they deliver a final product that exceeded our expectations, but they were INCREDIBLY accommodating throughout the entire process. From the beginning, the Coastline team made us feel comfortable and confident that we didn't have anything to worry about. And on the day, John and his crew were respectful, professional and efficient.

After receiving our final videos, we could not be happier we chose Coastline to capture our special day

Courtney

Married on 09/14/2019

They are awesome!

Coastline was incredible to work with from the time we hired them to the day of and even after our wedding! They captured our dream wedding perfectly and really paid attention to detail! They were very professional and always responded in a timely manner. 100% would recommend them to capture your dream wedding!

Rob S.

Married on 05/26/2019

A phenomenal experience from start to finish

An extremely professional studio with organized billing, payment, and contract terms so you know exactly what to expect. They have phenomenal "how it's made" video content that explain all of the options you have. At the end of the day, Coastline offers amazing value to capture the fleeting moments at your wedding. While a photographer is great to see your favorite portraits, a videographer is so much more important as you get to enjoy your day which blew by in the snap of a finger.

We are thrilled and overwhelmed with the final product Coastline produced as well as with the talent and care that the staff on site put into the day of activities. Every time we watch our film it reminds us of how happy we were with our wedding day and how much fun our family and friends had. If you cut one thing out of your wedding, don't make it the videographer. There are other places to save and in retrospect you will realize the incredible power Coastline has to bring your day to life and memorialize it forever.

I can't say enough good about Coastline, they will create everything you imagine in your wedding film and more.

Jackson R.

Married on 09/01/2018

Great Videographers!

Coastline Studios shot our wedding film, and my wife and I could not have been more pleased! They catered to our needs and fulfilled exactly what we were looking for in video that captured our special day. They were great at blending in, most people don't even remember seeing them there! On top of that they were polite and efficient, and made the most of the time we spent together on that day. We would both highly recommend reaching out to them if you need someone to shoot your wedding video!

Jill

Married on 07/21/2018

Wedding Videographer

Coastline was amazing to work with! We did a cinematic package and I am obsessed with the trailer and the video. At first we were hesitant due to the pricing but it was totally worth every penny in the end. The crew was so nice and kind to work with. They were so great and barely noticeable while capturing all of our special moments that day. I feel bad I did not thank them enough when they left. I think the cinematic coverage is definitely worth it so you can have a thorough coverage and film. My only regret is in retrospect I would have paid for an extra hour or two for them to stay until the very end of our reception.

Matt

Married on 06/30/2018

Highly recommend!!!

Coastline did an amazing job with our wedding and they were a pleasure to work with through our entire process. The videographers blended right into the wedding party as if they were just a couple more guests at the wedding and the editors pulled together a perfect keepsake for us to remember our wedding day. I would highly recommend Coastline Studios!

Jacqueline

Married on 07/30/2016

Coastline is the best of the best. We are totally impressed by their big business look/small business feel. The quality of the video is more than we could have ever pictured (and we are VERY picky about videography). After seeing the video for the first time, we couldn't find anything to critique. Coastline tied our story into our wedding so flawlessly. We didn't even realize they were at our wedding (I was actually worried they weren't filming, but it turns out they captured every detail without anyone noticing!) Absolutely impressed. Don't hesitate to book with Coastline- you will not be disappointed.

Jake

Married on 12/18/2015

I have never seen professionalism and passion come together as well as it did with coastline studios. Everyone on the team was not only top notch at their craft, but extremely easy to interact with and genuinely a pleasure to have around on our wedding day. From start to finish the coastline team was helpful, pleasant, easy to be around and very passionate about preserving our wedding day the best way it could be. If you are looking to capture every moment and have the chance to relive the best day of your life over and over again... Coastline Studios is the absolute top choice.

Ania

Married on 09/26/2015

It's hard to believe that our wedding was 3 month ago already. Oh, what a day it was. Crazy busy running around, making sure that everything is ready for our family's and our guests. With this kind of pace of a day it's very hard to stop to enjoy all the special moments that are happening around you and have the ability to truly appreciate them.

John and his team make sure that with all the noise and chaos that was happening on that day we will have all of those special moments captured and enjoyed for many years to come. Professionalism, attention to details, personalization, creativity, humor, ability to capture emotions and feelings are just a few skill sets you will get when you hire John and his amazing team. Although, we live in Chicago and didn't personally meet John till the wedding day. As soon as we introduced ourselves that morning, it felt like we knew him and the crew for a very long time. Each and every member of the team made us feel very comfortable, relaxed, and worry free. Priceless feelings, if you ask me.

We can't wait for our full wedding day video, however after watching our trailer (multiple times ;) we are sure it will be simply the best :)! Thank you Coastline Studios for all of your hard work. We are wishing you all a Happy New Year and many, many years of success! Cheers :)!

Ryan

Married on 09/25/2015

Coastline Studios blew us away at how amazing they were. My wife and I decided that we wanted videography/cinematography to be a high priority for our wedding and our expectations were pretty high going into it and Coastline exceeded them and more. John and his team were very professional and will work with you and will produce the movie and trailer that you are dreaming about. The trailer that they did for us was so magical and emotional that it brought both of our families to tears at how great it was at detailing the day. I would recommend Coastline Studios to anyone that is interested in cinematography/videography for their wedding, they were amazing.

Erik

Married on 08/30/2015

Words cannot explain the magic John and the Coastline Studios create for you. They are the most professional, most artistic and most creative group involved in creating a video diary of your special day. I am still getting phone calls, texts and emails about how touching our trailer was... and we don't even have the final video yet. I still am in disbelief in the moments that they captured. Please go on their website or their facebook and see for yourself. But I can guarantee this, hiring Coastline Studios to capture the living history of your wedding will bring your day to a completely different level. Thank you Coastline for being there for Craig and I. Your kindness, professionalism and love for what you do shines in all of your work.

Ashley

Married on 06/20/2015

Jon and everyone at Coastline are amazing people that provide excellent products!
We were very hesitant at first to book a videographer solely because of the cost. We didn't think the video justified the amount of money we would spend on the crew. HOWEVER, we recant our original thoughts ten fold.We could not be happier with the trailer we have already gotten and cannot wait to see the full length video in a couple months!
It was nice that the payments were broken up into three installments. The first payment is due when booking (completely understandable), the second payment is due a week or two before the wedding (like most of the other vendors) and the final payment is due 6 months after the wedding when you get the final video. It was nice to have the option to break it up in these installments so it is not just one lump sum.
The crew arrived at the church around 10:30am and started shooting right away. They stayed with us on the party bus and at the reception until about 8:30pm. They set up and took all the footage without us barely noticing them. We did the Cinema package which gave us the Jib...Our priest and guests actually made comments about flying saucers inside the church. But it was more of entertainment than a hassle. They were all a pleasure to be around! We would recommend them to everyone!

Kaitlyn

Married on 06/13/2015

I cannot speak more highly of Coastline Studios and their entire team. They are friendly, professional, and best of all, they enjoy what they do. They make it known they want to capture what you want, not what they think should be captured, and they do a wonderful job making you feel at ease with the entire process. Kate helped with all the behind the scenes/business aspect and John met with me in person to get to know me and my husband so he knew us on a more personal level day of. Not only was this helpful for John and his team, but it put me more at ease knowing how genuine John was and knowing he really wanted to create something special for us.
I was hesitant to book a videographer because let's face it, it's expensive! I was married in mid June and thus far we have only received our trailer, and I have to admit just the trailer is worth the money. It made me laugh, cry, and gave me goosebumps...and it was under 4 minutes :) At this point I can't imagine what the longer version will be like, but to say the least..I am VERY excited for it!
My husband and I talked about whether the cost was worth the product, and ultimately decided that it's a day we'll only experience once and having it in video form would be a special memento. It's a way for us to look back on our magical day, and is something we will be able to share with our families now and in the future. Payments are due in segments which makes it easier to break up the cost. One payment is due when the contract is signed, another is due a month out from the event, and the final payment is due 4-6 months after.
Booking Coastline was one of the hardest decisions we made because of the cost, but was the BEST decision we made because of the memories they captured. Your big day will fly by, so take my advise and book them on your event! Let them capture the moments you will so quickly forget otherwise. It's truly something we will forever treasure.
THANK YOU JOHN AND THE COASTLINE TEAM!! WE LOVE YOU!

Jordan

Married on 08/16/2014

### On Budget

One of our priorities for our budget was on a top-quality videographer. We knew that would probably cost us but we didn't mind.

Easy to say until it becomes crunch time and all those bills are due, and oh yeah -- you have a wedding to attend.

Coastline removed that hassle right away by breaking the total up into 3 manageable chunks.

### On Day Of

Working with them leading up to the day, and during the day of our wedding was a joy. I definitely leaned on their calm demeanor when my nerves got the best of me.

Having somebody so composed around was fantastic.

### Quality

After reviewing their portfolio I knew that Coastline would do a fantastic job, but we didnt anticipate the impact our own video would have on us -- or perfect strangers.

After we received our preview video gobs of people we barely knew came up to us to tell us that they watched our preview video and started bawling!

### The Jib

This was so cool to have, we had a "gaggle" of ringbearers run down the isle. It was like the running of bulls but with babies. Without the jib it probably would have been impossible to capture.

### Summary

Many of my friends have gotten married in the past several years, and nobody has been as impressed with their videographers as we are with Coastline. I cannot recommend their work enough.

Coastline Studios was absolutely amazing! My husband and I hadn't originally planned to have a videographer at our wedding until we saw some samples from Coastline, and we are so glad we did. Coastline's entire team was professional while at the same time making you feel like they were old friends. There was not a single moment the whole day that I felt uncomfortable. I barely even noticed them or their equipment filming. They go out of their way to really get to know the bride and groom so that their wedding film is a complete reflection of that couple. We love our teaser trailer and can't wait for the full length film!!

Jerry

Married on 07/05/2014

There isn't one negative thing I can think about when it came to working with Coastline. From the first visit to the final product, these guys are the real deal! We couldn't be any happier having chosen them to do our wedding video. Not only are they a joy to work with but their professionalism is astounding. Having a great videographer and photographer were at the top of both of our lists, therefore we both spent a lot of time researching and watching as many wedding videos as we could. From the first moment I witnessed a 2 minute Coastline trailer, I was sold! They were able to capture the important moments as well as the small details during our wedding day that we didn't even know existed! They throw a cinematic twist to wedding videos that we didn't even think could be possible and the fact that you're able to have a "jib"…. it felt like we were on a Hollywood set! Throughout our wedding day, they're organization and positive outlook made us feel not only comfortable and relaxed but it almost felt like they weren't even there. Even the months leading up to our big day, they always stayed in contact. Many emails and phone conversations were had asking us questions, our opinions on specific details and a few questionnaires to be certain they gave us the best possible product! I would HIGHLY recommend these guys and you better act fast! These guys are becoming quite the hot commodity so book them before they are booked up! We lucked out! Thanks guys!

Nancy

Married on 06/28/2014

Coastline did the videography for my daughter and son-in-laws wedding, and they did a fantastic job. The teaser is amazing and can't wait to see the final production! They captured so many small details that you forget about! Their video will be enjoyed for years to come!

Shelby

Married on 06/27/2014

Coastline Studios was amazing on our wedding day. They made us feel really comfortable and I forgot they were even there while getting ready. They make sure to capture everything including the littlest details. They are flexible, very professional and I felt like I had known them a long time even though I had never meet most of the guys! I can not wait to see our teaser, trailer and the final product. I am so glad I spent a little extra money to have these guys capture our big day in a way that will have us watching it over and over! Thank you, Coastline!

Libby

Married on 10/12/2013

I will admit that videography was not initially at the top of my list in importance when it came to our wedding day. Coastline's stunning work completely changed my mind! I could not be happier that we booked our wedding videography with them, as they captured our day in one of the most perfect ways possible. We were very impressed with the professionalism of their team and how seamlessly they worked together. John took extensive time with us prior to the wedding to ensure that our video would truly reflect our personalities and interests. Once I saw the wedding trailer, I could not believe how perfect it was for us. I would recommend watching their "behind the scenes" videos to get a better idea of how they work with you on your wedding day, as well as everything that goes into producing the final product. We will be forever grateful to Coastline for their beautiful work!

Chelsey

Married on 09/28/2013

In all sincerity,we could not have been more elated to have had the staff at coastline be a part of our day. John was prompt to answer any and all questions we had leading up to the day which was so helpful during such a busy time in our lives. John, Jay & Brandon made the trip to the opposite side of the state to film our day. They all were unbelievably friendly,warm,and a pure delight to have with us that day. Coastline went above and beyond our expectations in making us feel entirely comfortable. We both agree, we found some sort of comfort and security in having the coastline staff there that day, as if we had a brand new group of friends who wanted to make our day as special as it could be.The moments we spoke with coastline individually brought a sense of calm and groundedness to a day that we both know could have been entirely overwhelming.Even with a crew of three and a lot of equipment, they were never in the way and yet somehow, their presence made the day go that much smoother. Planning a wedding on a budget, we had to manuever our funds (having a homemade cake and using minimal, in-season fresh flowers, and bargaining at thrift stores for decor) in order to afford coastline, but they were one of the best decision we made. In addition, they break up the overall cost of their time and talents into payments that are spread out, one coming even after the wedding- incredibly helpful when most venders must be paid in full prior to the day of.We cannot say enough about this company and how amazing they are to work with. We received our trailer today (beautifully edited by Rebecca), and couldn't be happier. While we are patiently awaiting our film, we are amazed at what she was able to fit into a 4 minute preview! Thank you coastline for not only capturing the happiest day of our lives on film, but for also making the day itself so flawlessly smooth and comfortable!You all are amazing talented and we would recommend you to everyone! http://vimeo.com/77219643

Jen

Married on 09/21/2013

I cannot begin to tell you how impressed I was with Coastline Studios on my wedding day. We have yet to see the film, however I know it will be most incredible.

John, the Owner was personally so hands on. He and his staff were incredible professionals. They were not intrusive at all, yet got the best shots. They were kind and respectful and made me feel so comfortable during an emotionally charged day.

I highly recommend Coastline Studios, just look at their film on their website!! They are genius filmmakers!!

Adam

Married on 08/18/2013

As a professional myself with many high expectations of the people I work with, I rarely extend my highest admiration and support, but with Coastline Studios it is easy for me to do! You will not find a more talented, professional, and pleasant video productions company than Coastline Studios. They helped me transform my wild and crazy ideas for an event into a reality that far surpassed even my highest expectations. They were always on time, always ready, and captured shots so beautiful that make Hollywood movies look like amateur productions. From the initial consultation to the final screening of our video, Coastline Studios consistently impressed me. There were several productions companies that I spoke with on the phone from all around the country as candidates to film my event, but Coastline became the obvious choice for me very quickly. They will always go the extra mile for you and create a product that will blow your mind. Even though I could talk endlessly about their unmistaken high level of professionalism, the element that captivated me the most was their unparalleled ability to capture emotions and transport the viewer back into the event, so that the viewer can genuinely relive the experience. For weddings, I can't imagine what you could want more than that. There are so many beautiful emotions and spectacular moments on a wedding day, and THAT is after all what matters most. Coastline Studios will capture them ALL. We will be watching our video our entire lives, and we couldn't be more grateful to Coastline Studios for creating it for us. When you hire Coastline Studios, you are hiring the best. I will recommend them for as long as I live! THANK YOU COASTLINE STUDIOS!!!!!!!!!
Are you interested?
Send a message