81 Reviews
Recommended by 94% of couples
Quality of service

4.7 out of 5 rating

Average response time

4.8 out of 5 rating

Professionalism

4.7 out of 5 rating

Value

4.7 out of 5 rating

Flexibility

4.6 out of 5 rating
4 User photos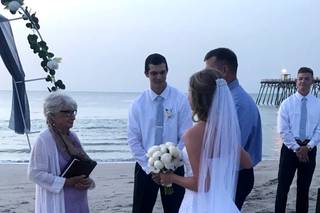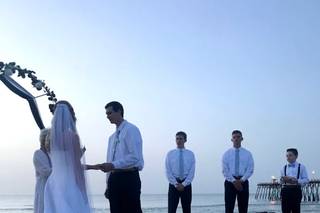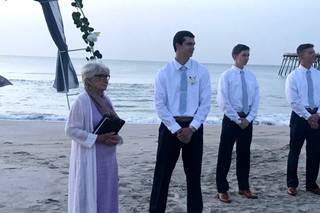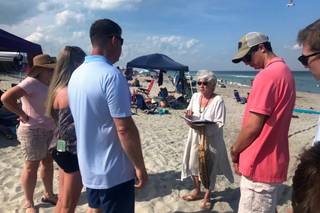 Alexandria A.

Married on 06/27/2020

Beautiful Ceremony

Penelope was so helpful and gave us a beautiful wedding ceremony. She let us choose from different ceremony wordings and let us add in our own vows. She took charge for us at the rehearsal when weren't sure what to do and was so helpful at the ceremony. She even went and asked people to move out of the background before our beach wedding. She was so sweet and we would definitely recommend booking her for your wedding.

Schauren

Married on 05/04/2019

Recommended

Met with us ahead of time to go over details, allowed us to add in our own special event to the ceremony.

Linda

Married on 06/09/2018

Penelope was wonderful!! She smiled through the whole ceremony and was prompt and very nice!! I would suggest anyone to have her as you officiant for your wedding. Anytime we talked to her she was always responding to me. I kept in touch with her that everything was on schedule and she always responded to me.


Are you interested?

Send a message

Jessica

Married on 09/30/2017

Penelope was great to work with. She made us feel comfortable from the beginning and truly listened and matched what we wanted for our ceremony. She has a way of putting you at ease and making you feel like all that matters on the big day is the fact that you are getting married to the love of your life. She sustained an injury right before our wedding day, but still showed up for our rehearsal and wedding ceremony like a champ! Lovely personality shining through! It was a truly beautiful ceremony, thank you Penelope.

Amanda

Married on 06/16/2017

We used Penelope for our wedding ceremony at the atrium and she was great! Very professional and she has multiple ceremony options to choose from. I really liked the ceremony we used and we were able to say our own personal vows that we wrote to each other. She also attended our rehearsal and told us what to expect, which was great.

Abigail

Married on 04/01/2017

There are not words to even describe how wonderful Reverend Penelope Morningstar was throughout our entire wedding process. From the first moment we met, it was as if we had known her our entire life. Our entire family felt at ease with her immediately. She worked with us to create the perfect service and it could not have been more beautiful. I do not think there was a dry eye in the room during the wedding. Magical would be an understatement. It was absolutely dreamlike. Thank you for being so wonderful!

Kimberly

Married on 10/23/2016

Penelope has a wonderful and kind spirit that was apparent from the first time we spoke. She was incredibly helpful with details of the ceremony and even customized our ceremony language. She was timely, responsive and always professional.

Ashlee

Married on 10/15/2016

Penelope was amazing. She didn't mind me emailing her with my questions no matter how crazy they seemed. she made our day so perfect. I couldn't have asked for a better person to marry us. I hope that I never have to get married again, but if I do, Penelope will definitely be preforming my ceremony.

Maribeth

Married on 07/23/2016

Extremely professional and caring!

Justine

Married on 07/16/2016

My husband and I were very satisfied with the service Penelope provided at our wedding. We had a multi-cultural wedding and Penelope helped integrate this into our service. She provided us with numerous options but also let us customize those options into our very own.
We would highly recommend Penelope, she took time to meet with us a couple times before our wedding and we felt like we got to know about her so it was not just a one sided relationship. Penelope was always prompt, easy to talk to, helpful, and informative throughout the whole process. She even considered our wedding theme and based her outfit around it. We were 100% happy with our choice!

Tense

Married on 05/14/2016

We were very pleased with the service Penelope provided. She was very efficient, kind, and patient as we added and/or deleted actions for our wedding day. Penelope always responded to my emails promptly and that is greatly appreciated. She made our ceremony Wonderful. will definitely recommend her to family & friends.
THANK YOU Penelope Morningstar!!!

I can't recommend Penelope highly enough. She officiated our wedding last weekend and our ceremony was just beautiful. We were out of town so we didn't have a chance to meet her before the wedding, but that didn't negatively effect things at all. She sent us sample ceremony wording beforehand and I pieced them together, as well as adding some of my own wording, to create a custom ceremony that was perfect for us.

Brittany

Married on 04/24/2016

Penelope was an absolute wonderful officiant for our wedding! She worked with us to ensure our ceremony was written exactly as we wanted it and responded very quick to emails that I sent her. During the rehearsal she took charge and got everyone to where they needed to be in a quick and efficient manner. She is so sweet and was an absolute wonderful addition to our ceremony. Thank you, Penelope for a wonderful ceremony!

Steven

Married on 12/28/2015

Penelope did an amazing job. She had to officiate through a windy storm that was rolling in. Even with microphones the wind was so strong that the DJ had to turn the mics off so there would not be so much wind noise. Penelope made our vows special and made our wedding march go smoothly. Amazing job; Penelope is very sweet and kind and we would highly recommend Penelope to officiate your special day.

Kristina

Married on 10/03/2015

Reverend Penelope Morningstar was very professional, kind, and organized. The first time I spoke to her on the phone, she was very helpful and answered all of my questions (like where to get marriage license, if there was a waiting period, etc). At the rehearsal dinner, I had no idea what to do, and she took charge and guided us through it without any problems. The ceremony was beautiful, and she allowed us to add our personal touches to the ceremony words and vows. I highly recommend her!

Brittany

Married on 09/11/2015

Reverend Morningstar was SO helpful-I can not say enough great things about her. She was able to meet us months prior to the wedding, discussed ceremony options, and truly got a feel for how Chris and I wanted our ceremony to go. She also attended our rehearsal-which I highly recommend because we had NO clue!-and was very instrumental in keeping us on task and focused. I have the best picture of she explaining how to obtain our marriage license once we got back home-without her, I would have been lost! She was calming, professional, direct, compassionate, and wonderful at communicating with us. We just think the world of her and are sure you will, too :)

Natalie

Married on 06/26/2015

Penelope was amazing as our officiant. She was very welcoming upon first meeting her. She was helpful in providing material to help us create our vows. She would email back within a few days at most, but usually very quickly. She made our ceremony seem smooth and seamless and she was a joy and pleasure to have as our officiant. Would definitely recommend her!

Leah

Married on 05/24/2015

Rev. Penelope Morningstar was absolutely fabulous. She was prompt, attentive, and understanding of our unique needs. She was also very affordable considering other officiants in the area. Highly recommend!

Stephanie

Married on 05/17/2015

Mrs. Penelope Morningstar was the absolute best! I was so happy when she was available to do the wedding. It was such a perfect day and she did an amazing job!! Thank you so much!!

Louise

Married on 05/02/2015

Very sweet lady and helpful. Wedding vows were individualized for us and our families

Robert

Married on 03/20/2015

The hardest part of our wedding planning was finding a minister to officiate the wedding. After the first one we contacted told us they were already booked, we began to search again. I believe this was meant to be, because we found the best minister we could have possibly ever wished for. We read the reviews on Rev Penelope Morningstar, and every single review was very positive. When we first met with her, we realized why she had such great reviews. She is like one of God's angels. We fell in love with her, and we could not have asked for any better.

Mary

Married on 11/01/2014

Rev. Morningstar was very professional, courteous, and helpful before, during and after our ceremony. Thank you for a beautiful ceremony!

Sarah

Married on 10/25/2014

Ms. Morningstar was fabulous! My husband and I wanted someone who was not necessarily affiliated with a church since neither of us are religious. Penelope worked with us on the wording of our ceremony by giving us samples and allowing us to pull pieces from each that we liked. She also encouraged us to add pieces to really make the ceremony our own. She was very organized and easy to work with. Our family and friends immediately loved her personality when they met her at the rehearsal. She is very witty and quick and has the sense of humor that we all appreciate. During the ceremony, my husband and I were super emotional. Penelope was able to lighten the mood a little bit without breaking the sentimentality of the ceremony. I would definitely recommend Penelope to my friends and family!

Gia

Married on 10/19/2014

Reverend Penelope was a pleasure to work with for our wedding. She's so nice and very professional. When we first met with her to talk about our wedding, we thought she was such a sweet lady who really cared about our wedding and wanted to ensure everything was exactly how we wanted for our ceremony. She asked us questions about our relationship to try to get to know us as a couple, which we thought was very nice that she really cared to find out who we were. She always kept in touch via email and quickly responded to any questions that we had throughout the process. She was very prompt for the rehearsal and day of our wedding and performed our service exactly how we had wanted it. She was a joy to work with and I'm so glad we chose her to perform our ceremony for our most special day!

Madison

Married on 10/11/2014

Penelope is amazing! She officiated the ceremony of our dreams! She was extremely easy to work with, friendly, genuine but still very professional. She also wrote a beautiful ceremony and tailored it just the way we wanted it. BOOK HER NOW! I promise you won't regret it. The ceremony was my favorite part of the weekend and I thank her for that!
Are you interested?
Send a message