89 Reviews
Recommended by 95% of couples
Quality of service

4.8 out of 5 rating

Average response time

4.7 out of 5 rating

Professionalism

4.8 out of 5 rating

Value

4.7 out of 5 rating

Flexibility

4.8 out of 5 rating
4 User photos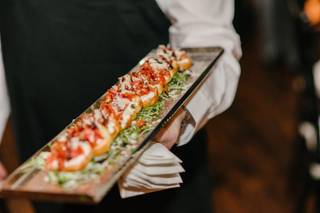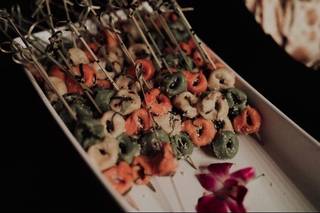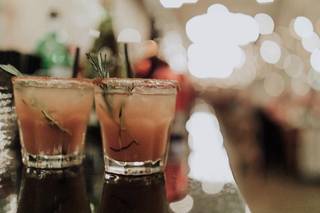 Melissa A.

Married on 11/05/2022

I couldn't recommend them more!!

We hired CN Catering for our wedding in August 2022 and I couldn't recommend them more. I absolutely enjoyed working with and being supported by Andrew Smith. He was very responsive and accommodating for changes that we made along the planning process. The entire wait staff was very hospitable, prompt and the food was delicious!! So many of our guests are still raving about the Prosciutto Stuffed Chicken dishes and appetizers weeks after the event. Thanks so much for making our day so special and for your thoughtful wedding basket that came in handy the next day. Looking forward to the next time we get to use your services.

Abby F.

Married on 09/10/2022

Truly fantastic!

We had a fantastic experience with CN catering, they were communicative, very clear about pricing, easy to work with but most importantly the food was delicious. Guests told my husband and I throughout the night how great the food was. We also had several guests who requested a gluten free/vegetarian meal and they said it was delicious and above and beyond their expectations.

Shareyna S.

Married on 08/27/2022

Amazing Food Amazing Service

All of our guests were raving about how amazing the food was and how polite and great everyone was. They even made sure myself and hubby received our plate with all the foods we missed while taking photos. The staff were extremely professional and worked very seamlessly.

Are you interested?

Send a message

Kailey A.

Married on 12/04/2021

They do it all!

Great quality, great value, WONDERFUL people. I worked with Michael from start to finish, and it was maybe the easiest part of the entire process! Likely because he was so easy to communicate with and he made me feel very taken care of. I felt like a nuisance with all of my questions, but you can tell he loves what he does because it was as if I was working with a friend. More than anything, CN truly does it ALL. I really love the way they do their tastings; the set up is as if you are at a wedding. Everything looks the same to give you a very accurate idea of what your day will be like, from the table set ups, to the passed hours devours, the food stations and finally all up lighting/DJ setup/dance floor.. That definitely helped the process and added another layer of ease to the process. I would do it all over again :)

Taylor C.

Married on 10/30/2021

Delicious & Elegant

CN Catering provided great food and service at our wedding. We received so many compliments about the food and enjoyed it ourselves! Brooke at CN Catering was so easy to work with and very responsive. She made it easy to pick our menu and to tweak our menu to personalize our selections. Great caterer for any wedding!

Elizabeth F.

Married on 10/02/2021

Delicious Food and a Great Team!

We worked with Michael and had a super positive experience - he was extremely professional in helping us through the process even though we were not having our wedding at one of the venues that they own. The tasting was a lot of fun and there were no issues the day of. They accommodated multiple dietary restrictions with ease and their team executed beautifully on the day of the wedding. The food was SO tasty and I got so many compliments on it - definitely a great team and I recommend them!

Katie H.

Married on 04/30/2021

Outstanding

The food was absolutely incredible- everyone has not stopped raving about it- was blown away how everything we ate was absolutely perfect- nothing was dry, everything had so much flavor. Couldn't have asked for more helpful staff than Brooke M and Doug S- they are a dream team when it comes to helping you create a great menu and then delivering 5 star food!!

Natasha H.

Married on 04/03/2021

Such a pleasure to work with for our wedding!

CN Catering was such a pleasure to work with for our wedding! We chose The Hall on Dragon as our venue and were incredibly impressed with the quality and variety of food available to us. We got endless compliments on all the food choices at our wedding and the service was great. Great food was a non-negotiable for our wedding day and CN Catering delivered and then some! They even created large soft pretzels for wedding favors - they were an absolute hit! Cannot thank them enough for making our wedding day so enjoyable.

Renee

Married on 02/28/2021

Divine Catering

It's been 9 months since our redo wedding and my guests are still raving about the cuisine from CN Catering. I was hesitant at first as my family was expecting traditional Jamaican food but they were happily surprised and delightfully full . The passed hors d'oeuvres were succulent and oh so good. But it was the main course that hands down stole the show. I can't forget the dessert bar that didn't even last 20 minutes. Even better they were a one stop shop for linens and other necessities. Do not second guess yourself with this company. You will not be disappointed. I certainly plan on using them the next time we have to do anything remotely as big or small for future celebrations!

Miranda

Married on 12/13/2020

Food was outstanding!!

The food from CN Catering was so amazing, and even though my groom and I chose a random assortment of our favorite items, everything meshed together amazingly! They were able to easily accomodate my folks with dietary restrictions, including creating a delicious vegan dish for several of my guests. I am so happy we bothered to add the passed appetizers. We initially thought we'd skip them because our wedding/dinner was so early, but I am so pleased we reconsidered. Everything was just delicious!

Jenna L.

Married on 10/11/2020

Wedding dinner was a HIT!

CN Catering was truly a pleasure to work with. They made things easy for us, were so flexible, and there was NO pressure to spend more or add anything on - they truly wanted you to have exactly what you wanted and needed. We were on a budget and they respected that. Everyone we worked with and communicated with was very positive, timely in their responses, and helpful with updating things. We probably updated our event details at least 10 times and it was never a problem to remove/add/change things. The CN rep that we were in communication with (Michael Webb) was so kind and helpful and was actually on-site wedding day too, which was awesome and reassuring. So, for the important part: the FOOD! The food was THE biggest hit at the wedding!!! It was absolutely delicious and perfect. We truly enjoyed selecting everything at the tasting event (tough decisions - everything is delicious!) and we truly could not wait to eat dinner on our wedding day. I highly recommend CN if you want an AMAZING meal that will keep people talking long after the wedding!!! Thank you, CN Catering for your amazing food, lovely staff, and professionalism!

Rebecca M.

Married on 09/05/2020

Awesome food and exceptional service!

CN Catering was phenomenal to work with for our wedding, especially during COVID-19 circumstances. The food is delicious and the staff was incredible - great customer service and helpful! Brooke and her team were great to work with during the entire planning process. I highly recommend CN catering for any event!

CN Catering's reply:

Thanks for the review Rebecca!! We loved working with you guys every step and being a part of your big day. Everything was stunning and your guests were pleasure to serve! We wish you all of the best in your next chapter together! :)

Emma

Married on 06/26/2020

Wow!! Prosciutto stuffed chicken

Never have a I had DELICIOUS wedding food! Everyone raved about how delicious it was! Know 3weeks later I am craving that prosciutto stuffed chicken!!! Yum yum! Great service great food!!!!

Catharine M.

Married on 11/10/2019

Amazing food and great service!

Food was AMAZING!! I've gotten multiple compliments about the food. I loved that they held a tasting for us to pick the perfect menu. At the tasting they had their most popular dishes with an open bar. There was about 150-200 people so we were able to see/ taste how well they cooked for a big group. We had the chicken stuffed with prosciutto and cream cheese with parmesan broccoli and cubed cheese potatoes with a honey walnut salad. My dad was in the kitchen the day of the wedding and was very impressed with how clean everything was and how well they worked together. Would definitely recommend them!! The communication was easy and quick.

Megan M.

Married on 11/01/2019

Great food!

It was super convenient to have food and drinks right there at the venue. The food was amazing and I got nothing but compliments on how delicious it was. However, it was very stressful going into a wedding not having tried our actual menu. We didn't get to try what we paid for - Terrifying! The way they do the tasting is in a mass group at one of their venues. It's great to see what an event looks like and the displays of what your food can look like but I wasn't expecting that. For the amount of money we paid I expected a more one-on-one tasting of our actual menu and the actual food we wanted to have. The event CN Catering put on had the most popular items present- but not all of what they offer. So I was disappointed. When I asked to try our menu I was told I would need to pay an additional charge. So my advice to the venue would be - don't get to corporate and big for your couples. They are paying a lot of money for one day and being able to taste and see everything they are paying for should be part of the deal. Overall if I could do it again I would still choose this venue. But I would go into it asking better questions so I would have better expectations.

Shannon B.

Married on 10/12/2019

Cn catering is perfection

CN Catering is legit! Wedding food that is actually restaurant quality. Cannot say enough good things about them. Awesome customer service, amazing service on the BIG DAY, and they are worth every penny! In fact people from our wedding were so impressed that they are switching catering for their own wedding. CN has your back!

Bonnie M.

Married on 10/05/2019

Guests raved about the Food, totally delicious!!!

CN Catering did an outstanding job on the food and beverages. So many of our guest commented that the food was the best wedding catering they had ever experienced. CN's monthly food tastings are expansive and provide a perfect opportunity to sample a variety of catering options. They enabled us to choose the perfect wedding menu within our budget. We did a buffet and I was nervous about how long it would take to get our 180 guests through the line, but it went very quickly and smoothly. Our wedding planner orchestrated the night's events and toasts to eliminate downtime and optimize the buffet line within the evening's flow. My only regret is that I did not have a 2nd bar in the reception space. I felt that the standard 2 bartenders create long lines for the guests at busy times throughout the evening.

Cindy

Married on 06/29/2019

Cn is great!

CN was so nice to work with and food and service was amazing. We really enjoyed our "trial" night and a great experience. They were absolutely perfect for our wedding and I was relaxed knowing it was under control! Thank you CN!

Momofbride

Married on 04/01/2019

Flawless Perfection

I own a venue and we tell all of our couples - if you want perfection - you want CN Catering! So of course they were the natural choice for us for our daughter's wedding.

I wish I could adequately express how flawless and worry-free they made her wedding.

Everyone was asking me if I was worried and nervous, and I was truly able to say, "No, we have CN Catering - so I know it will all be perfect!" As a mom, and as a fellow wedding professional - to know that I could 100% trust their expertise was beyond a blessing.

Everyone loved everything that was served - from the starters to the dessert - flawless.

If you are wondering whether or not to use them - the answer is, "Yes! Absolutely!"



CN Catering's reply:

Thank you so much for your kind words! We love working with you out at your venue, and it was so wonderful to be involved in your daughter's wedding! Thanks for your trust!

Hannah

Married on 12/15/2018

CN was amazing!

CN catering was great. They were so helpful and hands on the day of the wedding and I couldn't be more grateful. We ran out of alcohol at one point and Matt with CN catering ran out to grab us more himself. The food was great and there were so many options.

Delaney

Married on 11/10/2018

Excellence in Food and Service

The food was phenomenal, we had the strawberry salad, the Chicken Nostra (recommended by our coordinator-and it was by far a winner among my friends and family) and the Strip Steak with mushrooms, the two sides were loaded mashed potatoes and Asparagus. All the entrees had rave reviews and I even thought people went back for seconds, during the cocktail hour we had two passed appetizers the chicken and waffles and the pear crostini which were equally delicious, people even asked if they could have them as their entree until they opened the buffet. The servers and bartenders were excellent, I watched them constantly ask everyone they came in contact if they needed anything, they cleaned up the tables and extra plates quickly and efficiently, they were truly an amazing catering group.

Rachel

Married on 10/27/2018

Best Wedding Food!

My husband and I used CN Catering for our wedding at the Hall on Dragon, and it was THE BEST decision. I had so many guests come up to me at the wedding and say this was the best food they'd ever had at a wedding.

We chose to do stations-- Prime Rib, Chicken Proscuitto, Mac & Cheese, and Tacos. If you asked me to pick my favorite, I couldn't do it. Everything was soooo good! I'm getting hungry just talking about it.

Meg

Married on 10/27/2018

Perfection!

CN Catering did an incredible job catering a brunch we hosted at our home the day after our niece's wedding. They did such an amazing job. The food, beverages, and presentation were all perfect, and the staff was absolutlely wonderful! They went above-and-beyond, and we (and all of our guests!) were so pleased.

Kaitria S.

Married on 10/13/2018

Absolutely perfect!

CN Catering was an absolute joy to work with. They were thoughtful, prompt, extremely detail oriented and left no stone unturned. They had thoughtful touches throughout set up and the wedding itself that made our day extra special and run smoothly. For example, they made sure our wedding party had plenty to snack on during the cocktail hour (we were taking pictures during), had fun kids meals / bento boxes for the little ones set out, and so much more. It's been a month since our wedding and our guests STILL rave about the food and how delicious it was. If I could give 10 stars, I absolutely would. Thank you to Michael and his team for making our day perfect!

Janaye

Married on 08/18/2018

CN Provided the catering at our wedding and we received many compliments on the food. We did stations with a tex mex flair, we loved it! They were always easy to work with and we're very professional on the wedding day.
Are you interested?
Send a message