Reviews
4.9 out of 5 rating
Quality of service

4.9 out of 5 rating

Average response time

5 out of 5 rating

Professionalism

5 out of 5 rating

Value

4.9 out of 5 rating

Flexibility

4.8 out of 5 rating
99%
Recommended by couples
Awards
33 User photos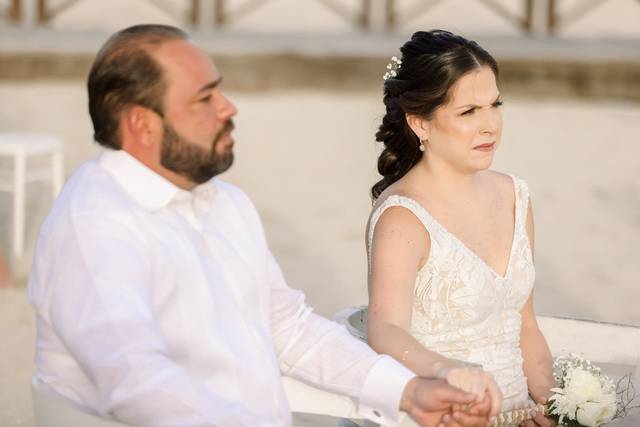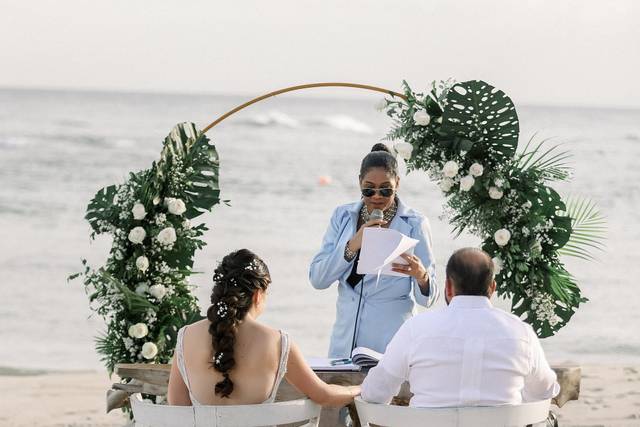 + 29

photos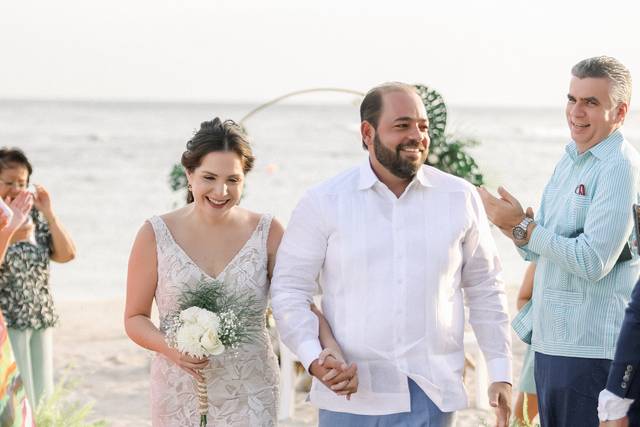 Valentina M.

Married on 07/01/2022

inolvidable

Nos encanta este lugar, es ideal para cuando deseas tu boda en la playa. No solo las instalaciones sino tambien todo el equipo, la comida estuvo expectacular.

+ 8

photos

Club Hemingway's reply:

Muchísimas gracias, Valentina, por compartir tu día con nosotros, fue una boda preciosa, sin dudas. Esperamos recibirles pronto nuevamente.

Elvira G.

Married on 01/07/2021

A dream come true!!

Club Hemingway it's the place to go for your wedding.
We had our wedding in the beach and the dinner in the Embarcadero, we were able to see the sunset meeting the sea... it was just magic.

The food was an experience, several of our guest told us that it was one of the best dinners they ever had. The chef, ALberto Martin, played with our preferences and created something completely unique that it was able to exceed our expectations.

Thank you so much, all the team was super professional, kind and proactive. I really appreciated your good disposition and flexibility towards me and my guests, making our day just beyond what we imagined and hoped for.

Heidy C.

Married on 12/07/2019

Best place to get married in dr

They have a chapel, the food is out of this world, they can make anything that you request! My guests were very satisfied and the hotel doesnt get crowded like in punta cana.

Club Hemingway's reply:

Thank you very much, Heidy for letting us be part of what was a dream wedding. We are so happy we got to meet you, you are an exceptional woman. We wish you a lifetime of happiness and health on this beautiful journey you both have started.

Are you interested?

Send a message

Ana N.

Married on 05/17/2019

Wedding in Casa Hemingway

After traveling to many areas of the country to find the place for our wedding, by coincidence my husband and I ran into Casa Hemingway during a weekend stay in the area with my family.

Casa Hemingway had everything we were looking for our multicultural/ international wedding: state of the art facilities in one of the few boutique hotels you can find in the Dominican Republic, extremely friendly and professional staff, great food and good connection to the main airports. It was also one -if not the best- value for money options out there.

After looking at other options in La Romana and Punta Cana -where the hub of tourism/ other known places for weddings like Casa de Campo are-, we decided that Juan Dolio -the place where tourism started in the east for some historical background!- was our best bet. Getting to work with Mari Medina, the wedding coordinator of the place, who was fully bilingual -which was of great help as my husband's Spanish is still work in progress-, always available to help us with every detail, extremely patient and resourceful, sealed the deal.

Our wedding could not have been more perfect. We were very lucky to have our friends and my husbands' family coming from Germany, London and the USA. Everyone who stayed in the hotel had great things to say about it, including the -very demanding- older generation of my Dominican family!

We had a massive downpour the night of the wedding right at the time of the dinner time -which was meant to be outside-. When this happened, the staff was quick to work on the plan B, and re-route the guests to the inside lobby. The waiters and moving staff went out of their way and even got soaked to move everything inside as fast as possible. Within an hour, we were all eating in the very nice terrace, with the benefit of having had a few more extra drinks while waiting, which made everything just a bit more fun.

I have only good things to say about Casa Hemingway. I had a dream wedding and much of it was thanks to the wonderful staff at the hotel. My only complain is that if all goes well with my wonderful husband, I won't be able to have another wedding at Casa Hemingway!



Club Hemingway's reply:

Our beautiful couple,
We couldn't be happier with this message. We are so thankful for your decision to make us part of your wedding day and the trust you put on us when Mother Nature decided to surprise you with the gift of rain - which brings nothing but health and love to the newlyweds, according to the popular myths - it was a delight to work beside you guys. We wish you all the blessings in the world and we would love to have both of you back very soon to unwind on the beach and reminisce that special and unique day you planned along with your beloved ones and us.

Sincerely,
Club Hemingway's Team.

Jenniffer B.

Married on 02/22/2019

Simplemente excelente!!!

Tanto el embarcadero como la iglesia son preciosos.

El servicio es excelente. Mari es una persona super atenta, ofrece un sercicio al cliente de calidad superior. Es responsable, dinámica y muy cooperadora, en todo momento busca que las personas se sientan muy especiales.

Club Hemingway's reply:

Gracias, Jenniffer, de parte de todo el equipo por hacernos parte de tan maravilloso día. Sois una familia encantadora a la que esperamos recibir nuevamente muy pronto!!

Eve B.

Married on 11/27/2018

Overwhelm and Flattered!!!

Excellent service and best of all the attention to the details! We arrange everything at the last minute and the help received from Hemingway was incredible! Very helpful in every aspect and flexible!! Thanks very much!! To all the staff!!

Club Hemingway's reply:

Dearest Eve!

Thank you so much for sharing your experience with the world and for always be such a wonderful woman, we loved every detail and passion you both put in your wedding, we admire you so much!

xx

Alicia

Married on 06/09/2018

Dream Venue

Club Hemingway was the dream venue for my wedding, a beautiful small chapel within walking-distance, the restaurant Gaspar was the perfect venue for my simple yet elegant wedding, the place doesn't need much decor because it is beautiful as it is with lots of greenery, the food was excellent, the event coordinator Mari was always willing to help me 24/7 and willing to please me in whichever idea I had, my wedding was beautiful and a total success among our guests, all thanks to Club Hemingway and their amazing staff.

Club Hemingway's reply:

Our beautiful Alice,

How amazing you are, thank you for supporting us, we truly enjoyed being part of that stunning day. We hope to welcome you back really soon.

xx

Janina

Married on 06/08/2018

Summertime wedding

We had an amazing day, I was relaxed and enjoyed every moment of my wedding. The service was excellent, the staff did a good job, Mary helped me with all I needed to make an unforgettable wedding. We received so many compliments on our venue choice, it was fantastic!

Club Hemingway's reply:

Janina our beautiful and outstanding bride!!

Thank you so much for such an unique wedding, we are still dreaming of your wedding dress. We are so happy for you both and we sincerely hope to see you soon!

xx

Angelica M.

Married on 04/07/2018

Exceeded my expectations

This venue is cozy and beautiful. The service is amazing and the food is exquisite.

Club Hemingway's reply:

Thank you so much for letting us be part of your beautiful day, hope to see you soon again! and thank you for your review

Michelle

Married on 11/24/2017

Spectacular!

From the first email inquiring about venue information to the last second when we were heading back home the staff at Hemingway made us feel like we were their #1 propriety. Belen, Mari, Manuel, and Natalia went above and beyond to make sure everything was picture perfect.
We couldn't have pick a more spectacular place to have our wedding. Thank you for absolutely everything!

Club Hemingway's reply:

Michelle!

Thank you for everything, for being such an unique bride and for all the good vines from you and your guests! You two rock!

So many happy and wonder-filled times ahead for you…congratulations.

xx

Eva A.

Married on 05/05/2017

Ho fatto il mio matrimonio nel ristorante Embarcadero e il battesimo di mio figlio nella capella di Club Hemingway

Nel 2017 mi sposata con il mio fidanzato nel ristorante embarcadero e sono rimasta con una felicitá per tutta la vita che non riesco neanche a descrivere! Scegliere quel posto é stata la migliore decisione. Abbiamo fatto uno dei matrimoni piú belli del 2017 secondo tutte le reviste! Le foto sono state spettacolare con quel tramonto di fondo e tutto il team di lavoro sempre con un bel sorriso. Siamo rimaste così sodisfatti che siamo tornati per fare il battesimo di nostro figlio nella piccola e meravigliosa capella dil Club Hemingway e questa volta é stata indimenticabile per tutti! Oggi per noi questo posto é il piú bello e importante di tutto il mondo nel nostro cuore ❤️ Bello il posto, bella la gente, tutto molto fácile, vicino a la città, e non c'è bisogno di guidare per arrivare a nessun posto perche hanno l'albergo, ristorante, spiaggia, piscina, capella tutto accanto nella stessa zona!!

Club Hemingway's reply:

Grazie mille cara Eva per il tuo messaggio, È sempre un piacere riceverti a casa e far parte delle tue vite!! Siete meravigliosi e vi vogliamo molto bene! Ci vediamo presto cara nostra!!

Eva A.

Married on 05/05/2017

The best experience for the best day of my life!

I have no words to explain my experience with Club Hemingway! I only have wonderful memories from my wedding and honeymoon ❤️ Beautiful beach, nice people, wonderful service, exquisite gastronomy and the most comfortable suites! Pure bliss!!

+ 6

photos

Chiara I.

Married on 09/10/2016

Romantic Dream

I had a wonderful experience! My wedding planner (Not provided by Hemingway.) Is a well recognized company in the DR and I have to admit it was a disaster. If it wouldn't have been for Hemingway's staff, their attention to detail and their willingness to have a successful event, our wedding would have not turned out the fantasy wedding it turned out to be. Spendid!

Club Hemingway's reply:

Thank you so much our dearest Chiara!

Your wedding was a dream come true, we are so glad to have been part of such a splendid evening. We wish you all the love and happiness

Laura R.

Married on 11/24/2018

Mi boda de sueño

Desde el principio Manuel y Mari superaron mis expectativas, con sus recomendaciones, repuesta rápida y dando lo mejor de ellos.
El dia del evento todo quedo impecable.

+ 3

photos

Club Hemingway's reply:

Queridísima Laura,

Gracias a ti por ser una novia de ensueño y una de las bodas más bonitas que hemos visto, les deseamos siempre lo mejor y que nos visiten pronto!

Olga

Married on 01/26/2018

Great attention

My wedding was months ago but my gests and Family still talk about how great was the event, the food and the atention.

The Staff was sooo helpful in many ways. Mary and Belen were so considered and warm.

I will recomend 100% no doubt

Club Hemingway's reply:

Dear Olga!!

Thank you so much for your review, this helps us a lot to keep improving our services. We are so glad you had a wonderful time with us. We really hope to see you both back here with us soon!

xx

Xiomell V.

Married on 12/20/2019

Good Experience

Having found El Embarcadero, we definitely knew it was our wedding place- the venue is breathtaking! It was beautiful, unique and truly perfect for my husband and I.
We were made to feel at ease from the outset and the running of the day was seamless. Mari and Francisco were so helpful and easily contactable by email whenever we had a question.
I could not recommend this venue and team higher. The food was literally "Michelin star" deserving. The only issue we had was regarding the bride's getting ready room, because it is a hotel and they have tight reservations, we got the junior suite which is not the same size as the senior suite (we had 14 persons in the bride's room only). Besides that everything else was perfect.

Club Hemingway's reply:

Hi Xiomell!!!

Thank you so much for such a lovely message. We are so thrilled we got to share this special moment with you guys, and we truly appreciate what you said about the Senior vs. Junior suite. We are currently working on this not to happen again, we would love to have you again soon at Hemingway. Wishing you always the best.

With love,
Your new family!
Are you interested?
Send a message