Reviews
4.2 out of 5 rating
Quality of service

4.3 out of 5 rating

Average response time

4.3 out of 5 rating

Professionalism

4.3 out of 5 rating

Value

4.1 out of 5 rating

Flexibility

4.1 out of 5 rating
84%
Recommended by couples
8 User photos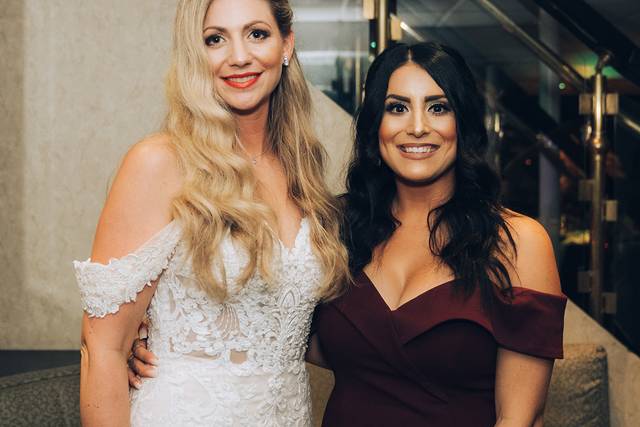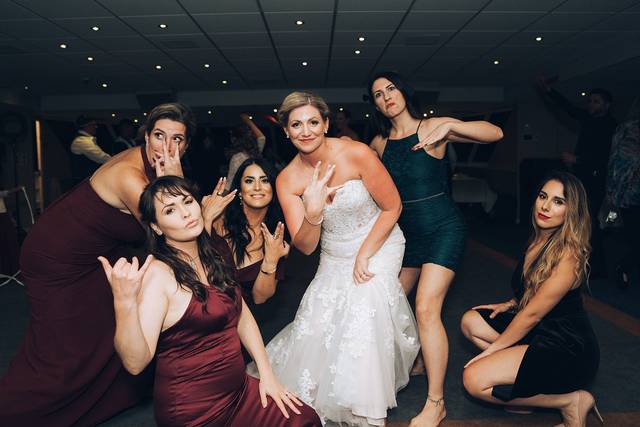 + 4

photos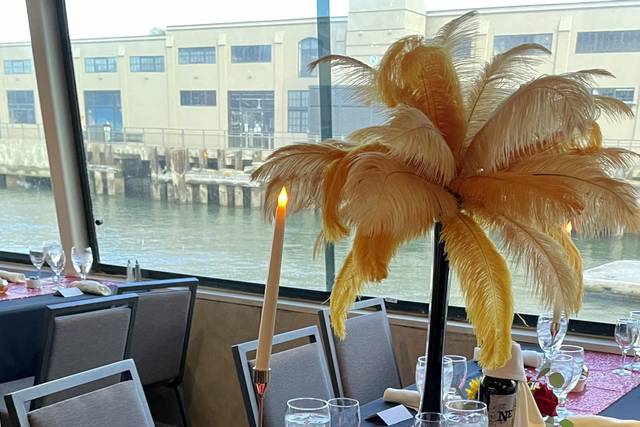 Drei

Married on 12/01/2023

Wonderful Experience

I cannot express enough how absolutely thrilled I am with our wedding venue choice. From the moment we stepped foot onto the grounds, I knew it was the place I always envisioned. It has always been my dream to have a ceremony with a breathtaking view, and this venue delivered on every level.

The highlight of our wedding day was undoubtedly the stunning sunset that adorned the horizon as we exchanged our vows. It felt like a fairytale come true, and I am forever grateful to the team for making that moment possible. Their attention to detail and dedication to ensuring every aspect of our day was perfect truly made us feel like VIPs.

The staff went above and beyond to accommodate our needs and preferences. From the initial planning stages to the day of the event, they were professional, friendly, and attentive. They listened to our vision and executed it flawlessly, making the entire planning process a breeze.
I cannot recommend this wedding venue enough. It truly exceeded all of our expectations and made our dream wedding a reality. If you are searching for a venue that will take your breath away, provide top-notch service, and make you feel like a VIP, look no further. Trust me, it is worth every penny.

Christina

Married on 09/18/2021

The best day Ever!!

We have long awaited for our wedding reception with City Cruises by Hornblower since 2020. Let me tell you…..they did not disappoint! We ended up on the Spirit and it was a night to remember! Between the delicious food, drinks, fabulous staff, and the cruise route was amazing! I got nothing but compliments from ALL my guests regarding how great of a time they had and they've never experienced something like this before. Thank you City Cruises aka Hornblower for making this possible!!

+ 4

photos

Shareil N.

Married on 10/19/2018

Wow, what a day!

We went from having a small lunch with our family in San Francisco to finding Polly and Hornblower Cruises, and we could not have been happier with our experience and our wedding day.

Polly is amazing. She takes the time to listen, ask the right questions and make sure you feel comfortable during every step of the planning process. Her team was so great to work with and even though most of the planning was done virtually since don't live in California anymore, we felt so cared for.
Polly took the time during our phone calls and video conferences to explain the details and get us the best deal for our budget. When we did visit in-person, the team was able to show us the boat, let us taste the amazing cake and helped us pick external vendors for our flowers and food. And our day was truly amazing. Every guest loved it and we honestly had such a fun and relaxing day because of all the behind the scenes work Polly and her team did.

We have stayed in touch with Polly 2 years after our wedding and are excited for the friendship that has formed. Strongly recommend checking them out!!

Are you interested?

Send a message

Katrina

Married on 04/17/2015

I called Hornblower to inquire about at wedding reception and was connected with Mr. John Barrall, Hornblowers wedding and event coordinator who informed me that they do full weddings onboard and I was sold. John was amazing start to finish!He kept in constant contact with me, and even checked in every once in while to make sure that everything was to our liking and going as planned. He was also very understanding, had a professional and happy demeanor throughout and played a big part in making me feel like a special bride.I couldn't wait to marry the man of my dreams. On the day once I arrived I was greeted by a member of the Hornblower staff. At 6pm
she guided my fiance onto the yacht, then once in place she came to bring me on. Everything was setup like a mini chapel with our guests seated and Captain Enrique Gonzalez waiting to marry us. Captain Gonzalez was amazing, and very funny. After the ceremony we were greeted with a champagne toast by our Matrie'D Gabriel who led us downstairs for our first dance. We had the ship to ourselves this whole time, before they let on other guests. Gabriel was on point all night, constantly made sure everyone in our party was cared for with a smile on his face and a pleasant demeanor. He was awesome! The whole Infinity staff were smiling and made us feel special and cheery. DJ Kev was awesome as well, he incorporated songs I requested,&had us everyone out of their seats. This time on the Infinity felt special and different than our other times we've been onboard. Our tables were set-up different, and instead of one waiter taking good care of us we had a team of waiters. Everything was perfect and my husband, our guests and I had an amazing night! The drinks were strong,the food was delicious, the cake was so beautiful, and the DJ literally had everyone dancing all night. We are still getting compliments on our wedding. From planning on day one, to the end of the night on my big day I had a blast.

Carrie

Married on 06/23/2012

We had our ceremony and reception on one of their yachts and it was perfect. The best service and value. The coordinator took care of everything and made it perfect.

Angela

Married on 08/11/2009

Everything was beautiful but they wouldnt let us dance with our shoes off!

Demi

Married on 04/15/2007

We availed of Hornblower's Wedding Package because it was complete and hassle free not to mention unique, imagine getting married on a yacht! Hornblower provided an officiant for our ceremony (the captain of the yacht), we were attended to by an excellent crew, their food and open bar were excellent and they also provided a wedding cake made by one of the top bakeshops in San Diego. Kristie, Hornblower's Events Manager was very helpful, professional and pleasant to deal with. The package wasn't as costly as we expected, considering that we also rented the yacht and cruised around the bay. It was definitely worth every penny. We highly recommend Hornblower to friends who want an intimate wedding or for those who simply want to have a unique event or a romantic dinner.

Meredith

Married on 03/10/2017

We loved our wedding. Everyone we worked with at Hornblower was very accommodating and friendly. And our guests are still raving about how much fun they had. Thanks, guys!

Kimberly

Married on 09/03/2016

The Hornblower was the perfect venue for our wedding. Our guests loved it and are still talking about it. Polly was our event coordinator and we was amazing. She was quick to respond to emails and she helped us with ideas and finding vendors! The food, drinks and staff we are all amazing!

Jonny

Married on 08/03/2013

Definitely recommend Hornblower! Many of the other providers in the area actually use the Hornblower Yachts, so you have to pay twice, once for the yacht rental, and once for the food. Going with Hornblower saved us $3-4k.

Shannon

Married on 06/06/2015

Amazing!!!! Lisa was wonderful to work with through the process. When we got to the private yacht I was blown-away by the crew. Appy made all of our wish come true. The food was fabulous. We chartered the Commodore that left out of Berkeley. It was perfect!!!!

Jennifer

Married on 05/14/2011

We had our rehearsal dinner on the hornblower cruise and it was awesome. Very expensive but our 100 guests had an unbelievable time and I'm not sure we could have given them a better experience. The food was great and Jewel was such a pleasure to work with during the whole process. She helped suggested flower companies and an entertainer and both were perfect. We had a fabulous time and were so impressed by the experience

Wendy

Married on 08/01/2004

I had my reception on the boat. The staff was easy to work with in the planning stage. They were prompt (yes, it's a relief that the boat is there when you expect it to be). The staff on the night of the event was ok -- they did everything they were supposed to, but nothing above and beyond.

April

Married on 04/26/2008

This was a really nice wedding, it would have been nice though if Hornblower offered a practice rehersal without charging so much.

Kimberly

Married on 07/07/2007

The evening was wonderful as far as the mood, vibe, views and the romance but after my whole wedding reception a few of my guest let me know that instead of getting the food they had chosen, which was an exact counted number, they ended up getting chicken fingers with macaroni & cheese. I was very upset with the fact that I gave the exact number of which food I needed and some guest that traveled from afar had a meal with ketchup at my wedding reception!! As much as we paid for the venue you'd think they would serve the correct food!! Arghhh.

Mckinley

Married on 06/08/2013

In a nutshell: Hornblower Cruises & Events ruined our day.

After coordinating our wedding and hosting the event, we now wish that we had hired a different company at a different venue. In addition to poor customer service on-site, the staff (lead by Daniel Martinez) was very rude to both the bride and guests throughout the night. 'Not a good impression.

Here are three key things that you should know:

1. Our Intended Rental Yacht Broke Down at the Last Minute

We were told an hour before boarding that we would have to either stay docked at the Pacific Hornblower or move to the Empress Hornblower for our cruise. This was extremely unprofessional, especially because the on-site staff didn't tell us until the last minute--after we had already set up the tables on the Pacific. This ruined our seating chart due to the new deck layout.

2. The Staff and Coordinator Made No Attempt to Compensate Us

After both families rushed to move everything from the Pacific to the Empress, the staff rudely informed us that they would not give us extra time on the cruise, stating that we had made them late because *they* were ready on time. From the added corkage fee (we told there was none) to the general attitude of the staff, we were surprised at the lack of empathy shown to the bride and the wedding party. This was incredibly stressful, since both the coordinator and the staff made little attempt to give us any extra time on anything, which made the ceremony chaotic.

3. Overall, Communication From the Staff Was Extremely Poor

Mainly, we weren't notified about anything in a timely manner. 'Had we been given enough notice about the boat's failed engine, the weather conditions and a variety of incidentals, we could have dealt with the crisis better. Almost nothing we were told regarding our plans was consistent among most staff members.

Kate

Married on 09/23/2006

Well Folks, it has happened - Hornblower has officially ruined my wedding day, not once, BUT TWICE!!! Whomever is working in their PR Dept and responding to these comments is doing so for one reason, and one reason only - to get you back "on board" and suck more money out of you!! After ensuring us that they were going to "make it right", all they really tried to do was offer a "discount" and make us pay for it all over again - HORRIBLE!!!! Picture this: It's your wedding day, you're getting ready to walk down to the boat, when one of your GUESTS comes and tells you that the cake is not on the boat as it should have been an hour earlier; the red carpet that you were charged out the nose for was nowhere to be found; your so called "coordinator" shows up, introduces herself to your grandparents, then LEAVES and does not return; everyone standing around for 10 minutes, looking at eachother because no one knows what to do [because the coordinator is not there - there goes that "element of awe" as I walk down the aisle]; the boat motor is running during the ceremony, so no one can hear anything; and then it happens....the WORST POSSIBLE thing that could ever happen at ANY wedding - the Captain announces the WRONG NAME!!!!!.....and not something simple and forgivable as maybe my maiden name - NO....He announces the name of my ABUSIVE EX-HUSBAND!!! Yeah...go ahead....twist that knife a little further, I don't think you've reached my unborn child's soul yet!!! When I received the response to my earlier comment, I was skeptical, but had hope. I was led to believe that Hornblower would hold true to their word and give us the opportunity to do it all over BUT, not without charging us ANOTHER $3,000 because the vessel that we used originally is no longer part of their fleet.....Not mmy problem!!! Oh, but their "really sorry". PLEASE....You people are a DISGRACE!!!!

City Cruises - San Francisco's reply:

Hi Kate, thanks for reaching out. We really wanted to offer you something special for your upcoming 10th anniversary. If you decide you would like to redeem any of the options we discussed, please send us a direct message.
Are you interested?
Send a message