Reviews
4.8 out of 5 rating
Quality of service

4.8 out of 5 rating

Average response time

4.8 out of 5 rating

Professionalism

4.8 out of 5 rating

Value

4.9 out of 5 rating

Flexibility

4.8 out of 5 rating
97%
Recommended by couples
111 User photos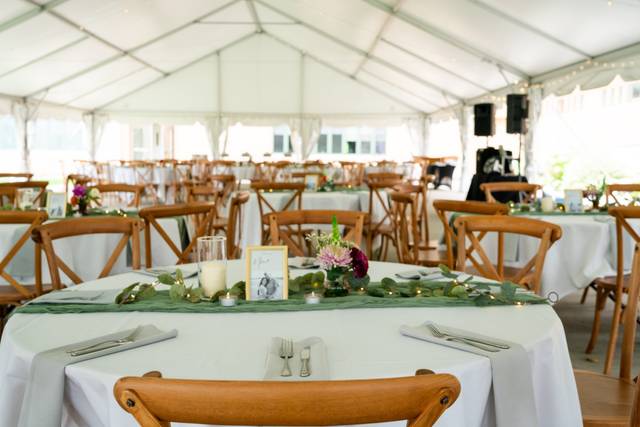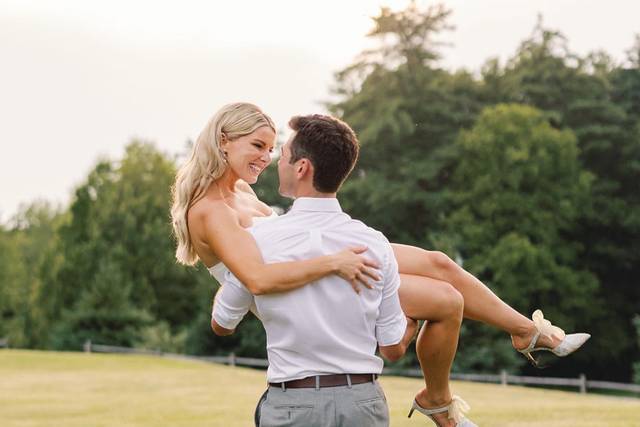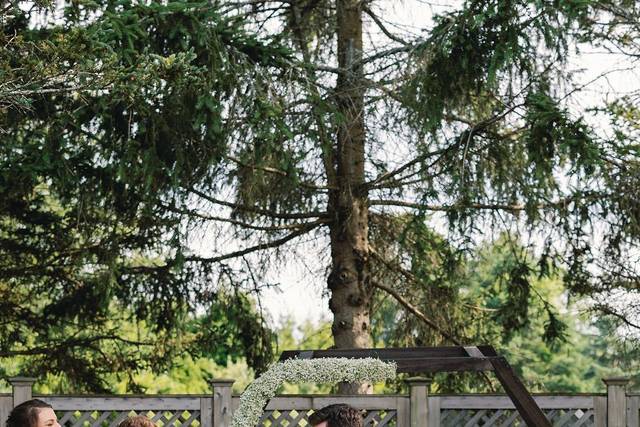 + 107

photos
Hannah

Married on 08/19/2023

Brielle is the best!

I only have good things to say about this venue! Brielle was so helpful with planning, set up, and any questions I had! The venue was so beautiful and fun! all of our quests loved it there! the food, atmosphere, drinks, and staff were amazing! 10/10

Morgan E.

Married on 07/07/2023

The Perfect Day!

Cisco is truly the most perfect spot to get married. It was exactly what we envisioned our wedding day to be and more. Not only is the venue gorgeous (especially at sunset with all of the lights) but Brielle the event coordinator made our wedding day easy, smooth, and perfect. She is unbelievably amazing at what she does. Guests have not stopped messaging us to tell us what an amazing day it was and how delicious the food was. With the live band we hired- Welfleet guests could choose between dancing, mingling, and lawn games. I wish Brielle could plan all of my life events! If you are considering Cisco- do it!

Angela V.

Married on 06/17/2023

Amazing venue

It's no secret weddings are an insane investment. You spend thousands of dollars on one day. We were so happy when we discovered a brewery that does weddings. It was PERFECT. Exactly what we were looking for. Nothing over the top and extremely overpriced but still absolutely GORGEOUS...plus tons of beer!! The food was delicious and many of our guests still talk about their dinner!!
Lastly, Brielle went ABOVE AND BEYOND. This girl was running to walmart morning of for minor details that we forgot. She was truly so accommodating and so sweet!! I will always recommend Cisco Brewers, Portsmouth to anyone looking for a wedding venue! Wish I could relive the day all over again!

Are you interested?

Send a message

Lindsey

Married on 06/10/2023

Cisco exceeded every expectation we had!

Wow, what an incredible night. Brielle was absolutely amazing to work with, the food was exceptional, great beer on tap, and overall Cisco was so easy and accommodating. Our guests loved being able to move from the fire pit, dance floor, yard games, cocktail tables.. it was just the best. 10/10!

Gregory D.

Married on 06/03/2023

Great Venue For A Brewery Wedding

From the time we first connected with Cisco and Brielle(Director of Events) everything went flawlessly. Their team did an amazing job of making our wedding a stress free day. We planned on having our ceremony outside with the reception under the tent but rain decided a different plan. Brielle and Cisco allowed us to have the final call on it being inside or outside and they suggested having the ceremony under the tent, which ended up being perfect! The food was delicious and they were able to accommodate all of our guests dietary restrictions from gluten-free to vegan. We loved being able to select the beers on draft for guests to choose from. Brielle was our right hand person making the day perfect. She was there bringing us drinks, giving us a towel to dry off after taking photos in the rain, and even driving the bride to the wedding venue. After the wedding Cisco handled all of the clean up and we were able to stop by the next day to pick up our decor, which made our night very stress-free. We highly suggest Cisco Brewers to anyone looking for an outdoor brewery wedding venue!

+ 2

photos

Kelsey O.

Married on 05/27/2023

Could not have asked for a more perfect day

Our wedding reception at Cisco was nothing short of amazing. From the time we first connected with Brielle to all the final details on our wedding day, everything was seamless. The team at Cisco was so helpful and responsive, I felt like we did not have to stress or worry about anything. We truly got to just enjoy our special day. The food was incredible- there are so many great options and they are so accommodation to any dietary needs. The cisco drinks cannot be matched and there are options for everyone on the menu! The space itself was exactly what we were looking for - an outdoor tented wedding and it was beautiful. I would absolutely recommend hosting at Cisco brewers we had the BEST experience!

Nikki C.

Married on 05/26/2023

Absolutely Perfect- 5.26.23

There are no other words than flawless. We knew when we got married, we wanted a low key venue that wasn't too fancy but not to casual either and Cisco Brewery delivered. We got married on 5.26.23 & it was perfect from start to finish. Brielle, the event coordinator, is fantastic at her job. From the very first day, we knew we had found our spot. She was always responsive, helped us through every detail (even ones we didn't think of!). Day of staff, was there for all our needs, and we couldn't have had a better day. Our family & friends all had the most incredible time, and even keep commenting on how great the venue & food was. 10/10 would recommend.

Jessica M.

Married on 10/22/2022

Would give 10 stars if I could!!!!

I don't even know how to begin in writing a review for Cisco! We've always loved going there for lunch or beers mostly because of the atmosphere and coziness of the place. We decided to book with them for our wedding because we wanted our wedding to match that same vibe. As soon as we met with Brielle, we were sold within 5 minutes of talking. Brielle made our experience SO easy, I still can't even believe I didn't feel an ounce of stress during the planning process. She kept our minds at ease, and every question that we had she basically answered by saying "we'll take care of that!". She was always so responsive, so helpful, and never made me feel like I was bugging her with my very frequent questions. She made us feel like her friends rather than just another couple, and I think that's what made the biggest difference. Brielle aside, every other staff member who helped on our wedding day was top tier. One of my personal favorite things was that Jim had a plate of appetizers ready for us when the ceremony ended so we'd be sure to get our own, and they did the same thing with our donuts at the end of the night before they disappeared. We also were able to drop our decor off the day before, and pick it all up the next morning after the wedding. SO seamless. Its the little things like that that go such a long way. 10/10 recommend that anyone book with Cisco, we had a beautiful day and we owe so much of that to Brielle and the rest of the event team! Thank you so much!

Kelly G.

Married on 10/22/2022

Amazing spot for a wedding

10/9/22
We wanted a fun and relaxing day for our closest family and friends. Brielle was so easy to work with. She would answer emails and questions quickly. During our meeting to go over details, she gave us a few more ideas to think about and listened to what we had envisioned. She was available to us the day before to bring our items in. She noticed small details and made sure our day was easy and fun for us! All of our guests have said it was the best wedding they have been to. We had some younger children and teens, their parents were able to relax while they played games in the yard.
We have recommended this site to anyone we meet planning a wedding.

Jessica B.

Married on 10/07/2022

Exceeded expectations

The number of compliments we received on this venue was incredible. The tented space & yard was a huge hit. Fun lawn games for our more relaxed guests and plenty of room to bust a move for our party goers! Not to mention the food was PHENOMENAL. Everyone loved the taco bar. If you're looking to have a party, Cisco is the place. Brielle is god-sent and made our day effortless, and the most fun. She's one of the sweetest and most reliable. I have nothing but great things to say. Really blown away!!!

Stacia S.

Married on 10/01/2022

Brielle goes above and beyond 10/01/22

Cisco was a wonderful venue for our wedding on 10/01/2022. Everything was perfect from putting my vision of the decor into a reality, the hors d'oeuvres, drinks/bar, dinner, and creating the best dessert display from the desserts that we brought! Brielle is the mastermind behind it all at Cisco. Leading up to the wedding Brielle was responsive, incredibly helpful, and nerve-calming when needed. The day of the wedding she was EVERYWHERE. Brielle took the decor that we brought and created a reception that was better than I imagined. She made sure that everything ran perfectly smooth the entire day/night. She made sure my husband and I had drinks in our hands at all times if we wanted them. She made she we had a platter of hors d'oeuvres while taking some photos after the ceremony, were the first in line for dinner, and had an assortment of desserts on our table so we didn't miss out on anything. I cannot say enough wonderful things about Brielle, she truly is the best there is and Cisco is SO lucky to have her! If you choose to get married at Cisco, we know you will have a beautiful wedding and will not regret it!

+ 6

photos

Sarah D.

Married on 09/24/2022

Simply Amazing

Brielle was absolutely a dream to work with. From the first meeting to the day of our wedding she was there any time we had questions. The day of she made my wedding vision come to life and it was AMAZING! Our guests are still talking about the food and how good it was. Pretzels and beer cheese at the end of the night were a big hit! Cisco is a great venue for any wedding!

Kathleen M.

Married on 09/17/2022

We are so lucky we found Cisco and Brielle!

This venue is worth booking for Brielle alone! I had a 120-person wedding 9/17/2022 and my husband and I reflect back on it as absolute perfection. There is not one thing we would have changed. From when we arrived at the venue, I was put at ease by knowing Brielle was handling the schedule and addressing anything that came up before it was a problem. We were able to fully enjoy the day as if we were guests, rather than hosting a wedding. The venue is affordable, beautifully decorated, has great food and drinks, is conveniently-located, has plentiful parking for guests, is located near a lovely open field for photos, and is supported by a flawless staff. We cannot thank Cisco Brewers enough for all of the time that was put in to making our day as perfect as it was. When I was looking for venues it was difficult to sift through reviews as they all sounded repetitive so, if you're reading this, you should have no doubt in your mind that having your wedding here will go above and beyond your expectations. Brielle is amazing at what she does!

+ 4

photos

Samantha R.

Married on 09/09/2022

Beyond Amazing

We recently had our our wedding at Cisco and, wow. Above and beyond anything I could have expected or asked for. From the staff to the food everything was immaculate and we have not stopped getting complements from family and friends. Brielle (the event/wedding coordinator) made everything so easy it was like we had hired our own personal planner. She was awesome and I could write a whole entire separate review about her alone. Long story short if you want to have guests approaching you, telling you how they "wish their wedding was more like this" and "if we could do it again it would be this" than Cisco is the place!

Valerie L.

Married on 08/12/2022

Couldn't ask for better

Do not hesitate to hold your wedding here! We wanted a venue with a relaxed vibe, and as soon as we toured Cisco, we knew it was the perfect place. Cisco has everything you need all in one spot. We had our first look, ceremony, and reception all in one place. And we were able to use the upstairs function room as a staging area before the ceremony. Our guests had so much fun with the lawn games, and everyone raved about the food. Brielle, the on-site coordinator, was exceptional from start to finish. I would have been (even more of) a mess that day without her. I can't say enough good things about this venue. Look no further!

+ 8

photos

Haley C.

Married on 07/23/2022

Seriously the best, y'all

Y'all need to have a party or a wedding at Cisco Brewery because they're seriously the best. I have ONLY positive things to say about them! My husband and I had a semi-casual wedding celebration here of about 125 people and holy macaroni was it a blast. (Cisco has space to have both a ceremony and reception in the same outdoor area, but we chose to just have a reception/party because we were already married.) First of all, Brielle (Cisco's in-house event planner) is so rad and is perfect. She is personable, responsible, responsive, organized, flexible, and remembers literally everything. She was also incredibly cool, calm, and collected during the whole process and on our day.

We had our celebration outside under the big tent in late July. When everything was set up, it was beautiful! If you're worried about it not looking cute enough for your wedding, don't be! The outdoor area is the cutiest and has plenty of space for decorations, lawn games, and has plenty of cute spots for photos.

Everything is in house at Cisco, too - food, drinks (beer (duh), wine, & hard alcohol), and dessert. BOOM. So easy. (My husband and I decided to have desserts from our favorite bakery and it also worked out perfectly.) "How's the food?" you ask?! It was 15/10. Our friends can't stop talking about how damn good it was! We had seasonal raviolis, braised short rib, glazed salmon, veggies, & mashed potatoes; and don't even get me STARTED on the passed apps. They were incredible - so tasty!

The staff that worked our celebration were also wonderful. The gals who bartended for us were kind, friendly, and just straight up cool, and the people helping to serve the food were also wonderful. The price for our celebration was also perfect for us. We were both teachers at the time, so we certainly aren't high-rollers by any means and this was very affordable. Brielle was also great about helping us stay within our budget. Highly recommend Cisco for your next party or wedding!!!

(Our photographer was Destinee LeBlanc Photography, btw hehe)

+ 6

photos

Emily L.

Married on 07/02/2022

Beautiful Venue, Amazing Service

Just like every other review, I cannot say enough amazing things about Cisco and Brielle. The venue is gorgeous; the tent and the fence have beautiful lights that illuminate the whole place at night. The food is delicious and very reasonably priced. They don't offer a set per person open bar; it is by drink, but chances are you will end up saving money this way. Brielle is professional and incredibly detail oriented - she will make your day perfect. She even made sure to have a special duck appetizer that we wanted.

The very best!

Our daughter was married at Cisco on 6-18-22. The day was amazing! Brielle Olberg, the events manager, went above & beyond from the moment we chose Cisco to the very end of the reception. She was responsive, flexible, helpful, and unflappable! The day was perfect!

Alyssa L.

Married on 06/11/2022

Best venue ever!

We truly felt like celebrities from start to finish. Every single person at Cisco Brewers worked incredibly hard to make sure our wedding was perfect. I would like to single out Brielle for being the most amazing coordinator ever!! Brielle is the reason our wedding was so amazing. I live in Oregon and met her first over a video chat. She was so easy to talk to and knew how hard it was for us to plan the wedding from across the country. I am still blown away by her hard work and talents in coordinating such beautiful events. Just to add to the perfection of the wedding, our guests were able to enjoy Cisco beers while playing corn hole and other yard games! It couldn't have been better.

Nicole S.

Married on 06/04/2022

Above and Beyond Expectations

My husband and I aren't even sure how to quite put our happiness and appreciation for Cisco Brewers into words! Every aspect of our wedding was absolutely perfect.

The communication was seamless, from start to finish. The included setup and breakdown of the wedding was AMAZING, but the added attention to detail and little finishing touches really made the night. Brielle was great from our first venue tour, all the way through the end of the wedding night- she always made sure we had no stress, was extremely tactful and sweet in dealing with guests, and made sure we had the night of our lives. Every other staff member we met was equally as amazing!

We were lucky with the weather to hold our entire wedding and reception outdoors, but knowing the indoor Alemaker's Hall was a backup made us feel even more confident with our decision. Our guests continue to reach out to us to tell us how great of a time they had, and how beautiful everything was!

Brenna C.

Married on 05/29/2022

Cisco 10/10

Cisco was amazing and Brielle was so great from start to finish. I can't say enough great things!

Shaw T.

Married on 10/29/2021

Brielle Olberg is incredible!

My wife and I just got married at Cisco Brewers in Portsmouth. The venue was amazing and it was the perfect outdoor setting for a wedding in October in New Hampshire. The food was incredible and the drinks were perfect. We went with the Charleston County buffet and were are still hearing from friends and family about how delicious the food was. I would highly recommend Cisco Brewers Portsmouth as a wedding venue. What made our wedding even better than imagined was our Coordinator Brielle Olberg. Brielle was attentive, flexible, passionate, knowledgeable and beyond helpful. From day one, Brielle helped us navigate through our wedding planning and would offer us advice when we needed it. My wife and I had a vision of how our wedding was going to be and Brielle exceeded our expectations. The decorations, the set up and the event order were perfect. During our wedding Brielle was there for my wife and I for anything we needed. She made sure everyone knew where they needed to be and what was going on in the wedding and was always there to provide my wife and I a drink if we wanted one (which was often). I cannot say enough how incredible Brielle was as our Coordinator and my wife and I were lucky to work with her and Cisco is lucky to have her.

+ 2

photos

Emily G.

Married on 09/18/2021

Amazing Experience!

Cisco was an amazing place to host our wedding reception. Brielle was fantastic to work with and was on top of everything! Something that could have been incredibly stressful was smooth and seamless - from the logistics to the food to the drinks to the coordination with our other vendors, and so on. I would highly recommend doing your reception here!

Dain G.

Married on 09/11/2021

Wouldn't change a thing about our experience with Cisco

Brielle and her team at Cisco exceeded our expectations for our wedding there in September 2021. We were on the hunt for a fun, casual atmosphere and a venue that was able to handle the bulk of the logistics, without having to worry about coordinating separate vendors for table rental, linens, set-up/break-down, trash removal, catering, etc. Cisco ended up delivering the full end-to-end experience, but was also FAR more cost-effective than a lot of the venues we toured in the area.

Working with Brielle and her team was also an absolute pleasure. She was proactive about communication, super responsive to any of our questions, and was super flexible when we ended up deciding to postpone for a few months due to Covid concerns. On the day of, the team set-up all of our (somewhat detailed!) decor just as I imagined, kept our timeline on track, and made sure everything came together seamlessly (if anything went wrong, I never knew about it!). We returned the next morning to pick up all of our items neatly packed for us to take home. It was so nice to be able to enjoy the day without worrying about how everything was going to come together (or get cleaned up at the end of the night)! Our out-of-town guests also had a great time exploring Portsmouth over the weekend, and everyone had fun playing lawn games and hanging out by the fire pit in addition to dancing the night away.

I would wholeheartedly recommend Cisco for anyone planning a fun, casual wedding in the NH/MA/ME area. Brielle and her team truly went above and beyond to make sure our day was perfect and I'm so happy we ended up choosing to host our wedding at Cisco - the value and level of service was truly unmatched.


Kyra H.

Married on 08/28/2021

Great venue for a fun wedding!

We booked Cisco because we wanted to have an outdoor wedding with a backup in case of horrible weather but were totally hooked once we heard about the lawn games and saw the ceremony area. The entire staff was so helpful throughout the day and Brielle is an amazing wedding coordinator that took care of every detail so we didn't have to stress at all. We had a blast on our wedding day - highly recommend!
Are you interested?
Send a message