112 Reviews
Recommended by 99% of couples
Quality of service

4.9 out of 5 rating

Average response time

4.9 out of 5 rating

Professionalism

4.9 out of 5 rating

Value

4.9 out of 5 rating

Flexibility

4.9 out of 5 rating
13 User photos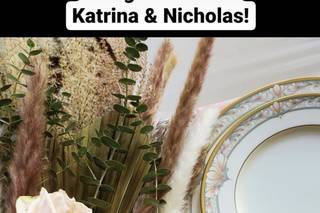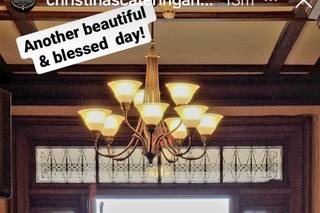 + 9

photos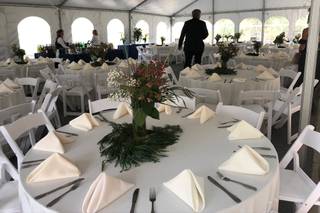 Jennifer B.

Married on 12/03/2022

Excellent Experience

Tina and Dan from Christina's catering where are caterers for our reception. They were amazing to work with. Tina looked into every detail and made sure everything was perfect. Dan, our chef did an amazing job with the food. From the tasting in our home to the party that night everyone raved about the food. The staff were great and organization was wonderful. I recommend Tina and Dan and Christina's catering to anyone

Rachel D.

Married on 11/13/2022

Great to work with and great value

We had a great experience working with Christina's Catering for our wedding in Old City. Both Tina and Dan were extremely easy to work with and the food was delicious.

One of the reasons I chose this caterer is because of Tina's very flexible pricing model based on what you order. We were able to have the things we want, and skip the things we don't need, in order to keep costs reasonable. They also really let you benefit from economies of scale, as the cost-per-head goes down significantly with a higher guest count. Thanks to Christina's Catering we were able to have a wedding with 150 guests, which would have been impossible with other caterers who insist on a one-size-fits-all package and fixed cost per person regardless of the guest count.

They also did a great job coordinating with our venue (which has a lot of restrictions, like no flames), cake bakery (which they arranged for me!), and planner.

I highly recommend Christina's Catering.

Ann M.

Married on 11/05/2022

Amazing to work with 5-stars

Tina and Dan are incredible to work with! They are both professional yet personal. I felt like I was working with my best friend from start to finish. The food was delicious the appetizers were a hit! And let's not forget the desserts. WOW!
The setup went smoothly, the wait staff was hardworking, friendly and super professional yet easy going. Our guest never had to wait.
Tina and Jen coordinated the evening flawlessly catering to not only to bride and groom but to us as parents as well. To top it off I received pictures of the event from Tina, which are beautiful!
You won't be disappointed


Are you interested?

Send a message

Kate D.

Married on 08/20/2022

Christinas Catering is the Best Wedding Caterer

Thanks to Dan &:Tina of Christinas Catering we had the best catering experience. Our wedding and reception was at our home and they were attentive from the beginning and did exactly as we discussed. The food was tremendous at the planning meeting and at our wedding. The staff and bartenders were great too and always served with a smile. Our family and guests are still talking about the great food at our reception and it was the talk at many recent family holiday events. My sister & her fiance has already contacted them to cater their wedding in 2024 at Applecross. We know that they are in good hands and will have a great wedding too!

Jayne R.

Married on 06/11/2022

Incredible wedding catering by Christina's Catering

Thank you Christina's Catering and your team for the incredible catering at the wedding. The appetizers,, Entrees, wedding cake and the Philly cannolis were spectacular! Jon & I were so pleased with the presentation of the meal and the exemplary service of all your staff. We feel so fortunate to have had the opportunity to work with you!!! Thank you!!

Felicia

Married on 12/18/2021

Perfect End to a Crazy Year

As many couples experienced the last two years, my husband and I had to reschedule our wedding twice due to COVID. On top of that, my husband was stationed overseas soon after our first postponed wedding date 06-June-2020). Ultimately, we planned on having a 18-Dec-2021 wedding date, and everything was perfect because of Dan and Tina. They made the catering process so incredibly easy, even being an ocean away during most of the planning. On our wedding day, the staff was so incredibly nice, everything was set up perfectly, the bartenders were attentive and friendly, and Dan kept the night moving so we could relax and enjoy the evening. He basically coordinated the whole evening and kept us on our timelines so the night ran smoothly. I couldn't have asked for a better experience and I highly recommend them to anyone getting married in the Philly/WestChester area.

Evie S.

Married on 12/18/2021

Christina's Catering jumped in & saved our wedding.

Christina's Catering came through for us and managed our day for us. Due to current conditions, we lost our venue & Caterer 2 weeks before our rescheduled wedding 12/18/2021. Last year, we planned on hiring Christina's Catering but they were sold out on our first wedding date 12/5/2020. We were pleased to hear they had an opening for our wedding on 12/28/21 and hired them immediately. Every second of the quick planning process and wedding day was better than we anticipated due to the last minute venue and Catering change. They jumped in and made our day! Christina's Catering reallllly went above and beyond and we felt so comfortable with them. We love Tina, Dan and their team. Happy New Year!

Joy L.

Married on 12/10/2021

Most Accomidating

I had the opportunity to work with Tina and Dan for a wedding in West Chester, PA. As the Wedding Coordinator, it was a relief to work with a great team. Together, we were able to make sure the bride and groom, along with guests were able to have a delightful time. Tina and I were able to work together to customize the wedding through several emails and phone calls. She went above and beyond just a catering service. Dan and his staff were a delight to work with and made the event a breeze. I would be honored to working with them again in the future!

Ben D.

Married on 11/13/2021

Perfect Catering company for 2 weddings

We sincerely want to thank Tina. Dan, Christina's Catering staff & Bar staff for executing (2) perfect & delicious weddings. The pandemic changed our plans last year and Tina & Dan were very accommodating. Instead of canceling, we had a small wedding at Oakbourne Mansion and then our BIG wedding last month at our new home. Both weddings were perfect and Darren & I can't thank everyone of Christina's Catering enough. ♡♡ Thank you!!!!! Love you all...Ben & Darren♡

Jillian S.

Married on 08/28/2021

Absolutely wonderful!

My husband and I decided to go with Christina's Catering right from the beginning of our wedding planning journey, and what a journey it was! Throughout it all, Tina and Dan were there for us every step of the way. Through THREE covid re-schedules, and even changing venues, they did absolutely everything they could to make sure everything was in order to ensure the Big Day was a success. During the whole process they were incredibly helpful, kind, understanding, and professional. And as for the wedding itself, we could not have been more impressed and delighted. Dan and his staff were all wonderful, and everyone there gave us very positive feedback. All the guests we talked to had nothing but good things to say.

From the bottom of our hearts, we want to thank Christina's Catering for making our day so amazing, and one we will truly never forget!!

Mary A.

Married on 08/19/2021

Almost perfect!

Dan & Tina were very easy to work with and very helpful. Everything went as planned. The only bad thing I have to say about my experience with them was I hired their bar tender and what a HUGE mistake that was. Should of just used my own. Glad we only had beer and wine with not mixed drinks. Other than that, everything went as planned and they made everything perfect. The food was great and the service was fantastic !!!

Mary M.

Married on 06/12/2021

Blessed, grateful & Honored to have chosen Christinas Catering

Christina's Catering is the best & most knowledgeable event Catering company from micro to large weddings.  We were truly blessed to have found them.  They catered our pandemic wedding last July & then  our large wedding.  At first, my husband and I decided to plan a micro-wedding during a pandemic which was hard to figure where to start. After emailing with 40+ venues & caterers, we were
underwhelmed & disappointed. Thankfully, a co-worker recommended Tina & Dan from Christina's Catering & our exhausting wedding search was finally over!  They are a perfect team in every way from planning our micro wedding at our home last year  to our tented wedding at Bellevue last month.  It was perfect! Great meals, horsdoeuvres, dessert bar and friendly service from the staff & bartenders.  They arranged the rentals & all the details perfectly during an unprecedented time.  We feel very grateful, blessed and tremendously happy to have had the honor of Christina's Catering cater our "2" weddings.  Thank you!!!!

Allie V.

Married on 10/03/2020

Delicious !!!!

Tina and Dan are definitely the dynamic duo. They worked with us and our budget and gave us the best deal. They're quick to get back to you with any questions. And the food was just so good! They're great people who love doing what they do!

Kristin L.

Married on 09/26/2020

9/26/20 wedding

Christina's catering was very accommodating. Our wedding location had to be changed due to covid and they helped us to make the day just as special. They were very easy to communicate with !

Nicholas

Married on 09/26/2020

Wonderful experience

Beautiful people with kindness in there hearts. Don't get me wrong, they mean business but they will do what ever needs to be done to make your day special (within their control). Highly recommend .

Kaitlyn C.

Married on 09/19/2020

Christina's Catering is Fabulous & Creative


Christina's Catering & their team were simply fabulous! They catered our engagement dinner & wedding reception. Dan and TinA helped us create our wedding reception vision, and guided us into making excellent choices! Everyone raved over the food, especially the cocktail hour stations (Taco Station and Raw Bar) .   The bartenders kept the party going and were very knowledgeable and you could tell they loved Bartending.  Not only is Christina's Catering team creative, affordable and DELICIOUS, they also make you feel like family! I simply adore Dan, Tina and their entire team!

Andrea A.

Married on 09/12/2020

Amazing from beginning to end! Wonderful caterer and wonderful team!

Due to the pandemic, our wedding had to be re-scheduled and re-planned more times than we can count. In the end, we downsized from a 200 person country club wedding to a backyard wedding with less than 10 weeks to plan.

From the moment I first talked to Christina, I knew that Christina's Catering would be the ones to cater our big day. Christina was so attentive and flexible throughout the entire planning process - she was always there to answer questions and provide confirmations during the weeks leading up to our wedding day. Dan was absolutely amazing during our tasting and really helped us put the timeline for our day together and make sure that the floor plan and menu was exactly perfect.

From the tasting, to the rehearsal, to the day of Dan and Christina were on top of everything. During the day, I did not have to worry about a single thing - because I knew Dan, Christina and their team had everything under complete control. The staff was so wonderful to work with and everyone loved the food and having the catering team around. The servers were attentive, the bartender was amazing and Dan and Christina both were WONDERFUL keeping the day moving.

I am so happy we went with Christina's Catering and could not have asked for a better team to support us before, during and after our big day!! I know that regardless of the size of our event, the team would have perfectly executed the day. Their overall experience really shows in all aspects of working with them.

Thank YOU - Dan and Christina for being so amazing and making our day so flawless!!

Lorraine C.

Married on 09/04/2020

The best catering team in Chester county

My husband, Troy and I had a great experience with Christina's catering. We recently had our wedding at Oakbourne Mansion. Tina was amazing with her patience with me. She would take an hour on the phone explaining wedding things and as a new bride I so appreciated all of her help and knowledge.

Dan was great to work with from our tasting and planning meeting. Their attention to detail is amazing. Their food was great and service was spot on!!

Thanks Tina and Dan for making our wedding day perfect we will recommend you to everyone!


Amanda S.

Married on 08/01/2020

Perfect last minute wedding

Christinas Catering coordinated and catered our last minute wedding perfectly. Due to the pandemic we had to change our original country club wedding to our home. In only 13 weeks. Dan came to our home to arrange the tent size and floor plan, wedding day process and our menu tasting. The entire process was perfect and we felt confident in trusting Christinas catering with our special day. They were highly recommended and our day was better than perfect.

Zach M.

Married on 07/18/2020

Highly Recommended & Perfect Planning & Catering

We are over-the-top happy that our neighbors recommended Christina's Catering for our wedding planning. They catered their  wedding 4 years ago at Jeffords Mansion & loved them. From the minute I spoke with Tina, I knew we were a perfect match.  She helped us with venues, vendors and created a wonderful menu with special vegetarian options and always made time to answer my questions and ease any fears as a nervous bride.  Due to the pandemic, we chose to have a tented wedding at our home instead of using our original wedding venue.  Dan was truly wonderful at making us feel at ease with the tent planning process.   He came to our home, helped us with the tenting plans, design, layout,  timeline for our wedding & then came back for an at-home private chef tasting for us & both parents.  The hors d'oeuvres and dinner were delicious just like it was on our wedding day.  We are still getting compliments 2 months later Our guests loved the sweet selection of mini desserts and dessert shooters we chose for each guest table.  Our wedding planning and wedding was perfect and we want to express our gratitude & a big thank you  by writing this review about  Dan & Tina of Christina's Catering & a ton of thanks to their great waistaff & bartenders.  We will be sure to recommend them for many years!

Jonathan T.

Married on 07/10/2020

Simply the Best

Christina's Catering did an absolutely awesome job catering our backyard wedding. The food and service were great and the staff went above and beyond to make sure we had a fantastic day despite the driving rain throughout the day. They were easy to work with during the process and I would hire them again in a second.

Mary K.

Married on 12/10/2019

Extraordinary in every way!

We hosted a wedding for 300 at our home and barn, (first time experience) and it was flawless! Dan, Tina and the staff were capable, professional, warm, welcoming and extremely accommodating. From the start of the planning to finish, it was a delight to work with the team. Tina and Dan treated it like their own party! I thought about hiring a wedding planner or consultant, and Dan told me they filled that role as well. And they did, wonderfully! From consultancy on layout, food choices, flow, decorating, and the bar - we were very pleased! When they said "they had this" they certainly did. I recommend wholeheartedly!

Anna

Married on 10/19/2019

Spectacular experience from start to finish

I don't even know where to start. Tina and Dan were amazing. We went to Tina with a budget and an idea of a taco bar. She took just those two things and turned it into an amazing wedding. The fact that she was able to really work with us given our budget was awesome. Being on a budget there was certain things we weren't going to do, like major decorations. Tina even helped with that and brought some to add little extra touches around the reception.

And let me tell you...the food is FANTASTIC!!!! I plan a lot of events for work. And I used to think either I can get great service or I can get great food but not both. Christina's catering made me realize you can get both when you go with people that truly love what they do. Dan and Tina love what they do and it shows in every aspect.

But set aside the attributes they were able to bring to our wedding as professionals, Dan and Tina truly made us feel like family. The moment we met them we knew we found the right people to help plan our wedding. They made us feel like life long friends, even offering to teach my husband a card game we all liked to play.

Weddings can be stressful but they took all of that away from us. They make you feel comfortable immediately and go above and beyond. I couldn't have imagined our day without them! I am already trying to think of other events and parties I can plan and use them for!

Colleen O.

Married on 10/12/2019

Dan and Christina were consultative and reliable! Highly Recommend!

We had a large wedding at my childhood home. We ended up relying on Dan and Tina's expertise in the wedding industry to help far beyond just the food choices. They were so well versed in the flow of weddings and made many suggestions that allowed us to enjoy our wedding completely. They were also incredibly flexible and consultative. Throughout the wedding process you notice some vendors try to convince of what you should do. Dan and Tina listened to what we wanted and suggested solutions and ways to make it possible! We felt so confident having Dan and Tina there on the day of the wedding to make sure things ran smoothly. People raved about the food and everything was on time for a 300+ person wedding. I could not recommend Christina's Catering more highly!!

Kaylee

Married on 10/11/2019

Great Caterer for the wedding of your dreams

We had such an amazing experience with Dan and Tina as our caterers for our wedding. They really worked with us on all of our needs and budget. The night of the wedding Dan kept everything running smoothly not only are you getting a caterer but someone who understands the flow of a wedding and ensures transitions at the reception are smooth! Thank you Dan and Tina!
Are you interested?
Send a message