Reviews
5.0 out of 5 rating
Quality of service

5 out of 5 rating

Average response time

5 out of 5 rating

Professionalism

5 out of 5 rating

Value

5 out of 5 rating

Flexibility

5 out of 5 rating
100%
Recommended by couples
23 User photos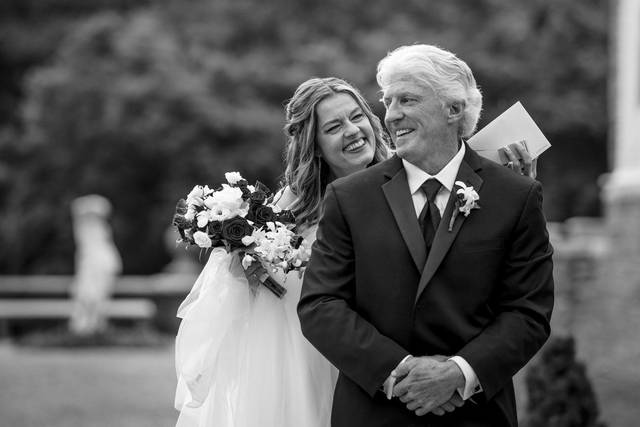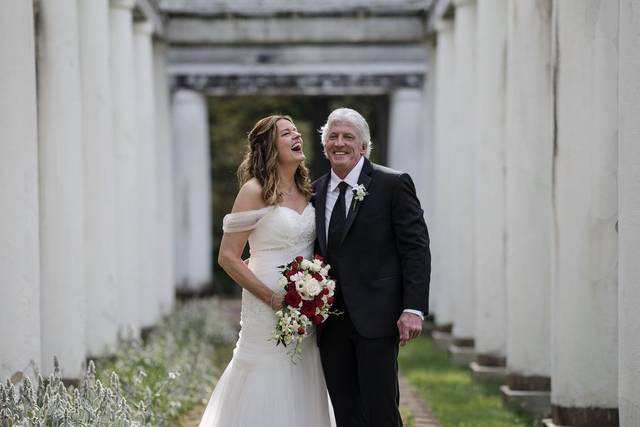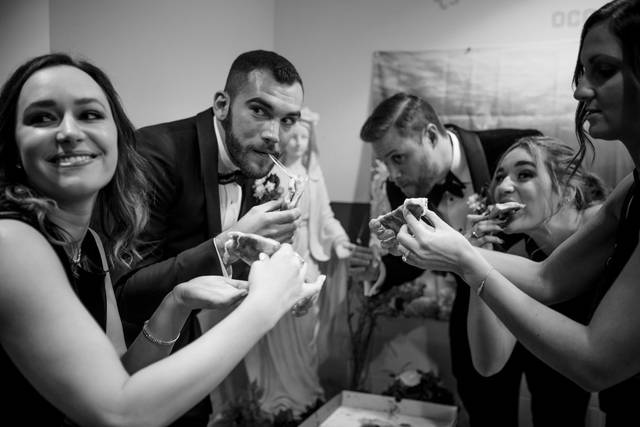 + 19

photos
Annamaria

Married on 06/10/2022

So easy and great to work with

Christie took the stress out of everything. She was so easy to work with under stressful circumstances . We had to postpone our wedding due to Covid but it was not a problem to reschedule . She took pictures that will remain lifetime memories. Most of the time we didn't even know she was there but she made sure she captured our unforgettable day. Thank you Christie!! I would highly recommend Christie for any event.

Cristina

Married on 11/13/2021

Best photographer ever!

If I could give more stars I would give every one in the universe. I seriously can not say enough amazing things about having Christie as our photographer. She is truly an artist. The way she created these perfect images from everything happening on my wedding day is incredible. She has given me my memories in the most idyllic, beautiful way and I will treasure them forever.

Carla G.

Married on 11/12/2021

Love them!!!

We are SO thrilled with our wedding photos. Christie and Katie have an extremely talented eye for photography and capture both "posed" and candid photographs beautifully. On top of that, Christie and Katie are so much fun to work with; I'd get married again just so I could hang out with them! I've seen photographers stress out brides on their wedding day, but I didn't feel stressed out once with them around. They were so on top of everything but simultaneously so easy-going that I felt confident that everything was going to go smoothly and that they were going to capture our day perfectly. Extra extra bonus, photos came back quicker than I expected with uncompromised quality! Highly, highly recommend working with these two awesome ladies :)

+ 2

photos

Are you interested?

Send a message

Lauren L.

Married on 11/05/2021

I honestly could not recommend Christie enough!

I honestly could not recommend Christie enough! We initially hired her in 2019 for our Fall 2020 wedding because we absolutely loved her work. Of course, the world had other plans for our 2020 wedding - and Christie's flexibility through a very difficult planning (and replanning!) process was more than appreciated. She's wonderful to work with and the pictures we received for both our engagement shoot and our wedding are absolutely stunning. She is excellent at capturing human emotion - and the way she works with light is amazing. She and her assistant photographer moved around the wedding and captured many amazing candid shots of our family and friends that we will treasure forever. I highly recommend her as an artist and as a wedding photographer.

Elizabeth K.

Married on 09/11/2021

Talented photographer who is a blast to work with

We could not have asked for a better experience than working with Christie and Katie, even during a global pandemic! Christie was so understanding and flexible even as we changed our plans and location multiple times. Ultimately, she ended up traveling down to Lewes, DE to photograph our micro wedding on the beach. Fast forward to a year later and she photographed our wedding in West Chester, in the way we originally planned. The pictures are absolutely stunning from both locations and Christie uses light in such a creative way. Rob and I are not the best at posing for pictures and she always put us at ease capturing moments in such an authentic way. We had so much fun and our families and friends all commented on how much fun it was to work with Christie and Katie. We cannot recommend Christie highly enough!

Samantha

Married on 08/11/2021

Amazing Photographer

Christie and Katie are truly gifted at what they do. Christie helped us capture all the images we wanted and more from our wedding. There are a lot of options for photographers out there, but the time and attention Christie takes to capturing organic, natural wedding moments is exceptional. The photos told our story so well. We are so happy Christie and Katie were there to join us!

Kait M.

Married on 08/07/2021

So thrilled we hired Christie!!

I'm so glad we hired Christie to be our wedding photographer! The photos are gorgeous and really capture the mood and journey of the day. She and Katie were really great on the actual day of the wedding as well. They moved us along without comprimising on our photo wish list and found ways to get some extra/fun shots too! Her work is really beautiful. It's artful without losing emotional realness. We're so happy!

Megan F.

Married on 05/29/2021

Amazing Photographer!

Working with Christie and her team throughout the nightmare of COVID wedding planning was a dream! She was so accommodating and so easy to work with on the big day. She is such a professional and, judging by our sneak peak, she got some amazing shots! I am so happy we booked her for our wedding and cannot recommend her enough!

Rosie G.

Married on 09/12/2020

Effortless

The experience was effortless, I was specific on what we wanted, and we GOT IT! The bulk of our budget went towards photography, it's something that we weren't willing to give up, and pick a second best. If you appreciate quality photos, and want every picture to give life, energy, and emotion, LOOK NO FURTHER.

Erica S.

Married on 07/17/2020

Highly recommend!

As a covid couple, one of the few silver linings was that we had the pleasure of working with Christie and Katie twice. Christie was so understanding and flexible when it came to the retooling of our original plan.

Last summer they shot our mini ceremony in my husband's parents' back yard and this summer they shot our postponed bigger celebration. Despite wearing masks in the heat outdoors last year, they were in great spirits and kept it fun and relaxed. She delivered the photos from the mini-mony much faster than I had expected and we were so impressed with them. They have such a great eye for beautiful natural light and capturing natural moments. We knew we had made the right choice and were excited to get to work with them again this summer.

We recently received our full gallery from our bigger celebration/vow renewal this past July. I had high expectations based on our previous mini-mony photos and they did not disappoint! We had so much fun with them on the wedding day. They're so easy to chat with and nothing ever felt awkward or forced. We really loved their style of catching the natural moments throughout the day. The photos really captured the emotions and bring back all the wonderful memories, not to mention their attention to light, framing, and just overall artistry.

I wouldn't hesitate to recommend Christie and Katie to photograph your wedding (or anything else for that matter)!

Laura B.

Married on 06/05/2019

Worth the price!!!!!!!!

I am so glad we hired Christie to document our special day. We are so happy with our photos. The thing we loved about Christie is how she captures the beauty of the day. She really shines when it comes to candid photos. We are not crazy about the stiff-posed formal photos that so many photographers focus on. I do have to say however when we were posed the few times that we were, Christie and Katie made us feel totally comfortable and the photos did turn out to be beautiful as well. Christie was flexible with us as we had to move our wedding date due to covid. She was very responsive up through the wedding day. I would recommend using Christie to everyone. You will have the most stunning photos to share forever.

Olivia P.

Married on 05/25/2019

Best photographer ever!

Christie rocks! Her amazing photos speak for themselves. They are not your generic wedding photos. Her photos have emotion, contrast, creativity!

As a bride, you are going to feel anxious/stressed on your wedding day. Christie is calm and polite, yet knows how to execute. After our "formal" photos, I barely noticed she was there all night, yet she captures the most intimate moments! Her assistant is also super helpful and they make a great team.

I wished I lived in the tri-state area so I could hire Christie again and again! HIGHLY recommend!

Morgan D.

Married on 12/28/2018

Stunning Photographs

Choosing a wedding photographer is a big decision; you spend the entire day with the photographer - from the intimate pictures of getting dressed, the moments shared with your bride/groom to the celebration at the reception. Christie Green captured the emotions of the day perfectly! Each and every picture emotes the pure radiance and joy of our wedding day. Christie is a true professional behind the camera who's artist ability created splendid pictures despite the rainy day. Her flexibility and guidance throughout the planning process eased our concerns. Most of all, Christie is fun and outgoing. She became part of the family that day, sharing in the joy and capturing the intimate moments of love between the bride and the groom. Simply outstanding! Richard and Morgan Winter

Jennifer W.

Married on 10/13/2018

Awesome Ladies

They took some of the most amazing photos I have ever seen. Thank you so much.

Niki

Married on 10/12/2018

Best Photographer We Could Ask For

Christie was the absolute best to work with. When we first met her (2 years before our wedding!), we knew that she would be perfect for our event. We planned our wedding from the Pacific Coast, and Christie was always available and accommodating when it came to phone calls or meetings, and answered any questions incredibly quick.
On the day of the wedding, Christie showed up early, and made us completely comfortable the entire day. Within hours it was like there wasnt even a photographer there, everything felt so natural. Our pictures are amazing, and we will have something to remember our day forever!

Adam S.

Married on 10/07/2018

Finding Christie Green is like winning the lottery

Just the words wedding photographer caused a feeling of panic and extreme anxiety for my bride-to-be (even before our engagement). As a husband-to-be managing fear and anxiety became my primary responsibility. After interviewing at least 5 photographers during the course of about 30 days the anxiety was palpable. Enter, Christie Green. We scheduled a FaceTime interview so as to diffuse the frustration of the process. And from the minute the conversation began we knew we struck gold. Christie was kind, funny, real, professional and a pleasure to speak to. We immediately connected with her. When we got off the call with we looked at each other and in unison breathed a sigh of relief. Our first in person experience with her was for engagement photos, which we took on her beautiful property. She put my anxious fiancé at ease and made me look and feel taller than I am (5'6"). Her ability to capture light and our individual character was evident from nkt only our time with her, but also the amazing images she sent us. Fast forward to wedding day, she was early, as was her assistant, who photographed me and my guys at another location. Christie controlled the pre-wedding schedule and made the photography process fun and seamless. Once the wedding started, she was totally accessible for anything we wanted. The photographs that she took captured our hearts. She is 5 star, A+ and we will most definitely be using her again.

Jason

Married on 09/01/2018

Christie is awesome

Christie was very professional and easy to work with from start to finish. She was very responsive and happy to answer all our questions leading up to our big day. She was very organized, making sure she understood our timeline and asked the right questions to ensure she had all bases covered. Most importantly, her photography skills are ON POINT! She has a great eye for setting/framing/environment and adds her own artistic touch which give all her shots a very natural and intimate feeling. We were beyond pleased and would recommend Christie to anyone in the Philadelphia area looking for a very skillful and professional photographer!

Elizabeth

Married on 08/11/2018

Christie was simply amazing! Her talent and artistry within her pictures is what drew me to hiring her for my wedding. All of our pictures were unique and gorgeous. I have received so many compliments on the quality of our photographs. Plus she is really nice and easy to work with. She sends you a questionnaire that helps set the groundwork for your session. Will definitely be using her again.

Nora

Married on 05/27/2018

Easy to work with and incredible images

Hiring Christie to do the photos for my wedding was one of the best decisions I made in the planning process. I picked her because of her art background. I felt like her photos looked so natural and many were very creative! Nothing looked posed. What surprised me in working with her was how simple her technique was. She did not ask me to pose in a million different ways or change my hand or head position many times. Somehow, all her pictures turned out incredible! Truly. Working with her was so easy and that the final product was so crisp. All of our pictures from her were great - from our first look to the family portraits to the reception-action photos. We even got published in a magazine because of her beautiful work! We had such a positive experience with her that we asked her to do our newborn pictures when our son was born. Christie was warm and relaxed and her pricing was very reasonable. I would highly recommend working with her and I am sure we will hire her again as our life changes and important events come and go! We have loved putting these photos up in our house and will cherish them forever!

+ 4

photos

Laura

Married on 05/19/2018

Christie was fantastic to work with for my wedding! Her work is extremely high quality, and my husband and I knew from the start we were in good hands. Leading up to the wedding, Christie was quick to respond to emails and phone calls. She took time to meet my husband and I in person, answer all of our questions, and help us put together a schedule for day-of photos. The day of our wedding, Christie made sure we kept to our schedule and had some very creative ideas. During the ceremony and reception, Christie and her assistant blended right in and we almost forgot they were there! Our photos turned out amazing, and I recommend Christie to everyone!

Katie

Married on 04/22/2018

I switched to Christie Green after I was unhappy with my engagement photos from another photographer. This was supposed to be the most important day of my life and I wanted to feel confident in the person behind the camera. So I made the switch and never once regretted it, we were so thrilled with our photos and honestly could not have been happier with how they turned out! Christie is so professional and easy to work with, she knew where to get all the best photos even though it was her first time shooting at our venue, and just made the whole day fun! I'm so happy we made the switch and would highly recommend her to ANYONE for photos, whether it's for a wedding or baby pictures or anything else that needs to be photographed!!! She is a gem!

Ashley

Married on 10/14/2017

I had the pleasure of working with Christie for my October 2017 wedding photos and engagement photos. As, I come close to my one year anniversary I able to to look back at my photos and relive the very special day. My family and friends were so very impressed with her images and professionalism! I would contact Christie for any our major milestones that may come in the future.

Danielle

Married on 08/05/2017

Christie was fantastic throughout the whole process. She always responded quickly and was super professional. The photos she takes are phenomenal!! The way she uses the light to enhance the photos is amazing. You barely notice her and her assistant throughout the ceremony/reception. I loved all of our pictures so so so much and I am so happy we chose Christie. She's an amazing photographer, don't hesitate booking with her!

Kelly

Married on 06/09/2017

I loved working with Christie!! She is an awesome person inside and out and an amazing photographer!! She really knows how to capture the best picture possible. She looks for the perfect lighting and spots to make amazing pictures. It truly was amazing to work with her. I loved my engagement pictures and already know my
Wedding day pictures will be awesome!! I would absolutely recommend her to anyone, she really has an eye for photography!!

Kellie

Married on 05/13/2017

Christie is such an AMAZING photographer - I am obsessed with her work! This is one of the main reasons I chose to work with her, along with her sweet personality and professionalism. She knows how to incorporate and capture the best lighting for your photos! I would highly recommend choosing Christie as your photographer if you want incredible photos that will last a lifetime!
Are you interested?
Send a message