59 Reviews
Recommended by 100% of couples
Quality of service

5 out of 5 rating

Average response time

5 out of 5 rating

Professionalism

5 out of 5 rating

Value

5 out of 5 rating

Flexibility

5 out of 5 rating
49 User photos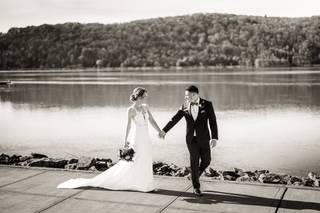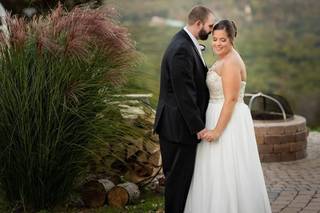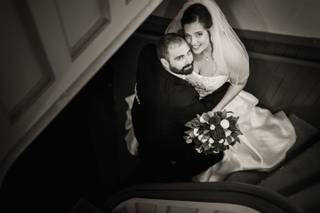 + 45

photos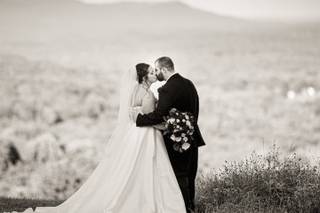 Christopher D.

Married on 10/22/2022

Pleasure to work with!

We used Chris & Chrissy for our wedding. They were such a pleasure to work with. Chris & Chrissy are very organized, detail oriented, and thorough when it came to planning our wedding and executing our shots on our wedding day. Both of them were very fun and easy to work with. They breezed through our photos so that we could spend most of our time celebrating. Chrissy even made the kids babies laugh in our pictures. Thanks!

Alexandra A.

Married on 11/20/2021

The dynamic duo

Chris and Chrissy are such an incredible team! They work so well together to help make your special day run smoothly and effortlessly. Chrissy is amazing at remembering names and family members to help cut down time needed for pictures. Not only are they amazing, the pictures are incredible!!! We are so happy how they came out! We lucked out getting this dynamic duo for our special day ❤️

Mary K.

Married on 10/02/2021

Outstanding!

Chris and his wife are a dynamic duo! They did an outstanding job on our wedding. They took beautiful portraits shots of our family and friends while also caughting all the fun details of our wedding. They were so easy to work with and communiated with us the entire time. We can't thank them enough for there talents and highly recommend them for any type of event.

Are you interested?

Send a message

Vianna

Married on 08/07/2021

Another stellar review for Chris & Chrissy!

They already have a perfect five star rating, but I have to add my experience: just... wow. From our first introductory Zoom to discuss our wedding, it was obvious Chris Carter Photography was going to be perfect. Chrissy was so informative, professional, and fun, and seemed genuinely excited about our slightly non-traditional wedding plans. All of the logistics were handled smoothly ahead of the wedding, and everything went exactly as planned. During the photos of just us, they made us feel so comfortable (being photographed can be weird!) and had so many amazing ideas for locations, poses, etc. And during the big group photos--of which we had a LOT--they worked efficiently without being pushy, were willing to do every possibly combination we needed, AND managed to get my two-year-old nephew and two infant nephews to look at the camera!!! Anyone with babies knows that's an accomplishment haha. Finally, during our cocktail hour and dinner, Chris made sure to get pictures of every guest, was always jumping in to replicate peoples' phone camera shots on his camera, and was generally just such a positive presence in the room. Our wedding was three weeks ago and we just got our first sneak peek of the photos, but it included a whopping 50 shots! And they are all just stunning. I'm so happy. I LOVED working with them and would recommend them to anyone.

+ 4

photos

Kelly Y.

Married on 06/05/2021

Absolutely wonderful

Wonderful people to work with. Very professional and personable. We received a few sneak peek pictures of our day we love what we have seen. We had some unfortunate circumstances to deal with including covid and an illness, they were very accommodating and helpful in rearranging our date and event plans. You are in good hands with Chris Carter Photography, we couldn't have asked for a better team!

Alyssa P.

Married on 05/30/2021

A Dynamic Duo

Chris Carter Photography was amazing to work with! They were my absolute favorite vendor we worked with throughout our whole wedding planning process! Their organization was mesmerizing! I have been in and to a lot of weddings and they have it down to a science. With the use of headsets, they communicate constantly and ensure there is no confusion or "slips" in seeing the bride before the perfect moment. In the planning process, they were so responsive and often got back to my questions within hours or sometimes even minutes! They were so lovely to work with and I would recommend them to any family or friend in need of a photographer!

Meghan S.

Married on 01/23/2021

Awesome Awesome Awesome!

We cannot say enough good things about Chris and Chrissy. We knew from the moment we met them, that they were the photographers for us. Our original wedding date was January 23, 2021. Unfortunately, we had to postpone the reception to the following year. We wanted to keep our original date, so we chose to have a small intimate ceremony with immediate family and friends. Chris and Chrissy made the process of splitting the day incredibly seamless. At our reception, Chris and Chrissy had us laughing and smiling the whole time, which made us feel so at ease. They were awesome to work with and we would definitely recommend them for any event!

Kristine M.

Married on 12/09/2020

Best wedding photographers!

Chris and Chrissy are hands down the best photographer duo out there! I booked them early 2019 for my sept 12, 2020 wedding and from the very start, they were professional and easy to work with. They answered all of my questions and handled everything COVID threw at us through out the year. The day of, they arrived early to get extra getting ready shots and they managed to keep everyone where they were supposed to be during the day. Chrissy even got my two year old nephew to cooperate, she's so amazing with young kids. They got every picture I could have wanted and then some. They even stayed late to get the sparkler pictures at the very end of reception. I couldn't be happier with how every single picture turned out and I will relive the day whenever I want through their pictures!

Shelley G.

Married on 08/01/2020

Great engagement photography session!

My fiance and I got engaged in early March, right before covid fully hit in full force in New York. When we were ready to begin engagement and wedding activities in the summer, we knew we wanted to have an engagement photo shoot. From our first communication, Chris was extremely responsive and answered all our questions promptly and clearly. My fiance and I really liked the photo style, and the price for the engagement shoot fit nicely in our budget. Chris was flexible about our location choice, and flexible when we had to reschedule a few times (including once because of the tropical storm!) I was a bit bummed that the day of our shoot turned out cloudy, but seeing the finished results, Chris was able to make an overcast day still look beautiful. Chris came solo to our engagement shoot, and from the outset he helped us feel at ease. My fiance and I felt like we could be ourselves during the shoot and we really liked Chris' positive energy--and his committment to safety during these times (he was ready with his face mask!) Thank you to Chris Carter Photography for helping us to have what felt like a normal engagement shoot during these atypical times.

Kelly

Married on 11/09/2019

Beyond Amazing!

There are NO words to express our gratitude towards this amazing duo! From the initial inquiry email and the meet and greet, we knew Chris & Chrissy were nothing short of wonderful and we HAD to use them! The rave reviews that I had heard for months prior were completely solidified upon seeing their work in person.

These two are the definition of power couple! We had the pleasure of using them for our engagement photos and we were SO beyond pleased with those that we couldn't wait for the big day! Their energy is nothing short of contagious and they made everything so fun and easy going!

On our big day Chrissy came to the bridal suite and Chris went to the guys room for our getting ready pictures! Their communication with one another was beyond amazing. They both ensured that the day ran as smoothly as possible and everything went out without a hitch. They were so accommodating for the pictures we wanted and for giving us the opportunity to take a few shots in the reception room before anyone else saw it.

They were absolutely perfect and we can't wait to see our pictures! We look forward to using them for years to come for family photos.

Thank you SO very much to the both of you!

- The McKeans


Kimberly

Married on 10/19/2019

Fantastic!

They were so much fun to hang out with the day of our wedding, they fit right in with the crowd! They made sure we got all the photos we wanted and provided their expertise where needed. They were so prompt when answering any questions throughout our wedding process also. 10/10 defiantly recommend them!!!

Alyssa

Married on 08/24/2019

Chris and Chrissy are absolutely amazing!!

Chris and Chrissy were a dream to work with throughout the entire wedding process!! We did a facetime interview with Chrissy and loved her energy and organization of how our wedding day would be documented. We live in NYC and with that being such a big part of our lives, we really wanted to do our engagement photo shoot here. Conveniently enough, Chris was able to do our engagement shoot one evening after he was in the city for something else! We knew after receiving those pictures that we picked the perfect photographers. On our wedding day they were on top of EVERYTHING! Chrissy came to where my girls and I were getting ready, and Chris went to where my husband was getting ready. I loved having two photographers that work so well together- and that way one person wasn't rushed running around in the morning. We did family pictures after the church ceremony, and they were so on top of the list of what pictures we needed that we didn't need to think about anything but to keep smiling! At the reception they were all over the place, documenting different guests, angles, the venue, more things than I could think of. Our photos came out absolutely STUNNING and we could not be happier with them! We can't recommend enough Chris and Chrissy for your wedding day!

Allana G.

Married on 08/03/2019

Dream Team

Working with Chris and Chrissy was amazing from the moment we met them to receiving our album! We purchased the bundle that included 8 hours of coverage with both shooters and a personalized wedding album. They are such a personable, detail-oriented, down to earth, and fun husband and wife team. They were diligent about working with us leading up to the wedding, collecting must have shots that we would have forgotten about in the moment. They were early to our very early start time (we got married during the day so getting ready shots started at the crack of dawn!). Chrissy was with the girls for the morning while Chris was with the guys, they communicated with each other constantly if we went for outside shots and things to ensure that no one was seeing each other before the first look. They made us feel so special and beautiful on our wedding day. The photos themselves are obviously stunning, we cannot get enough of them! They were quick to send a sneak peak within a week of our wedding and we had over 1,000 fully edited photos within about 3 and a half months. Once we chose the photos for the album we received a proof within 3 weeks and the full album a few weeks after that. Everyone who interacted with them at our wedding, from bridesmaids and groomsmen to guests on the dance floor, loved them. In showing our photos off we receive a ton of compliments and everyone asks who our photographers were! I've already told my husband then when the time comes to have our first baby we will be using them for our maternity shoot! I cannot recommend Chris and Chrissy enough.

Alexandra

Married on 07/20/2019

Amazing!!!

Chrissy and Chris were so amazing!!! I loved Chrissy sassiness with us while we were getting ready, she made me and my bridal party feel amazing. Since it was a scorcher for our wedding both made sure pictures outside were fast and when I mean fast I mean extremely fast. So efficient in doing family line ups and even bridal party pics. Could not have asked for a better photography team. Thank you so much for capturing mine and John's special day!

Maria

Married on 05/24/2019

Simply Amazing...

Chris and Chrissy are an amazingly talented and professional couple. As soon as we saw the artistry in their photos we knew that we were interested in hiring them for our wedding day...and after meeting them it became official. They have a passion for what they do and worked so hard to not only capture the most beautiful photographs but put you at ease and make your day run so smoothly. They worked seamlessly with our videographers, setting the stage and tone throughout the day. Chrissy was absolutely amazing with our 2 1/2 year old nephew, keeping him engaged and laughing. Chris is patient and kind and they both work together to walk you through each step of the way. Our friends and family commented on Chrissy's great sense of humor and how comfortable she made them feel. Our sneak peek photos were beautiful and we can not wait to see the rest of the edited images soon! We can not thank you enough for absolutely everything. Look no further...they are the right choice, trust us!

Erica

Married on 04/26/2019

Captured moments

My (now) Husband and I got married this past weekend at FEAST at Roundhill and could not have been happier with Chris and Chrissy as our photographers. Every exchange with them leading to the big day was positive and smooth and they were great to work with on the day of the wedding. Chrissy has tremendous vision for the best shots and Chris is so great at being in the moment and capturing what he sees. They were so in tune with each other that the whole process was fun and easy going - this coming from two people who rarely put themselves i front of the camera lens and would prefer to stay in the background. We would highly recommend them to anyone who is looking for a photographer for any occasion.

James D.

Married on 11/03/2018

Chris helped make our day fun!

Chris is not only a great photographer, but is a fun addition to the wedding day! He did a great job keeping everyone in the moment and was efficient with our time. He and Mariana worked hard to find the best photos despite the cold and windy elements. He was non-invasive during the ceremony and reception, but still present enough to know he was capturing the highlights of the evening. He was prompt with the sneak peek afterwards, included more photos than we expected, and all turned out great!
5 stars, definitely recommend!

Heather

Married on 09/16/2018

Amazing husband-wife photography duo!!

My husband and I were beyond pleased with the photography services provided by Chris and Chrissy of Chris Carter photography on our 9-16-18 Hudson Valley wedding! The husband-wife pair worked seamlessly together the whole day and kept the energy high despite the hot day. Chrissy is hilarious! She was cracking jokes the whole time which really helped my husband loosen up and flash a more natural smile :) Our 6 year old ringbearer was not an easy smiler and both Chris and Chrissy did whatever it took (e.g. joking, dancing, shimmying lol) to get him to laugh and smile! They were also so flexible on wedding day, rearranging their schedule in order to accommodate a ceremony rehearsal with the bridal party that I had requested be performed wedding morning. Our wedding previews are absolutely beautiful and I relive the magic of the day everytime I look at them. We are so excited to receive the full album! Both of our mothers requested wedding pictures to use for their holiday cards and Chris sent them to me within 24 hours of me asking. Chris Carter Photography is a true gem - booking them will be one of the best wedding planning decisions you make!!

Liz

Married on 09/08/2018

Chris and Chrissy were so fun and easy to work with. They did a great job at making us comfortable behind the camera and keeping us laughing. We had rain on our wedding day but they were able to get us outside to take most of our portraits and I'm so happy they did, as the photos came out amazing! I would definitely recommend Chris and Chrissy for wedding photos and look forward to using them for future portraits.

Pamela

Married on 07/22/2018

Excellent and wonderful personalities to work with

Long overdue review but I loved having Chris Carter Photography at our wedding last year! They are punctual and professional, and their photos were amazing. Their directions pose-wise were on-point. Also, Chris and Chrissy are such a pleasure to be around because they are hilarious and you can tell they love what they do. Chrissy is awesome with kids as she was able to get some wonderful photos of my niece as well. Very pleased with how our leather album came out (excellent quality). I recommend this photography team highly; we even ended up booking them again for maternity photos this year.

Gina

Married on 06/29/2018

I cannot say enough about this team! Chris Carter photography captured the moments of our wedding, from the first look to our cake cutting, so thoroughly and beautifully that I actually cried when seeing our photos!
Chris and Chrissy have such knowledge of working with people and landscapes that there is not one photo that we don't like! Our posed group photos are just as beautiful as our candid shots. The colors in our pictures are rich and vibrant, capturing all of the natural beauty of our summer wedding. We looked at many photographers, and we were repeatedly drawn to the precision and elegance of this couple's photos.
Best in the Hudson Valley, hands down!
Thank you, Chris and Chrissy!

+ 2

photos

Solie

Married on 06/28/2018

Chris and Chrissy are amazing!!! They really are the perfect team. They made me and my husband feel really comfortable from the very beginning. We didn't get a chance to meet in person but that didn't matter. We had been in constant contact through emails so that when we did meet in person I felt like I had known her for a while. Her demeanor was so relaxed she instantly made me feel less stressed!! Besides how great they are, my pictures are gorgeous!!!! I just received a few to preview but I am so happy with the outcome. Thank you so much Chris and Chrissy!!

Bethany

Married on 10/27/2017

I am so grateful we chose to work with Chris and Chrissy!! They were very responsive and easy to plan with, even across state lines at times!! I knew from the moment I spoke with Chrissy on the phone that this was the right choice. They go above and beyond to ensure each detail is covered, including a list of must-photograph family members!! Even though we were very late for the first look, they made sure each photo was taken without me having a meltdown. Chrissy was in contact with me all morning, and even came to our hotel room to pick things up since we were running 2 hours behind! They are a wonderful team and our pictures are GORGEOUS! I could not be any happier with the memories we have thanks to Chris Carter Photography!

Alexis

Married on 09/24/2017

Chris Cater Photography is the BEST Wedding decision we made! From our first meeting with Chrissy, to our Engagement shoot (where Chrissy made me comfortable in front of a camera for the first time ever!) , to constantly quick responses, to helping us figure out our wedding day timeline, to the flexibility to handle day of changes - we LOVED everything about working with Chris & Chrissy! We have gotten SO many compliments on our BEAUTIFUL engagement photos and on our preview wedding photos! We can't wait to see the rest of our wedding pictures and are SO beyond thrilled that we chose to work with Chris Carter Photography for our Wedding!!!

+ 7

photos

Michele

Married on 09/09/2017

Let me first say that Chrissy and Chris made our day perfect. We had a rough start to the day and several people from the bridal party weren't in the places they were suppose to be at the times they were suppose to be. Chrissy came to the bridal suite to start the day. From the second I opened the door I knew I was in excellent hands. Her personality is bubbly, energetic and contagious. She made all my stress melt away. Like I said, we had a rough start and she just rolled with it and adjusted the schedule to fit around things. This worked out perfectly for us. I first met Chris when I came down for the First Look shots. He's sort of quiet but his choice of angles and locations for photos are perfect. Chris and Chrissy work so well together and you can see their personalities bounce off of each other. We had two flower girls (3 and 6 yrs old) and they were able to get amazing shots with them. The 3 yr old is a little shy but Chrissy got her to smile and laugh. During the reception I saw the two of them zipping around the room with the flash of their cameras constant. We received an email a few days after the wedding with 46 sneak peek shots and I'm blown away. I'm without a doubt sure that when the rest of our photos come in they're going to be everything we wanted for our wedding day. I absolutely recommend Chris and Chrissy to anyone who needs professional photos done. For us personally, we'll be calling them in the future when we need pregnancy/newborn photos.
Are you interested?
Send a message