18 Reviews
Recommended by 94% of couples
Quality of service

4.7 out of 5 rating

Average response time

4.8 out of 5 rating

Professionalism

4.8 out of 5 rating

Value

4.6 out of 5 rating

Flexibility

4.8 out of 5 rating
Awards
10 User photos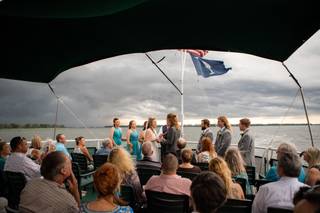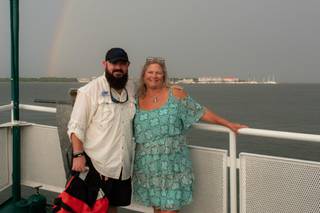 + 6

photos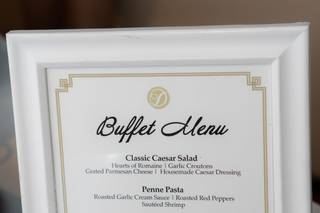 Wendy

Married on 06/02/2018

They made our daughter and son-in-law's wedding day spectacular! They worked with us on scheduling, the rehearsal, how to set up the tables, the menu, the bar, everything. Contacting and communicating with Libby and the DJ were a breeze. The payment plan was great. They supplied the caterer, who turned out to be Duvall Catering, and an awesome DJ, Robert Howell. We had a storm blow up. They managed to get the boat out before we were grounded by the Coast Guard so that the nuptials were out in the harbor, then we went back to the dock, until the storm blew over. That was fine, because the view was great, and everybody was eating the amazing food from Duvall Catering. Once the storm blew over, they took the boat back out, and everyone enjoyed the beautiful double rainbow, cocktails, dancing and a harbor cruise. The crew were professional and friendly. Libby was great helping me with everything, as I was the mom-of-the-bride, wedding planner and director, table arrangement maker, seamstress - you get the idea. Everybody spoke of how wonderful and fun the wedding was. The groom wishes he could have another one, it was that fun! I highly recommend them for your wedding or event. I would certainly utilize them, again! Thank you everybody!! I will review the food a bit more under Duvall Catering. Nothing was left at the end of the evening. It was that good.

+ 7

photos

If you are looking for a unique and unforgettable wedding venue, this is it! Drew and Laura we absolutely fabulous in putting together a stellar event. Our guests loved the boat and several told us this was the best wedding they had ever been to. The crew is attentive and dedicated. I emailed Drew and Laura A LOT in preparation for our event and they were patient and responsive the whole time. They made sure all of our needs were met, even supplied a shuttle for my wedding party to go take pictures down on the battery before coming to the reception.

We had about 100 guest on board and there was plenty of room for dancing on the middle deck, dining below deck, and enjoying the view on the upper deck. Everything was simply breath-taking!

Maria

Married on 08/25/2012

Is a great vanue... Every body enjoyed it.

Are you interested?

Send a message

Debbie

Married on 06/04/2011

Drew was so helpful and always prompt with responses. We had many of our guests tell us that they would never have thought of having a reception on a boat but it was the best party they had ever attended.

Janine

Married on 09/25/2010

Great service and professionalism! We couldn't have asked for a better rehearsal dinner. Everyone LOVED it! We were very forunate to have such gorgeous weather that provided one of the most beautiful sunsets that I've ever seen and even watching the full moon rise the second half of the night was picture perfect! The food was excellent and the dj provided lots of great music throughout the night! Awesome awesome awesome evening!!!

Susan

Married on 09/19/2010

Having my daughters reception on the Carolina Belle was an excellant decision. Our family, including the bride and groom, all live in Illinois so the arrangements had to be done by phone. Drew made this all very easy and it all turned out as we had planned. The food was very good. All of our guests were talking about how much they liked it. The DJ was great! Very personable and from what I heard, he even gave some dance lessons! The Carolina Belle is a unique venue for a wedding reception where you can have the elegance and romance of a sunset on the water while dining, the comfort to kick off your shoes if you feel like it or kick up you heels to a little Reggae. And every bit of this will make great pictures that will be different from an ordinary venue. My daughter called this her dream wedding day. We all had a great time and you couldn't haver asked for a nicer crew.

Kathi

Married on 09/18/2010

I received a quote with options very quickly from Drew at Charleston Harbor Tours. He answered all emails promptly and efficiently. Our cruise was great. The food was excellent, cake (by the Cake Stand) was beautiful and delicious, and the dj was great. The crew was very accomodating. It was a beautiful, unique reception enjoyed by all.

Pam

Married on 06/18/2010

Our rehearsal dinner was awesome! Drew could not have been more gracious & helpful as we planned. The Captain and entire boat staff during the cruise were wonderful, friendly and helpful! The food was delicious. Our family is looking for another occasion to have another party aboard The Carolina Belle!

Margaret

Married on 05/01/2010

My best response for other bridal events is to say this: Drew said what he was going to do, then always did what he said plus some. We had great expectations to provide an event that would leave everyone with forever memories. And we walked away with that and more. Our night was beautiful, the crew was professional plus very hospitable, the bartender was fun and efficient, and the catering was delicious and their staff was friendly, competent and very accomodating to all.
All in all, our event turned out to be better than we even imagined.
Thank you for the opportunity to sing the praises of Charleston Harbor Tours and specifically Drew.

Danielle

Married on 04/17/2010

This was a unique way to spend time with a small group (we had about 40) of family and friends doing something memorable! I am convinced no one remembers what was on the menu, but they never forget an experience like this one! The crew was helpful and flexible. they allowed us to bring finger foods and they provided alcohol for guests that were interested. We had music on an i-pod that they played through their sound system. Young and old enjoyed our sunset sail- one word of caution- sailing and paper products do not mix! Don't bring things on board that could fly away- because they will fly away! A wedding- which usually feels hectic- honestly felt like a vacation! We loved it.

Erin

Married on 11/14/2009

They were amazing! It was everything I could have imagined and would not change anything. They were understanding about what I wanted and worked with me to make it happen, and within our budget!

Kirsten

Married on 05/02/2009

Drew was awesome. The venue was perfect and he couldn't have been more helpful in helping us plan and answering any questions we had.

Anne

Married on 11/08/2008


Great Night. Charleston Harbor Tours took care of us, they put on a full scale rehearsal dinner for over 100 guests and all it took a few phone calls. I was truly impressed with Drew Yochum and his staff. He even helped me find transportation for my guests to and from the event.

Thank you!

Gillian

Married on 06/13/2013

Our experience with Charleston Harbor Tours was amazing.
We chose Charleston Harbor Tours as our venue because of their flexibility & value. We loved that the company had suggestions of a caterer, DJ, ect., but we weren't obligated to use them. We liked that they had multiple ships to choose from, so we could have the best fit for our needs; & different pricing points they had to offer for the boats themselves & for alcohol packages. We loved how we were able to change our minds about certain aspects of the event up to the last minute.
All of our wants and needs were met above and beyond. We had lights we wanted hung around the boat & the crew put those up. We were able to have all the decorations we wanted, no problem, & the boat was set up exactly how we wanted. Our vendors had no trouble accessing the boat when it was best for them the day of the event. The crew did everything exactly to our strict timeline of events. We got extra parking passes for our wedding party, & I was met upon arrival so I'd have a front row parking place.
I'm a very type A person, & nothing seemed to phase Drew at all. Drew always got back to us quickly with great information to help us along the way to planning our wedding. He also met us several times at the Carolina Queen prior to our wedding, so we could get dimensions & re-evaluate the plans/ideas we had.
The crew aboard the Carolina Queen for our wedding was great & professional. They took care of all of our guests & vendors.
The only beef we really had was with their beverages. They are Pepsi based when the majority of our families & friends are Coke drinkers. We also purchased the Admiral's Private Collection alcohol package because it had Grand Marnier. When my husband and his hockey buddies went to go get a shot of it, it wasn't available.
If we had to do it all again, we'd definitely book with Charleston Harbor Tours. We definitely recommend any of their boats for events.

Teresa

Married on 06/05/2010

The crew of the Carolina Belle through Charleston Harbor Tours was the site of my son and daughter-in-law's wedding reception. Our guests had a great time. Everything was to my satisfaction and the crew was very personable. We had an abundance of delicious food and the DJ was great. I would definitely recommend to anyone wanting to host a gathering to try them.

Thanks for everything!
The Garners of Cumming, GA

Kristen

Married on 09/19/2009

The sales team and crew were extremely friendly and helpful. The boat cruise itself was wonderful. The food was delicious, the music was good, and overall it was amazing. I'm very glad I chose the Carolina Belle as the place for my wedding reception. The only one small issue was the air conditioning didn't seem to be working well at that time and it was really warm downstairs. They've probably had it fixed since though.

Seth

Married on 05/04/2012

We had an amazing time on the Carolina Belle. We rented it for our wedding rehearsal dinner, since we had 100+ friends coming from out of town. We simply ate BBQ and had boiled peanuts and beer on the boat. They allowed us to bring on a 3 piece band too.

No kidding... at one point a school of dolphins circled the boat and jumped in and out of the water as everyone cheered. Later in the evening, just as we passed under the Ravenel Bridge, the city put on a 20 minute firework show - it was unbelievable.

Pretty incredible. Also, they really cleaned up the boat and had it looking nice once the event took place. I definitely recommend it for the right event.

Tisha L.

Married on 10/23/2021

Do not hire this boat

PLEASE PLEASE DO NOT USE THIS PLACE FOR YOUR WEDDING. They are horrible. I've filed with the BBB and I'm writing reviews and requesting that they be taken off any website that I saw them advertised on. They are NOT appropriate for any bride to get married. After a month and a half of no contact, my coordinator calling them 4 times, my MOH calling them 3 times I finally got in touch with Drew, the VP of sales and he was complete and utter prick and hung up on me.

He also wasn't present for a tour of the boat when I came in from Tennessee to see it nor did he schedule the tasting for catering. On top of that, they never sent any information to the caterer so now I also don't have a caterer for my wedding because they were never reserved for that date.

I implore you, DO NOT USE THEM unless you want to never receive calls back, end up three months before your wedding finding a new venue and catering.

Charleston Harbor Tours's reply:

Hi Tisha, you were booked and contracted for an event at the end of October. We booked the boat and caterer with the buffet menu provided. We have the relationship with the caterer on our dinner cruise package. That would not transfer to you when you cancel the event. You will have to hire a caterer on your own since you chose to cancel the event with us. As the VP of Sales, I am not your wedding planner and I set up a viewing of the vessel for you and your planners. I would have liked to be there, but cannot always as we have many other events and tours going on. You had access to view the vessel with your planner and that's all that was needed. We have executed tens of thousands of tours and events in our 20 plus year history and never had any issue with communication. I was only contacted in the evening the night before via email and had not gotten a chance to respond to your planner, and received a phone call you thought that was "unacceptable" and wanted to cancel, which we did and refunded your deposit as per the contract. I did not receive 3 or 4 calls from anyone else. But, you do not have unfettered access to the sales staff for an event at the end of October. We will do our best to get back to people in 24-72 hours depending on the questions, but again we are providing the venue and boat crew as well as facilitating the catering, but we are not your wedding/event planners. A tasting was never mentioned to me, but we do not offer tastings with a buffet dinner cruise package for 40 guests. We did not offer this pre Covid, but especially do not now with our caterers. Sounds like you are not the right fit for a wedding on a boat and canceling was the best option. Best of luck with your venue search.
Are you interested?
Send a message