249 Reviews
Recommended by 92% of couples
Quality of service

4.6 out of 5 rating

Average response time

4.6 out of 5 rating

Professionalism

4.7 out of 5 rating

Value

4.6 out of 5 rating

Flexibility

4.6 out of 5 rating
71 User photos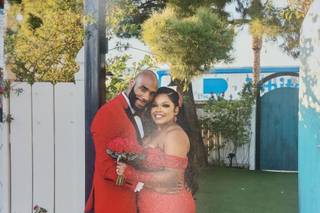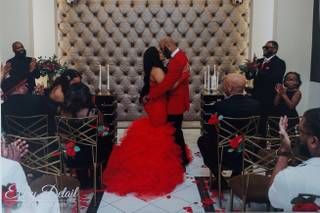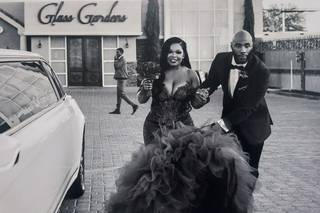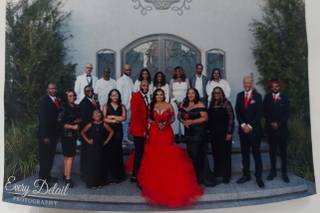 + 67

photos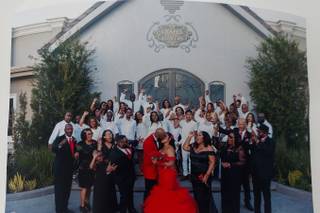 Shamika L.

Married on 12/03/2022

My experience with this vendor was good!

This was a great experience! I wish the communication was better. It would be nice to have a quick run through of the wedding the night before, even for a small fee.

+ 3

photos

Karina D.

Married on 09/29/2022

Best Chapel in Vegas

The absolute best Chapel in Vegas to get married. They give you a wedding planner and website access to start planning the event from A to Z. The glass gardens was absolutely stunning! Everyone there was super professional and easy to work with! From the video to the pictures, and execution of the entire ceremony was perfection!!

Sarah

Married on 08/21/2022

Amazing place I would recommend to others

I loved it and everyone was very nice

Are you interested?

Send a message

Darris A.

Married on 05/21/2022

Magnificent

Immaculate from start 2 finish

Chapel of the Flowers's reply:

Thank you Darris and Congratulations to you and Ebony on your wedding day! We appreciate you sharing your feedback with us and with the community. Couldn't be happier that you felt your experience was immaculate from start to finish. That's all we want for every couple that chooses to celebrate their love story with us. We wish you and you and Ebony every happiness, and again congratulations Mr. and Mrs. Anderson!

Joyclyn

Married on 03/03/2022

Excellent service

Everyone was so nice and helpful love the environment

Chapel of the Flowers's reply:

Thank you so much Joyclyn!! So happy that you received excellent service, and that you found the staff to be knowledgeable/helpful. We are so glad that you enjoyed your ceremony at the Magnolia Chapel and the grounds here at Chapel of the Flowers. So grateful that you and Damon chose to spend your magical day with us!

Gerhard B.

Married on 01/30/2022

Professional

Wedding planner, Sha, and Chapel of the Flowers were professional and available all the time and overall exceeded our expectations. My bride and I felt well-taken care of and believe we received more than our money's worth. We had one issue where our gown and tux fitting appointment was double-booked, but they fixed the situation quickly and in the end it all worked out perfectly. The video and pictures quality was great and we bought the tablet with the content to cherish our memories. Will definitely use them again one day to renew our vows. Special shout-out to Sha, Robyn, Frank, Francisco and Brianna. Thank you for making my princess feel special.

+ 3

photos

Angela

Married on 12/21/2021

Chapel of The Flowers is so professional, courteous, and informative. They instruct you through the entire process and make you feel worry free. I would recommend anyone to get married here. The arrangements were beautiful, clean, and tastefully done. Thank you COTF for making my day beautiful!

Roman

Married on 07/16/2021

Amazing experience! I would recommend this chapel to anyone who is getting married in Las Vegas

Chapel of the flowers was the most amazing experience we could have asked for. From the moment we were picked up by the limo, we felt like we were being taken care of. Every single person we dealt with was amazing! We felt like it was our day and we were the only people being focused on. I would tell anybody wanting to get married in Vegas to come to chapel of the flowers!!! We absolutely love you guys and your chapel! Thank you-thank you-thank you from the bottom of our hearts.

Amy M.

Married on 06/26/2021

Beautiful, Well Organized, Very Professional

My wedding at the Chapel of the Flowers was BEYOND anything I could have asked for! The preacher had such beautiful words and the ceremony was gorgeous and so professionally planned. Absolutely would recommend to anyone getting married they made it so easy. Beyond Happy.

+ 4

photos

Scarlett V.

Married on 05/22/2021

A dream come true!

After rescheduling our wedding 3 times due to COVID, my husband and I put together a getaway Vegas wedding in 3 days with the help of the Chapel of the Flowers.

We found this chapel through Google. The website looked professional and we fell in love with the outdoor gazebo location. Everyone we spoke to was super helpful and the package included everything we needed (limo pick up and drop off, flowers, photography and video streaming) so planning was extremely easy.

When we arrived for the ceremony, they made us feel like we were the only couple there and they truly made our special day perfect.

Photos and video came out much better than we anticipated. We had candid ceremony photos and posed photos and they are all lovely. The ceremony was unplugged, and while I wasn't happy about it at first, I TRULY appreciate this rule. The ceremony was intimate and romantic this way.

My husband and I are so happy with our day. We even believe this should have been Plan A for our wedding.

The Chapel of the Flowers truly went above and beyond for our special day. I HIGHLY recommend contacting them for your special day.

Beverly

Married on 07/11/2020

Great Service

We really enjoyed our tour with Debbie. Planning on booking with them

Kabraea

Married on 07/05/2020

Kabrea And Marcus Wedding

We got married on July, 5th,2020. We had picked this location from watching a YouTuber and had needed to find a place in 3 weeks and they were open during this quarantine time. We booked on their website was very user friendly. We paid for the traditional package and gradually made upgrades toward the end for the 1st look service and limo but it was worth it.We choose the beautiful La Capella Chapel loved the chapel! We had a slight problem with our planner not wanting to show us the venue when we got in town, but eventually she showed the chapel to us. Our wedding planner answered the questions we had, but wasnt really a huge help to us.The day of the wedding: the limo driver showed up on time was patient cause we were late walking down from the hotel room, he wasnt rushing us at all(deserved his tip). Arrived at the chapel had a mini panicked attack in the small room they hide the bride in but my Coordinator "AURORA" was on it, she was so patient and friendly and calmed me down she literally made the time their go smoothly,"(Highly recommend brides ask for her on the day of)".💜 Our minister he was great😊everybody loved him, I loved what he said before we exchanged our vows, and how he made the ceremony go smoothly as well as the other staff members. I wanted the minister from the original video from when we choose the venue and I'm so glad we got him. The whole building was very clean and staff very professional. We loved our video and disliked most of the pics from the ceremony. Last thing our live stream video had only 1 min of footage when we played it the next day and they immediately fixed it for us so our out of town guest could rewatch it. That was really wonderful of them to do as well...Overall We dont regret this decision with picking Chapel of flowers overall 5 stars from us. If we had to do it again we would rebook.Thank you for marrying us 😊🎉💜

Dinah W.

Married on 02/15/2020

Amazing Wedding

I'm so very grateful for Chapels Of Flowers for my amazing Wedding experience. Not one problem, my wedding was completely stress free. My amazing wedding planner Vickie delivered above and beyond my expectations. Chapel of Flowers entire staff awesome and very professional. Wedding Chapel beautiful and very clean. Therefore, if you select Las Vegas for your wedding, there's only one place to marry and That's Chapel of Flowers. One more thing, Minister who officiated my wedding, amazing Man of God. Also, photos came out amazing. Thank You Chapel of Flowers. God bless..

Lois J.

Married on 11/22/2019

Perfect from start to finish!

From the start where I messaged on the instant chat on the website to finish where we collected our photos the service was excellent! I cannot find any faults at all.
The preparation before the wedding was easy to do and stress free, communication was brilliant! We visited the Chapel before our wedding and was able to see where we were getting married.
On the day of our wedding the coordinator was so kind and helpful, our minister did a beautiful ceremony and the photographers knew exactly what they were doing and took perfect photos.
Our family and friends were able to watch our video on live stream and the video quality was outstanding.
The day after our wedding we were able to collect our photos and again the service we received was fantastic. We loved all our photos and opted to purchase them all and the package deals for photos were reasonably priced and there are options to buy your wedding video which we did. All our images have been received on a memory stick in a keep stake box we also had 14 prints in our wedding package, the photos are printed in very high quality.
Overall we would highly recommend Chapel of the Flowers, we couldn't have asked for a better day, they helped make every step perfect!

Sarah

Married on 11/03/2019

Limo Ride!

We booked the limo ride for the girls from the hotel to our venue. The driver was smooth and steady! Enjoyable experience!

Jenna D.

Married on 09/01/2019

I Would Highly Recommend!!

My experience was more than anything I could have ever imagined. The ceremony was beautiful and everyone was friendly and professional. Our minister, Robb, was amazing, his traditional vows were absolutely perfect. I would highly this chapel!

Sabrina G.

Married on 06/29/2019

Sabrina & Alan's wedding

Absolutely stunning place. We were so happy to get married here. Everything on our big day went to plan. Staff are so friendly & helpful, thanks so much to Rachel Braund for arranging every little detail. Our minister on the day was amazing, she was fantastic and helped with all our nervousness. A special thanks to our guitarist and the photographer who were organised by Rachel.

Kameisha L.

Married on 04/02/2019

Lucky in Love Las Vegas!

The experience was amazing. Chapel of the flowers exceeded our expectations. From the initial reservation all the way until the reception they were there as if they were family. Their all inclusive packages along with add ons were worth every penny. Trust them to make your wedding day memorable.

Andrew P.

Married on 03/18/2019

Our Big Day

One word to describe our wedding at the Chapel of the Flowers - PERFECT!
From planning our wedding from the UK, our communication with Shelby Rogers was great. She was extremely helpful and promptly replied to all our emails and reassured us that the day would go without a hitch when we got to Vegas.
One there, everything went perfectly, from collecting our marriage licence in a limo to viewing our wedding photos and the Big Day itself was perfect.
Our limo drive on both occasions were polite, courteous and friendly. We met Shelby and she explained everything.
On the Big Day, the lady that did my wife's hair turned up on and was lovely. Our limo driver was excellent. Our Minister was amazing too. She talked us through the ceremony and eased our nerves...well mine!
The premises are clean and tidy and the Chapel we got married in was lovely.
Everything was perfect. I can't thank everyone involved there enough.
If you're getting married in Vegas then get married at the Chapel of the Flowers...you won't regret it.

Amy S.

Married on 03/08/2019

Wedding Ceremony for Bride and Groom was so wonderful.

The Chapel of the Flowers provided us with professional and personalized serce, taking care of every single detail so that it was OUR day. We loved every single staff member through every stage from the planning stages to the service to the photography meeting afterward. Our minister made us feel very special and treated us with such care, which was really important. The music we had selected was played on cue, the photography was phenomenal and just having the opportunity to share our service with family and friends via live feed and the recording allowed us to share our day with other people we love. Because we chose Chapel of the Flowers we were able to relax and experience the joy of our wedding in a beautiful place in a ceremony that fit us. We would recommend Chapel of the Flowers to anyone who is considering a Las Vegas destination wedding. You will not regret it.

Linda W.

Married on 02/27/2019

Wedding Perfection

This was the easiest, most flawless wedding experience I have ever had. It was elegant, warm, and personal. Every detail was handled by the Chapel, allowing the bride and groom to enjoy their special day. I loved my bouquet! The price was extremely reasonable. We have another family wedding coming up, and I hope they choose this venue!

Michelle

Married on 12/29/2018

Wonderful Experience

Every aspect of this experience was WONDERFUL... well planned and stress free!!!

Melissa W.

Married on 12/23/2018

Exceeded Expectations

My husband and I decided to get married two weeks before we were set to leave for our Christmas road trip as we were travelling through Vegas any way, so why not right?!... We live in Saskatchewan, Canada and I had never been to the United States and so had no idea what to expect or even where a good place to go would be. So after doing some research and talking to a few chapels, it was Chapel of the Flowers that stood out the most. Everyone I talked to to prepare for the big day were absolutely fantastic and professional. They made me feel at ease even though I was apprehensive about booking everything online and over the phone and having no true idea of what I was paying for (You worry that you'll get there and it won't be what you were expecting and that you'll be disappointed)....
BUT... Let me say... The whole experience was absolutely perfect!! Chapel of The Flowers had every detail covered!
The two gentleman that came to my hotel room to do mine and my daughters hair and make-up were so talented and did an amazing job!!!
The Limos were awesome and the drivers courteous!
The Chapel was stunning and everyone so polite and helpful and they all just took the stress away!
The photographers!! Wow... They both did such a beautiful job of capturing the memories and special moments!! Very talented in the art of photography!!
And last, but certainly not least, Reverend Robert Greer - He did such a beautiful job of officiating the wedding.
Thank you Chapel of the Flowers for making our day perfect and filled with wonderful memories that will last forever! I highly recommend!!!

Tahera C.

Married on 12/15/2018

Loving The Crewe's

Chapel of the Flowers has a beautiful selection of chapels. The entire team at The Chapel of Flowers provided intimate focus on every detail of my ceremony. They created the perfect ambience and everything ran smoothly. The staff from the ceremony to the Limo drivers ensured my day was perfect.

Gigi

Married on 11/17/2018

The best in Vegas

If you are looking for a beautiful experience book with this company from beginning to end 5 star service.
Are you interested?
Send a message