30 Reviews
Recommended by 100% of couples
Quality of service

5 out of 5 rating

Average response time

5 out of 5 rating

Professionalism

5 out of 5 rating

Value

5 out of 5 rating

Flexibility

5 out of 5 rating
26 User photos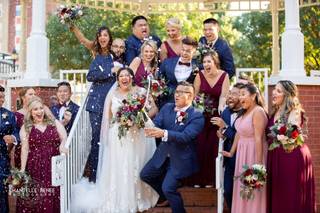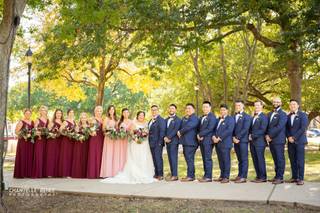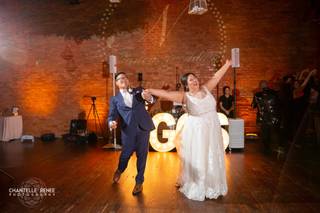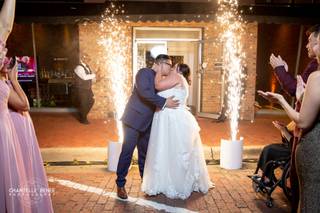 + 22

photos
Adam N.

Married on 02/10/2021

She will have everyone looking the best they've ever been. That includes the uncle that never photographs well.

We reached out to Chantelle after only a few moments of poking through her galleries. She should probably charge more for the quality of her work and attentiveness from start to finish! The personal touches she adds at the end of your wedding experience really puts her photography and customer service above anyone else. You're booking more than a camera and silhouette to take 1,000 photos; you're booking a skilled photographer with an eye and the know-how to capture your memories in the moment and as they happen.

From our perspective as groom and bride, when planning a wedding you either know exactly what you want or you're completely undecided. We fell into the camp of indecision. We scheduled shoots with Chantelle 3 times: 1) Causal engagement pictures 2) Formal engagement pictures and 3) The wedding itself. For our engagement and wedding photos the only thing we had planned was a rough idea for outfits and we relied on her experience as a DFW photographer to know "the spots". Before you venture out she'll work with you to figure out the type of moods you want for the photos. We're laid back, we love to laugh, and Chantelle did amazing keeping us comfortable and smiling.

For any wary couples - if you don't know exactly where and how you want to be shot try your best to be open minded and have the flexibility to rely on the professional to do her work. Chantelle is a pro. Our wedding photos turned out absolutely perfect and I can't recommend Chantelle enough.

For the MIL's - she understands you want to share it all on social media but also want to preserve the highest quality versions of the wedding forever. Don't worry - Chantelle delivers. Multiple digital formats and she can even print ultra high quality photos that far surpasses prints you've seen before.

Crystal

Married on 08/27/2018

Chantelle is absolutely the best! She went above and beyond! From the engagement session to helping out with the details the day of the wedding, I would pick her over and over again! You will not regret it!

Hannah

Married on 07/07/2018

Chantelle is extremely professional and the definition of responsive! We flew her to Jamaica for our destination wedding and our pictures were breathtaking, I seriously couldn't believe how well the colors came out and the quality of the photos. She actually responded to my texts or emails at almost any hour of the day and you can't ask for much more from a photographer. It rained at my wedding and it was outdoors but the pictures are still perfect. I would highly recommend her for either your wedding in Texas or elsewhere in the US/world! Thank you so much for everything!!!!!

Are you interested?

Send a message

Christina

Married on 04/05/2018

Chantelle is absolutely perfect,and her work is magnificent! Since our first interaction,she stood out from the rest that simply sent an automated response. Chantelle took the time to glance over the photos I had uploaded,and to get to know us and the things we wanted for our wedding. We met with her before the wedding as many times as needed,and she is such a wonderful person and is very knowledgeable and skilled at what she does. She helped me build my timeline, and on our wedding day she was able to coordinate everyone with ease.Chantelle and her team also worked so well with our videographers, and really made our wedding enjoyable.We loved the time we spent with them,and nothing ever felt awkward or unnatural. Our photos were everything we wanted and more! She captured details I had even missed on our wedding day, and made sure I had the light painting photo I wanted. We got so much more than we had expected, and Chantelle is so passionate and detailed with her work. She is worth everything we paid and SO much more. We plan to keep her around and will definitely be using her in the future.

+ 7

photos

Kellsey

Married on 03/24/2018

Chantelle did an amazing job capturing the most special night of our lives. She captured every moment and did an incredible job! We now get to relive our wedding everyday with the pictures we received. We wouldn't have wanted anyone else!

+ 7

photos

Drew

Married on 10/29/2017

If I could give 10 stars, I would. I've used Chantelle for a variety of shoots, my wedding at the end of October 2017 being the most recent, and she was stellar as always. I love the way she carries herself on the job, she makes me feel comfortable, and the photos always turn out fantastic. My wife and I took a trip to Disney World for our honeymoon and I wish we could've packed Chantelle into a suitcase so she could follow us along and document our trip. I wouldn't use anyone else for my photography needs, and neither should you.

Megan

Married on 10/28/2017

We hired Chantelle to be our Wedding Photographer. She spent a lot of time getting to know us from day one. We had a few pictures that we really wanted to make sure we got on our wedding day and she remembered to make sure we got those pictures. All my close family and friends were impressed with her work and her professionalism on the day of. I cannot say enough good things about her, she did such an amazing job.

Leila

Married on 09/09/2017

If you're looking for fantastic work at a reasonable rate, hire Chantelle. From just browsing her work it is apparent that Chantelle is incredibly talented. She worked with us when we were under a serious time constraint and planned everything out for us spectacularly. She was consistently professional, punctual, and personable. She was a big hit at our wedding and helped so much to make our day special. From sneak peeks to our final photos she helped us every step and added a special touch to everything she did for us! If you're browsing around for photographers, stop now, you've found the right one with Chantelle!

Natalie

Married on 06/21/2017

I can't say enough good things about Chantelle. She was very calm, and put us all at ease. She made the whole process effortless and the photos turned out great...way better than I imagined. She communicated with me throughout the process of our wedding. She had a lot of great ideas for photos that captured the moment perfectly. I LOVE the photos! Thank you for capturing our special day!

Mike

Married on 05/12/2017

Excellent!!! Keep up the great work!

Mike

Married on 05/06/2017

We used Chantelle for both our engagement pictures as well as for our wedding and her pictures were absolutely stunning! She was very professional and great to work with and did an incredible job capturing the perfect moments on our big day! I definitely plan to use her for ALL our future photography needs! She is simply AMAZING!

Lauren

Married on 03/25/2017

Chantelle is AMAZING! She is very responsive and professional. She took the time to answer any and all questions we had prior to taking our photos. Once we met her, we were blown away. She directed us how to pose/stand (that can always be awkward without some direction..ha). Each shot was captured so beautifully. She even gave us a quick sneak peek of some of the raw footage...we were amazed at the quality even before any edits were done. She is so talented and has such an eye for photography. This allows her to capture unique shots. She made our day so special and so much fun! I would highly recommend Chantelle to all brides!

Chantelle was great to work with. She was the perfect balance of easygoing and professional. She has great equipment and I great eye! All of our photos turned out amazing!! She even made sure to get everyone's face in the group photo. She also offered to put my veil away when I took it off before dinner. She is a great photographer and a great person. I loved my experience with her!

Brittany

Married on 10/22/2016

Chantelle was wonderful to work with! When we got our photos back, they were as high quality as you see in her portfolios on her website. She can cater to whatever you want to do and have for your vision! We did the second package option with the full day coverage and 2 photographers and it was well worth it. Her assistant was also in the photography business so they were both great to work with. We even had a mishap at our wedding with our pastor not showing up so when we were crunched for time of daylight after the ceremony, Chantelle had everything on point and definitely got rid of that extra stress. Be sure to book Chantelle for your wedding!

Jessie

Married on 10/15/2016

Chantelle is the best. She makes the entire experience fun!!

Samantha

Married on 07/31/2016

Chantelle is an amazing person to work with. She spent more time getting to know, my now husband and myself, than anything else. She listened to our vision and what we wanted. She asked questions to make sure that we got every picture that we wanted. She showed up early to make sure she knew the lay of the land. She helped decorate at our wedding even. Then to top it all off, she produced the most amazing pictures. Every person that has been able to view our pictures has complimented on her creativeness, how she got the perfect picture, how she was so polite, how her and her partner took pictures of everyone and everything. Our florist was so excited to see the pictures of our flowers. He was shocked how they looked in the pictures. She is extremely detail oriented and that made my pictures so perfect. Every bride has those few things that are so important to her, Chantelle can capture the unique and special qualities of those things. I cannot say enough good things about her. She took time out of her day to come to a firework show, to practice taking pictures of fireworks because she knew that was the most important picture that we wanted. Every bride needs a photographer like her.

Nicki

Married on 07/10/2016

Chantelle will do whatever it takes to capture your wedding. She is eager to know what is important to you so don't hesitate to let her know. She is easy to work with and is quick to respond to questions and she got our pictures to us in a timely manner You can't go wrong.

Karin

Married on 06/04/2016

We love Chantelle! Our schedules are busy and she was very flexible working with us. She was very professional and made us feel comfortable before, during and after our wedding. Not to mention that our pictures are absolutely beautiful. She did an amazing job and captured our wedding perfectly. I would recommend her 100%.

Kelsie

Married on 05/12/2016

Chantelle was the most flexible and most accommodating vendor that we worked with for our wedding. She did our engagements, my bridals, and of course she shot our wedding. Each of those unique photo shoots turned out way better than I could have imagined! She worked with me to get the exact package of shoots that I wanted, it was totally customizable! She even brought in a second photographer, Danny, to work with her and he was so helpful! He had such an eye for details and made sure my girls had their bouquets and that everything was in place! It was such a relief to have that extra set of hands and eyes to make sure everything was perfect! I HIGHLY RECOMMEND Chantelle!

Jordyn

Married on 03/05/2016

Chantelle was SO incredible. She did our engagement and wedding photos and they both turned out amazing. For the engagements, she took us to a few locations and made us feel so comfortable in front of the camera. For the wedding day photography, she was there early to get acquainted with a new venue and take some shots of the decorations, etc. She wasted no time! She was always taking photos of us while her partner took photos of the guys. I love all the candid shots they got! We got a TON of photos and she and her partner were practically invisible the whole time. They were never in the way or overbearing. I seriously cannot say enough good things! She was always prompt with any communication or questions I had and so sweet. You really cannot find a better photographer. Her photos were worth every penny and more.

Emily

Married on 01/02/2016

Chantelle was great to work with for our wedding day!! She is accomodating and flexible. I asked for her skills a year in advance and we kept in touch through any platform and she was always responsive and professional. I followed her Facebook posts and saw all types of environments she would shoot and loved her artistic eye in each one. She certainly captured our favorite moments on our special day. I can't stop smiling with each picture. She was able to cover everything with about 150 guests and almost an 8 hour time frame! She was on time at the beginning and was one of the last to leave. We absolutely loved having her as one of the vendors but it felt like a great friend and guest to keep us smiling throughout a fun and fast paced day. I really love all of her work on all platforms and hope we could do other types of pictures with her in the future. I'll recommend her to everyone! Get in touch with her and I'm sure you'll feel the same. :)

Lana

Married on 10/24/2015

We had spent 15 months planning the most amazing outdoor wedding ever. We interviewed several photographers, and narrowed down to a couple. Then we met with Chantelle and hired her before the meeting was even over. She was great! Down to earth, interesting, excited about her job. She asked lots of questions, figuring out just what type pictures were important to us, planning all the places on our property we wanted to use. She had great ideas. Then the day before my wedding, the rain began. Eleven inches in 24 hours. Every plan had to change. Our great picture ideas, not possible. Then, Chantelle shows up, telling us she has come up with some new ideas. She had spent the day putting LED lights in a clear umbrella. After our ceremony, outside the church, she took the most amazing picture ever. A kiss, under the umbrella, clouds in the sky, raindrops falling, the hay bales in our pasture seen in the distance. If this would have been the only photograph we had of the whole wedding, it would have been worth it! But it wasn't all. We also got wonderful pictures of the events of the whole day. Getting dressed, the ceremony, traditional wedding party pictures and the crazy reception! It was an A+ job, way beyond our expectations!

Amanda

Married on 10/04/2015

Chantelle was great! When we met for our consultation, she was very interested in particular photos we were wanting, and made sure to get the details of our wedding. She arrived early to the venue to take pictures of me (the Bride) getting ready, and some of the family arriving. She took amazing shots! I would definitely recommend Chantelle for your wedding photographer!

Brittany

Married on 06/20/2015

Chantelle is not only the most professional and personal photographer, but her work is OUTSTANDING! This girl is full of pure talent. In my opinion, your wedding photographer is the most important asset of your wedding day. You need someone you trust to capture every beautiful moment of that special day. I will hire her for every milestone in my life, without a doubt. :)

Scott

Married on 05/02/2015

She was outstanding to work with and will definitely be using her services again.
Are you interested?
Send a message