177 Reviews
Recommended by 98% of couples
Quality of service

4.9 out of 5 rating

Average response time

4.9 out of 5 rating

Professionalism

4.9 out of 5 rating

Value

4.9 out of 5 rating

Flexibility

4.9 out of 5 rating
78 User photos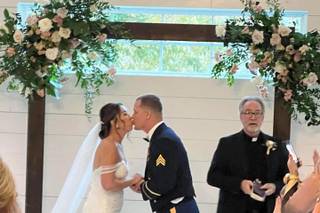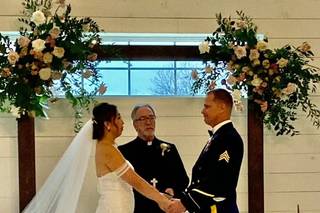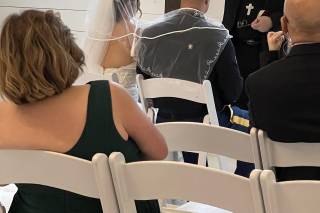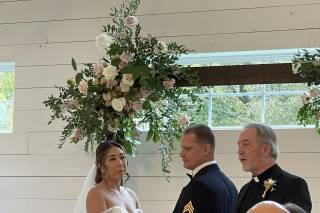 + 74

photos
Featured

Macy W.

Married on 09/03/2021

Wonderful, meaningful service

We are so glad we chose Rev. Dr Rand Certain to officiate our wedding! He did a wonderful job with our service and coordinated with both of us to tailor the message to fit us as a couple. He really goes above and beyond connecting and advising you before and after your marriage— he is truly a minister of God's word, not just an officiant for a few hours. He was prompt and communicative, and very understanding and patient with our planning mishaps. I highly recommend Rev. Certain to any couple looking for a beautiful Christian marriage.

Certain Weddings's reply:

God Bless you Jose & Macy for your kind words. I am proud to be your Pastor.
In Jesus(+)name. Amen.
The Rev. Dr. Rand Certain

William H.

Married on 11/11/2022

Very personable and thoughtful. Made our wedding very personal and memorable.

Reverend Dr. Certain is a kind and caring person. He was flexible and accommodated for our needs. He is a man that speaks from the heart which is very nice to see in this day and age. He was very accommodating especially about incorporating my Filipino traditions into the wedding. He got along with everyone at the wedding and he made sure to make the celebration personal and real. He made us feel loved and blessed during our special day. Cheers and more power to Rev. Dr. Certain!

+ 3

photos

Certain Weddings's reply:

God Bless and Thankyou,
you two will always be very special and I'll always be available as your family Pastor.
In Christ(+),
The Reverend Dr. Rand Certain

Madison Y.

Married on 10/29/2022

Wedding Ceremony 10/29/22

Reverend Certain married my husband and I a few weeks ago and I can't say enough good things about him. He was very quick to respond and made our ceremony very beautiful! He has the kindest heart and made my wedding day so special!

Certain Weddings's reply:

God Bless and Thank you Madison & Landon, I will always be available as your family Pastor/Chaplain.

The Reverend Dr. J. Rand Certain
revjrcertain@gmail.com
469-671-6078

Are you interested?

Send a message

Angelica

Married on 10/08/2022

Great! Very professional! Wonderful Christians! We were very pleased with their service and will use them again once we renew our vows!

Michael B.

Married on 10/08/2022

Be Certain with Certain

Reverend Certain is a retired Lutheran minister who made our wedding vows exceptionally well-organized and fluid when it counted. We recommend him to any couple who wants an experienced, thoughtful and caring minister to officiate their wedding.

Certain Weddings's reply:

God Bless and Thankyou Michael & Rebecca Bernard

The Reverend Dr. J. Rand Certain
John 3:16/Matthew 19:6

W. Flanery

Married on 10/05/2022

Rev. Certain was communicative, prompt, and flexible.

We feel very lucky to have met Rev. Certain. He was prompt, and flexible with our location and our ceremony. Our experience was wonderful, thanks to Rev. Certain's discussion with us, and we are very grateful to have had our ceremony with him. He is very genuine and heartfelt.

Justin L.

Married on 09/24/2022

Fantastic!

Would 120% recommend Dr. Certain for a wedding! He was very helpful in guiding my wife, Keeryn and I towards a more successful marriage. He was also open to anything we wanted to do at our wedding and very professional! He made our wedding even more special and we are forever grateful that he was our pastor.

Autumn

Married on 09/16/2022

Pastor Certain was excellent to us as well as our family! He was very patient and informative. He will forever be a huge part in our beautiful memory!

So reliable and trustworthy! Showed up on time for both the reception and the ceremony. He felt like an extension of the family and left us with tears and laughter. So grateful to have come across Pastor Certain!

Certain Weddings's reply:

God Bless and thank you Autumn & Wesley for the kind words. As long as God still has me doing His work on this earth, I'll always be available as your Family Pastor.
John 3:16(+)
The Reverend Dr. Rand Certain
469-671-6078
Revjrcertain@gmail.com

John J.

Married on 07/23/2022

Wedding Day

Very personable and intuitive about our wants and needs. Professional yet made us feel like he was a part of us and our service, not someone that was there. Very gentle and comforting to my wife. He made it a truly blessed day

Sarah L.

Married on 07/23/2022

Just what we wanted & more!

Rev. Certain was exceptional. Every aspect of the process was handled with care. We enjoyed our time just talking with him & appreciate his process in making sure we were ready. If we should ever need his help in our marriage, we will not hesitate to call him.

Sean H.

Married on 07/17/2022

Great Experience

Rev. Certain was prompt in responding to my initial request, and after our initial chat, I decided to hire him without contacting anyone else. I thought our initial talk was good, and the great reviews helped me decide I didn't need to keep searching. The ceremony wasn't long and drawn out (a requirement for a wedding in Texas in summer!), yet sufficiently solemn. I'm glad I chose him.

Tim R.

Married on 07/12/2022

Thank you Reverend Certain!

We are extremely happy with your services!

Cindy S.

Married on 06/25/2022

Excellent experience

Rev. Certain was a wonderful pastor for our wedding. He was very personable and we enjoyed the experience.

Haley B.

Married on 06/03/2022

Rev. Rand Certain

He was very professional and a blessing to our wedding ceremony.

Daniel F.

Married on 05/30/2022

Experienced and capable officiant

Rev. Dr. Certain made my wedding day perfect. He provided us with the Christian service that we wanted, and brought levity and grace to our ceremony. I would highly recommend his services to others.

Jennifer B.

Married on 05/17/2022

Amazing person! Communication on point and was so joyful during our ceremony!

Amazing, gentle, loving person. Great ceremony. Great communication before, during and after the ceremony. Someone I would call any time to pray, counsel or just listen. Could not have picked a better fit for our future!

Niki C.

Married on 05/14/2022

Reverend Certain is amazing!

I feel so grateful and blessed to have had Reverend Certain at our wedding. Not only did he talk with us over video before our big day he also made sure we had everything in place and offered premarital counseling. He drove all the way from Texas to Kansas to officiate our wedding. He was very humorous and made us feel completely at ease during our rehearsal and also during our wedding. He even gifted us a cowboy bible, our very first bible together. I cannot express enough how much we love this man and his wife. He is in it for the long haul, not just for the wedding. He is someone we can confide to even after our wedding. He was very personable, professional and caring. Reverend Certain and his wife are truly amazing people and we love them both so very much. Thank you both for
Making our special day even more special! We look forward to speaking to you both in the future and having a lifelong bond through god.

Certain Weddings's reply:

Dear Niki & Dusty,

God Bless & thankyou for the kind words.
Mrs. Certain and I truly enjoyed meeting you and your family and most of all sharing God's love thru His Son Jesus.
God's Peace be with you,
Rev. Dr. and Mrs. J. Rand Certain
Van Alstyne,Tx.

Z Cui

Married on 04/23/2022

Friendly and Hilarious

Rev. Certain was extremely easy to work with and very helpful through the whole process. You may be sure, but he's always Certain.

Ashley N.

Married on 04/15/2022

Wedding officiant

Great man. Very elegant. We are continuing contact with him and are looking forward to him baptizing our children.

Megan W.

Married on 03/26/2022

Outstanding

Couldn't ask for a better pastor!

Mark C.

Married on 01/06/2022

Great Pastor

Reverend Certain is fantastic. It was a very private wedding and Reverend Certain was wonderful. I highly recommend him.

Sara N.

Married on 12/30/2021

Very helpful

Helped us along the way and was very flexible with our schedule

Justine L.

Married on 12/22/2021

Highly recommend

I was so impressed with the professionalism but in particular with the ceremony. I even got some comments from guests that this was the best ceremony they had ever seen. I also like the strong focus on Christian values

Certain Weddings's reply:

God Bless you two and thankyou for the most kind words.

Peace in Christ(+),
The Rev. Dr. J. Rand Certain

Kyle S.

Married on 12/06/2021

Saunders Wedding 2021

Rev. Dr. Certain is wonderful. He is very responsive, caters to your needs better than anyone, and overall just a very pleasant man to be around and to be apart of you're special moment. Words cannot express my gratitude that we found Certain Weddings. Highly suggest for anyone who wants a personable service delivered with the upmost integrity.

Robert

Married on 12/05/2021

An Excellent Pastor for Any Couple

Reverend Certain was exceptional to work with both in terms of his delivery of pastoral services and his management and direction of the ceremony as a whole. He was very flexible with our time-frame and was still able to deliver a heart-felt and inspiring message in the time allotted. He was prompt, concise, easily heard by all, and compelling in his messaging. At the end he maintained with us that he would remain a spiritual hand for our family for as long as he was on Earth, and for that we appreciate his dedication to serving us and God. I would greatly recommend him to anyone who wants their special day to be that much more special.
Are you interested?
Send a message