719 Reviews
Recommended by 100% of couples
Quality of service

5 out of 5 rating

Average response time

5 out of 5 rating

Professionalism

5 out of 5 rating

Value

4.9 out of 5 rating

Flexibility

5 out of 5 rating
78 User photos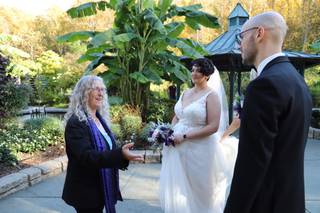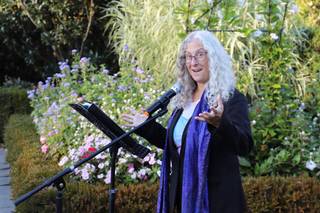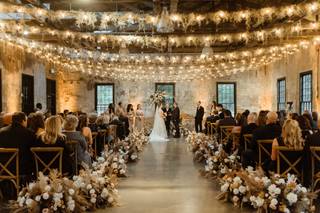 + 74

photos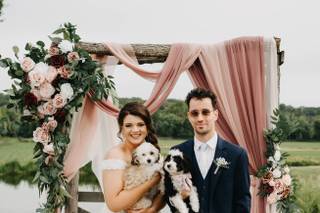 Dan L.

Married on 11/12/2022

Rev Alice Langholt is amazing!

Thank you Rev Alice Langholt for putting so much time and care into our wedding ceremony. It was apparent from the beginning that Alice is an expert at what she does. She made sure to implement every request and thoroughly answered all of our questions. Alice also gave us a lot of special pieces to choose from when customizing our ceremony. Two of her main suggestions that we decided to add were a 5-year anniversary wine box opening and a passage that my brothers read. After taking our input, Alice also made sure to send us a draft of her speech to edit well before the wedding day. We are so grateful to have had Rev Alice leading our ceremony, and we highly recommend her to anyone else who's looking for an amazing officiant!

Elizabeth T.

Married on 11/12/2022

Personalized Ceremony

Rev. Lynne of Ceremony Officiants was fantastic. She created a personalized ceremony with our input and delivered exactly what we wanted.

Morgan M.

Married on 10/30/2022

Customized Ceremony

Thank you to Rev. Lisa for giving us a wedding ceremony to remember forever! We wanted something short and sweet that was personalized to our love story (and thank goodness it wasn't too long because it was the hottest day of the year so far)! Lisa was so pleasant to work with, very responsive and gave us so many recommendations as we did not really have anything in mind when we first met. We both knew we wouldn't be able to read our own vows (fear of public speaking and probably too many tears!) so she recommended we send her the top three things we love about each other without sharing them. She then read them aloud at the ceremony which was so sweet and what I remember most from our wedding day!

She took care of everything from meeting with us to learn more about our relationship, to compiling the readings and our top 3 into a ceremony that fit what we wanted, to finalizing and mailing the marriage license.

Thank you so much to Lisa and her team!

Are you interested?

Send a message

Alexander M.

Married on 10/21/2022

A Beautiful Ceremony

Thank you Rev. Lisa for officiating our wedding! We couldn't have been happier with the kind words she said at our wedding ( and bringing the audience to tears of joy) She was so pleasant to work with, responsive, and gave us the opportunity to make edits on the ceremony if we needed. In turn, creating a custom ceremony that highlighted our love story to share with our family and friends. Most definitely would recommend her and Ceremony Officiants to any of my friends getting married. THANK YOU AGAIN!

Maggie R.

Married on 10/15/2022

Great for fusion/multi cultural wedding ceremonies!

Working with Rev. Karin from Ceremony Officiants for our wedding was great! Karin was very knowledgeable about multi cultural, fusion wedding ceremonies, which is what we wanted to do for our big day. She was great to work with start to finish, offered us great insights, and was open to any edits we wanted to make. She helped us create a ceremony script that was very much our style, and she delivered it wonderfully during the actual ceremony. Highly recommend her and this company if you want a fusion wedding ceremony!

Shabnam P.

Married on 10/14/2022

Personal and fun!

Our officiant was Alice Langholt, and she was awesome! We had some brief interactions early on to make sure she'd be a good fit, and then shortly before the wedding we met with her in her cozy little office to actually get to know each other and draft our ceremony. She "got" us right away, and pulled some selections of things she'd written herself as well as other readings she thought we'd like, and she nailed it. We worked with her to customize them a bit, and she was able to create a ceremony that was short and sweet but still personalized for us, that got some laughs out of our guests (which is what we wanted!). We did have a Persian/American blended wedding (so a sofreh aghd, the kaleh ghand ritual, the honey ritual, and alllll the symbolic items that come with all of that) and with some explanation from me (the Persian) she handled all of the "cultural stuff" really well, helping us sort of fuse a ceremony delivered in English with very much Persian rituals happening throughout to create a brief wedding ceremony packed full of meaning for us.

Ivan V.

Married on 10/13/2022

Wedding officiant

Our wedding officiant (Rev Karin Otto) was amazing! Professional, and courteous at all times!

Erin H.

Married on 10/01/2022

Rev. Michelle is amazing!

We went into our wedding thinking of the ceremony as the least important part of the day, and Rev. Michelle managed to make it one of the highlights! She was able to keep it light and fun while still maintaining a level of tradition and seriousness befitting the occasion, and still managed to get a few laughs out of the crowd! I received a ton of compliments on the amazing ceremony she planned out. Thank you Reverend Michelle!!

Lauren R.

Married on 10/01/2022

Ceremony Officiants

We had a wonderful experience with ceremony officiants. The process was easy starting by matching us with an officiant based on a survey that we took identifying our needs and then a zoom call with the matched officiant to see if it was a good fit. Definitely recommend this company and Rev. Linda Sinagra-Smith!

Rosie B.

Married on 09/24/2022

Loved our officiant!

My husband and I wanted a close friend to officiate our ceremony, however, due to restrictions in the county we got married in we could not do this. We then found Ceremony Officiants and could not have been happier! Reverend Jake did our ceremony and he was absolutely SPECTACULAR! He wrote the most beautiful script and presented it so well. We felt like he knew us forever! We 10/10 recommend choosing ceremony officiants for your wedding!

Megan W.

Married on 09/17/2022

Absolutely amazing!

Ceremony Officiants was absolutely amazing. They were so easy to work with and very professional. Rev. Jacob Polasky is the best. He takes time to listen to what you want for your ceremony and delivers it beautifully. We could not have asked for better.

Amber G.

Married on 09/10/2022

Lisa t is incredible!

We weren't exactly sure what we wanted out of our officiant.. but we landed the JACKPOT with Lisa! She was hand selected for us and she was absolutely perfect. She understood our unique situation of bringing together a religious and non-religious family and made so many cry at our ceremony with our words. After our venue and my dress, we got the MOST compliments on Lisa. She was genuine and it felt that she really knew us. I would recommend her 10xs over!

Rachel S.

Married on 09/03/2022

Rev. Lisa was amazing!

Rev. Lisa was amazing. She was responsive and took the time to know us. She listened to our requests, our love story, and created the most meaningful ceremony. It felt like she had known us for years. We had guests asking if she was a friend of ours. We can not recommend her enough!

Connor W.

Married on 09/03/2022

Unbelievable Ceremony

We hired Rev. Laura as the officiant for our wedding and the experience from planning to execution can be summarized as - AMAZING. Rev. Laura was very communicative throughout the entire process and truly listened to our requirements for a personalized, yet concise ceremony. She offered some wonderful suggestions that took the ceremony to the next level (e.g. moment of presence, wine box ceremony); and made us feel comfortable the entire time.

Our guests were raving about the ceremony the entire cocktail hour. It was the perfect way to start our lifetime together - highly recommend Rev. Laura and her team!

Marissa L.

Married on 08/20/2022

Tony was the BEST!

Tony was INCREDIBLE! Our ceremony was one of our favorite parts of the day because of Tony. Our guests were blown away and didn't want it to end. We can't recommend Tony enough.

Jennifer F.

Married on 08/13/2022

Flawless and Remarkable!

Everything about this vendor, the process, and our LOVELY officiant Rev. Linda Sinagra-Smith was impeccable. Such a smoothly and convenient process. Linda our officiant could not have been more thoughtful, personable, professional, kind, or fun to work with! She made our wedding one of a kind, we will cherish her forever!

Casey L.

Married on 08/06/2022

Reverend Lisa Ann made our day spectacularly perfect!

If you are looking for a warm, light spirit to exude love and light with a personal touch on your special day, Reverend Lisa Ann is the woman for you.

We had such a great time getting to know Rev. Lisa via zoom calls and emails, she was easy and comfortable to work with - and so efficient at capturing the information she needed during our conversations. It felt like we had known her forever!

She communicated exceptionally, all of the pieces well in advance including multiple drafts, and also showed up early to get situated on the day of (even mailing our license out same day!). She was also super fun to work with when we came to her with our unique idea for our spirograh unity ceremony, which she wrote a beautiful dialogue for.

Thank you so much to Rev. Lisa for leading us through the most meaningful moments of our special day!

Danielle S.

Married on 08/06/2022

Ceremony Officiants is the way to go

We debated for a while whether we would hire an officiant or have a friend officiate our wedding and boy are we glad we chose to go with Ceremony Officiants! We had Lisa officiate our ceremony and she did an amazing job! She meets with you to actually learn more about you as a couple to tailor your ceremony accordingly. She adds in unique pieces while also adding in the traditional pieces, as requested. She asks all the right questions to piece together a ceremony that works for you and your spouse. Not only did Lisa give an amazing heartfelt ceremony, she also takes care of all the not so fun paperwork and mailing of paperwork that needs to be taken care of and explains everything to you which is a huge relief!

Jennifer B.

Married on 08/03/2022

The perfect day

Everyone says the most important thing about a wedding is food, dj and open bar which is probably why I forgot that I needed to book an officiant. I booked Ceremony Officiants one week before my wedding and Karin was able to put together the most beautiful ceremony. All of the guest seemed happy to be there and not bored at all. I can't Thank you guys enough for not only scheduling us very last minute, but also for making it the most perfect day

B Will

Married on 07/16/2022

Still gettting compliments!

We were paired with Tony for our ceremony and he did a fantastic job. He made our ceremony fun, special, and memorable. We received SO many compliments about his work and our ceremony afterwards. Everyone we worked with was wonderful and please consider Tony if you are looking for an officiant!!

Andrea C.

Married on 06/18/2022

Look no further!!

Ceremony Officiants matched us with a perfect officiant. The process was so easy and professional. Reverend Jake was great and sent us a draft of the ceremony prior to so we would have final approval of it all. He made us feel very confident and at ease throughout the process.

Julie V.

Married on 06/11/2022

Amazing, Personalized Ceremony with Rev. Laura Cannon

Reverend Laura Cannon was extremely kind and professional during the entire planning process and during our wedding ceremony! When we met with her beforehand, she really took her time to get to know us and listen to our needs and requirements for our ceremony. She made us feel so comfortable and truly understood us! We were truly able to enjoy our wedding and be in the moment during the ceremony. Afterwards, all our guests were saying how amazing and personalized our ceremony was. We're so happy we got to work with her for our wedding!

Jack N.

Married on 06/11/2022

Ceremony Officiants was Perfect!

We highly recommend Lisa Tumbarello and Ceremony Officiants. From our initial meeting through the actual ceremony, Lisa was an absolute joy to work with. In pre-wedding meetings, she worked very hard to learn who we are as a couple, weaving these details seamlessly into the script. Additionally, after getting to know us, she had plenty of helpful suggestions to create a ceremony we could only dream of. Lisa was super responsive in sharing drafts with us, asking and answering clarifying questions, and using her expertise to create a uniquely tailored ceremony. And as for the big day, we couldn't have asked for anymore -- Lisa was absolutely fantastic! So many friends and family members raved about Lisa, for good reason. Ceremony Officiants was a great organization to work with, and we couldn't recommend Lisa strongly enough.

Alisha M.

Married on 06/11/2022

Beautiful Ceremony

Dawn Scott did a wonderful job doing our wedding ceremony. She made it very personalized to us as a couple and we got so many compliments on how perfect the ceremony was! We had met her over a zoom meeting, but she made us feel so comfortable and was so so helpful with making sure everything was just how we wanted it. We highly recommend her!

Emily R.

Married on 06/04/2022

Highly recommend!!

Rev. Lisa Ann was incredible to work with! We met virtually and knew she was a great fit for us right away. She asked tons of questions to get to know us and was extremely kind and professional. Everyone raved about our ceremony and how beautiful it was. I can't even tell you how many people asked where we found her because they loved it so much. She put together a ceremony that was tailored to us and let us make any edits to make sure it was exactly what we wanted. Perfect mix of light humor and seriousness. I can't recommend her enough!!
Are you interested?
Send a message