Reviews
5.0 out of 5 rating
Quality of service

5 out of 5 rating

Average response time

5 out of 5 rating

Professionalism

5 out of 5 rating

Value

4.9 out of 5 rating

Flexibility

5 out of 5 rating
100%
Recommended by couples
5 User photos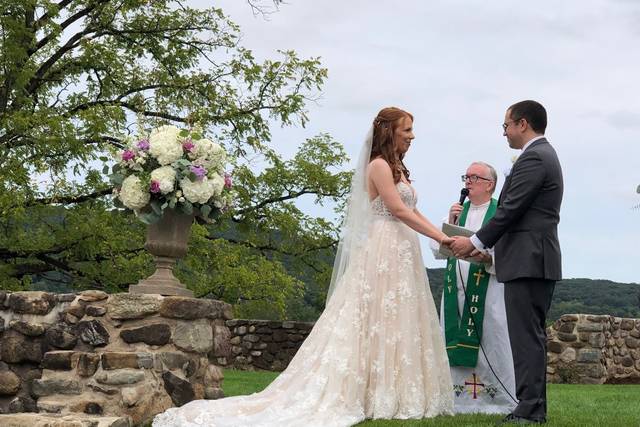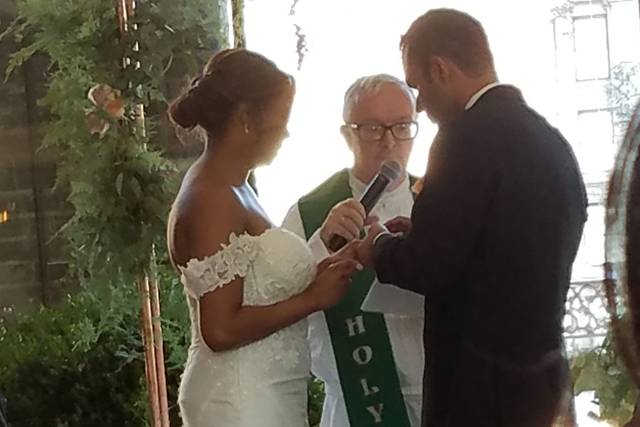 Rosie

Married on 05/29/2021

Wonderful Father

Father Noel delivered a beautiful service for our catholic/christian ceremony. He was professional, personable, and did a fantastic job.

Amanda Z.

Married on 03/14/2020

A Wonderful Ceremony

Fr. Noel Clarke was such a wonderful officiant at our March 2020 wedding! We were able to meet with him before the wedding, where he spent the time to get to know us as a couple and even took notes of the way we were together. When it came to the day of our wedding, he gave the most beautiful service with the perfect blend of spirituality and modernity, and with anecdotes of us mixed in. With a touch of dry humor and genuine goodwill, he was the perfect officiant for us. He even ad-libbed a mention of our dog, who he did not even know was joining us! All of our guests loved him and the way he met with each one of them after the ceremony, and we were so fortunate to have met him!

Ceremonies by Fr. Noel Clarke's reply:

Hi Amanda
What a wonderful review. Deeply appreciated
Stay health and safe during the pandemic.
Pet Cho-cho for me.
Blessings,

Marissa

Married on 12/21/2019

Amazing Ceremony

Father Noel did an amazing job officiating our ceremony! We wanted our ceremony to be meaningful and have some religious aspects but not be too overwhelming. He helped us come up with an outline that fit what we wanted perfectly. He brought the perfect blend of humor and seriousness to our ceremony. People were coming up to us throughout our reception saying how much they enjoyed the ceremony. I highly recommend him!

Are you interested?

Send a message

Christin D.

Married on 10/26/2019

Amazing ceremony

Our original officiant cancelled on us 5 days before our wedding due to a family emergency and arranged for Fr. Noel to officiate our ceremony in his place. We were very nervous at first as we had been planning our ceremony for a year and wanted everything to be perfect. We Skyped with Fr. Noel and all of our worries washed away immediately. Our ceremony was amazing. He followed the ceremony guidelines we sent him and added his own humor and personalization which made our guest laugh and cry. He even incorporated our dog, Finnegan, into the ceremony (who he met during our skype chat) without us having to ask and we absolutely loved it. Everyone raved about how amazing the ceremony was. Fr. Noel is an amazing person and officiant and I highly recommend him.

Sybil

Married on 10/04/2019

A fantastic officiant!!

Father Noel was the best! Guests are still texting me to talk about what a lovely job he did on our ceremony. My husband and I were so happy to put ourselves in his very capable hands. He injected humor and lightness into our ceremony while also marrying (tee-hee) spirituality and gravitas. Thank you for a perfect ceremony!

Jade

Married on 09/14/2019

The personalized ceremony we dreamed of!

We are so glad we hired Father Noel to officiate our ceremony. We were able to blend traditional, religious elements with our own personal, heartfelt words and the result was a tailor-made ceremony that encapsulated who we are as a couple. Father Noel sent us a variety of ceremony samples, as well as ceremony elements, that we could choose to incorporate if we wished. While we selected our ceremony readings and format, Father Noel injected his own personality into the ceremony which was well-received by those in attendance. Our guests have repeatedly complimented Father Noel as both heartfelt and hilarious, and they loved how our unique ceremony emphasized our individuality while paying homage to familiar tradition. We would definitely recommend him!

Mary

Married on 08/25/2019

Father Noel is simply the best!

I am SO happy Father Noel was a part of our wedding day. From the beginning we knew he would be great because of his responsiveness and professionalism, but we really didn't expect him to be as phenomenal as he was! He had our family both laughing and crying throughout the whole ceremony. He really knows how to captivate the audience and his message was so incredibly thoughtful. He allowed my husband and I to look through a ton of examples of previous ceremonies he's officiated and we'd pick out pieces of each ceremony that we liked and basically customized our ceremony that way. He has wonderful ideas for some additional special moments such as a Mother's last kiss, a rose ceremony, or a sand ceremony. He's a great speaker and made My husband and I feel so at ease on our wedding day. We even had people reach out to us after the wedding to ask us for his contact information because they wanted to use him, too! I highly recommend having Father Noel officiate your wedding, he really is the best and will ensure your ceremony is absolutely perfect!
Thank you again!
With love,
Mary and Brendan Graziano

Anderys

Married on 06/29/2019

Awesome Service

Father Noel was the BEST! So organized, right away responses, very responsable. He listen to what you want as a bride and most important he is a man of God. He was very attentent, puntual and made the overall process of the wedding very smooth. Thank you so much Father, God bless!

Laura

Married on 06/29/2019

Amazing and comfortable experience

We are so happy we chose him as our officiant. Once we met him, my husband and I knew there was no other choice to make! From the first meeting to the day of the ceremony, it was a comfortable and flawless process. The ceremony was beautiful. It was everything we dreamed of and more.

Sara

Married on 06/14/2019

Wonderful Celebrant

Father Noel is warm, professional, and charming, and my husband and I cannot recommend his services more highly. We're so happy that he married us!

Bridget B.

Married on 05/13/2019

Highly recommended

Father Noel gave us a wonderful ceremony. We chose to elope with just a few family members and wanted something very simple and short. He delivered a simple, but heartfelt ceremony with some Irish hues that was fitting for our low key style.

Lauren

Married on 09/23/2018

Father Noel was simply fantastic from start to finish. We wanted a priest for our outdoor ceremony and wanted to include some religious elements, but didn't want it to feel like a mass either. From our first meeting with Father Noel, we knew he was the right choice. He welcomed us into his home where we chatted about how we met, our relationship and what we wanted our ceremony to feel like and be. He was always there for us throughout the process and answered any emails/questions very quickly. At our wedding, we did not have any time to rehearse, and Father Noel still carried out a flawless ceremony with no problem. Our guests are still complimenting us on what a beautiful ceremony and wonderful job Father Noel did. We could not be any happier with our experience!

Patricia

Married on 08/03/2018

Thank you for a wonderful ceremony

Thank you for a wonderful ceremony, you fulfilled all our expectations and more, everyone love the ceremony and we were blessed to find you. Thank you, Patricia and Samuel - Married November 2018

Dan

Married on 07/29/2018

My bride was nervous and wanted a priest who was gentle in his approach and non judgmental.
We interviewed a number of officiants and were blessed to meet Father Noel who was highly recommended to us.
He led us through the process in a relaxed manner , taking care to listen and respond, explaining all questions in a detailed manner.
On our wedding day we entered into the spirit of the ceremony and with our guests were relaxed and at ease.
Father Noel was reverential and sacred while at the same time he was down to earth and quite humorous which please us no end.
We recommend Father Noel with gusto and gladness.

Peter

Married on 07/15/2018

Want a super officiant? Look no further than Fr. Noel.
As we both are nervous and fashionably giddy, Fr. Noel pulled of a superb ceremony. We were made to feel special and felt so relaxed. All enjoyed the ceremony style. Perfection. We are still feeling the vibe!

Jennifer

Married on 07/13/2018

We could not have been more pleased with Father Noel! My husband and I grew up Catholic, but decided to get married outside of the church. We met with Father Noel and instantly felt at ease with his calming demeanor and wonderful sense of humor. Over the next few months he helped us create our perfect ceremony. The day of our wedding he arrived early, and put us both at ease. All of our family members raved over him; he made us laugh, reflect, remember and included the perfect amount of prayer. You will be so happy to have Fr. Noel marry you!

Quiana

Married on 07/07/2018

Father Noel Clarke was so lovely to work with. We met once over a year out from our wedding, and only chatted a few times via email after that, but he asked us the important information to craft a ceremony that was perfect for us. He absolutely honors each individual couple and will tailor his ceremony to suit you. He performed a ceremony that was full of light and humor, and his warmth and kindness helped me to relax as the ceremony went on. Our guests were roaring with laughter at his well crafted, and well timed jokes. One of our guests heckled him for a second, but it was actually the perfect set up for one of his jokes. Our guests loved him and said how wonderful he was, and our families very much enjoyed speaking with him during cocktail hour. He really is a delightful vendor, really positive all around, and that quick wit just adds to his all-around charm.

Peter

Married on 06/24/2018

Peter and Fiona's nuptials were very sensitive due to her illness That you were able to be available for them, on such short notice, and really make the ceremony so unique and special to them was something truly unexpected and had such a wonderful impact on the special day. There are really no words that can be written to express how much it meant to them and their loved ones. Thank you so much for making something that has such important and special meaning happen and thank you for taking the time to make it so personal and warm..

God Bless,

Francois

Married on 06/03/2018

We were married in New York's Central Park in June past Frere Noel was recommended to us by a friend whom he had married 3 years previous. He was gracious, considerate and so patient with us as we planned our ceremony from France The final wedding ceremony as so perfectly tailored to our demands- we love perfection. He was comical in a respectful way, allaying our stress while reverential to the ceremony content. We commend Fr. Noel with enthusiasm.

Danielle

Married on 05/11/2018

Fr. Noel Clarke performed an interfaith marriage with our Rabbi for us and they were great! The ceremony was light/fun hearted and seamlessly intertwined our Jewish and Catholic faiths. They personalized our ceremony and it was just so special and perfect.

Sam

Married on 12/23/2017

As we planned a Christmas wedding, (Dec 23, 2017)we wanted a minister who would help us design our ceremony and allow us permission to adapt it to our satisfaction. We met with 4 Officiants and Fr. Noel was our choice.
He met all our expectations. He invited us to. enter the spirit of the ceremony and the festive season and enjoy the love of the moment.
We felt so,at ease and Fr. Noel was inspiring and supportive
I had a previous wedding ceremony and that was an ordeal!!!!
This was pure emotion and joy
Consider Fr Noel as your officiant and you will be well rewarded

Nasya

Married on 11/18/2017

It was a great pleasure to work with Fr. Noel Clarke. From our initial meeting with him we knew that he would be ale to help us curate the ceremony that my wife and I were looking for. Due to our different religious backgrounds he was able to blend together important aspects of both faiths into a ceremony that was truly enjoyable. It was the perfect balance of spiritual and contemporary with just enough humor to keep everyone in the audience involved. We highly recommend Fr. Noel to provide a unique experience who takes into consideration what your are looking for and certainly delivers it.

John

Married on 10/28/2017

Father Noel was amazing, he was very responsive to all communications before the wedding day and on the wedding day he was there well before the ceremony. I can't even say what time he arrived since he got there before I did (at least 2 hours early). This helped put me at ease knowing the one marrying me to my bride was there. The ceremony was great, we wanted something spiritual and he definitely delivered on that, everyone attending enjoyed the ceremony. Would definitely recommend him to anyone needing an officiant.

Cheryl

Married on 08/12/2017

We chose Fr. Noel for our wedding this past August in Lake George, NY. Fr. Noel was gracious enough to come all the way to Lake George from Yonkers. We were never able to meet up with him in person but we were able to skype with him during the planning which was very helpful. We really liked how he helped us customize our wedding ceremony. He was able to send us examples and layouts which was very helpful when planning the ceremony. He did such a great job! It was very touching and heartfelt but also made everyone laugh. It was a great decision to choose Fr. Noel for our wedding and we would recommend him to anyone!

Laurelle

Married on 08/11/2017

Father Noel was the most amazing officiant my husband and I could ever ask for! His touching, beautiful, humorous words made our ceremony something we only dreamed about! Every single guest approached us to rave about father Noel's ceremony and all the love he created for us!
Are you interested?
Send a message