Catskill Weddings at Natural Gardens Reviews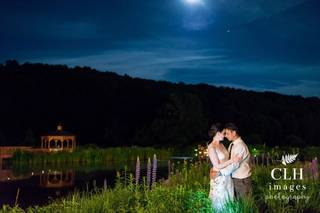 Catskill Weddings at Natural Gardens
East Meredith, NY
View more information
Reviews
5.0 out of 5 rating
Quality of service

4.9 out of 5 rating

Average response time

5 out of 5 rating

Professionalism

4.9 out of 5 rating

Value

5 out of 5 rating

Flexibility

5 out of 5 rating
99%
Recommended by couples
Awards
Rose M.

Married on 10/06/2018

Beauty and Heart in the Catskills

If you asked me to describe this venue in two words, it would be easy: Beauty and Heart. Yes, the The Natural Gardens is a meticulously landscaped, beautiful dream setting in the Catskills. But the owners, Steve and Cathy, are what MAKE this venue absolute perfection. This property is their home, and they care for their guests like their own family - they put their heart and soul into this venue, and do the same when caring for their bridal couple.

My husband and I were originally looking for a venue in Hudson Valley, but our guest size, desire for a weekend event, and Fall-timed nuptials prompted us to expand our search further into the Catskills. Thank goodness it did! When we arrived at the venue for our first visit, it was September, and the grounds were still beautifully lush and green, with blooming flowers. We were quickly won over by the treelines, ponds, and gardens. Steve is a horticulturist, and has cultivated every inch of the property with love - and it shows. We knew it would the tree-lines would be perfect for our fall wedding, complete with yellow, orange, and red foliage (and it was!).

On that first day, Steve and Cathy took us on a tour of the property, and we loved that there were plenty of options to host a number of events, and have it feel like a 'different' venue for each aspect of our wedding weekend. They also had plenty of recommendations for us - from caterers to local hotel/private home accommodations.

We booked with them a little more than a year in advance, and they stayed highly responsive and communicative right up until our wedding weekend. They also let us know that we were welcome to come back at any time to take photos (including engagement pictures), or make plans for our wedding weekend. We didn't end up doing so because we live in New York City, but it was helpful to know the option was there!

During our wedding weekend, we ended up using the property for two days: On Friday, we held a Color Wars style game day for our guests, followed by a welcome party dinner in the forest. On Saturday, we had an outdoor ceremony, followed by a reception in the barn/event center, topped off with a s'mores bonfire under the stars.

The weekend was magical, in large part thanks to Steve and Cathy. Unfortunately, we had a wedding planner who under-delivered, and Steve and Cathy were well aware of the stress and hardship that this caused us. But they made sure that we were well-taken care of, and graciously took on MUCH MORE than they should have had to to ensure the weekend was as successful as possible. From ensuring our cake was on display for our guests, to golf-carting us around the property to get photos/video in as many settings as possible, to combing the property for lost items the morning after, Steve and Cathy went above and beyond our expectations.

And our guests absolutely LOVED all the photo ops with the beautiful fall scenery. We couldn't have picked a better spot to start our forever. Thank you, Steve and Cathy!


PS - A few things to know/be mindful of:

There's no mobile/wi-fi service (yet), but they are working on it. We actually loved that we (and our guests) were able to completely disconnect. It made for a better party!

There is an onsite bridal house with plenty of couches, a bedroom, and sizeable makeup/hair space for wedding day. This bridal house was my absolutely LIFESAVER - it was a great place to retreat, get my zen, and prepare for the long day of wedding festivities.

Steve and Cathy are constantly making upgrades to the venue - so ask about what they may have in store for your target dates. In between our booking and our actual wedding weekend, they built out some restrooms by the bonfire area which was also near we were had our "games." It was a perfect addition that was totally unexpected!

Jenna

Married on 06/10/2017

The Natural Gardens was our dream venue! As soon as we stepped foot on the property we knew we needed to get married here. The grounds are beautiful and immaculately kept, Steve has done an amazing job! All of our guests keep telling us they can't believe what a stunning location we found for our wedding. Pictures don't even do it justice! Besides it's obvious beauty, one of the best parts about the Natural Gardens is that your wedding is completely customizable. We were able to choose all of our own vendors, which allowed us to save a lot of money on catering and have food that we actually wanted. We rented the grounds for the entire weekend, so we were able to have our rehearsal dinner, ceremony, cocktail hour, reception, and brunch all in one location which made the day of logistics so much easier for us and our guests. There is even an adorable bridal cottage on location for the girls to get ready in! Steve and Cathy were always there to help and offer suggestions. Cathy is so warm and friendly. She always greeted us with big hugs and kept encouraging us to come back as many times as we needed! The Natural Gardens is an absolutely breathtaking venue with amazing owners and we feel incredibly fortunate to have gotten married here!

Richie

Married on 06/10/2017

The Natural Gardens was such a beautiful setting. We received tons of compliments on how great the venue looked. Steve and Cathy put in countless hours prepping the site and guiding us through the process. What a great pair to work with! Any time we had questions they had an answer. They both were incredibly helpful, especially in the week leading up to the wedding and then on the wedding day itself. We would highly recommend working with Steve and Cathy and the venue is absolutely breathtaking.

Are you interested?

Send a message

Richard

Married on 10/08/2016

A one of kind experience, amazing flowers, and nature's beauty surrounds you. No wedding I have ever attended can compare to Natural Garden's. I cannot wait to return to go to their Pub/Brewery opening.

Brittany

Married on 08/27/2016

A beautiful, well maintained area! Stephen & Cathy are always there for you every step of the way.

Joel D.

Married on 06/25/2016

My wife and I were married at the Natural Gardens in June of 2016, and we could not have been happier or more satisfied with the entire experience. From our first visit to the venue in Spring of 2015 to the day after our wedding, Steve and Cathy ensured we had the most outstanding, memorable and carefree event possible.
The surroundings are incredibly serene and the gardens, hops orchard, ponds and pathways are beautiful without being too heavily manicured. The whole venue is bordered by lush ferns and forests, cloaking the event in a warm privacy. Some of our guests referred to it as a "magical escape," and we couldn't agree more.
In the months leading up to the event we peppered Steve with questions, and we were always met with prompt and thoughtful responses. He and Cathy seemed personally invested in our comfort, and that mentality extended to their entire staff the week and day of our wedding. They were all friendly, down-to-earth professionals, who worked seamlessly with our array of vendors, and collaborated to make the event run smoothly. Whenever any of our guests had a question or need, one of their staff was there to assist.
We were blown away by their attention to detail. From clearing low-hanging branches around our chosen ceremony site, to seeking out and installing bistro lighting in the pavilion, to purchasing an A/C unit for the cottage to keep us comfortable, to furnishing lanterns along the entrance with locally made candles, to cutting fresh s'mores sticks for a beautiful campfire they built, Steve, Cathy and the entire staff couldn't have been more thoughtful.
Whether it was something as small as an unsolicited cool glass of water at the right time, or as big as stepping in to help receive rentals when our wedding coordinator failed to show up, the entire Natural Gardens staff played a key role in the success of our wedding weekend. They also introduced us to Elena & Company Catering, who did an absolutely amazing job to the point where

Becky

Married on 06/18/2016

Natural Gardens is an absolutely beautiful venue and we would highly recommend it to anyone looking to have an outdoor wedding in upstate NY. Steve and Cathy were extremely accommodating and responsive. They went out of their way to help us create the wedding we imagined. When we first toured the venue last year the pavilion was not yet constructed, but the outdoor space was so gorgeous we knew this was where we wanted to get married. Steve reviewed the floor plan with us and assured us it would be built in time, and of course it was. Our guests were awed by the beauty of the ponds and flowers, which also made an amazing backdrop for our ceremony and photographs. This really is a hidden gem in East Meredith, NY.

Mrs. P.

Married on 10/03/2015

So beautiful, private, and we all felt like this was such a unique location. No visible houses & electric lines & poles, so it really felt like we were out in nature and in such well kept place, but with the comforts of home. The staff made sure to see that my guests were comfortable and that none of their needs were over overlooked: my Nana & Pop needed help getting around, and they were amazing with them. Having been in many wedding parties as well as attending many, nothing compares to Philip's and my ceremony at Natural Garden's. We were able to pick our own location on the property, and there were many to chose from, so we felt that we were able to really create an awesome & unforgettable experience not only for us, but our guests.

Tom

Married on 07/31/2015

We rented The Ponds at Natural Gardens for our engagement party in 2015. We utilized the event barn for dinner with close friend and family and took our engagement pictures on the beautiful property. The staff was easy to work with, very accommodating, and the space was perfect in every way. Would highly recommend!

Ashley

Married on 06/06/2015

We have not yet had our wedding at this venue, however the pre-planning process has been very smooth and stress-free. Steve has been extremely flexible and responsive throughout the wedding planning process and has been great with being in touch with our other vendors and coordinating the big event with them. On multiple occasions we have returned to the venue to see it once more and Steve is always more than willing to walk us around the grounds and share his vision with us. You can tell Steve is hard-working and dedicated by the care that he gives to the beautiful landscape of The Ponds at Natural Gardens. It truly is the perfect venue for a one-of-a-kind wedding, where the setting and natural beauty is the decor!

Mary

Married on 06/06/2015

The venue itself is amazing and the flexibility to set up as you would like was really amazing. Steve and Cathy and their staff were so great to work with and really cared about our experience. I cannot rave enough about this venue.

Leah

Married on 06/06/2015

My sister's wedding at the Natural Gardens was magical! The grounds were beautiful. The ceremony in the vineyard, cocktails in a garden, and the reception in a barn. The entire staff was friendly and accommodating. They genuinely cared as much as we did if not more that everything be perfect. Gorgeous wedding followed by a night of dancing and celebration. Highly recommend the Natural Gardens for a wedding or party.

Matthew

Married on 07/02/2016

Absolutely stunning scenery! The venue is beautiful and the staff is great and accommodating. We had a truly amazing wedding at The Natural Gardens, and highly recommend it!

My wife and I absolutely love the Natural Gardens! When we first visited the site, we knew right away that this was the spot to have our wedding. The grounds were immaculate, the staff was professional and courteous, and we couldn't have asked for a more magical experience. Steve was a pleasure to work with and the breathtaking scenery was second to none. Our friends and family still talk about how beautiful everything at the Natural Gardens was and what a great venue it is to have a special celebration.