142 Reviews
Recommended by 95% of couples
Quality of service

4.8 out of 5 rating

Average response time

4.8 out of 5 rating

Professionalism

4.7 out of 5 rating

Value

4.7 out of 5 rating

Flexibility

4.8 out of 5 rating
92 User photos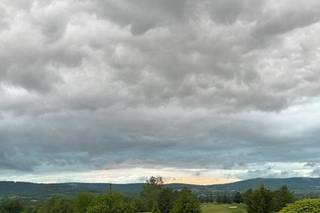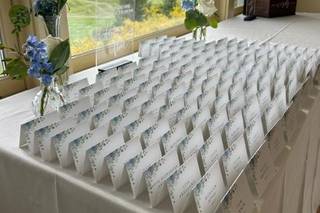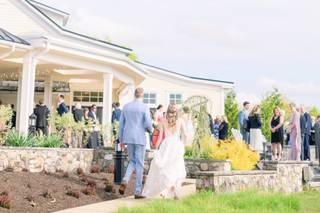 + 88

photos
Featured

Leeann C.

Married on 10/09/2021

Great team, flawless execution

Our wedding day was flawless thanks to the team at Catoctin Hall at Musket Ridge Golf Club.

We knew Musket Ridge was the venue for us from our first meeting with Melody. We were fresh off a tour of a pretentious venue that was making us jump through so many hoops even before we saw a contract. Our first meeting with Melody was a breath of fresh air! We enjoyed how friendly and down-to-earth she was, and left feeling like she was just as excited to work with us as we were to work with her. And, of course, that first view of the mountains as we walked out the clubhouse doors just blew us away.

There were many touches that told us Musket Ridge was all about creating a great experience for their brides and grooms. I liked that there was a covered outdoor option should it rain (we're so glad it didn't!), because we could still have that gorgeous mountain backdrop for our ceremony – but even more, I liked that we could make the call to shift to our rain back-up on that day. That flexibility is so important! We loved that a take-home entrée was included for each of us; you always hear that brides and grooms never get a chance to eat. We were able to enjoy our entrees there, but it was awesome getting to enjoy the second one the evening after our wedding.

Working with Susie was a breeze. As an event planner myself, I knew it would be hard to turn that part off and just be the bride, but I knew our wedding was in great hands with Susie. I loved that we were able to work on wedding details collaboratively to create the perfect experience for our guests. She was such a pleasure to work with in the months leading up to our wedding.

Viki did an amazing job running the show on our wedding day. One of my guests commented that you hardly noticed she was there but every time they saw her she really had her finger on the pulse. I was fascinated watching Viki and the banquet staff execute dinner. It was like watching a well-choreographed ballet! All the team were just so friendly. Having worked in the industry I know how exhausting wedding season can be, but everyone was just so upbeat and seemed like they enjoyed working there. Our bridal attendant Bev was fantastic.

The food was so delicious! The Chef seemed really passionate about his craft and it showed in the final product. We received many compliments from guests on how delicious the food was. The "moonlight menu" was an awesome touch - our guests loved getting a late-night soft pretzel!

This venue is absolutely gorgeous and this team was an absolute delight to work with. I highly recommend them!


Jordan W.

Married on 05/20/2023

The Most Perfect Day We Could Have Asked For!

Our wedding in May was the most wonderful experience thanks to Catoctin Hall! Viki was our day of coordinator and she, alongside the team, did everything. We truly did not have to lift a finger. One of the biggest selling points for us in choosing this venue was that there was a team already in place. The food was incredible, the bar tenders were fast, and the wait staff were so sweet and polite.

Another large selling point was obviously how gorgeous the venue itself is. The views are stunning, and the ceremony space took our breath away the first time we saw it. On our wedding day, it was forecasted to rain. After some back and forth we decided to go for it and have the ceremony outside. The team then ran around making sure everything was ready. They had umbrellas on hand just in case, golf carts to get people back up to the hall quickly and had everyone in their seats by 5:00 on the dot. Our ceremony ended and we got everyone up to cocktail hour before it started raining buckets. If we had been 5 minutes behind it would have rained on everyone. But Viki was so on top of everything that it ended up timing perfectly!

I could go on and on about them because we could not have asked for a better experience. Our guests are still raving about how amazing everything was. The team made our day so special, and we will always be grateful!


Kelsey R.

Married on 04/29/2023

Stunning Venue with Excellent Service

My April 2023 wedding was what I had always dreamed of thanks to Catoctin Hall at Musket Ridge. The views are stunning with so many different options for portraits. The natural beauty of the venue and ceremony site (think lots of gorgeous flowers!) also meant less legwork for our florist, and less cost for us. But what sold us was the rain backup plans. They not only have the indoor ceremony option, but they have a large covered patio that's a perfect option for those moderate rainy days--but that still allows for gorgeous views.
The venue also has updated amenities with new flooring and twinkle lights on the large patio for cocktail hour. We also made use of both the groom and bridal suites, which worked perfect for us.
Catoctin provides both food and alcohol which made everything so easy for us. With the bar package we chose, we were able to do signature drinks at no extra cost as well as select some of our preferred draft beers! The food was also really fun and delicious with big portions which guests appreciated.
The event coordinator Viki was wonderful, always remembered everything we had gone over--no matter how flustered I was in my communication! She made herself easily available and ultimately I knew she wanted the wedding to be the best it could be. When we mentioned the idea of bringing my husband's parents to the venue so they could see it, she made herself available that day and even provided a mini-walkthrough for them. I was especially appreciative of Viki and the staff's excellent help after the wedding during cleanup. We were prepared to stay and help gather leftover items, gifts, etc. But by the time the lights came on, practically everything had already been done for us.
Also, I very much appreciated their vendor list. We couldn't use them all, but the ones we did use were excellent and I think that reflected highly on Catoctin as well.
The tour was also easily the best tour I had in venue hunting. The Sales Manager Melody was professional and prepared and provided a personalized tour, pictures on iPad included, so that we could really envision the entire wedding. She absolutely sold the venue for us and we knew we'd only be working with great people.
We were also provided a dedicated bridal attendant which was something I never knew I needed! The only reason I ate or drank anything that day is because of the lovely attendant who was always looking out for me :)
Catoctin Hall and Viki made everything easy and elegant. The staff clearly knows what works best for weddings and is dedicated to taking the hard work away from the couple in the lead up to, and day of the wedding. I can absolutely 10/10 recommend!

Are you interested?

Send a message

Katie F.

Married on 09/30/2022

Perfect Wedding Venue!!

Married on September 30, 2022

We just got married at Musket Ridge last week and everything was absolutely amazing!! The views are beautiful, the food was amazing, and the staff was incredible to work with. Viki was our main point of contact and she was SO helpful throughout the whole process. She made sure everything ran smoothly, and we didn't have to worry about anything the day of! We had to move the ceremony to the terrace at the last minute due to rain, but Viki helped keep me calm and made sure everything was just as beautiful.
I would recommend this venue to anyone - it was simply beautiful and we had the perfect day!!

Gabrielle

Married on 09/24/2022

The Perfect Day

You really can't beat the mountains or the sunsets at Musket Ridge. Viki and Melody helped my husband and I to create the perfect day. The ballroom was gorgeous with an abundance of natural light during daylight hours. In the evening it has a very romantic feel. Especially the outdoor fire pit! To top it off the food was delicious and the guests were very outspoken about how much they enjoyed their meals.

+ 6

photos

Katie J.

Married on 07/23/2022

Stunning, Organized, Incredible!

Amazing! Everyone at Catoctin Hall was incredible to work with. Viki was our point person with planning and our day of person Caitlyn was just the most wonderful and helpful! We had an amazing time and so did all of our guests! Catoctin Hall helped us through a postponement from July 2021 to July 2022. They made sure everything was setup according to our plan and had so many staff members on hand to help. I had such sweet bridal attendants helping me with my dress train and bouquets. Then at the end of the night so many staff members were there to help gather all of our personal decor items and helped my family pack them into the car. Everything down to the last detail was planned and thought through. Thank you doesn't cover it. Choosing the right venue is the biggest decision and Catoctin Hall made it the easiest decision.

Katie and Wesley
7/23/22

+ 13

photos

Vannyda K.

Married on 06/03/2022

Beautiful venue and experience

The most beautiful wedding venue ever! We had to postpone our wedding due to covid, but recently had our wedding and it was perfect! Melody helped us over the years and she is truly a gem. So sweet and answered all questions in a timely manner. On the day of the wedding, the room was set up beautifully. Bev the bridal attendant always made sure we had something to eat or drink. Viki and her team helped make the day go so smoothly. Not to mention the views are stunning! It was hard to keep everyone seated for dinner they all ran outside to admire the sunset. Highly recommend

Ashley C.

Married on 05/07/2022

Amazing venue!

We had a wonderful experience working with Musket Ridge. Viki was the most amazing event coordinator and was incredibly responsive and helpful throughout the entire process. We highly recommend getting married at Musket Ridge!

Ashleigh R.

Married on 04/23/2022

Wonderful wedding venue and staff!

We had the most amazing wedding at Musket Ridge in April! The venue, the views, the staff, and the food were all amazing and made our wedding day so perfect! Our guests are still talking about how beautiful the wedding was and how delicious the food was! We truly had the best day and could not have asked for a more beautiful venue.
Viki was so amazing to work with and helped us so much on our wedding day and prepping beforehand.
I would recommend this venue to anyone - it was absolutely perfect and beyond beautiful! We couldn't have asked for anything better.

Caroline

Married on 10/16/2021

Best wedding venue!

Musket ridge is by far the most beautiful and professional venue in the area! Susie and her staff surpassed my expectations for my dream wedding! They made it so easy! They made sure everything was in place, so all we had to do was show up and enjoy our day! They are also extremely flexible with the weather. They gave us extra time to decide in order to have our dream outdoor ceremony! Look no further, Musket Ridge is the one!!

+ 2

photos

Megan C.

Married on 10/15/2021

Perfect Fall Wedding!

We absolutely loved working with Musket Ridge! Everyone on the team is fantastic and helped make our day seamless and stress free! Susie is lovely and so helpful! We did our rehearsal dinner there and the food was amazing! Did I mention the stations were amazing too! We had so many stories from our guest about the pasta chef! Overall we wouldn't have changed anything!

Amber B.

Married on 06/18/2021

Cloud 9: Flawless & Phenomenal

Catoctin Hall at Musket Ridge has it all—I mean ALL. Melody blew us away with her personality, professionalism, and she is honestly the sweetest person we came across in our search for the perfect venue. Susie was our day-of coordinator and she does not miss a beat. She executed everything she wanted, and we loved getting to know her. Susie has decades of experience and has seen it all. She was able to answer any question we had and gave suggestions on certain aspects of the day.

My wedding day started on time and was executed perfectly. The flow was impeccable. The ceremony began right on time, cocktail hour was there to entertain hour guests during photos, everyone ate dinner at the same exact time, and we danced the night away ending with sparklers.

The food and drinks are to die for, and I cannot wait to attend someone else's wedding here because it was so good. The only thing I would change is the carpet in the dining area, but they got rid of that and it is now replaced with beautiful wood floors.

Our family & friends still rave about our wedding and we got married one year ago. It truly was the perfect venue with the perfect staff. I can't thank everyone enough for making our day one to remember for the rest of our lives.

Annie M.

Married on 06/04/2021

An Absolutely Perfect Wedding Experience

Just had a fabulous wedding at Musket Ridge - everyone was so nice, attentive, and organized! Susie and the Musket team have weddings down to a science, where everything runs smoothly and care free. My wedding had rain in the forecast and for every frantic email or worry - Susie was there supporting and easing my worries. Luckily we were blessed with a beautiful day and no rain. When we had last minute RSVP issues and switches - there were no issues and Susie always got back to us in a timely manner. We did have a small problem where there was a mix up with our catering company and we were missing a birthday cake for my new sister in law - Susie contacted them and handled it perfectly. The cake arrived and the worry was gone.
I cannot recommend Musket Ridge enough. Beyond the service, the food is amazing!! All of our guests were raving about everything - you can't go wrong with any choice. Musket Ridge is a beautiful, well kept venue that is perfect and picturesque for weddings.

Holly

Married on 05/13/2021

Rainy day at Musket Ridge

Susie and her staff were such a pleasure to work with! She made the wedding planning such a breeze for us. The food and aesthetics of the venue were such a hit with our guests- and largely why we chose Musket Ridge. Susie also did very well with keeping us updated on the local COVID guidelines and protocols. My husband and I could not have chosen a better venue to get married!! We only wish it hadn't poured rain on our wedding day!

Abigail W.

Married on 05/01/2021

Amazing Day

Cant begin to describe how amazing Susie and her team are at Catoctin Hall! Planning a wedding from out of town is definitely not an easy task and an inclusive venue was top on my list of "musts". From the time my husband and I stepped out of the car we were blown away by CH@MR. The ceremony space, reception hall, and views are gorgeous! Any request my husband and I had, they made happen. We didnt have to worry about a thing the day of our wedding. Not even getting our own drinks! Susie's attention to detail is SPOT ON and her flexibility to accommodate last minute requests was fantastic. We had an absolutely beautiful day to go along with the beautiful grounds at CH@MR. The food was amazing and all of our guests raved about their meals and the ample portion sizes. The night flowed so smoothly and my husband and I were able to enjoy the night with our guests.

+ 9

photos

Caris R.

Married on 03/27/2021

Absolutely Perfect

We are so happy we chose to have our wedding at Musket Ridge! Not only are the mountain views stunningly beautiful, but the food was absolutely amazing (and we had tons of it)! The staff was so incredibly kind and beyond helpful! From last minute hemming of dresses, to coordinating fireworks, to sending us home with extra meals to enjoy later that night, they made sure that every part of our day was absolutely perfect! Thank you!

*Photo Credit: Emerald Stone Photography

Mary J.

Married on 10/04/2020

The Perfect Place for a Wedding

My fiance and I visited several local venues for our wedding. The moment we walked into this venue, we knew this was the perfect place for our wedding. The wedding coordinator, Susie, outdid herself. Everything from the food, ceremony space, and reception room was Perfect.

Coleen B.

Married on 10/05/2019

Amazing Experience

Musket Ridge was the only venue that I visited when planning our wedding. I knew from the moment that I set foot in the grounds and met with the staff that this was who I wanted to work with, and we were not disappointed. If you're looking for a venue that will take care of EVERYTHING for you on your wedding day, with amazing views, look no further!

Lori

Married on 10/04/2019

Amazing venue for a wedding

Musket Ridge blew our expectations for a wedding! From the moment my husband and I stepped foot into the venue, we knew this was where we wanted to have our dream wedding. The views are stunning and the outdoor ceremony site and the ballroom are just as beautiful. We had a long engagement, and book pretty early on. Susie was great the entire time! So accommodating with our requests and just an overall pleasure to work with. On the day of, Susie and Vicki were great at keeping us on time and making sure the day ran smoothly. The food and drinks were fantastic and the staff was great. You cannot go wrong with booking this venue!

+ 5

photos

Christine D.

Married on 06/08/2019

Best wedding venue ever!

When our daughter got engaged we made a list of venues to look at. Musket Ridge was our 1st and last stop. Catoctin Hall checked all our boxes and we fell in love and didn't want to look anywhere else. The ceremony spot is beautiful and covered patio is a perfect cocktail hour space. Stepping into Catoctin Hall is just breathtaking and the views from the huge windows is stunning. Susie was our coordinator and took such great care of us the whole time. For over a year she guided and advised us in planning my daughters special day. Thank you to Susie and everyone at Musket Ridge for giving my daughter the wedding of her dreams.

Christie

Married on 05/24/2019

Love Musket Ridge!

My husband and I cannot say enough good things about Musket Ridge! The day was so perfect. The staff was very helpful, the venue is beautiful, food is delicious! I am so glad we found this gem!

Jeanette

Married on 10/07/2018

Phenomenal Experience

Musket Ridge Golf Club is a picturesque venue. Our guests commented on the beautiful scenery. Bonnie Swanson, the events sales manager, was very polite and responsive. She outlined the various packages that were available and informed us of military discounts based on my spouse's eligibility. Susie Chalk was our event coordinator and a pleasure to work alongside. She was very flexible and open to our ideas. Also, she was very responsive, transparent and did a phenomenal job. The ceremony and reception setting was beautiful. Susie ensured that I remained stress-free as possible and took care of any hiccups. My spouse and I are very happy with the service provided by the staff throughout the wedding process. I wished had more pictures on my personal phone to truly show what a beautiful evening it was!

Carly

Married on 10/05/2018

Amazing Wedding Venue!

My husband and I recently got married at Musket Ridge and had an amazing experience there. From starting out with Bonnie, to working with Susie along the way, every piece of the planning and day went so smoothly and it is all thanks to Musket Ridge and its wonderful staff! Susie is the absolute best and made me feel at ease with what could have been a stressful process, but wasn't thanks to her wonderful planning and communication with everything leading up to the wedding and throughout the wedding day. We fell in love with Musket Ridge the minute that we got there and saw the beautiful scenic views, and truly couldn't have asked for a better experience or wedding day!

Jamie K.

Married on 10/05/2018

A Phenomenal Experience!

Our youngest daughter was married on 10/5/18; the 4th of our 4 children to be married in 4 years! From the moment we met with Bonnie, the sales manager, we all fell in love with the beautiful scenery and venue at Musket Ridge. Bonnie was super sweet, answered all of our questions and convinced my daughter, her fiancé, my husband and I that this was the venue we wanted. From there, we were turned over to Susie......Wow....no words to express Susie's professionalism, kindness, flexibility and love of her job as the event coordinator. Susie met with us several times throughout the planning process, making sure, each time, that things were just as we desired. Susie even decided she would work on the day of our daughter's wedding......the same date as her own wedding anniversary! There are just not enough words to describe and reiterate how well Susie and her team worked to assure that our daughter's wedding was perfect. From start to finish, everything was outstanding and exactly how we wanted things to be. From Sandy, who we met several times in visiting Musket Ridge, to Bev, who was our daughter's "day of" attendant......they did an outstanding job. You will not be disappointed to have a wedding here.......We loved everything about Musket Ridge and this could not have been a better place for our last wedding event!

Katie

Married on 06/09/2018

I cannot say enough good things about our experience at Musket Ridge. Deciding to have our wedding here was hands down the best decision we made during our wedding planning experience. From the breathtaking mountain views to the elegant banquet facility, this venue had had everything we could ever imagine and so much more.

As soon as you step foot on site you will be blown away by the beauty of this location, although that is not the only thing you will be blown away by. The staff at Musket Ridge were absolutely amazing, and our day wouldn't have been complete without their unwavering commitment to us, throughout the entire process. Bonnie Swanson (Event Sales Manager) and Susie Chalk (Event Coordinator) are two people that every bride should want by their side, when planning their special day. From booking with Bonnie to working with Susie on every last detail, their professionalism and keen sense of wedding planning, made the entire process simply wonderful. We didn't have to worry about a thing, Susie and her staff knew exactly what to do and when to do it. Not only did Susie meet with us on multiple occasions, but her and her staff took care of EVERYTHING the day of, allowing us to simply enjoy our day, from beginning to end!

Musket Ridge provided us with a dream wedding. It was a dream for not only us, but everyone that was there to help celebrate our special day. We have received endless amounts of compliments from our guests about how amazing the day was. Everyone is raving about the breathtaking location, the absolutely delicious food, friendly staff, and so much more!

If are hoping to have a dream wedding, look no further than Catoctin Hall at Musket Ridge!

Are you interested?
Send a message