Reviews
4.9 out of 5 rating
Quality of service

4.9 out of 5 rating

Average response time

4.9 out of 5 rating

Professionalism

4.9 out of 5 rating

Value

4.9 out of 5 rating

Flexibility

5 out of 5 rating
99%
Recommended by couples
26 User photos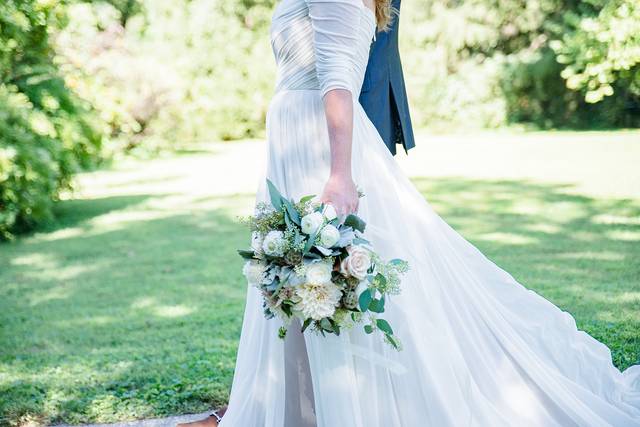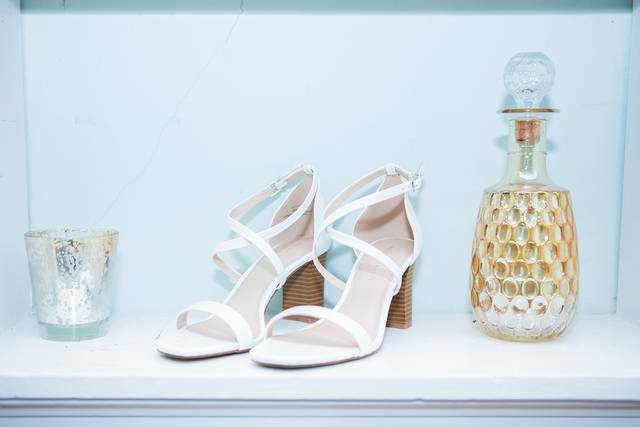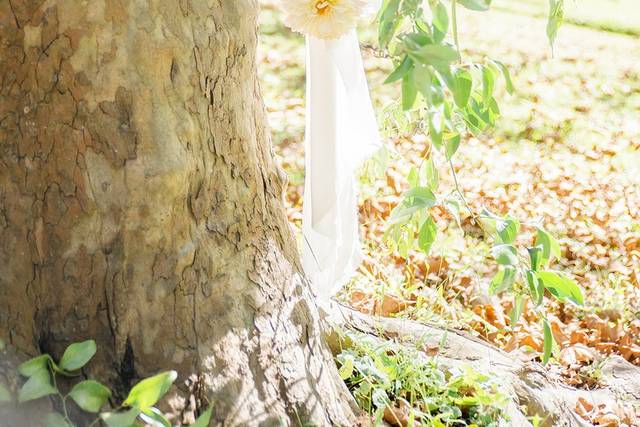 + 22

photos
Featured

Megan M.

Married on 10/23/2022

Absolutely incredible

We of course used catering by design for catering as they're the exclusive company for the venue. The catering by design team are incredible! Everyone who works there really loves what they are doing and it really shows. The service is amazing, they made every single one of our guests feel like it was their party. I can not say enough about the chef! My partner and I never had a chance to make it to a tasting since we live 4 hours away. We were a little scared going into the wedding because of that but we had heard nothing but high praises about the chef. Both my partner and myself are vegan, so we were pretty excited to collaborate on a menu with the chef.
We chose a lot of items from the pre offered menu because a lot of the food were our favorite foods anyways.

We added a few items for them to make at our request and they freaking killed it!
Same with the sangria they made for our wedding. Everything is made from scratch and you can really taste the amount of passion coming out of that kitchen. Our guests were raving about the food and telling us how they were scared going to an all vegan wedding and weren't sure what to expect but they were more than surprised with the amount of flavor and creativeness they tasted that night.
My brother who says he is a meat-a-tarian just to make me mad snarfed so many horderves during the cocktail hour… he said he's never had good vegan food and he was obsessed!



Catering by design also has a florist division ( garnish) which we used for the night. I personally have a hard time with the idea of cutting a bunch of flowers to be possibly tossed the next day and I expressed my concerns about that with her, showed her my mood board and my vision of what I was looking for and Carolyn freaking knocked it put of the park. There were enough flowers to make it look beautiful and like a wedding but subbed things like candles and vines to help make me feel a little better about it all.

Over all this was the best wedding I have been to in a very long time. And I'm not saying that because it was mine but I am saying that because of the staff, the building and the city it was in. They take pride in what they do here and it is worth every dollar.

Catering By Design's reply:

Megan! Thank you so much for taking the time to share your experience with us! Our team loved preparing an entirely vegan menu and are thrilled your guests, including the meat lovers, enjoyed everything. And you said it, Carolyn knocks it out of the park too!

Catalina R.

Married on 07/01/2023

Excellent catering

The menu options are incredible! I still think about our tasting and wedding menu.

Meghan L.

Married on 07/01/2023

Best. Wedding. Ever.

BEST. WEDDING. EVER. An "excellent" rating is not enough to say how happy we were with everything at our wedding. We worked with CBD, specifically Kelly, for our wedding at the Michener Art Museum in Doylestown. We can't stop raving about the night. First off, Kelly is INCREDIBLE. We genuinely would have been lost without her. She is patient, organized, and always willing to help. She was more of a wedding planner than a venue coordinator. I don't know how she does it! I would use CBD for another event just to get the opportunity to work with Kelly again. My husband and I cannot say enough positive things about her - thank you for everything, Kelly! You are amazing! Second, everything CBD provided was fantastic. From the food to the staff - all of it was just wonderful. We had numerous guests tell us how impressed they were with our hors d'oeuvres and entrees. The pork belly appetizer was awesome and people were still talking about our dumpling station the next day. We loved our entrees too! I wish there was a way I could order them again because they were delicious. The waitstaff and bartenders provided by CBD were also fantastic. Everyone was polite and willing to accommodate us - they really helped to make the night run as smoothly as possible. They were all professional and lovely. We hope they had a good time with us! Finally, our venue was simply gorgeous. We loved it from the second we saw it on our tour with Kelly. It was different from all the other weddings we've been to and many of our friends and family were very impressed. Our guests couldn't stop telling us how great the venue was throughout the night. We agree! It is a hidden gem that we got lucky more people did not know about. Plus, it is affordable! My husband and I still can't get over just how reasonable everything at CBD was especially for the quality of food and service we received. I would recommend CBD to any one hosting an event - even if it's an off-premise job! With a large event like this, often something goes wrong at the last minute that send things into a tailspin. My husband and I remarked at the end of the night that not a single thing went wrong with our wedding day. I feel a huge part of that is thanks to Kelly and the rest of the CBD staff. Thank you all so much for your hard work and help so that we could have the best day ever! You guys are the best!

Are you interested?

Send a message

Charles M.

Married on 06/10/2023

Fantastic Service!

Catering By Design helped us at the last minute (less than a month until the wedding) when it became clear that we were going to have to find a new caterer. They did a fantastic job, with great food and even better service! I highly recommend them!!

Krista M.

Married on 10/15/2022

Fantastic service for an at home wedding

Terri and her crew did a wonderful job on a day when so much went wrong for them. We would absolutely choose them all over again.

Heather

Married on 09/17/2022

Above and beyond

Our experience with Catering by Design was great. From the staff to the food, we couldn't have asked for a better night. They made what could have been a stressful time, easier. I would absolutely recommend using their services!

Kelly S.

Married on 07/23/2022

Simply the best!

I used to hate it when people said that their wedding day was the best day of their lives, but ours truly was, and much in part thanks to Terri and the entire Catering By Design team! We worked with CBD for nearly two years due to COVID reschedules, and the professionalism and expertise that we saw throughout the entire planning process was absolutely wonderful. There were very few stressors from start to finish, that culminated in the most perfect and stress-free day. I honestly didn't have to worry about a single thing once the day came as the entire CBD team was prepared and ready to go. The entire staff was friendly and helpful and we received an abundance of compliments from our guests about how attentive everyone was to them. We had the pleasure of working with Michael throughout the day who made sure that we as the bride and groom had everything we needed. He was already ready with a drink order and to box up some cocktail hour food to make sure we got to taste everything throughout the day. I'm so thankful to the entire crew, and especially Michael, for making us feel so special.

The food itself was absolutely spectacular. We got so many compliments about the quality of the food both at cocktail hour and at dinner (especially recommend the short rib for dinner and the crab cakes, Nashville hot chicken and dim sum bar for cocktail hour). We opted for wedding pie as opposed to wedding cake, and each flavor was more delicious than the last! I would highly recommend Catering By Design for any catering needs, but especially trusting them with one of the most important days of your life. Thank you to the entire team

Sara D.

Married on 05/21/2022

Excellent job

This stellar team made the events of our wedding day go seamlessly. We and our guests were thrilled with the quality of the food and service which made guests feel at ease. Communication before and during the event was terrific as well. Would recommend CBD to anyone who asked.

Tracey J.

Married on 12/06/2021

Awesome service and food

Liz with Catering by Design was an amazing help to us during the entire process of wedding planning. Even though she's not an official "planner" per se she was so great at helping me find vendors, even last minute! She was quick to respond to emails which was great as a covid bride who had to postpone my wedding once. Catering by Design has awesome food that everyone raved about. I will say I was nervous because the tasting was only "ok" but the salmon and the short rib were AMAZING! Also everyone was talking about the hor d'oeuvres as well. I was very relieved that the food was such a hit because next to music, it was the most important thing to us. Thanks Liz and CBD Events!

Reyna T.

Married on 11/12/2021

Incredible food, service, and atmosphere!

The Catering by Design team was amazing! We loved the food at the tasting, but you never know how it will turn out day of - we had nothing to worry about. All of the food was delicious, and our guests are still texting us about some of the appetizers! Everyone on the staff team was so great, people had great energy and everyone was super friendly and professional. Highly recommend!!

Rachel W.

Married on 09/01/2021

Amazing team

CBD helped me put on the Covid wedding of my dreams - all of our plans changed within 13 days before our wedding day and Terri and team helped create a magical experience. They were there for us throughout the entire process while we were navigating these everchanging times. We didn't want to postpone and they were so flexible in making our wedding day a reality - intimate or not!
We cannot recommend Catering By Design enough. Food was amazing, team was amazing - overall incredible people to work with!

Elina G.

Married on 07/24/2021

Excellent food & service!!!

Terri & the CBD team were wonderful! We got married at ONE North Broad and CBD is the exclusive caterer. I was at first worried, b/c what if we didn't like the food selection? But that was no concern once we went to the tasting. I'll start with most weddings I've attended, I don't remember the food or I walk away hungry. NOT HERE!! CBD paid attention to every detail! During the cocktail hour the hordervs we had were beautifully presented! Everything from the philly cheesesteak eggrolls to the steak tartare canape to the salmon on a cucumber round; it was all so elegant. The dinner entrees themselves were INCREDIBLE! You must go with the shortribs...they melt in your mouth. The gruyere mashed potatoes with chicken were out of the world as was the seabass. The portions are exceptional and no one walked away hungry :) Also - their service...it was excellent. The waiters didn't rush our guests to clear plates and were so courteous/professional. I would highly recommend CBD as your caterer....you will not be disappointed!!

Addison G.

Married on 06/05/2021

Cannot recommend enough

We could not have had a better experience with Catering by Design. As a wedding photographer myself I interact with countless vendors and CBD is among the best of the best. We were lucky enough to work with Kelly and she was extremely attentive and always quick to answer questions kindly and thoroughly. Our guests were blown away by the selection for cocktail hour and they raved about the awesome staff, service and food during dinner. We highly recommend them!

Connie

Married on 09/27/2020

Amazing food and cake!

We were thrilled with CBD and Ms. Terri Fair who managed all of our dining for the big day. From the get-go we were really impressed with the vast menu and appetizer options, and the tasting was held in the beautiful setting of The Baldwin School, where the owner of CBD, Peter, had a really professional event. Even though Covid decreased the size of the event, we still had a lot of appetizers at the wedding (they were all butlered by very polite and professional staff wearing masks), and we were really impressed with how dainty all the appetizers looked. We got the samosas (which packed some heat!), duck, steak, and nashville hot chicken, all delicious! Also the main courses were delicious, the steak was cooked to perfection (medium). We also truly loved our wedding cake. It looked exactly how we wanted it to look (upcharge for pound cake, korean buttercream flowers) and was absolutely delicious! We would definitely recommend CBD to help with your catering needs or weddings or other events. In the era of Covid we almost had to host the dinner in our parents' back yard, but Terri was very flexible with that and came out to check the area, and I'm sure would have made a beautiful outdoor dinner happen too. Thank you everyone at CBD!

Shelley

Married on 05/24/2020

Wonderful, Caring Team

Lindsay from CBD was very uplifting and inviting from our first meeting. She demonstrated a great amount of flexibility when it came to touring the Michener and coordinating the tasting with our many family members. The tasting was an amazing experience and did not compare to tastings that many of our friends had with their catering companies. Unfortunately, we had to cancel our wedding due to COVID-19 so we were unable to see our event come to fruition however out of all of our vendors the CBD team was the most accommodating and understanding. They tried to provide us with many solutions but when we realized we were not going to be able to reschedule they worked with us to come to a mutual agreement. I couldn't recommend CBD and especially Lindsay at the Michener more for your big day!

Kelly K.

Married on 05/23/2020

Perfection

I worked with Nancy at Bolingbroke Mansion, one of their venues out in Wayne. I could not be happier with the experience. I have never had such a great sense of service before. Now that I have done a wedding, I know that I should not stress myself out anymore if I have a vendor like CBD in charge.
Nancy makes you feel like you've been life long friends in a couple of seconds. She went above and beyond to make our day special. She knew we had a tight budget, but showed us many different ways we could do the menu that would make it fit. She kept us on track and up to date on the things we needed to do. She ran out on our wedding day and got us Triple Sec with her own money because we had forgotten. The food was amazing, every server was attentive and wonderful. The bartender we hired through them, Gary, was an amazing affable guy that made the night one to (or not)remember.
I also used their in house decorator, Carolyn Rizzo. Oh my gosh. What an artist. I wish I had more pictures of all the beautiful things she did. Again, they made things work within our budget and I so appreciate that.
In general, I was overwhelmed by the service they provided. They decorated a few of the fireplaces at no extra cost. They were punctual, professional, and incredibly detail-oriented. I highly encourage you to invest in CBD for your caterer. They really blew me away.

+ 4

photos

Deanna S.

Married on 02/01/2020

Best of the Best!

Our wedding was truly a masterpiece. I know everyone says and thinks that of their wedding day, but it truly was--and so much of that has to do with the One North Broad Team and Catering By Design. My husband and I met in Philadelphia (where I am also from) so we wanted our wedding in Philly even though we live in New York City. For this reason, we knew that we needed a solid/responsive team to work with because so many of our interactions would be virtual. ONB and CBD were it!

Catering By Design is ONB's exclusive caterer. Initially, we were hesitant about venues that had exclusive caterers because we are FOODIES and we wanted the venue and catering decisions to be separate. However, CBD did not come to play! Knowing how passionate we were about choosing ONB as our venue, but unsure of CBD as our caterer, Terri Fair arranged for us to have a tasting BEFORE we made the official commitment. To me that gesture alone demonstrated that they were not just invested in receiving our money/business, but committed to proving they could be the perfect fit for our perfect day. What also sold us on CBD was their many many catering options. A lot of catering companies have their set menu tiers with set prices, and you just pick from a list. CBD, however, works within your budget and food preferences to make your dreams reality! While we still opted for a traditional seated dinner, we had the option to do family-style, buffet, etc... And the range of food options from their hors d'oeuvres to their entrees were overwhelming in the best way imaginable! A foodie heaven!

The staff that worked our wedding was out of this world. From the way they dressed to the way they interacted with our guests-- folks are still talking about how impressed they were with the team. My husband and I had a dedicated staff member who made sure we had everything we needed BEFORE we even needed, and that small detail truly made a world of difference. The set-up and break-down of our reception was seamless and efficient, and before we were ready to head out of the door we had all of our extra food packaged and ready to go with us-- which was much appreciated the morning after!



+ 2

photos

Kimberly P.

Married on 12/21/2019

Most amazing food and service!

We worked with Terri Fair and CBD for our wedding at ONE North Broad this past December. I cannot say enough great things about the amazing food and service we had at our wedding. We received so many compliments from our guests. From how well the entrees were cooked, to the variety of hor d'ouerves we had at cocktail hour, and how nice and professional the wait staff was.

Terri was such a pleasure to work with throughout the entire planning process. She answered all of our questions and was extremely accommodating with any requests we had. The day of the wedding I was completely stress free because from the planning process I knew Terri had every detail under control. Things ran incredibly smooth because of her.

We are so very grateful to Terri and her staff for making our wedding day a dream! Hire CBD if you are looking for amazing food and service at your wedding.

Ashleigh L.

Married on 11/09/2019

CBD is the exclusive caterer for One North Broad

We got married at One North Broad and Catering by Design is the exclusive caterer. That being said, CBD was exceptional. Terri is awesome and very helpful from start to finish. Sue works for the venue, and handles the venue expenses as well as alcohol. Terri is in charge of food, glassware, barware, table settings, linens, tables, chairs, etc. They both work as a team to help the entire process be stress-free. The food is amazing. There are a million options for the bar set-ups, and the staff is exceptional. All of our guests raved about the food and beverage options. We had the best day ever, and our guests did too. You won't be disappointed with Catering By Design!

+ 5

photos

Kathryn B.

Married on 10/26/2019

The Wedding of the YEar

Catering by Design did our wedding at The College of Physicians of Philadelphia in September 2019. Everything was perfect; from the table linens to the interior layout to the delicious food etc.

We were initially drawn to Catering by Design as they have worked with The College of Physicians of Philadelphia on many events, so they were used to the space. They had great ideas regarding how to "lay things out" and how to best utilize the museum/venue.

What really sealed the deal were their menu offerings. The food was interesting and eclectic. We didn't want the "traditional sit-down dinner," so we opted for the stations service. We went with the: carving station (for the "traditional" eaters), the bao buns station (a crowd favorite), and the poke bowl station (one of my personal favorite foods). The desserts at the dessert bar even matched the quality of the dinner options. Additionally, the cake with the delicious buttercream icing put to rest the myth that wedding cakes are "no good."

We worked closely with Kristen Medici at CBD. She was efficient and knowledgeable. She was also always really upbeat, which made a difference, especially when things/planning became stressful. She also offered insight on how to set things up and food items for the menu, which was greatly appreciated. Kristen was even flexible when we were late to drop off some "final" decorations before the big night!

In fact, all of the staff at CBD was amazing. My hubby and I were still doing photos during most of the cocktail reception, so CBD's staff made sure to bring us a selection of the hors d'oeuvres, so we were able to try everything. They also kept refilling our drinks; we were never left unattended; the service was great!

I would highly recommend Catering by Design for a large event, and I would love to use them again if I have another big event. I would even recommend going to The College of Physicians of Philadelphia for an event, as CBD often does a lot of the catering for these events.

Alison

Married on 10/05/2019

Incredible food, even better service!

CBD is incredible in every part of the planning process. Terri could not have been more helpful or responsive. Terri helped us design a perfect meal, even bringing in an ice cream bar and soft pretzels as a late night snack for our guests. The food was absolutely incredible, and our guests are still talking about the tater tot bar. Thank you for the most magical day!

Esther M.

Married on 09/27/2019

The best! Look no further

We loved working with Catering by Design. Terri is the best! She answered all of our questions throughout the process and helped guide our ideas. She tracked every detail and we were always very comfortable knowing she had everything under control. The staff were phenomenal, so professional, attentive and genuinely nice. Our florist who is also a family member, said this is the absolute best catering group she has ever worked with. Everyone was incredibly helpful and accommodating. The food was phenomenal and it was presented so beautifully. So many of our guests told us they were so delighted and impressed with the food! We are so grateful to Terri and her team for making our wedding day absolutely perfect!! We absolutely recommend Catering by Design!


Britt

Married on 08/10/2019

Awesome Catering!

Catering by Design was awesome to work with. Terri made the process of selecting food for our wedding enjoyable and easy. The food was delicious - guests were commenting on how great everything tasted! Cake was awesome, too. Highly recommend!

Amanda

Married on 05/31/2019

Great food and service!

We fell in love with our venue, the College of Physicians, at first sight. Catering by Design was the exclusive caterer, but we were working on a tight budget, and honestly, we initially thought that they were going to be out of reach for us. But Kristen Medici was very understanding and worked with us, putting together a budget-friendly proposal, and we're so glad she did!

Kristen went above and beyond to make our event a success. We were planning from out-of-town, so most of our communication was via email and phone. Along the way, Kristen was consistently responsive to questions and changes. She also took on a lot of month-of and day-of event planning, including writing up our timeline, contacting vendors to coordinate load-in and setup, and coordinating our ceremony. This meant that we were able to really enjoy our day without worrying about the flow of the event at the venue, and we could not be more grateful for all of that help. Kristen and her staff even snuck us away right after the ceremony for some hors d'oeuvres, wine, and a moment of privacy. We really felt taken care of. On top of Kristen's exemplary planning and support, the service was impeccable, and the food was outstanding. We received so many compliments from our friends and relatives. Several of our guests said they had never had such good food at a wedding before. Overall, we wholeheartedly recommend Kristen and CBD!

Jeffrey G.

Married on 05/25/2019

Amazing wedding experience!

I am not exaggerating when I say that my wife and I couldn't have thrown the wedding celebration at The College of Physicians of Philadelphia that we did without Kristen Medici and her amazing staff. We've had many, many guests come up to us and say nothing but the nicest things about their interactions with the staff across the board, and we feel the same way. From our first interaction with Kristen, we knew that we wanted her in charge of our wedding day, and she did not disappoint. It was a perfect day, and a lot of that is due to Catering By Design's tremendous efforts. We look forward to working with them again, and couldn't recommend them more!
Are you interested?
Send a message