153 Reviews
Recommended by 96% of couples
Quality of service

4.8 out of 5 rating

Average response time

4.8 out of 5 rating

Professionalism

4.9 out of 5 rating

Value

4.8 out of 5 rating

Flexibility

4.8 out of 5 rating
32 User photos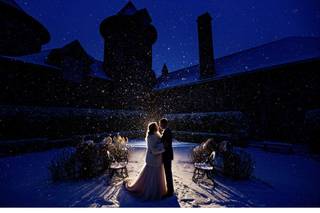 + 28

photos
Alec H.

Married on 10/02/2022

Exactly what you would expect

Beautiful venue with a professional staff.
Everything went perfectly and received many compliments from guests regarding the venue. Only drawback is that due to the location being far from any major cities, vendor options a bit limited.

Ceara M.

Married on 01/21/2022

Magical experience

The venue was gorgeous and the staff was great!

Castle Farms's reply:

I am so happy you enjoyed your special day! It was an absolute pleasure working with you both. -Tyanna

Andrea T.

Married on 11/27/2021

Castle Farms

The perfect venue for a winter wedding! Every event coordinator we worked with was excellent with communication and they made sure everything was exactly how we wanted it. Madison was our event coordinator the night of and she killed it! Best night of my life with the help of this venue and their staff!!

Castle Farms's reply:

Thank you so much, Andrea! You and your family were amazing to work with and I am so happy that I got to be a part of making your wedding day special. I wish you and Mike the best and hope you are enjoying your new adventure! -Madison

Are you interested?

Send a message

Jessica U.

Married on 10/23/2021

PERFECT wedding venue

Beautiful venue, amazing team!

+ 2

photos

Castle Farms's reply:

Thank you so much, Jess! You were amazing to work with. Your wedding was a dream and those photos are stunning! - Brittany

Samantha Z.

Married on 10/23/2021

Best Decision Ever!

Look no further than Castle Farms! They are truly the best. We received so many compliments from our guests about the venue itself, it's staff, and how truly beautiful the Castle grounds are. Our venue coordinator, Rebekah, was on it from day 1. She helped make the entire day run smooth. She was there all night to make sure no issues occurred! We can't thank Rebekah and the team enough for making our day so special. Thanks so much, team!

Castle Farms's reply:

Hello Sam, I'm honored to have been able to be just a part of your special day! It was a joy working with you and Marissa and I'm so glad that everything was as you had hoped!. I can't wait to see pictures! - Rebekah

Jora X.

Married on 10/03/2021

Fairytale wedding

The venue made our fairytale idea come to reality! Every place you turned to was gorgeous. So grateful that there was a venue cwhere we could have our once in a lifetime fairytale dream come true. !

+ 2

photos

Castle Farms's reply:

Hi Jora! It was a pleasure to work with you and Keenan on your wedding. You made a beautiful bride and I hope you enjoyed your day. I can't wait to see even more pictures! - Rebekah

Deborah R.

Married on 07/25/2021

Delightful: Choosing Castle Farms as our wedding venue was one of our easiest decisions.

Our wedding coordinator along with all the staff at the Castle Farms were helpful, informative, and responsive when we had questions.



Castle Farms's reply:

Thank you so much for sharing your experience! Jenna enjoyed working with you on your big day. We are happy to have hosted your wedding and wish you the best!

Tessa C.

Married on 10/17/2020

A True Fairytale

I always dreamed of having a fairytale wedding, and just so happened to stumble across Castle Farms when I got engaged. It was the one and only venue I toured because as soon as I step foot in the Knight's Castle, I knew that's were I was going to have my first dance with my husband. The grounds are beautiful, each room is lovely and classy, and it really is like stepping into a different time.
I was a pandemic bride, and I am so thankful I chose Castle Farms because they were always on my side. Rebecca gave us so many updates, and were so empathetic and helpful with any and all questions.
Angela, my day-of coordinator was an absolute dream. She was so helpful, sweet, calm, and really was a shining part of the day. Anything I needed help with she was willing to do and successfully took so much weight off my shoulders.
Not only is Castle Farms a beautiful venue, but it's wonderfully run with a caring team who ensure your day is as beautiful as possible. I cannot thank the team of Castle Farms enough for making my day truly magical.

Castle Farms's reply:

Thank you SO much Tessa!! I am beyond grateful that we were able to give you and Jeremy the wedding that you hoped for from the moment you saw the Knight's Castle! While things weren't exactly as you pictured, you both were so kind, genuine, and understanding through everything, that we were so glad we could be a part of such a special day for such a deserving couple. I wish you both the best and hope you have a wonderful Christmas and New Year! -Angela

Danielle D.

Married on 08/08/2020

Our Dream Wedding!

The grounds of Castle Farms are breathtaking! It was a dream! Guests were in awe and the staff was outstanding. Natalie B. was our venue coordinator and she was so sweet! With Covid, Castle Farms was so flexible to changes we had to make. From start to finish (and all the in between) it was perfect! And talk about a picturesque location!

Castle Farms's reply:

Thank you so much for the kind words! The love that you share for each other is so true and selfless. Also, the excitement you both had even throughout this time was unforgettable. I am so happy I was able to be a part of your special day and making it the best it could be. I wish you nothing but the best for your marriage! – Natalie

Jessica

Married on 06/13/2020

Great Place to Wed

Beautiful venue, different options & GREAT staff!

Castle Farms's reply:

Thank you Jessica! We are so excited and honored that you chose Castle Farms to host your beautiful wedding day!

Glen K.

Married on 06/09/2020

Amazing Wedding Experience

My wife and I chose Castle Farms after a weekend of touring venues in northern Michigan. We quickly fell in love with the beauty of the grounds and the friendliness of the staff. Rebekah and Natalie helped us coordinate our special day and we couldnt say enough good things about their help and enthusiasm in ensuring our day went as planned. I would 100% recommend Castle Farms to anyone looking for a venue in Norther Michigan.

Castle Farms's reply:

Thank you SO much for the kind words! You are such a sweet couple and I loved being able to help make your day special. All the details you had put into each part of the wedding such as the world theme and incorporating it with a wonderful picture of the both of you with a suitcase holder on each table. It really shows that you both are together through the adventure! -Natalie

Krystal K.

Married on 02/01/2020

Our Dream Wedding at Castle Farms

We had the most beautiful fairytale wedding at Castle Farms. It is a dream venue. Angela our venue coordinator was absolutely amazing to work with! Planning our wedding during Covid was difficult and stressful at times, but Castle Farms was very accommodating. Angela had some great suggestions when changing plans, she made sure our wedding day went smoothly, and helped us plan down to the small details. I would highly recommend Castle Farms to any couple, it is an absolutely beautiful venue in any season!

Castle Farms's reply:

Thank you so much Krystal!! I can't thank you and Nolan enough for being so understanding throughout the whole process. I am sure it wasn't how you originally pictured your wedding day, but we were so grateful that we were able to still host such a special day for the both of you. It brought joy to me just to see how beautiful the day turned out for such a deserving couple as yourselves. Congratulations on your marriage! I wish you two the best! -Angela

Amanda L.

Married on 09/29/2019

Dream Wedding

Everyone at Castle Farms was so helpful from beginning to end! Planning went very smooth and our coordinator Alex kept everything moving the day of so there was no confusion. Castle Farms is a very beautiful location with so many options for picture taking. Absolutely Love everything about this venue!

Castle Farms's reply:

I loved being able to help your dream come true! The joining of two families is one of my favorite things to watch, especially when they have a sand ceremony as fun and colorful as yours. Wishing you and Nick nothing but happiness for the years to come! - Alexandria

Rachael

Married on 09/14/2019

Amazing venue

After hosting our wedding ceremony and reception at Castle Farms, I couldn't have imagined choosing anything different. The site is so beautiful, and the staff is equally amazing. I would recommend this venue to any and every bride!

Castle Farms's reply:

I truly hope you enjoyed the rest of your evening. I don't think I have enough words to say thank you for letting me have the honor to be your wedding coordinator. The day was absolutely beautiful, from the heartfelt décor, and all of your personal touches. You both looked stunning, and your families were a blessing to work with- Dale Henning

Samantha

Married on 12/14/2018

Perfection

The venue coordinators are absolutely phenomenal. When I had questions they emailed back within the hour, they verified everything with me every step of the way, and explained everything thoroughly (except the added cleanup cost for the pine needles on the boughs we had brought in; had I known, I would have purchased fake instead of real). They refunded some money for things I had thought I would need and didn't, and worked well to coordinate with my other vendors.

Castle Farms's reply:

Samantha, thank you so much for the review and for sharing those beautiful photos from your special day. It was wonderful working with you on your wedding last December. I will never forget the amazing cake you made and decorated; you are so talented! Your room was also beautiful with the real pine; after discovering its difficulty to clean up, we began to inform couples there may be an extra cleaning fee or that they can bring in faux pine greenery. Happy belated Anniversary and cheers to many more years of marriage! -Brittany

Hannah H.

Married on 12/08/2018

Amazing attention to detail!

They were perfect through the entire experience -- every detail was thought of in this whole process, and they definitely offer a true professional experience in a gorgeous environment!

Castle Farms's reply:

Thank you for the kind words Hannah! We are so happy that you and Adrian decided to spend such a special day with us at the Castle. Your cake looked amazing by the way. We wish you both the best!! -Angela

Cynthia

Married on 09/22/2018

Dreams do come true

Castle farms is one of the most beautiful venues I have ever seen. They worked with us through the whole two years of planning. Even helped my now husband purpose to me. We were even able to split our ceremony and reception up into two rooms so I could have the window in the kings great hall open during our reception. They gave us a day of coordinator - Angela and our day went so smooth because of her. It really was such a magical day. They do everything they can to make your dreams come true!

Castle Farms's reply:

Cynthia, you made such a beautiful bride and it was so special to see the love that you and Eric share. I especially enjoyed all your décor references to Mary Poppins and yours and Eric's own story behind it. We wish you and Eric a lifetime of happiness! -Angela

Lesli

Married on 09/15/2018

Just the most beautiful place in the world to get married! Not to mention the personal service from every staff member employed there. Our venue coordinator, Angela, was only a call or e-mail away. She was so very attentive, answered every question, and during our big day had everything taken care of before we asked. She made our day go off without a hitch and make it the very best!!!

Castle Farms's reply:

Lesli, it was wonderful working with you! It was so beautiful seeing your daughters walk you down the aisle and witness the joining of two amazing families. Thank you both for your service, I was honored to play a small part in your big day. I wish you two many years of happiness! -Angela

Megan

Married on 07/20/2018

Castle farms was the absolute perfect venue for our wedding. The coordinators were very helpful getting things ready for our big day!

Castle Farms's reply:

I am ecstatic that you had such an amazing time here at Castle Farms! You were both such an amazing couple to work with, and you always made room for laughter and fun. I hope the best for you both! -Brandyn

Lacy

Married on 06/16/2018

I felt like royalty every 30 mins someone from castle farms was asking me if i needed help with anything all staff was very professional and the day of i didnt have to worry about anything everthing was in place just like castle farms said it was !!!!! thank you castle farms staff for making my day special

Castle Farms's reply:

Lacy, it was so great working with you! Your wedding party was so great and I felt like a part of the family. I am so glad to hear that we were able to help make your day so special. Your wedding was beautiful and I wish you and your family all of the love! -Autumn

Ashlee

Married on 06/01/2018

Castle Farms was the perfect spot for us. We just had our ceremony there and it was perfect. My event coordinator was amazing. Rehearsal the day before was a breeze and our wedding was a piece of cake. She told us where to go, how to stand, where to look and when to go. All I had to do was show up and everything else was taken care of. Everything was wonderful!

Castle Farms's reply:

It was great working with you and your family. I truly enjoyed everyone and it was fun to have a groomsman that was also in another wedding of mine! I wish you all the happiness! -Autumn

Kimberly

Married on 05/20/2018

This venue truly made my fairy tale wedding. Originally, we had wanted to go to London and get married, but after realizing this wasn't realistic, we decided to do something in Michigan. My (now) husband loves Northern Michigan and has been coming Up North his entire life and when I saw this venue in "The Knot," I fell in love. This venue is the best representation of both of us - my husband's love of Up North and our shared love of London. Our coordinator was Matthew, and I loved him! He was on top of everything for our rehearsal and our wedding. Our wedding was truly perfect and everything I could've asked for here.

Castle Farms's reply:

Kimberly, you looked absolutely stunning and you and your husband were a complete joy to work with. I loved helping you make this day so special! -Matthew

Janet

Married on 05/18/2018

Our daughter was married in the Knights Castle & court yard 5/19/18. Our coordinator Autumn Tall was the most amazing professional!! She has the heart of gold, friendliest, talented,I could go on forever. She made sure every little detail was perfect and took care of everything. Our families Royal Wedding was a fairytale come true. Autumn is a great asset to the Castle staff and we are so blessed to of had her be our coordinator. Her assistant Angela also did a fantastic job of completing our evening. Our catering company Matter of Taste was outstanding!!! Their food is out of the world along with their service & staff. Our DJ service Raush Entertainment top notch the very best. We used Mackinaw Shuttle service they are very professional their business communication is the best. Top Tier Cakery best tasting cake ever not a bite leftover. Most beautiful flowers and the best service was Elk Lake Floral outstanding!! They even did the flower arrangement for the cake better then perfect. Our family highly recommends the Castle Farms wedding venue and all of these professionals that we used. We especially think Autumn Tall is the very best and that your family will be blessed to have her involved in your wedding.

Castle Farms's reply:

Thank you for your kind words Janet! I had such an amazing time working with you and loved that you truly treated me like part of the family. I am so honored to have been a part of your day and I am glad that Angela was able to pick up right where I left off! Thank you again for sharing your day with us.

P.s. our staff is still talking about how awesome and adorable the power wheels idea was!

Sincerely,
Autumn

Katie

Married on 05/18/2018

My husband and I got married on May 18, 2018 at Castle Farms. We were married in the Queen's Courtyard and then we had our reception in the East Garden Room. The Queen's Courtyard is absolutely beautiful, and seats a ton of people. Afterwards, we took pictures around different parts of Castle Farms - the entire place is incredible and there are tons of spots to take pictures. I love our wedding pictures SO much. After that, we had our reception in the East Garden Room which was recently renovated. Again, SO beautiful. Overall, our experience with Castle Farms was incredible. We worked closely with Autumn, and she helped us navigate through the wedding planning even from far away as my husband and I were still finishing college in Ohio. Everyone was super kind, and was quick to keep the bride and groom the main priority. On the day of our wedding, Autumn was very organized and checked in on us while getting ready. I probably don't know half of the things that she did behind the scenes to make this day happen. But it was so nice to trust her and know that she was taking care of those small details. Our day was so special, and I can't express how thankful we are to Castle Farms for everything. I would recommend this venue to anyone who is looking for a beautiful place to get married and wanting kind, organized, and lovely wedding planners to work with. They are incredible!

Troy

Married on 11/17/2017

They where great at undersanding late payments due to unforseen problems and helped when my photographer canceled on us a hour before the wedding.
Are you interested?
Send a message