6 Reviews
Recommended by 93% of couples
Quality of service

4.5 out of 5 rating

Average response time

4.3 out of 5 rating

Professionalism

4.5 out of 5 rating

Value

4.8 out of 5 rating

Flexibility

5 out of 5 rating
31 User photos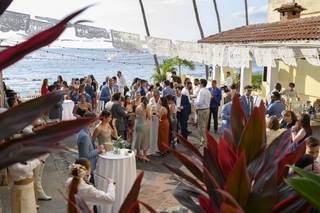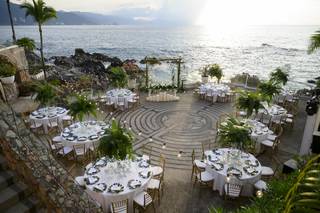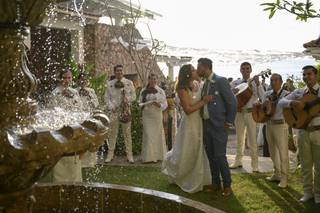 + 27

photos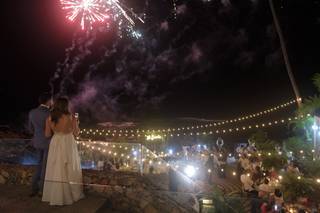 Hayley P.

Married on 10/30/2021

Wedding Venue of Our Dreams!

Our wedding at Casa Karma could not have been more perfect! We had so many guests come up to us both throughout the night and after the wedding to tell us how beautiful our venue was and that it was the best wedding they had ever attended! The villa itself was wonderful to also host my family and family friends for 4 nights over our wedding weekend! The staff was super attentive to our every need and truly went above and beyond to make us feel special! Casa Karma is the perfect and romantic venue to book for your PV wedding!!

+ 5

photos

Shannon T.

Married on 11/15/2019

Fairytale Wedding

Casa Karma was truly a dream come true. With so much space it offered so much flexibility for my wedding vision. With a beautiful beach, multiple terraces and a lovely fountain I couldn't have asked for more beauty in a single venue. The staff were also extremely helpful and accommodating for my wedding day. Additionally, my family stayed here for an entire week and had an amazing experience with excellent service! I would definitely recommend this venue to anyone looking at a wedding in PV!

+ 6

photos

Mark P.

Married on 02/25/2019

Spectacular, outstanding

ROBERT AND HIS TEAM WORKING AT CASA KARMA WERE AMAZING. THEY WERE EASY TO DEAL WITH. THEY CAME UP WITH AMAZING IDEAS AND PULLED THEM OFF WITH EASE. THEY WERE COST CONSCIOUS WHEN WE NEEDED THEM TO BE. THEY ARE LITERALY A DREAM DEAM AND I CAN'T SAY ENOUGH ABOUT HOW PLEASED WE WERE TO WORK WITH THEM

Are you interested?

Send a message

Nicole I.

Married on 12/08/2018

"Best wedding ever" - multiple wedding guests

I could not have asked for a better wedding. Casa Karma provided the perfect setting for our ceremony and reception. Robert and Yanina of Casa Karma went above and beyond to make sure we had a fun and beautiful wedding. There was no detail missed. The food, the decor, the music, the surprise ending with fireworks and quesadillas capped off a perfect celebration. Our wedding guests to this day still comment that our wedding was the best wedding they've ever been to! I highly recommend Casa Karma and Robert/Yanina's team for your wedding!

Nathaniel J.

Married on 11/09/2018

Romantic and scenic.

Would recommend this venue. I do recommend working with their dedicated planners at Mexico Event Design as it was sometime hard to reach venue directly for questions.

+ 8

photos

Jake

Married on 04/10/2021

Amazing wedding and stay with the exception of...

We had our wedding in Puerto Vallarta at Casa Karma just over a month ago, and it is as beautiful and picturesque in person as it is in photos. While we thoroughly enjoyed our wedding and the views and amenities that the resort had to offer, the experience was not without its letdowns.
This review is for the villa and event space, as we rented out both for our wedding. We would like to underscore that the villa staff was wonderful, with the notable exception of the House Coordinator (Paulina) and the House Manager (Erika Larios)- with whom you would be coordinating your event. While the two ladies were designated as the primary points of contact, they were hardly present. Not only was Erika not particularly welcoming to us from the start, but we also came to learn later that she spoke poorly of the guests within our group. Meanwhile, Paulina often declined requests and was short while interacting with guests. They did not execute to the agenda described in the welcome packet, and instead they appeared to have created their own.
It is also worth mentioning that while the house administrators acted as agents for the purchase of all household goods, they also neglected to provide receipts for their purchases. Most notably, the invoices for the groceries/alcohol felt quite exorbitant upon review. Our advice to any new guests would be to keep your contact with Paulina and Erika to a minimum, and to ask for receipts for all invoiced expenses.
Nonetheless, Casa Karma is a beautiful venue with breath taking views, and the rest of the staff are very friendly and attentive. All things considered, at the end of our stay and event, we would still say it is worth visiting, and is definitely worthy of your consideration for your wedding and/or stay.


Casa Karma's reply:

Hola Jake, this is Georgia Darehshori, the owner of Casa Karma, writing this. I hope you are well and happy in this new chapter of your life with your stunning bride. First let me say thanks so much to you and your new family for inviting me to your wedding. It was beautiful, and though I couldn't stay long, I believe I was there long enough to observe how happy everyone seemed to be. What a charming group of people you had assembled…friends and family who clearly adore you and Alexandria.

I feel that it is my place, and mine alone, to respond to your comments on Wedding Wire and TripAdvisor.

I wish to start at the beginning. Your family was among the very first to find us in my new incarnation as the one fully in charge of the operations and purpose of Casa Karma (even though I have owned the property for 15 years). As such, I feel that what you experienced, and what was not so pleasant for you, was squarely on my shoulders.

In fairness, Erika had just joined me literally a few days before receiving your family's first email to arrange the reservation. I had hired Erika as my personal assistant and the one who would help field emails and make reservations. I had known her for a long time by then. She was to act as a coordinator of calendars and reservations and help me in many ways, doing things for me to comply with the Mexican way of doing business. In that way, she has been invaluable to me, while her role has been in fact behind the scenes.

In the beginning, as is true in most new enterprises, we were flying by the seat of our pants, wishing to be everything to everyone. In my zeal, I may have made comments and perhaps inadvertently created misunderstandings, especially with your family, since you were the first. Covid intervened and the date kept changing very often, but my understanding was that there was nothing but pleasant exchanges and a showing of Erika's grace and flexibility during those several emails while attempting to coordinate this event that we thought might never happen! In fact, THAT series of exchanges was what Erika's main job has always been. When you mentioned in your letter about Paulina and Erika being the primary contact for organizing the wedding, I feel this is where things became a little confusing. Clearly this was a misunderstanding.

As a rule, and as Robert Schley, one of our top wedding planners, has demonstrated on many occasions, the villa personnel pretty much stay out of the way of the wedding planners' agenda during the events. He and other highly-professional local wedding planners who have events in our space have spoiled us. Everything runs like clockwork when they are involved, and Paulina can do what she does best, which is to administer to her in-house guests.

Your situation was unusual for a few reasons. The wedding planner—while absolutely charming--was from out of town and less familiar with the territory than those who live here. I do believe that is where the communication began to break down. While Erika is normally in communication with the wedding planners so that we at the villa are kept abreast of which vendors and scheduled activities to expect, she is not otherwise involved in the actual events. I had a long talk with people within your party as you know, and I thought that everything about this issue was resolved amicably, especially after meeting with our accountant.

There are many things about us as a villa and event space that are unique among villa owners. We a hybrid between a high-end boutique hotel and a high-end villa. Perhaps our shortfall is that as such, we maintain a small staff and yet offer as many services as a larger staff (in a small hotel) would offer. This requires a lot of coordination with the villa guests so that we can organize the staff's time and hire more people if this is required. One huge problem that we encountered with your group was that this extra service was not well defined or explained, and so much was not determined in advance so that we could have had available staff as needed.
We have an excellent chef as you pointed out and so we offer what others don't, or can't (because our chef is so skilled). As you know, we have the ability to have dinners served by our chef to outside guests for up to a total of 30 people. We are excited to do this, and do this effortlessly, when we know in advance how many to expect and can put all details in order. This was one issue that I apologized for when we had our lengthy discussion to resolve all this the day after you vacated our property.

I am also always grateful for helpful and candid discussions such as the one that we had with your mother-in-law immediately following the wedding. All issues that she brought up were addressed, and I am confident that there will never be the slightest hint of a return of any of those problems. I am happy that all of this was brought to my attention before you left the area and pleased that we were able to have an opportunity to make things right for you and your family immediately.

My feeling is that no problem is insurmountable as long as it is brought out into the open and examined objectively. I feel the overriding lesson here is to be clear on all of these points with the wedding planner as well as the villa staff in advance.

Mistakes will always be made, There will always be obstacles in any of life's experiences. The key is that we can recognize them and dissolve them and move on in a new and better direction. I believe this has now been accomplished.