64 Reviews
Recommended by 99% of couples
Quality of service

4.9 out of 5 rating

Average response time

5 out of 5 rating

Professionalism

5 out of 5 rating

Value

5 out of 5 rating

Flexibility

5 out of 5 rating
171 User photos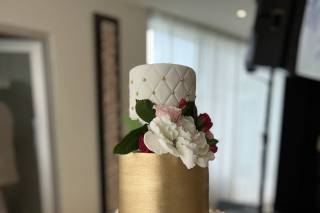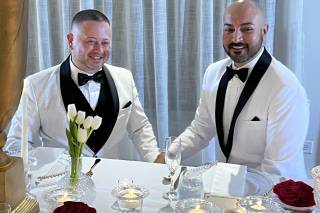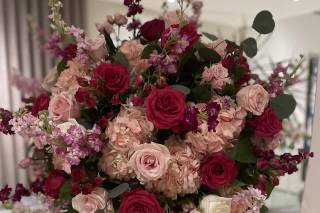 + 167

photos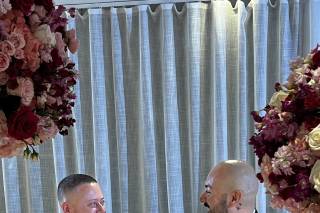 Abran S.

Married on 10/29/2022

Fairytale Wedding at Casa Herdz 10/29/2022

Our wedding and 5 night stay at Casa Herdz was absolutely perfection!!!

Our 1st day upon arrival Wendy the House Manager & the personal chef greeted us with a welcome drink and delicious appetizers! The day of the wedding the Chef made a delicious breakfast, and for the wedding dinner, Wow the Chef made a 5 star dinner, absolutely perfect!!! We did have another breakfast with the Chef on Sunday the day after the wedding and he did not disappoint, our chef was absolutely amazing!!!

Wendy, the house manager went above and beyond to make sure our stay at Casa Herdz was perfect, she treated us like family, she made sure we were comfortable and truly enjoyed every moment of our stay! On the day of our wedding, Wendy and her team were there all day making sure we were attended to and happy!!! Wendy is truly a Huge asset ⭐️ to the Casa Herdz Team!

I can't forget about Housekeeping, everyday they showed up and made sure the home was kept clean for our enjoyment, they were absolutely great!!!

Overall our experience at Casa Herdz was 5 Star ⭐️⭐️⭐️⭐️⭐️ / 💯 percent perfection!!! My husband, family and friends truly had an amazing time there and we can't wait to come back and spend another week at Casa Herdz again!!!

Casa Herdz was truly a magical experience in Puerto Rico 🇵🇷 we look forward to coming back very soon!

Love Abran & Angel Sanchez

+ 10

photos

Betzaida G.

Married on 06/11/2022

Experiencia inolvidable

La experiencia en Casa Herdz fue una inolvidable… Excelente servicio, buena comida, hermosa vista, atardecer espectacular… pero sobretodo poder compartir todo en familia es lo que no tiene precio.

Sofia A.

Married on 06/04/2022

Dream wedding

It's difficult to put into words the wedding I had. Thinking back, there isn't one thing I would change. Casa Herdz is THE venue if you want something different like a Weekend Wedding for you and your guests. The house, the vibe, the service, the food and THE STAFF…. Wow!
I would recommend the all inclusive package because the staff takes care of your every need. They make you feel at home! Wendy is extraordinary… We miss her already.

The wedding package takes off all the stress of searching for good vendors and you can customize anything you want.
The best vendors for me that were included in the package:
Cake- Lymari
Decorations- Siod
Food- Casa Herdz Chef
DJ- Midnight express
Pictures- Dianna Weddings

The owner really did everything that was in his power to make all my dreams come true. The house is beautiful and well kept, every house guest was so happy during the weekend and we were sad to leave. Food, stay, sunset, beautiful private beach, cinema… it's the perfect place.
We are eternally great full for finding this venue.

In conclusion… weddings are supposed to be fun and Casa Herdz takes all the stress away. Through the ups and downs, the never let me down.

Thank you for having us and our guests. Thank you for making us feel so special.

Recommended!

Are you interested?

Send a message

Kenny J.

Married on 05/07/2022

Amazing Wedding Experiences

Our wedding at Casa Herdz was truly amazing, would 100% recommend! AJ was incredibly helpful, answering many questions through email leading up to the event and Wendy was very helpful the day of the event! The property itself is gorgeous, we stayed with our close families in the days leading up to the wedding and everyone had an amazing time!

Kate

Married on 04/02/2022

Amazing Wedding Weekend!

We had the best time at Casa Herdz for our wedding weekend. It was the perfect location for our friends and family to celebrate. The staff was delightful and always anticipating our needs. Thank you Wendy!! AJ's communication throughout the booking/sales process was very timely and accurate. Casa Herdz was definitely a luxury property and exceeded our expectations. The view and setup of the wedding was so romantic with the beautiful blue ocean in the background. Thank you for making our wedding weekend one to remember! -Kate & Manny

Erica M.

Married on 01/16/2022

Absolutely perfect venue

An absolute dream come true! Casa Herdz was the perfect venue for our wedding and week vacation. The staff are the nicest people we have ever met, the home is stunning and the pictures are perfection all over this property. 10 out of 10 recommended!

+ 5

photos

D. Soto

Married on 12/18/2021

Amazing Wedding Weekend with Friends

We celebrated our wedding at Casa Herdz on Dec 18th. Everything was FANTASTIC. The house is beautiful and the view is amazing. We got the wedding package and the All Inclusive experience. Months prior to the wedding, the wedding coordinator and house staff toook care of everything. Then, from the moment we arrived to the house on the weekend, the house staff (Wendy, Chef Edgardo, Eric, and others) were excellent. We were a group of 12 and we had delicious food and drinks 24/7 available! I would highly recommend this venue for a wedding or for a nice and fun weekend with friends!!!

María P.

Married on 12/11/2021

Spectacular

My fiancé was surfing a wave in Manglito Beach when he saw Casa Herdz from the distance. "Isn't that the house that my future wife saw online?" He thought. The location and the view of the house sold him.

Celebrating my wedding at Casa Herdz is one of the best decisions I have ever made. Not only is it gorgeous, but the employees are one of the best people I have met and worked with.

We chose the all inclusive package, which comes with a wedding planner, makeup artist, photographer, and some decoration included. One would imagine that when things like these come included in a package the quality is questionable. Well, not in this case! Every single one of them was an experienced and highly skilled professional.

I just had the best weekend of my life and it is largely thanks to Casa Herdz!

+ 4

photos

Emmanuelli S.

Married on 12/05/2021

Un Sueño, servicio 5 estrellas!

Realize mi boda y la experiencia fue extraordinaria, desde el profesionalismo del equipo de trabajo de casa Herdz, la exquisita comida, todo en la perfección. La mejor vista de todo PR la tiene este lugar. No hay palabras ni fotos que puedan describir la magnitud de la belleza de cada uno de los espacios y sus alrededores. Sin duda estos factores fueron pieza clave de que nuestro sueño de la boda perfecta se hiciera realidad. La casa ofrece entretenimiento para toda la familia y un sin número de espacios para relajarse y estar conectados con la naturaleza sin perder la comodidad y todas las características de un hotel 5 estrellas pero con la comodidad. El chef de la casa ofrece un menú variado y delicioso no sabemos cual nos gusto más ya que desde el desayuno hasta la cena conquistaron los más exigentes paladares de nuestros invitados, sin hablar de los cócteles y mimosas OMG!

Indira G.

Married on 10/19/2021

Casa Herdz: Beautiful and Relaxing

We felt the whole luxury vacations experience @ Casa Herdz 💚 during our Wedding Celebration, from the beautiful location and facilities to the love and excellence of the service received during our stay, we and our guests are bringing unforgettable experiences home!

+ 4

photos

Jelexsa J.

Married on 07/23/2021

Outstanding...

Beyond Happy with Casa Herdz... The Staff and Casa Herdz made Our Special Day so Outstanding. I was looking for a venue to make our experience smooth and worry free, and that's exactly what we got. Everyone is super friendly and always attentive to your every need. Destination events are always a bit scary, not knowing what you'll get and not being there to know what the venue is all about but guaranteed you will not be disappointed with Casa Herdz.
Casa Herdz really does make dreams come true... Thank You!

Wilmarie R.

Married on 06/05/2021

Thank you for the wedding of our dreams!

Our wedding planner Ana Agosto recommended us Casa Herdz as our wedding venue and weekend stay based on our vision – my husband and I wanted an unforgettable tropical party with our close family and friends in an intimate setting, with our beloved island's most beautiful sunset in the background.

AJ and his team were super attentive during the site inspection and made it very easy for us to reserve our date, we closed the deal the same day. They worked very closely with Ana throughout the planning process and helped us navigate the uncertainty of the pandemic. We had a stress-free stay with our loved ones and our dream wedding celebration with delicious food, cocktails, coffee and dessert.

The team at Casa Herdz made us feel at home, and we made new friends that weekend. Will definitely stay again!

Stephanie T.

Married on 04/10/2021

Wedding Weekend

We had our wedding here and it was phenomenal. The staff were so responsive and professional. Everything was beautiful and the vendors were on point. I couldn't recommend this place enough. The house itself does need some work but Casa Herdz was constantly improving the house and it looked better than when we decided on it over a year ago!

+ 5

photos

Tanya M.

Married on 04/03/2021

First Class !!!

Amazing place
Amazing staff
Beautiful setting
Wonderful vendors
Best service
Our wedding was everything we wanted and more !!!
Lovely experience
Will return soon...

+ 5

photos

Gisela S.

Married on 03/21/2021

My Dream Wedding

After two years of planning I was able to celebrate my wedding at Casa Hernández and it was worth the wait. We celebrated with family and friends during the entire weekend and finally on a Sunday with a prefect weather we had the ceremony. Our guest had an amazing time.! I recommend to have a small group of guest just like I did so that they enjoy more the space.

+ 2

photos

Kimberly N.

Married on 03/06/2021

Amazing!!!

This is a dream house where you will be able to celebrate the wedding of your dreams. We were amazed with the venue and the wedding celebration.

Viviana S.

Married on 07/03/2020

Amazing experience, once in a lifetime event!

There are no words to describe the amazing experience our group had during our stay at Casa Herdz. Everything was excellently planned and thought out throughout our stay. From the moment we set foot in the property the staff greeted us and welcomed us as part of the family. Sarah's attentions during our stay were above and beyond specially during the planning of the main activity on Saturday evening. Everything we could ask was granted, all the staff going out of their way to please all of the guests. Kelvin's cooking is without equal, varied menus, quality ingredients and flexibility during meal prep, but best of all great taste. Everyone who worked in the property was attentive and respectful. We loved all of the staff and we hope to see you again. In summary the greatest activity/getaway/wedding/party you could dream of will be at Casa Herdz.

Lynn H.

Married on 06/01/2020

Engagement

My friends and I had a wonderful stay at CASA HERDZ. This was an amazing place to celebrate an engagement party! The location, space, and amenities exceeded my expectations and really made this home very special. BEST part is the breathtaking ocean view and the sunset from ALL angles of the home. Each room has its own balcony and private bathroom. Great overall... Great Location! Thoughtful touches!

Liurka

Married on 04/11/2020

My Fairytale Dream Wedding

No words to express how happy I am with the service, quality, value, experience that this people at Casa Herdz have. It was a unique and unforgettable wedding week. They are very flexible. The quality of the food is excellent. I choose the all inclusive and it was the best decision I made. I didn't have to do anything other than making the decision of what I want for my wedding. I ended adding a welcome party and Casa Herdz was very accommodated, they even suggest an excellent musician and we added a giant paella to the Friday package. The best decision I made. We had a lot of fun. Best experience, no words for it...from the amazing view that you get for any spot of the house to all the personal amiability to help and understand my needs. Love the place. I'm coming back soon.

+ 5

photos

Ivonne G.

Married on 04/05/2020

If you want the perfect wedding this is the place!

Getting married in Casa Herdz was an experience like no other. First things first, the property is breathtaking- luxurious, modern, and upscale. Our guests enjoyed every part of it from the fully stocked bathrooms to the direct beach access. The house staff was incredibly friendly and thorough with our needs. The food and drinks were delicious, they even greet each guest with a cocktail upon arrival. This place is definitely worth booking.

+ 6

photos

Crystal

Married on 03/14/2020

March14,2020

the staff at casa herdz is amazing! the cleaning ladies and the property staff are very responsive sweet and kind people.
we had to extend our vacation due to the covid-19 virus in the home and throughout they where very nice and cooked us breakfast and even brought lunch to us some of the day's. we will be for sure staying at casa herdz for future vacations to the aguadilla area.

Kari H.

Married on 02/29/2020

Our Dream Wedding!

The Wedding Package offered by Casa Herdz was everything I had hoped for and more. All the vendors were carefully chosen and clearly the best in their industry in Aquadilla. All the details to make our day special were thought of and put in place making our Destination Wedding ABSOLUTELY PERFECT!

Elliott S.

Married on 01/25/2020

Best Wedding ever!

Amazing experience! It was the wedding we always dreamed for. Every guest was in awe of the whole experience. From the staff to the home itself. There is nothing like it in the island. But what takes the cake was the view, simply breathtaking!

Heather M.

Married on 01/20/2020

Amazing!!!!

We had the best time for our wedding here! Sara our house manager was excellent along with the daily staff. The property is beautiful and comfortable. Everything was handled so smoothly and with great detail. It was impressive how the team got things done! The customer service was amazing as well. Sara is such an amazing manager, anything we needed she made it happen. She is a beautiful and sweet person as well. We enjoyed our interaction with her very much. Any services we needed, Sara scheduled for us. All of the people she sent us to were great too. Everyone was professional and friendly. Our wedding was perfect and stress free. Everything was taken care of so we got to enjoy the day with our family and friends.

Mayra R.

Married on 12/07/2019

The best place in Aguadilla

Casa Herdz a dream place, the best sunset is seen there. The house is beautiful both inside and outside. Very clean and organized, friendly and helpful staff, good communication with AJ. The best place to vacation or celebrate any event.
Are you interested?
Send a message