54 Reviews
Recommended by 94% of couples
Quality of service

4.7 out of 5 rating

Average response time

4.7 out of 5 rating

Professionalism

4.7 out of 5 rating

Value

4.7 out of 5 rating

Flexibility

4.7 out of 5 rating
14 User photos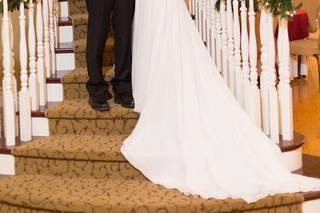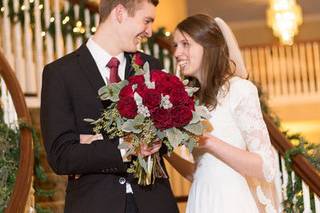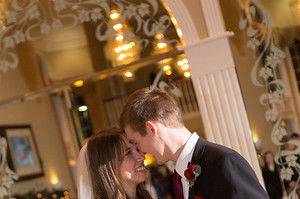 + 10

photos
Stephanie

Married on 01/02/2018

I loved having our reception here! It is such a beautiful place! I attended another reception here a few years prior to getting married and after seeing how beautiful it was, I couldn't visualize having my reception anywhere else! I loved it! It was fairly priced too!

+ 3

photos

Tiana

Married on 11/09/2017

I loved having my ceremony and reception at carmelle. They were So friendly and made sure I had what I wanted. I would recommend it to others !

Kelli

Married on 05/12/2017

I felt really comfortable talking to them about all of my requests for our luncheon and reception. They did a great job!

Are you interested?

Send a message

Carly

Married on 12/09/2016

Carmelle Reception Center was so amazing to work with! I had so many unique requests- like an indoor bouncehouse- and they were so willing to work with me to make my special day exactly how I had dreamed. They were very organized and easy to work with. When I showed up on my wedding day for the luncheon, everything looked even better than I had imagined. I was beyond pleased. At the reception, Carmelle provided an attendant for the evening and she was so on top of things! She was one step ahead of us the whole, night, ready for whatever was coming next. Overall, it was a marvelous experience and if I were to do it all over again, I would without a doubt go with Carmelle Reception Center!

Kelsey

Married on 11/05/2016

I had my wedding reception here in November, and it was everything I had dreamed of! The staff was very accommodating and let me bring in the decorations I wanted (I had a woodsy theme with lots of logs and boards, etc). We wanted to cater our own food, and everything looked perfect. The gardens are beautiful for pictures, and the interior was a neutral pallet, perfect for creating my desired look. I still can't believe the great price for a dream come true! Thank you Carmelle :)

Alexis

Married on 07/23/2016

The Carmelle was perfect for our wedding! Our hostess made the night run so smooth, we just sat back and enjoyed the evening. They were extremely flexible and easy to work with. Not one regret! I would recommend them to any bride looking for the perfect venue. Alexis Lewis

Doug

Married on 08/27/2015

We had 400 guests for the reception and it was absolutely amazing. The atmosphere was just what we had planned on. The food was great and the help for the evening was wonderful.

Jill

Married on 08/15/2015

So easy to work with--responsive to needs, concerns and desires. Our reception was lovely and fun and memorable. Great price. Beautiful garden and venue. Delicious and attractive ice cream buffet. Thanks!


Carmelle reception center was amazing. The place was beautiful the employees were super helpful and willing to help out with everything. We really enjoyed the place.

Very nice and easy to work with.

Camille

Married on 08/12/2015

Carmelle was very delightful to work with. Peggy was very flexible and helpful in decision-making and coordinating the reception. During the reception, the host, Sue, made sure everything was running smoothly, and periodically brought water and mints to those of us in the reception line. Everyone was very kind and very accommodating, and the reception turned out beautifully. The decorations and food were wonderful. There is a cost if you want to do self-catering, so if you're looking to save money that way, Carmelle might not be your best option, but overall, we felt that it was a great deal. Carmelle is actually one of the cheaper reception centers that we found (for a weekday, it was $1,300), and it's absolutely gorgeous, and we just did cheesecake for our guests (for our estimate of 250 guests the cost was $1,500), and so the cost, and stress was relatively low. My mother added some decorations like pictures and flowers, but the tablecloths and tables and chairs and food were all set up and taken down by the reception employees. We had a fantastic experience with Carmelle, I would highly recommend their services :)

Gladys

Married on 08/01/2015

This is a elegant, beautiful place to have a wedding reception. We were delighted with every step of the process: from our first visit to the treats they gave us (the bride and groom) as we left the facilities. The prices were reasonable; the food was good and beautifully presented; the hostess was gracious and helpful on the day of the wedding. Our guests raved about the classiness of the venue. I would highly recommend Carmelle to anyone.

Janet

Married on 03/06/2015

I was frazzled and running late to prepare for my daughters wedding reception the evening of a full and lovely wedding day. I had some personal touches and photos I wanted to display at the Carmelle before the guests arrived. As I hurriedly approached the front door of the Carmelle, I was greeted by the hostess at the door with a smile and she helped me unload my car, helped place items with my direction, gave her professional advice (when asked) about placement of things, helped tie ribbons, helped with whatever; she was an angel to me that day. She even helped straighten up and offered water to our receiving line throughout the night. I can't say how pleased I am with how my daughter's reception went at Carmelle. It's stately, elegant, beautiful and with the right touches can be modern and "cute". The hostess was so attentive and calm. I was so thankful. I am so pleased with Carmelle.

We loved our wedding reception at Carmelle. Even though they are closed on Mondays, Debbie accommodated us and hosted our event. We loved the new carpet, furniture and doors they have recently added. The Christmas greenery and trees gave a touch of the season to the elegance of the reception area. For a price you can bring your own refreshments, which helped our budget as well. Someone was there to help us with every need that came up.

Beautiful building and awesome service.

User1935528

Event on: 11/14/2014

Excellent service and location. Beautiful in every way

Carmelles was very beautiful and so much helpful in getting ready. They did a fantastic job and helpped make my special day go perfect and rememberable. Thank you everybody at Carmelles and I greatly appreciate all that you provided.

We were very pleased with the beautiful venue, the wonderful food, and the responsive staff who helped us with all of our needs. Thanks so much!

The food served was scrumptious and served elegantly. All leftovers were boxed up for us to take home, and a special small size was given to the bride and groom as they left. We had a couple of things that we needed help with, and the gal who was in charge was so helpful and helped us have a wonderful evening - displaying framed pictures, setting up the "wedding cake", giving us some safety pins when the need arose, having a toothbrush and toothpaste in the dressing room, etc.. Every question and concern and problem were quickly addressed and our needs were satisfied. We were brought something to drink every 30 to 45 minutes as we stood in our receiving line, which helped a lot! The venue was gorgeous and many of the guests commented on what a lovely facility it was. The gardens were beautiful and made the photos beautiful as well. Can't say enough good things about the experience we had with Carmelle, the very competitive price and the wonderful service. Thanks so much! Carmelle made our event something to always remember.

Julia

Married on 10/16/2014

I loved working with the people at the Carmelle Reception Center. Everyone was kind, helpful, and very professional. Ruth Ann did a marvelous job the night of the wedding reception! She thought of ways to help the reception go smoothly, and she stayed calm even when some of the plans didn't seem to be working out. She had a wonderful attitude and was very sweet! Thank you Carmelle Reception Center and Ruth Ann--you are great!

Krista

Married on 10/11/2014

Carmelle was the best! Our luncheon was catered by someone else but when things were short they stepped in and helped without us even asking! They were so helpful throughout luncheon and reception! Couldn't and wouldn't have done it without them!!!

Kelly

Married on 10/09/2014

The hostess that helped me was amazing and very helpful.

Carmelle Reception Center provided wonderful service for our wedding reception, doing their own decorations/centerpieces and helping with our decorations which we brought. They were extremely professional and great to work with, letting us call or drop by any time a we prepared for the reception. That night, the hostess helped with every facet of the reception from setting up to music to announcements, to overseeing the caterers, to providing glasses of water to the wedding party as we visited to packing up leftovers for the honeymoon couple to take on their trip. She even lit the sparklers for a send off. The bride and groom loved having their reception there and felt very well attended to.

Juliana

Married on 08/21/2014

We were very happy with the services that Carmelle provided. Any problems or concerns they made sure our needs were met. They are very helpful with everything. I would highly recommend it to anyone! They make sure your big day is as beautiful as you want it to be(:

Angela

Married on 08/07/2014

I thought Carmelle did an excellent job with my wedding reception. The hostess was wonderful and helped us every step of the way. The service given and options were a better bang for your buck compared to the smaller wedding venues. I will recommend Carmelle to anyone I speak to about wedding venues.
Are you interested?
Send a message