Reviews
5.0 out of 5 rating
Quality of service

5 out of 5 rating

Average response time

5 out of 5 rating

Professionalism

5 out of 5 rating

Value

5 out of 5 rating

Flexibility

5 out of 5 rating
100%
Recommended by couples
9 User photos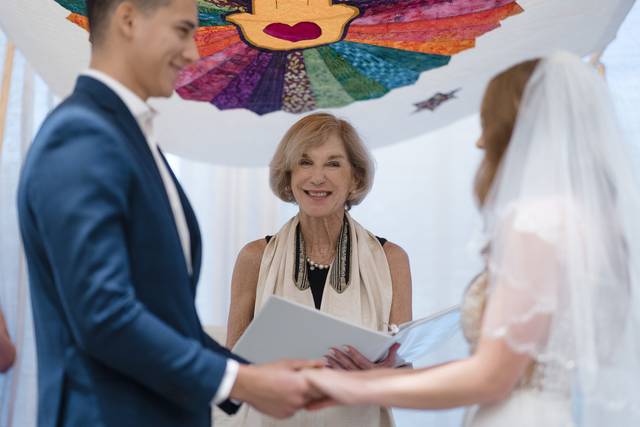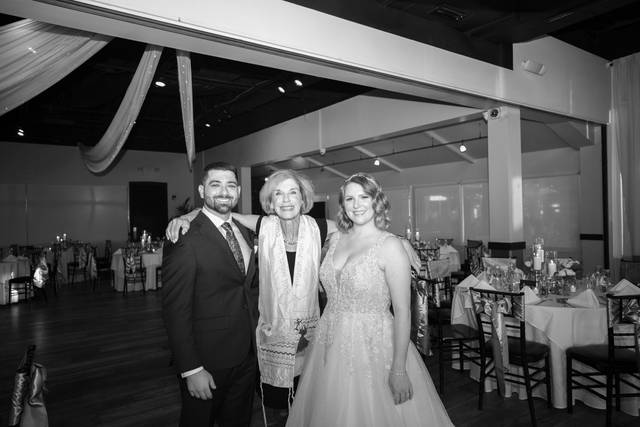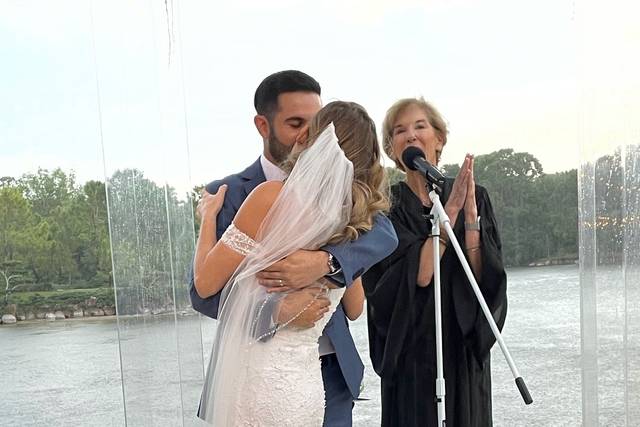 + 5

photos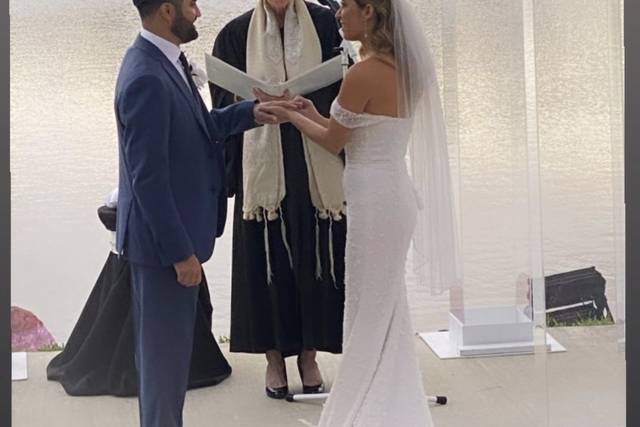 Featured

Leonard J.

Married on 12/10/2022

In Praise of Cantor Stettner

As a same-sex couple who have never entered into marriage before -- I'm 55, my husband is 56, we've been together 20 years -- Cantor Stettner really did lead us on a journey. It was grounded, always, while at the same time deeply reflective, thoughtful and spiritual. We wanted a service that would reflect who we are and what we share, and we're both so grateful that we were heard and felt so full of joy and celebration. It was intense! And we're grateful. Thank you.

Ken K.

Married on 12/10/2022

Everything more and than some

I can talk about Cantor Stettner's professionalism or the quality of her service, but both were outstanding. To me what sets her apart is the connection we made with her. She took the time to know about us, and learned what we wanted. After our friends and family watched our service via Zoom, many of them stated that it was fabulous that we had a friend conducting it. That is how warm and personal she was. That is how it felt.

Ari B.

Married on 11/12/2022

Informative, professional, and kind!

Cantor Ellen worked with us for multiple months leading up to our wedding, educating us on various Jewish traditions, the ceremony flow, the meaning of the Ketubah, and getting to know us individually and as a couple. We really enjoyed our meetings with Cantor Ellen and always felt giddy and excited for the big day afterwards, and she produced a very kind, warm ceremony day-of. We are so grateful!

Are you interested?

Send a message

Richard C.

Married on 08/21/2022

An excellent experience

KIND WELL PREPARED GENUINE CARING

Rebecca C.

Married on 08/21/2022

Highly recommend Cantor Ellen

Cantor Ellen did an absolutely phenomenal job with our special day! She was so kind and made sure that our day was exactly how we envisioned it. She guided us through the process and allowed us to have our personal and unique touch. We are so grateful for the beautiful ceremony that she did for us!

Katie L.

Married on 07/30/2022

Wow, just wonderful!

Everyone loved loved loved our ceremony! Cantor Ellen was fantastic every step of the way! I am very grateful for everything she did for us. It was a day to remember and I'm sooooo glad Ellen was our Cantor! A++++

Robert S.

Married on 12/18/2021

wedding ceremony

Ellen created a wonderful experience for me and my bride.
She came up with new ideas to capture our precious moment.
The ceremony was happy and included the guests as well.


Evan R.

Married on 07/07/2021

Highly recommend Ellen without an hestiations!

I have known Ellen for many years since she trained me and conducted my bar mitzvah I sincerely recommend her without any hestiations for your wedding or other life-cycle event.

Olivia

Married on 04/02/2021

4.3.21 - We love Cantor Ellen!

Cantor Ellen is organized, calm, patient, informative, honest, considerate, friendly and an overall positive energy to be around.

I knew from the moment we spoke on the phone, that she would be the perfect person to help facilitate our wedding.

She met with us on the phone as many times as we wanted, she ensured we understood what would be going on during our ceremony and ketubah signing, she brought a pen for our ketubah signing (which was very helpful), she ensured to make copies of our marriage license and mailed the original herself !

Cantor Ellen organized a personal and informative wedding ceremony. She recited our personalized vows for us.

Since our wedding, many people have commented on how lovely Cantor Ellen performed our ceremony.

I look forward to keeping in touch with her, and intertwining her in other simchas in our life.

Thank you, Cantor Ellen!

Meredith S.

Married on 10/10/2020

Cantor Ellen performed our wedding ceremony.

Cantor Stettner made our wedding ceremony so personal to our family. There was not a dry eye in the crowd. She is an absolute pleasure to work with and was very flexible and accomodating to our specific requests. She is wonderful!

Alisa S.

Married on 09/18/2020

Most wonderful wedding

Words cannot express how happy we are with Ellen . Our family is very blessed to have Ellen on many loving occasions. Ellen is warm , loving and caring about every detail . We all love her and think of Ellen as a friend ❤️ Truly a wonderful person inside and out !!

James

Married on 07/12/2020

we truly had a love fest

We had the most enjoyable experience with Cantor Ellen
it was a very moving moment in our lives
Great ceremony

Bsiegel@Hotwiremail.com

Married on 04/11/2020

Cantor Stettner was highly recommended... and a lived up to it

Cantor Stettner took the time to meet with us so she could completely understand our desires for our wedding and ceremony, and to be certain that she met our needs. We could not have been any more ecstatic of how she completely catered to our needs and the warmth of the service. It was customized for us. She captured us...

Ron K.

Married on 11/16/2019

Best Wedding Officiant!

Cantor Ellen is special! Our wedding was very personal, warm, enthusiastic and inclusive. We are so lucky to have found her. Our guests loved our ceremony and so did we. Highly recommend.

Jeff F.

Married on 11/02/2019

Excellent!

My wife and I had a great experience with Ellen. With all the chaos and anxiety that goes into a planning a wedding, Ellen was a voice of reason promising that everything will be fine, and she was right. She was great and I had many people after the wedding paying compliments to her.

Lauren

Married on 11/02/2019

Informative, fun, exciting

When My husband and I met with Ellen for the first time we instantly hit it off. She truly cared about making the ceremony to fit our needs and what we were looking for. She was always a phone call away and really guided us through the whole process. We 100% recommend her and feel so blessed to have had her for a once in a lifetime moment.

Nicholas

Married on 10/18/2019

Excellent service

First time getting married. Wonderful service. She customized it for us, made herself available for questions and comments and took an interest in our vision of our marriage. We are happy we went with Cantor Ellen.

Samantha M.

Married on 10/18/2019

Awesome celebration of love!

Better than I could imagine! I married my best friend and Canter Ellen made sure my now hubby and I were in the moments of bliss and got everything we imagined our day to be and more. We are grateful for her kindness, guidance, and advice. We look forward to future celebrations that we can invite her to bless with her presence.

Lauren A.

Married on 05/18/2019

Personalized Wedding Ceremony

Cantor Ellen Stettner is the consummate professional and at the same time extremely warm and personable. My fiancé and I met with Cantor Ellen several times before our wedding. She welcomed us into her home and genuinely was interested in finding out about us. She delivered a magical personalized ceremony that will be forever remembered and treasured!

Kate

Married on 02/02/2019

What a wedding!

...and what an officiant! We were very nervous when our original officiant (a close family friend) told us they wouldn't be able to attend our wedding. We were unsure how to find someone we connected with and trusted to lead such an important part of our day. Well, we really lucked out with Cantor Ellen. She was available to us for multiple meetings (including one in her home!), asked important questions, and was genuinely interested in us and our relationship. The result was a beautiful ceremony that represented our love and values as a couple. Our family and friends were blown away by the service as well. We can't recommend her highly enough. Many, many thanks Ellen!

Stephanie

Married on 01/26/2019

Kind and understanding

She was very kind and understood the atmosphere and message we wanted to convey during our ceremony as we are an interfaith couple. She gave us many options and suggestions but never pushed her opinion. At the ceremony she was lovely and sang and made jokes where everyone felt included.

Carolina S.

Married on 01/13/2019

Cantor Ellen Stettner

Cantor Ellen was wonderful with us!!! Our wedding was very small but she made it great!! Since the first time we met her, we knew she was the right person for our wedding. She explained to us every single part in f the ceremony so we could decide what we wanted knowing the meaning. In addition, since I am not an English speaker, she helped me to be sure about what I said during the ceremony. She always made us feel that our wedding was really important for her!!

Adam C.

Married on 01/12/2019

Wow. So glad that we found Ellen

Perfect that is the word that comes to mind regarding our experience with Ellen. She was a pleasure to work with and made our most important day even more wonderful I have never been to a wedding where so many guests spoke about how special the ceremony was. Her voice is beautiful, her messages are pertaining and timely, and overall she is just a kind and caring person. Thank you so much Ellen.

Hilary

Married on 11/10/2018

Absolutly amazing

Where do I even begin?!? Ellen was the perfect person to marry us. She understood both of us and our backgrounds. She put us at ease with all planning and giving us wonderful advise for our marriage. We will forever be grateful for Cantor Ellen for all of her energy and time she took for our wedding.

Nick

Married on 11/10/2018

Cantor Ellen performed and amazing ceremony

We found Cantor Ellen on WeddingWire about a year before our wedding. We immediately loved her and knew she would be perfect to marry us. We met several times throughout the year and grew a great relationship with her. The ceremony was perfect and we would highly recommend her to anyone getting married.
Are you interested?
Send a message