Reviews
5.0 out of 5 rating
Quality of service

5 out of 5 rating

Average response time

5 out of 5 rating

Professionalism

5 out of 5 rating

Value

4.9 out of 5 rating

Flexibility

5 out of 5 rating
100%
Recommended by couples
7 User photos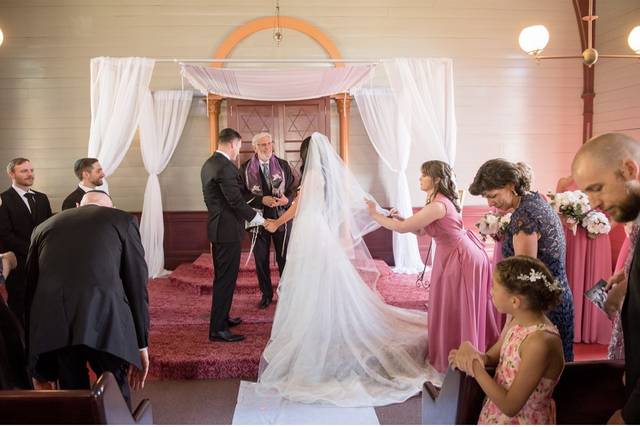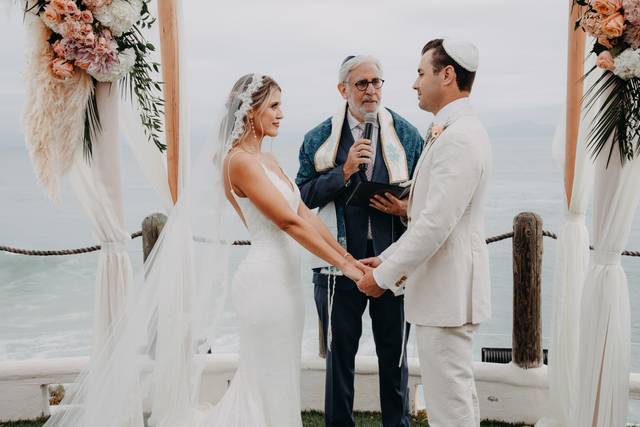 + 3

photos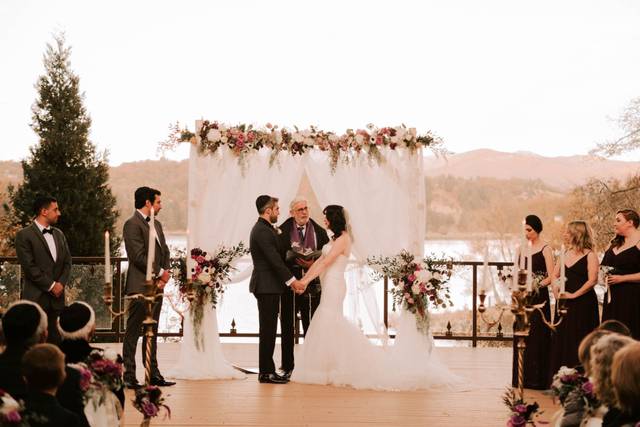 Jason L.

Married on 09/02/2023

Highly recommend Rabbi Michael Mayersohn

We were very glad to have Rabbi Michael officiate at our wedding. Our guests appreciated his uplifting and positive message. He kept things simple and streamlined, and was also open to having another speaker read scripture, as we are an interfaith couple. Rabbi Michael met with use a few weeks before the wedding to learn more about us, and he incorporated those elements into the ceremony. It was a great night!

California Rabbi's reply:

It was a complete joy celebrating with Jason and Monica and their friends and families. They are a lovely and engaging couple and theirs was a lively crowd to celebrate with them!

David S.

Married on 04/01/2023

Incredible!

My wife and I were concerned about finding a Rabbi to perform an interfaith marriage. However, those concerns quickly fled once we spoke with Rabbi Mayersohn. It is amazing how someone we had never met before was immediately so personable and felt like a Rabbi we had both known for years. His professionalism is unmatched, and his availability and eagerness to make the process as easy as possible was outstanding. The ceremony went smoothly, and his words of wisdom were well received by the entire crowd. Rabbi Mayersohn will always be our number one recommendation.

California Rabbi's reply:

David and Miryam's words regarding their wedding ceremony and the preparation were kind and generoius and touching. It was a complete pleasure helping them to create the ceremony they and their families hoped for to celebrate their love and joy.

Katharine S.

Married on 09/04/2022

Highly Recommend Rabbi Michael!

My husband and I had a wonderful experience working with Rabbi Michael! He was so easy to work with, incredibly responsive, funny, and personable, and made our ceremony magical and memorable! We also had an interfaith ceremony, and he reviewed all of the traditions during our pre-meetings so we were able to make the ceremony feel like us. He was also very helpful in reviewing and choosing our Ketubah text. Our guests were raving about how much they enjoyed his service, and we felt the same. We would highly recommend Rabbi Michael :)

California Rabbi's reply:

It was a complete joy creating a wedding ceremony with Katharine and Steven. Celebrating with them and their friends and families was terrific. I appreciate their kind and generous words.

Are you interested?

Send a message

J And

Married on 08/20/2022

Wonderful Experience

My wife and I had a multi-cultural wedding (Jewish/Chinese) where we were looking for a wedding officiant who could incorporate some the traditions of a Jewish wedding ceremony while remaining sensitive to the multi-cultural audience. After meeting with several candidates, we found Rabbi Michael and he was exactly the right person for us.

In addition to walking us through the ceremony to make sure that we were comfortable with all aspects of the event, Rabbi Michael took the time to get to know is in order to personalize the ceremony for us as well as our family and friends. The event went flawlessly. Rabbi Michael was able to incorporate Jewish traditions into the ceremony while making them accessible for the non-Jewish wedding attendees and participants. After the event, a number of my family members went out of their way to compliment what a wonderful job that Rabbi Michael did. We would recommend Rabbi Michael for any couple, particularly if you are a planning a multi-cultural wedding.

California Rabbi's reply:

It was a complete joy and honor being part of your wedding celebration and getting to know you and some of your family members.


Andrea W.

Married on 05/29/2022

Rabbi Michael was the best decision we made!

Rabbi Michael was absolutely PHENOMENAL! He not only performed a ceremony for us that included everything we wanted (i.e. less than 20min, included Jewish traditions, etc) but we also received so many compliments about how funny, enjoyable, and efficient he made our ceremony. In addition, he met with us 3-4x, was extremely responsive over email, and diligent in answering our questions. My partner and I were looking for a reform rabbi and were nervous about searching online. I come from an intersectional background and was nervous that a typical rabbi would judge us. However, Rabbi Michael was so warm, friendly, and made us feel extremely comfortable. He actively took the time to get to know us, explain/review traditions to us, and tailored our ceremony exactly to what we wanted. He also helped us find our ketubah and led one of the most memorable moments of our day where we joined with our families to sign it. I can't express enough how highly we recommend Rabbi Michael and how grateful we are to him. If you are looking for a Rabbi of any sorts, definitely reach out to him - he will not disappoint and exceeded our expectations!

Rachel H.

Married on 05/14/2022

A special and personalized Jewish ceremony

We had a wonderful experience with Rabbi Michael. He was responsive with all our questions leading up to the wedding and was informative and thorough when planning our ceremony. It was very personalized to us and still keeping with Jewish tradition and custom.
Our guests loved his humor! We are truly grateful to him for officiating our ceremony!

California Rabbi's reply:

It was a complete joy and honor to officiate Rachel and Alex's wedding at the Old Beth Israel synagogue in San Diego. They were a complete pleasure to work with to create their unique ceremony.

Brittany R.

Married on 04/30/2022

Perfect day!

Rabbi Michael helped contribute to our perfect wedding day. He was so easy to communicate with and to quickly connect with. The ceremony was loving, serious, and with the perfect touch of humor to tie it all together.

Natalie C.

Married on 11/20/2021

Highly Recommend Rabbi Michael!

Rabbi Michael was wonderful to work with, and created a ceremony that was perfect for my husband Dan and me. While I am Jewish, Dan was raised Catholic and we are so grateful to Rabbi Michael for crafting a ceremony that was beautiful and felt natural and so well suited to us. We got so many compliments from guests on Rabbi Michael! He was also very responsive and easy to work with, which really took away the stress related to that portion of the evening! We highly recommend him!

California Rabbi's reply:

Thanks so much to Natalie and Dan---they were a complete pleasure to work with, creating their wedding ceremony. The venue at La Quinta was great and I loved meeting many of their friends and family. Enjoy everything.

Jared E.

Married on 09/11/2021

Rabbi michael is the goat

My wife Morgan and I had such a special ceremony with the Rabbi. He was truly a pleasure to work with and helped make our wedding weekend so amazing and intimate. Numerous people told me they would go to temple more if the rabbis were more like rabbi Michael. We felt close to him from the minute we met and look forward to having him in our life in the future.

California Rabbi's reply:

Jared and Morgan are the reason I love doing what I do, allowing me to get to know them so I could create a ceremony that was personal and unique to them. What a pleasure it was and will be to share those moments with them.

Carolina A.

Married on 08/19/2021

Amazing Experience!

Rabbi Michael made our wedding ceremony SO beautiful! He was sweet, funny, emotional and very entertaining.

He kept all our guests involved and attentive which is something very hard to achieve and he did it with such ease and class :)

We would definitely recommend Rabbi Michael to marry any of our friends/family!

Thanks again for your beautiful words Rabbi Michael!

Carolina & Elias

California Rabbi's reply:

Officiating Elias and Carolina's wedding in Ensenada, Mexico was a complete delight and getting to know some of their family and friends was a joy. They were engaging and so present in the moment for their ceremony. I trust you will keep in touch through the years as I am still your rabbi.

Rada T.

Married on 12/20/2020

Outstanding Rabbi!

Rabbi Michael exceeded all of our expectations and my wife and I couldn't be happier that he was alongside us on our special day. He was extremely patient with us even though covid had other plans. His wife, Caryn, even made our custom Tallis which came out beautiful! We are overjoyed that we not only found a Rabbi for our wedding but for life! All of our guests even had positive things to say about him! Can't suggest him enough!

California Rabbi's reply:

Arezo and Rada were a complete delight. We experienced all kinds of changes due to covid, we changed dates, venues, all of it and through it all they kept a positive spirit. We created a great moment together and they looked great wrapped in my wife's tallit.

Robert A.

Married on 12/10/2020

Thoughtful and professional Rabbi

Rabbi Michael was professional, on time, and most importantly captured the vibe we were looking for. We met with Rabbi Michael multiple times before our wedding date, he did an excellent job of getting to know us and adding the personal touch we needed to our wedding. Would 100% recommend Rabbi Michael!

California Rabbi's reply:

It was a complete joy getting to know Robert and Thelma and being a part of their amazing celebration.

Mark M.

Married on 10/24/2020

Great Officiant - Great Guy!

Rabbi Michael is really terrific. We had spoken with another Rabbi before speaking with and choosing him. He is quite personable. And also very flexible - offering/suggesting various options for our wedding. He was open to accommodating specific wishes that we had for our ceremony, which was limited by Covid. Our ceremony was really enhanced by his warmth. Look no further, Rabbi Michael is the guy for your special day.

California Rabbi's reply:

It was a complete joy and honor to be part of Mark and Marsha's wedding ceremony. They are terrific people, a wonderful, loving couple.

Michelle F.

Married on 09/12/2020

Wonderful ceremony experience!

We are so grateful that we hired Rabbi Michael Mayersohn to officiate our wedding ceremony. We have blended families of both Jewish and Christian descent and did a Jewish ceremony. Rabbi Michael was so flexible and helped us create a ceremony that integrated religious and cultural aspects that were most important to us in the ceremony, and he used English as well as Hebrew so that none of non-Jewish guests felt confused or alienated. We received several compliments from so many of our guests about Rabbi Michael and his service. There was a perfect combination of humor, prayer, and warmth and we absolutely loved it. For those who had never attended a Jewish wedding before, we think it was a beautiful first experience.

Sarah H.

Married on 06/13/2020

Wonderful Ceremony

We had a wonderful experience with Rabbi Michael for our interfaith wedding. He did a lovely job on the ceremony and it was short but meaningful. He did a great job explaining the Jewish customs to our non-Jewish guests who had never attended a Jewish wedding. He spent time with us before the wedding and made the ceremony customized to our relationship. Our family and friends loved the rabbi and the ceremony. I would recommend Rabbi Michael to anyone looking for a rabbi. Hiring Rabbi Michael was one of the best decisions we made for our wedding.

California Rabbi's reply:

Officiating Sarah and Mike's wedding was a complete honor and delight. We were able to craft a ceremony that reflected exactly who they are and what they wanted.

Rebekah Y.

Married on 11/23/2019

The BEST officiant

Rabbi Michael was the best rabbi we could ask for to be the officiant at our wedding ceremony. He was very responsive and professional. Not only were my husband and I impressed with the ceremony he performed, our guests are still calling me to tell me how fabulous of a job the Rabbi did. He really got to know us and incorporated so much of my husband and I into the ceremony. My husband isn't Jewish and Rabbi Michael did a fantastic job incorporating Jewish traditions while keeping my husbands faith in mind. We highly highly recommend anyone looking for a Rabbi to use Rabbi Michael.

California Rabbi's reply:

Rebekah is very kind and it was a complete pleasure and delight celerating with her and Damion. They were open and so loving and their wedding was a great joy.

Greta

Married on 10/19/2019

Pick Him- Rabbi Mayersohn was one of the best decisions we made!

Rabbi Mayersohn was INCREDIBLE! Honestly he went above and beyond every step of the way and made our wedding ceremony thoughtful and personal to us. Everyone raved about him and including our inter faith parents :) He is someone who will ensure that your day goes just as planned but will also take the time to prepare you both for the big day. He took extra time and care with both me and my husband and we felt like we were getting married by a surrogate family member. Best decision of our wedding, if you are reading this and you're Jewish or trying to figure out an interfaith ceremony- trust me you will be delighted! AND this is one person/thing in your wedding you have a guarantee will go well no matter what :)

California Rabbi's reply:

Greta and Daniel indeed became family, people whom I love and admire. It became a joy to officiate their wedding because they were open to sharing and talking. This is when this "job" becomes a joy.


Skye

Married on 07/27/2019

Rabbi Mayersohn - the bomb.com

Rabbi Mayersohn was incredible! He officiated our very eclectic wedding and it went off without a hitch. We found him in the last few months of wedding planning and are so grateful to him for everything he has done for us. He went above and beyond - above and beyond - if that makes sense. He became not only our officiant but a friend. We cannot wait to work with him again in the future!

California Rabbi's reply:

Skye and Ernie were a delight to work with and they prove my adage that my connection with couples need not end with the wedding ceremony.

Tatyana

Married on 09/29/2018

Rabbi Mayersohn was a pleasure to work with! Leading up to the ceremony, he was very responsive to emails, very receptive to anything we did or didn't want to do since we aren't really religious, and took time to get to know us. At the wedding, he made sure to put us both at ease. He officiated a beautiful, touching, light ceremony and all of our guests (even those that don't speak English) raved about him. My husband and I both highly recommend Rabbi Mayersohn!!

Rachel

Married on 02/10/2018

Want to really express my gratitude for our unforgettable ceremony. Your words were so beautiful and they put me at ease. I was SO nervous but it was such a wonderful moment in time and we couldn't be more happy about the way it all turned out. Thank you again so much for everything.

California Rabbi's reply:

It was a complete joy and honor to be part of the wedding celebration with you and Tayler in the trees. Enjoy every moment.

Corey

Married on 01/05/2018

Rabbi Michael was a huge hit at our wedding. The compliments we received about his storytelling and style were so great. During the process of finding a Rabbi he was very responsive and open to helping us with various aspects of our wedding. He helped with our Ketubah and met with us on a couple occasions to get to know our story. We highly recommend Rabbi Michael and are very grateful we were able to find him for our special day.

- Katy and Corey 1/5/2018

Chelsea

Married on 10/28/2017

We had the most AMAZING wedding ceremony thanks to Rabbi Mayersohn!! Our October 28 wedding was a blended one - while my husband converted to Judaism, his family did not. Rabbi Mayersohn made every one of our guests feel comfortable and happy. Many of our non-Jewish guests came up to us saying what an incredible ceremony it was and how hilarious and charismatic our Rabbi was. The whole experience leading up to the wedding and the ceremony itself was pure joy and love - thank you so much Rabbi!!

California Rabbi's reply:

Chelsea and Tony--thanks for the kind and generous words. We have walked an amazing journey together and it was a complete honor and joy to be part of your celebration. Have fun!

Rochelle

Married on 08/19/2017

We had the best Rabbi for our August 2017 beach wedding in San Diego.

Since San Diego was a destination for us, we initially looked into a family friend's rabbi based in Southern CA; however, he was unwilling to marry us as we were set on getting married during sunset on a Saturday.

Then, Rabbi Michael was recommended to me by my wedding planner. From the very beginning, he HEARD US. We wanted a short ceremony, with a few of the Jewish traditions. Since my husband is not Jewish, many of our guests were unfamiliar with these traditions so we needed a Rabbi who would also explain what he was doing throughout the ceremony. Rabbi Michael set up a few Skype calls (since we are located in Chicago) throughout the wedding process. He was always easy to get ahold of, very responsible, and made us remember to have fun throughout the wedding planning process (which can be hard as many brides know).

The day of our wedding finally came and we were THRILLED with Rabbi Michael. Multiple guests throughout the night complimented him and asked if Rabbi Michael was my childhood rabbi :) They were shocked to hear we just met Rabbi Michael less than a year ago....and the first time in person on our wedding day! He did a great job of incorporating some personal touches with the Jewish traditions we wanted.

Thank you from the bottom of our hearts Rabbi Michael for making everlasting memories for us. It is a moment we will forever cherish.

Rochelle

Aviv

Married on 07/08/2017

He was great! During the ceremony he made small light jokes to keep the guests entertained and us (marrying couple) relaxed. His speeches about the chuppah, breaking of the glass, and wine were on point and his personal speech about us was funny, moving, and wholesome. He was very flexible with anything we wanted during the ceremony, answered emails and phone calls in a timely manner, and even brought all the equipment (like kiddish cups, talit, glass to break, etc.) in case we forgot. Worth every penny.

California Rabbi's reply:

Aviv and Christina, it was an honor to be part of your wedding celebration. I am delighted you were pleased with the ceremony. I loved getting to know the two of you and I know you will experience great blessings forever.

Leslie

Married on 06/17/2017

The absolute best part of our wedding was Rabbi Michael officiating of the ceremony. He made us laugh, he made us cry, he made us think, he made the beginning of our new life with each other just perfect. If you're thinking about hiring Rabbi Michael, stop thinking and do it!! Just Beautiful.

California Rabbi's reply:

Leslie and Darin,
That was so very sweet and it was a complete delight being part of your celebration. Enjoy all the blessings.
Are you interested?
Send a message