Reviews
5.0 out of 5 rating
Quality of service

5 out of 5 rating

Average response time

5 out of 5 rating

Professionalism

5 out of 5 rating

Value

5 out of 5 rating

Flexibility

5 out of 5 rating
100%
Recommended by couples
29 User photos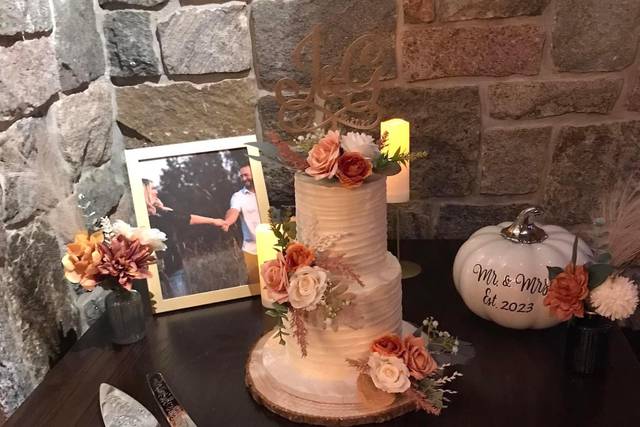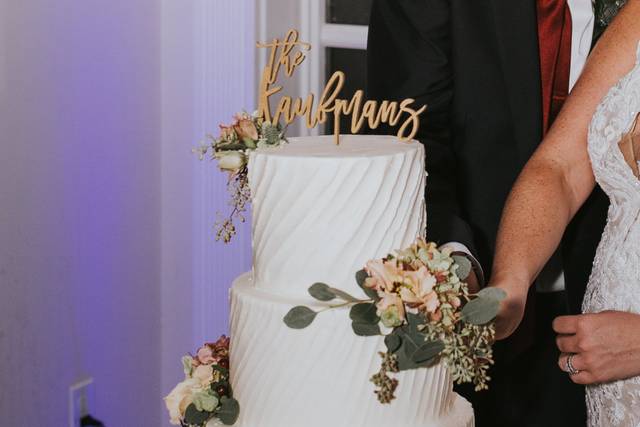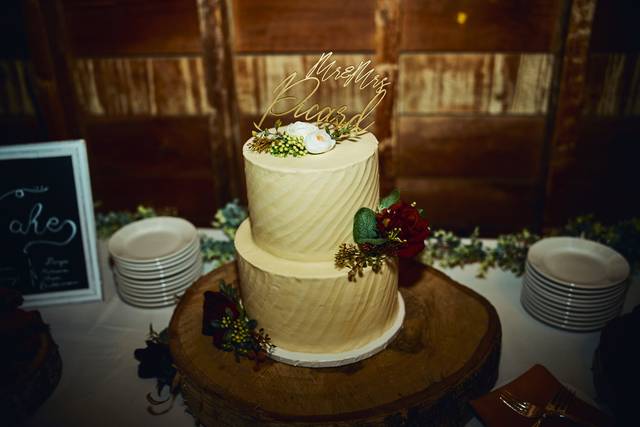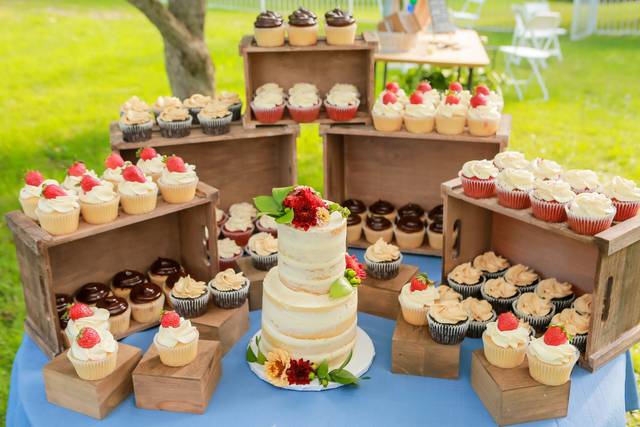 + 25

photos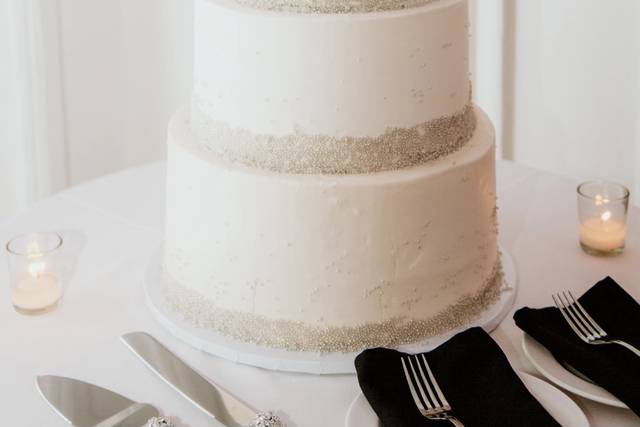 Jacqueline H.

Married on 10/21/2023

Perfection

Working with Alissa was so easy! She went above beyond my expectations and everyone raved about the cake and cupcakes! Highly highly recommend her!

Lisa A.

Married on 09/23/2023

Delicious & Pretty

Alissa was extremely easy to work with. She is prompt about getting back to you and exudes confidence in her craft which alleviates any hesitation. THANK YOU Alissa!!!

Katherine F.

Married on 10/15/2022

Great choice for wedding cake!

Alissa made us a 2-tier lemon cake and ginger molasse sheet cake for our wedding in October in Vermont. Everything turned out delicious and people are still raving about how good everything was. She was very responsive and helpful during the entire process. Would highly recommend!

Are you interested?

Send a message

Becky M.

Married on 09/10/2022

Everyone is still talking about the cupcakes!

The title says it all - we're about 6 months past our wedding date and friends and family are still talking about the cupcakes Alissa made for the day. It's really unbelievable! Alissa was such a great person to work with. Visiting her shop is really one of the highlights of preparing for our wedding. The presentation of the cupcakes and cake on our wedding day was absolutely gorgeous. We could not recommend working with Alissa enough!

Erin G.

Married on 07/02/2022

The best cake I've ever had

Guests raved about our wedding cake and we absolutely loved working with Alissa. We were able to taste different cake flavors, frostings, and fillings before making our decision and then she was so amazing about making sure we had exactly what we wanted. The cake was beautiful and I'll definitely be recommending her to everyone I know! (She also makes amazing cupcakes that I had for my shower!)

Olivia M.

Married on 06/18/2022

Wedding Cake!

Alissa is the best! She is so great to work with and made everything so easy and fun. When I sent her an email inquiring about my wedding cake she got back to me right away. My husband and I went into her shop for a cake tasting and it was so hard to decide because everything tasted so good! I told her my vision of how I wanted the cake to look and she made it exactly like what I had pictured, if not better! She took care of delivering it on the day of and setting it up with some of my wedding flowers as the topper. It tasted just as great as it looked! Everyone I spoke with commented on how beautiful and delicious it was. The pricing was also very reasonable! I 100% recommend her to anyone looking for a high-quality cake! Thank you Alissa!!

Ashley

Married on 06/04/2022

Everything was amazing!

Alissa is amazing! She was very responsive throughout our wedding process and made our vision come to life. Our dessert table looked absolutely beautiful. We ordered a cake and a variety of different cupcakes, all of which were delicious! Everything was also budget friendly. We highly recommend Alissa!

Samantha C.

Married on 05/21/2022

Best experience, Best cake, Highly Recommend

Alyssa is amazing! Our wedding cake was absolutely perfect, she did exactly what we wanted. All of our guests were talking about how delicious the cake was! I highly recommend Cake by Alyssa

Collin R.

Married on 01/22/2022

Best cake around

Alissa made our ideas come to life. We had a budget friendly cake but still wanted something to pop and look amazing. She did just that. It was the best tasting cake we've ever had too. So good in fact that we ate the anniversary tier two days later. We will be contacting her to make us a little one in a year!

Lisa C.

Married on 09/05/2021

Amazing!

Alissa was amazing! Not only is she talented but so friendly and really came through with what we wanted our cake to be! The cake was amazing! Every person at our wedding raved about how great the cake was! Alissa will be our go to for any cakes in the future.

Jessica C.

Married on 07/31/2021

All around amazing

Amazing presentation and even better cakes. Alissa was so easy to work with and took everything in her hands! 100/10 would recommend

Francine C.

Married on 01/02/2021

Delicious Cake, Above and Beyond Service

We had the pleasure of having our wedding cake made by Alissa. I was planning a very last-minute, mini-wedding in Saratoga Springs from Long Island. Our wedding was 1/2/21, the day after New Years. My mom mostly worked with Alissa, but I wanted to write this review to say how amazing she is, how amazing her cake was, and how above and beyond she went for us. Alissa not only made us a perfect/delicious cake (one tier was gingerbread and one tier was vanilla bourbon), she went out of her way to deliver the cake to the restaurant for us. She was supposed to be out of town, and made it a point to help us in this way. Not only will I never forget how yummy that cake was, I will never forget the pure kindness Alissa showed my husband and I during such a stressful time. Please consider giving Alissa a call for all of your baking needs. And thank you, Alissa!

Angelina G.

Married on 10/03/2020

How delicious

Alissa did such a beautiful job with my cake and cupcakes. My guests still cannot get over how good they tasted. We had to downsize due to covid and she was very accommodating with us changing things. She is very professional and responds very quickly to any questions or concerns. 100% recommend

Allison D.

Married on 09/19/2020

Such a good pick!

Due to COVID we had to down size the original cake. This was not an issue at all. They made it so easy to substitute other dessert options in addition to my cake! Cake truffles and chocolate covered strawberries were a great addition!

Victoria M.

Married on 09/05/2020

Support Local / Support Cake by Alissa

It was important to us to have a sustainable wedding that supported small and local businesses. If you are having a wedding at or around the Lake George / Saratoga area - we highly recommend Cake by Alissa. She gave us an amazing cake tasting experience - willing to give us every combination of cake to filling we desired. Don't waste this opportunity on traditional cakes to please your guests. Go big or go home - go for taste over design. Ours was a 3 tier cake - chocolate cake / raspberry cream / chocolate mousse (bottom cake); white cake / pastry cream / strawberry mousse (middle cake); chocolate cake / chocolate almond butter cream / cannoli cream (top cake) - all covered in a simple vanilla butter cream frosting. A month after our wedding, people were still raving about how delectable the cake was.

Alissa is thoughtful and considerate - will create a separate top cake to freeze for your one year anniversary. She was friendly and fun to work with.

Support local. Support Cake by Alissa. She has a forever customer in us for birthdays and holidays and just because we want some cake. Thank you, Alissa for participating in our special day.

Kelsey B.

Married on 08/22/2020

Amazing and Delicious Cake!

We chose Cake By Alissa for our wedding day and do not regret it. Alissa was easy to work with, kind, and professional throughout planning up until our big day. Alissa delivered the cake to our venue and when we saw it on our cake table we were in awe. We chose chocolate and vanilla cake with raspberry filling and buttercream frosting. It was SO delicious and many of our guests won't stop talking about how it was the best wedding cake they have ever had. If you are looking for a delicious cake or treats for wedding or event , you can not go wrong with Alissa!

Heather B.

Married on 06/28/2020

Delicious & beautiful!

Alissa is an OUTSTANDING baker! I and my whole family are self-professed "foodies," so finding a cake that actually tasted good for our wedding day was going to be - I thought - quite a task. I spoke to some very well-known places in the area known for wedding cakes, and they either were inconsistent with their communication or their prices were INSANE. We were looking for some kind of gluten free option, and after speaking with Alissa on the phone, and navigating her website, we found we had so many options it was unbelievable. We met her at a local coffee shop to do our cake-tasting (with cupcakes!), and couldn't believe what we were eating... I'm one to do lots of research, and I don't like to "pull the trigger" so to speak on something before I've done adequate "vetting" LOL, but after that taste, there was no way we could go with anyone else. We had 30 people, three layers: bottom chocolate, middle yellow, top GF chocolate, with two layers of filling: cannoli and mocha, with buttercream frosting. I'm salivating just remembering how delicious, how moist and chocolatey it was... And she gave us a completely separate layer to freeze for our one-year anniversary. $200. Can't beat it. I'll say it again - OUTSTANDING! Highly recommended!!

Chelsea

Married on 10/13/2019

Delicious!

We ordered cupcakes and a small cake for our wedding. Not only are her cupcakes delicious but they are also beautiful! All our guests raved about the desserts. Simply delicious

Jacqueline P.

Married on 09/07/2019

Wedding cake

Alissa did both a grooms cake for our rehearsal dinner and our wedding cake. She did an absolutely amazing job. The cake was by far the best cake I have ever had (and we eat a lot of cake). All of our wedding guests kept telling us how amazing the cakes were.

Danielle

Married on 07/13/2019

Yummmmm!!!

Cake by Alissa
Words cannot do her cake & cupcakes justice. They were the most delicious cupcakes we've EVER had! The guests at our wedding absolutely raved about them and took home seconds at the end of the night!! Alissa was great to work with, reasonably priced, communicative, and down to earth. Highly recommend!

Devin

Married on 04/27/2019

Delicious and Great to work with

Alissa did such an amazing job with the cupcakes for our wedding, it's hard to put into words. The display that she set up with our vendor turned out absolutely amazing. All of the different types of cupcakes and our cutting cake looked beautiful, especially given the fact that we had such a large wedding! The best part of all, however, was how incredible they tasted. We have never seen a wedding where all of the cupcakes and cake were eaten so fast by the guests (and we bought more than 1 per person too!). There were only a handful left by the end of the night! The taste and setup exceeded our every expectation. This is largely due to how receptive and responsive Alissa was to our emails and communications; whenever we had a question or looked for some advice, she was there to help us and seemed excited to do it. We will certainly be recommending her to all of our family and friends, and we can't wait to order more cakes/cupcakes with Alissa for our own future celebrations!

Becca

Married on 10/27/2018

Gorgeous wedding cake

We thought our wedding cake was fabulous! It looked and tasted amazing. I loved the semi-naked look with caramel drizzle. Guests raved about it. I've never seen so many people take photos of a cake at a wedding! Alissa is definitely really talented and was a pleasure to work with during the planning process.

Kim

Married on 10/13/2018

Amazing wedding cake!

We used Cakes by Alissa for our October 2018 wedding. Needless to say, it was amazing! We did a small celebratory cake to cut and she provided a sheet cake for the guests. She also made delicious gluten free cupcakes for our guests. She was very easy to work with and we did a tasting which was a lot of fun and really helped us to figure out what we wanted to do. Alissa is very professional and knowledgable and most importantly her cake was absolutely delicious!! Many guests commented on how great the cake was which was great to hear! We would highly recommend her!

Sophie G.

Married on 10/06/2018

Deliciousness

I had my wedding cake and cupcake as favors...SOOOOO GOOD! Excellent service and the cake was amazing!

Courtney

Married on 08/18/2018

Amazing desserts!! Alissa helped us by working with us to have everything we wanted and helped us stay within our budget!! The cake was AMAZING. And the cupcakes were fabulous also! I am so thankful for her skill and time!
Are you interested?
Send a message