67 Reviews
Recommended by 88% of couples
Quality of service

4.4 out of 5 rating

Average response time

4.4 out of 5 rating

Professionalism

4.4 out of 5 rating

Value

4.4 out of 5 rating

Flexibility

4.3 out of 5 rating
Awards
7 User photos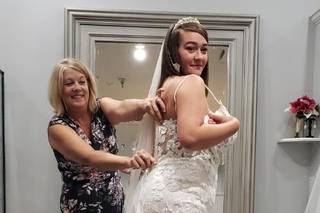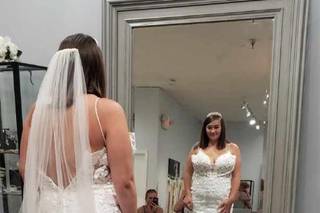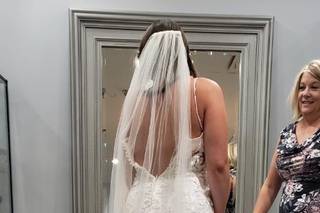 + 3

photos
Ashley S.

Married on 10/22/2022

Fantastic Experience

I had an amazing experience at Bridal Connections. I visited several shops in the area and this one stood out. I felt truly valued the whole time I was there. My consultant Erin was just fantastic and really understood my style and what I was looking for. The dresses they have are gorgeous and have lots of options to try on all in all sizes. Everyone at Bridal Connections made it very easy to say Yes to the Dress!

Morgan

Married on 09/10/2022

Great Experience!

Choosing a wedding gown is sometimes difficult; however, the staff at Bridal Connection are wonderful. My family and I had a great experience choosing the dress and the alterations process was super easy. They were so patient with me and willing to help me find just the right dress. I would definitely recommend this bridal shop!

Shelby

Married on 09/19/2020

It was amazing! I only tried on 4 or 5 dresses and I found the perfect one.

Perfect I wouldn't have gone to anyone else! The dress I tried on that I really liked was to small so she went and got a different dress that she thought I would like that would fit and even before I tried it on I knew it was the one.

Are you interested?

Send a message

Logan B.

Married on 08/01/2020

Amazing experience

Bridal connection in ankeny was more than helpful in our planning process. They got together everything we needed and were great with communicating back and forth with us.

Jacqueline P.

Married on 05/17/2020

I cannot believe they pulled it off for me!!

THIS DRESS ❤ Omg this dress.
When we first got engaged I had no intentions of a big fancy expensive dress.
But then my mom suggested we go try a few on and get ideas so we could order something online.
So we made an appointment at @bridalconnectiondsm . We got there, Selena listened to what I wanted, and she picked out about 5 or 6 dresses. This was the first one I put on.
The others were also gorgeous, but there was just something about this one.
But I didn't want a big, fancy, expensive dress.... so I grabbed a friend and we went to something like 8 bridal shops around the Des Moines Metro and I tried on probably 40 dresses, and I honestly hated all of them.
So our last stop of the day was back at Bridal Connection. I tried it on and she instantly started crying.
So with the Express permission of my husband-to-be (sight unseen), I bought it.
But there was a problem. It was a size 26. I was probably a size 18/20. So we did a lottttt of alterations. We were almost done with it when we canceled our first wedding so I picked it up, unfinished, and took it home to my moms house for the better part of a year and a half.
Fast forward three more wedding dates, I called my new friend Celina (different one from before, same shop) and told her I needed to see if we could do anything about my dress.... but there was a catch. I had lost 60 more lbs.
I could hear the panic in her voice a little. "Uhhh, yeah. We will absolutely try. But I just want to warn you, that is a LOT. It MIGHT NOT be possible"
So after about a week of panicking, I went in and met with the seamstress and they got started on the dress again.
FIVE more fitting appointments
SIXTEEN more inches out of the waist
Bra cups
Hemming the bottom (which is a task in and of itself)
Cinching the skirt sides
Undoing and redoing the sleeves three times
And a bustle later
We have it.
My seamstress CK worked her BUTT OFF to make sure this dress could happen for me. And Celina (who is seriously a new friend I made out of the deal) made sure it all could happen.
This dress was an absolute dream come true. I'm not 100% how they made it happen for me but DANG 🔥🔥🔥 THEY DID SO GOOD!
Size 26 dress to an estimated size 14. 🤯

Brittany L.

Married on 11/10/2018

I love this shop and it's amazing staff!

This is an awesome bridal shop! The staff is extremely kind and helpful. They made my bridal experience extra special and so fun and easy for my bridesmaids. I'd definitely recommend!!!

Vicki

Married on 07/25/2018

Fantastic experience prices and availability of dresses is great the people that work their were happy and fun to be around

This was the best experience a mother could ask for my daughters dress was altered to perfection fit perfect was done when promised Lara helped find all the accessories to go with got the boys/groom all the clothing to go with all came and fit perfect even had the jr brides maid dress the hole experience was perfect and done with such care we were treated as if we were family such a great experience would recommend you go here for no stress and a relaxing experience

Amanda

Married on 09/22/2017

I cannot say enough positive things about this store. I found the dress of my dreams and feel like a true princess. I was there during their Bridal Styling Event and found the perfect accessories that matched! I can't wait for my wedding day this September!

Jennifer

Married on 06/03/2017

Very nice people. Very understanding with my budget and I found the dress. Easy to talk to about everything. Very helpful.

Bridal Connection's reply:

Jennifer,
Thank you for the kind words. We enjoyed working with you and getting to know both you and your mom!
Congratulations on saying "Yes" a your beautiful dress!!
Sincerely, Bridal Connection

Jacqueline

Married on 07/16/2016

I cannot even begin to put into words how wonderful my experience was at The Bridal Connection. The moment I walked into the store, I was acknowledged and helped. My dress consultant was wonderful and listened to all of my needs. I went to the Bridal connection on September 20th for their Justin Alexander Trunk Show. It was my first time even trying on gowns, so I didn't know what to expect and i wasn't planning on buying anything. My consultant answered all of my questions and made me feel better about the process. She then told me that most brides find their dresses in the first 6 they tried on. To be honest, I thought she was joking. I was completely wrong. I found my dress on the FIRST try! The first Justin Alexander dress I tried on, I ended up purchasing. Even when I was unsure if it was the dress (but everyone else seemed to know it was), she talked me through it and told me to try on as many as I wanted to. It only took one more for me to realize that the first one was it. The Justin Alexander designer was also present during my fitting and helped through the entire process. What a unique experience! He even did my fitting - very cool. I even got 20% off of my dress because I booked through the bridal show!
The owner of the store came by to talk to me and my family - she was great as well! Everyone was so friendly and helpful. I felt no pressure to buy anything, but I did because their dresses are amazing! I cannot thank them enough for all of their help. It made my dress trying process fun, unique and memorable! I highly recommend them!

Everyone I encountered was so nice and helpful. They had very decent prices and a wide selection!

Jessica

Married on 05/21/2016

What a great experience!!! Great selection and Lara made it so easy. I thought I knew what I wanted but she knew better ☺️ She brought me some selections I knew I would love when I didn't at the time. I ended up picking one of hers and I love it! I will be taking my bridesmaids their for there dresses. It's a one stop shop! Wedding dresses, bridesmaids, tux, prom and even a travel agent wow!!!

Ana

Married on 10/10/2015

The staff at The Bridal Connection is FABULOUS! Words cannot express how grateful my family and I are for all of the wonderful service they have provided to us over the years. Lara is a very hands on owner that is accepting of all body types, and has trained her staff to be the same. I am so grateful that I happened across them 4 years ago! Thank you all for your help making this a truly wonderful chapter of my life.

Jayne

Married on 09/19/2015

Out of all the places I searched for a wedding dress, Bridal Connection surpassed them all! The atmosphere is beautiful and makes you feel special on your upcoming big day. The staff is super nice and relatable, and patient! I

Kate

Married on 09/06/2015

My dress is so unique and different. I love it!

Becky

Married on 08/22/2015

The Bridal Connection made my shopping experience incredibly easy. I walked in, gave some thoughts as to what I was looking for (but really has no clue) and to owner knew exactly what dress I would love. I tried it on and knew immediately it was the dress of my dreams. The selection was broad enough without being overwhelming and I loved the intimate experience. My consultant was amazing and quick to respond to my emails and the consultants wwe so helpful when looking at jewelry, vail options, etc. my experience was everything I was hoping it would be and I love that their dress selection is unlike any I've seen in other stores.

Katie

Married on 08/15/2015

The Bridal Connection was one of three Des Moines area bridal shops I visited with my family. One of my favorite components of the dress shopping experience was that they gave me an opportunity to look around and select my favorite dresses in their store. After I selected several dresses I was excited to try on, they listened and helped me to iterate to find the perfect dress. I felt like Kelsey (the woman who was working with me) listened very well and provided perfect suggestions. It was easy to fall in love with the perfect dress.

I was planning a wedding in Ames, Iowa and live in Boston, Ma. The Bridal Connection worked with my schedule and everything worked out as expected. I would highly recommend this establishment to anyone searching for a wedding dress in the Des Moines area.

Bridal Connection's reply:

Katie,
Thank you for your kind words. We had a great time with you and your family finding your perfect dress! Congratulations! :-)

Tara

Married on 08/15/2015

Great job!! I didn't have an appointment and they fit me in and I found my dress!

Amy

Married on 08/08/2015

Lara is amazing to work with! Without her I would not have felt confident in finding the right dress for me.

The second I walked into the store, I was greeted with warm faces and I felt very comfortable throughout my whole dress fitting. I had multiple workers helping me decide on the perfect dress and they were able to answer my many questions. I would definitely recommend this store to other friends who are also getting married!

Samantha

Married on 07/11/2015

Kelsey was amazing and I am so excited about my dress!

Morgan

Married on 07/10/2015

Stevie was so helpful and so nice. She let me take my time in the store. I felt really comfortable. And I love my dress!!

Brittney

Married on 06/13/2015

Katie was super friendly and helpful.

Even though I didn't have an appointment they found a way to squeeze me in and I ended up finding my dress!

Caitlin

Married on 05/23/2015

They were very accommodating and worked with my schedule.
Are you interested?
Send a message