28 Reviews
Recommended by 99% of couples
Quality of service

4.9 out of 5 rating

Average response time

5 out of 5 rating

Professionalism

5 out of 5 rating

Value

4.9 out of 5 rating

Flexibility

5 out of 5 rating
6 User photos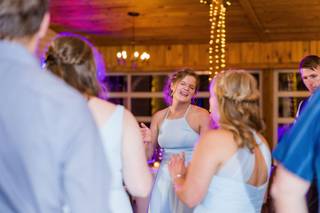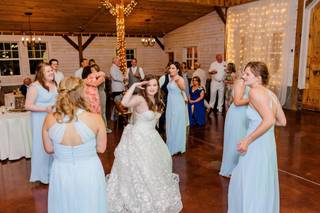 + 2

photos
Shirley O.

Married on 06/25/2022

Summer Smith wedding

He emailed forms and then I got a phone call to make sure no changes and to confirm everything and it made my wedding smooth organized and definitely one to remember!

Madeleine S.

Married on 06/18/2022

Hire Brian Now!!! :) :)

If you are thinking about hiring Brian as your DJ, DO IT NOW!! He had such a warm and welcoming attitude and his personality really meshed with ours. He had such a great vision for our wedding day! Every step of the way was well thought out and exactly how me and my now husband imagined. He really read the room well on the day of and gave us the best reception! I still, even 2 months later, have people telling me how awesome the music was. Also, Brian is so thoughtful! He knew how much I loved Disney, and personalized our last dance by surprising us and our remaining guests (which were quite a bit!) with Mickey ears to wear! It was very sweet, the perfect amount of silly, and the absolute best way to end the night. Everyone was smiling and absolutely loved it! Brian is the best!!

Leigha W.

Married on 09/11/2021

Absolutely wonderful

Brian was very professional and patient with us while we picked our wedding songs. He was very helpful and informative and made our wedding extra special.

Are you interested?

Send a message

Kathy

Married on 03/14/2020

Best DJ/MC Ever!

I'm so glad we chose Brian as DJ/MC for our daughter's wedding. He is extremely organized and professional, met with them before the wedding to hear their thoughts, & had questionnaires for them to fill out so that their wedding was everything they hoped it would be. Brian really 'read' the crowd and the music was perfect for each segment. He was able to change it up as the older folks left and the younger ones were on the dance floor, and the evening flowed beautifully. He was very responsive to questions &concerns, & very easy to work with. He thought of every detail, even things we hadn't considered! He is not only a great DJ, but a wonderful MC as well, & we highly recommend him!

Danielle

Married on 12/07/2019

Perfection!

brian was AMAZING!!! he was great from beginning to end! we met him and he was so nice and laid back! he knows exactly how to make everything perfect! he gave us a packet that was so easy to fill out that included songs for each category! the day of wedding everything was perfect, the ceremony music, the reception music! he had everything we could think of and we had such a great time! we highly recommend him if you want a memorable, great time!!

Brian S. Graham Entertainment's reply:

Thanks so much! I'm so glad we were able to haven't the ceremony outside, in December! I enjoyed being a part of your day!

Ashley

Married on 10/19/2019

Absolutely wonderful DJ

Absolutely loved having Brian as mine and my husbands big day. He fulfilled all of our requirements and kept our dance floor full. I would highly recommend Brian Graham Entertainment for any future brides.

Brian S. Graham Entertainment's reply:

Thanks for allowing me to be a part of your day. It was an honor to help you celebrate with your family and friends!

Danielle

Married on 05/19/2018

Brian was absolutely amazing for our wedding!! Extremely accommodating, easy to communicate with, and kept our party out on the dance floor! He was thorough, and made incorporating surprises for family members super easy! We knew exactly what to expect for the day of, and Brian delivered exactly as promised! Made our day perfect!

Heather

Married on 05/12/2018

Your search is over. Book Brian for your wedding! He is very easy to communicate with very well organized. He is flexible and great to work with. Day of, he showed up with plenty of time and worked in the background to not disturb anything while still getting everything perfectly set up. He started strong and finished strong. The music selection was absolutely perfect. He also does a great job of MCing the whole process to keep steady flow from one part of reception to the next. He is excellent. You will 100% be happy with Brian.

Melanie

Married on 09/30/2017

BOOK HIM!! Brian fulfills all of your requests, is so organized and punctual, and he keeps the reception moving exactly as you desire! He is a great MC and keeps the party alive!

Kara

Married on 05/06/2017

Brian is such a wonderful DJ! We knew he was our guy after our first phone conversation and were reassured of that throughout the entire experience. We did the Love Story and it was much more than I expected! My fiancé and I were both hesitant about doing a personalization, but we are so glad we did. Brian always responded very promptly and was always so kind and outgoing! I even changed a couple of songs the night before the wedding and he fulfilled all our requests and more! You will not be disappointed with Brian!

Amanda

Married on 03/18/2017

Brian was amazing. Worth every penny. He worked so well with us and made planning music super easy. And did such a good job playing songs the all our guest could enjoy

Patti

Married on 06/25/2016

Brian did an amazing job at my daughter's wedding. He kept things going at the perfect rate and adding many personalized moments! The music was a great mix that kept everyone on the floor and having a great time (including us older attendees!) He was a delight to work with and did a terrific job! Trust him to make your wedding a special event to enjoy and remember! Thanks for making it a night we will never forget!

Gracie

Married on 05/21/2016

Brian did a fantastic job DJing at our wedding in May! He really customized his service to fit us as a couple and took the time to get to know us and exactly what style of music we wanted at our wedding. We couldn't have been happier with the experience - he thought of all the little details that are so easy to forget in the whirlwind of wedding planning!

Due to a complication with our venue, Brian was only contacted about 2 weeks before our wedding to be our DJ. Then our venue told us he wouldn't be our DJ; however, because of how professional he sounded over the phone we decided we would just pay the difference between our venue amount and the amount he costed. Best decision ever! He was the best DJ I've ever seen. He worked with us to play all the songs our guests loved, he was very polite, fun, and didn't yell on the mic the whole time. We picked him after just communicating over the phone since we lived in West Virginia and got married in Tennessee but after seeing how amazing of a job he did we would definitely recommend him to everyone.

Marilyn A.

Married on 09/05/2014

I initially had no plans to hire a DJ, after all it is JUST music, right? I thought I could just create a play list. But our very unusual wedding would never have worked without him.
We started our wedding "event" with a cocktail hour then a formal dinner. Near the end of dinner Brian came out to announce that now we are going to enter the dance part of the evening and that he was taking requests. My groom interrupted him to say that we still had to have a wedding, oh, we haven't done that yet? No. So began our ceremony of the groom "selecting" his bride, finding a minister, and an all around scavenger hunt for rings, bouquet, something old, new....which Brian spoke of the meanings of each of these as we took our time interacting with our guests.
Once we had everything our minister began the service, but there was yet another interruption (thanks to Brian) of the groom's phone ringing...he told them he was at a wedding, no, HIS wedding...:)
We and our guests had so much fun.
The music I wanted for the cocktail hour was a bit instrumental bluegrass, Irish and new age. I gave him my selections and he filled out the entire hour with similar; Dinner music was a modern mix of country, pop and happy songs that meant something to us and our family/friends. I gave him only a few songs that we simply had to have for dancing, but the remaining two and a half hours of music was all him. We are older and our guests are older and not prone to dancing, but the dance floor was rarely empty.

Nancy

Married on 06/14/2014

Brian was absolutely amazing!! Of all the vendors, Brian was probably my favorite! He took the time to get to know me and my fiancé and responded so quickly to my emails and mssgs! He made the reception flow smoothly and I got so many compliments on how organized and clear the order of the events were!! Brian truly does care about you and your wedding and he will go the extra mile to make your day perfect and special. I would recommend him to anyone for any event!! Worth every penny!!

Amy

Married on 04/26/2014

Brian was the DJ for our wedding, and I must say he was awesome! Brian was very flexible and kept the momentum of the reception going! He was so great on keeping the timing of everything on track. So many guests have commented to us about how great the DJ was. I will recommend him to all of my friends. He is wonderful. Thank you so much, Brian!

Elizabeth

Married on 05/12/2012

Brian Graham made our wedding reception absolutely amazing! The first thing that I noticed about Brian from our initial email with him was his professionalism. He wanted to know little details and things that other DJ's didn't seem interested in. It showed us that Brian really wanted to get to know us and make our reception everything that we wanted. Our first meeting with him was perfect. He asked more questions and got to know us better and exactly what we wanted in our reception. Then he showed us videos of receptions that he had done and they were amazing! Brian takes the time to record and study his receptions so that he can make himself a better DJ. After we chose Brian as our DJ, he sent us an in depth package to really get all the details about our bridal party, parents, and what kind of music we wanted. Included in the packet was very helpful tips and suggestions and also closed envelopes for our people making toasts and father of the bride and mother of the groom. When it came time for the reception, Brian did a perfect job! He kept everyone entertained while we were on our way to the site. He did a great job introducing all the bridal party and put funny stories with each person. He played exactly the kinds of music we wanted to play. And our favorite part was when Brian did our "Love Story". it brought everyone at the reception to tears. Brian also went above and beyond to coordinate and make sure everything was on track and that everyone at the wedding knew exactly what was going on. We could not have asked for a better DJ! Brian was worth every single penny and more!

Michael

Married on 10/23/2010

Brian was absolutely amazing. He has a list of credentials as long as your arm that prove his quality as an event entertainer. He is thorough, easy to work with and full of ideas if and when you hit a road block in planning your event. He can read a crowd like a book and raise spirits all the way around. You won't find a better unison of quality and cost anywhere in East Tennessee.

Stacie

Married on 06/26/2010

If I had to pick one vendor from my wedding day who was worth every penny and truly made a huge impact on our day, it would definitely be Brian. Best decision we made when planning. Brian made our reception the best part of our day. People liked our venue and food, but they kept commenting on our DJ. He also has so many things that make it a personal and fun experience - it's much more than music for the day. Also, he was so wonderful to work with. Since this was obviously our first attempt at planning any large scale event, we were at a loss for what to do, especially with the reception and formalities and event sequences and more! After our first meeting with Brian, we were sold. He was super organized, professional, friendly, and most importantly, we knew we could trust him to handle our day. Even in the months and days leading up to the big day, I never had to worry about my reception. We were in good hands! Thanks again, Brian!!!

Desiree

Married on 04/10/2010

Fantastic Brian

Brian was amazing! He made our wedding very special. My guests enjoyed him so much!

Brian S. Graham Entertainment's reply:

It was truly my honor to be invited to be a part of your wedding. I appreciate your referral and the chance to meet you again at another friend's wedding. Thanks!

Matt

Married on 08/01/2009

Brian, in one word, was AWESOME! He kept everything moving and on schedule. His song selection was great for all ages. He was fun, energetic, and helped make our wedding special in every way he could. I would highly recommend him to any couple who wants a consummate professional with attention to detail. Thanks Brian for the wonderful memories you helped create!

Elizabeth

Married on 05/28/2005

Brian was absolutely wonderful. I was disappointed that our venue couldn't hold a band, and was worried that a DJ couldn't create the fun atmosphere I wanted...I was WRONG! Brian was terrific, the hit of the party. My brother even danced on a chair...

Brent

Married on 05/12/2018

Brian is an excellent DJ. He is very easy to communicate with very well organized. He is flexible and great to work with. Day of, he showed up with plenty of time and worked in the background to not disturb anything while still getting everything perfectly set up. He started strong and finished strong. The music selection was absolutely perfect. He also does a great job of MCing the whole process to keep steady flow from one part of reception to the next. He is excellent. You will 100% be happy with Brian.

Brian did an exceptional job. He was professional, excited, and ensured he understood our needs and wants before the big day. It was a pleasure working with him and I would working with him again. The only thing I would check with him on is whether or not the wireless headset mic will be glitchy. It was just a little bit glitchy during the ceremony, but did not provide any problems. It was a pleasure working with him!
Are you interested?
Send a message