82 Reviews
Recommended by 98% of couples
Quality of service

4.9 out of 5 rating

Average response time

5 out of 5 rating

Professionalism

4.9 out of 5 rating

Value

4.9 out of 5 rating

Flexibility

4.9 out of 5 rating
80 User photos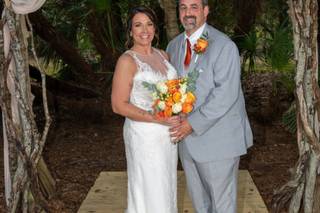 + 76

photos
Igeeky1

Getting married on 07/03/2023

Just book them already!

Brad and his son were professional, friendly and most of all awesome photographers. My wife an I are both photo snobs. We looked past so many other photographers until we found Brad. So happy we did. They knocked it out of the park. Great light control, composition and posing.

Brad's Creative Images's reply:

Thank you guys so much for the kind words! It's always an honor and it was fun too. You guys were sizzling on screen too!


Michael H.

Married on 10/29/2022

Mike & Danielle's Wedding

From the moment we met Brad we were at ease and felt comfortable that everything would turn out perfect! He is very relaxed and accommodating and goes out of his way to assure you that also. On wedding day it was just the same but better, he captured every moment and suggested many more places for great pics. We truly had a amazing time working with him on our wedding day! We see so many friends that have gotten married in the past few months and they have had so many issues with their photographer and a delay getting to see their pictures, not with Brad, our wedding was Saturday and by Monday we had a nice lay out of some of them and the rest followed by Wed along with our wedding video. We have no complaints and will definitely use his services again in the future! Thanks Brad & family for making our day perfect!

Bryant O.

Married on 10/15/2022

Hands down, the best!

Brad and his son were responsible for capturing the most important day in our lives and they blew us away with their work. Dealing with them prior, during and even after the event has been a true pleasure. I highly recommend having the tv display so Brad can have pictures already on display during the reception, that was a massive surprise to our guests and really elevated the day for us. If you want amazing photos, excellent customer service and the nicest father son combo in the area then look no further than Brads Creative Images.

Brad's Creative Images's reply:

Thank you BOTH so very much for the kind words. We loved being a part of your big day! You guys were amazing to work with. Congrats again!!!
Brad and Josh

Are you interested?

Send a message

Stacy T.

Married on 10/15/2022

Outstanding!

Brad and his son were like family to us on our wedding day! They took me and my husband, which both of us do not like to be in front of the camera prefer to be behind the camera and made us feel at easy and like we were just hanging out.

Not to mention the outstanding amazing quality of pictures that we were already viewing during the reception!! Our families were memorized by the photos from our day already at the reception with no touch ups needed!!

Needless to say I would strongly recommend Brad to anyone and everyone to help capture your memories!!

Evelyn T.

Married on 05/01/2022

Awesome! BCI Photography Review

Brad is excellent...from the moment of booking to the final product. Brad photographed our wedding at the Hutchinson Shores Resort. He was prompt, professional, and extremely nice. We also greatly appreciated how easy and convenient it was to book and pay him. We would absolutely recommend him!

Brad's Creative Images's reply:

Thank you so much for the kind words!! We LOVED being a part of your big day!! Congratulations once again!!!

Brianna H.

Married on 02/19/2021

Amazing Photographer!

Brad was a true blessing for our wedding! He has a true passion for what he does and is a professional at his craft! Not only does he create amazing works of art, but he offers great deals and packages that come with a beautiful wedding album! During our wedding, at times we did not even know he was there and yet he caught every moment, tear, laugh, and hilarious facial expression on our special day! When we had our private photos taken after the ceremony, he had us laughing and having fun the entire time. When we played our slideshow from the gallery, we felt that we relived our special day all over again! I would highly recommend Brad for any special day that you are planning! He was such a terrific part to our wedding day and he was more than successful at providing endless memories for us!

+ 4

photos

Brad's Creative Images's reply:

Thank you guys SO very much for the kind words! We had a blast capturing all your moments throughout the day! Congrats again!

Rebecca R.

Married on 11/21/2020

Omg the pictures are spectacular

What an amazing experience from the engagement pictures to the day of the wedding. Brad and his staff were professional, engaged and very creative. I will forever cherish each and every photo. As Rachel's mother I would recommend without any reservations Brad's Creative Images Photography.

Brad's Creative Images's reply:

WE LOVED being a part of your big day!!! Thank you guys so much for allowing us to capture it for you!!

Ginger F.

Married on 11/21/2020

Moments that will last a lifetime

Brad and crew were absolutely amazing! Their talent for capturing your perfect day is to say the least is spectacular and they provide you with a stunning product! I promise you won't be disappointed! Our son's and daughter in law's best day has been captured in the most beautiful photos that will last forever❣️ The journey with BCI began with engagement photos then wedding photos and who knows what is next! I can't speak highly enough of and for BCI Photo!

Brad's Creative Images's reply:

Thank you so much for allowing us to capture their big day!! Looking forward to many more "big days" for them in the future!

Michelle L.

Married on 11/01/2020

Perfection

Responsive to requests, professional, friendly, great tactical photographer with an artful eye. Suggests great ways to capture the moment but doesn't push. Allows for real moments to happen and captures them rather than recreating. Top shelf! Look no further!

Brad's Creative Images's reply:

MIchelle, thank you so much for allowing us to be a part of your big day celebration! It was so much fun! Congrats once again!

Jennifer B.

Married on 10/03/2020

Captured our day perfectly!

Due to COVID-19, we had to down scale our wedding and plan a family only ceremony. Thankfully, Brad was so accommodating to the sudden date change and very last minute venue change - literally the day of due to rain. He was so wonderful to work with and the photos made our rainy day look absolutely beautiful. We can't say enough good things about him and the BCI team! Very thankful to have chosen BCI! Highly recommend!!

Brad's Creative Images's reply:

Thanks so much for the kind words!! Cant wait to shoot the new addition! Congratulations on both big occasions!


Jamie

Married on 07/24/2020

Absolutely unbelievable

Brad is professional and fun to work with. GREAT pictures!! Couldn't ask for better quality!

Brad's Creative Images's reply:

Thanks so much! We LOVED being a part of your big day! Congratulations again, and let us know if you guys make it back down! We'd love to do a family session or maybe even a trash the dress :-)

Amanda P.

Married on 07/22/2020

Absolutely perfect!

While searching for a photographer for our destination vow renewal, I came across Brad's amazing photographs. They were so spectacular that I thought we would never be able to afford him. However, we didn't have professional pics taken for our 1st wedding, so I went ahead and reached out to him while trying not to get my hopes up. He was quick to respond and I was shocked and very pleasantly surprised by his affordable prices. We emailed back and forth and discussed what we were looking for. He was always quick to respond and very helpful. Fast forward to our vow renewal. I didn't really know what to expect being that we were a destination vow renewal and we had never met. Once again I was pleasantly surprised. He and Ryan were amazing. Very friendly, laid back, fun, and just awesome to work with. The pictures are stunning! Everything we had hoped for an more. I would HIGHLY recommend Brad and his team if you want breathtakingly beautiful pictures at an affordable price. BCI is definitely worth much more than they charge. We will very likely hire him for family photos when go back down for vacation again next year if he is available. . We will very likely hire him for family photos when go back down for vacation again next year if he is available.

Brad's Creative Images's reply:

OMG thank you so much Amanda!! We had such a great time capturing your vow renewal and your family!! We'd love the opportunity to make more memories anytime you guys head down this way!! Congrats Again!!

Caroline

Married on 02/29/2020

Experienced!

We are so glad we went with Brad. We selected him because of experience with beach and sunset weddings. His work demonstrates that he knows how to capitalize on the best light and narrow time frame to get amazing photos. He offers excellent communication, is fun to work with, and prices are fair.

Brad's Creative Images's reply:

Thanks so much!! It was a pleasure to be a part of your big day!! Capturing someones wedding, is an honor we are always proud to have. Let us know if you need anything in the future! Congrats again!

Emily

Married on 03/09/2019

Amazing photographer!

BCI was amazing. My pictures look beautiful. My husband and I are not use to taking pictures but they made the experience so simple and effortless. I was worried that I was going to have a camera in my face all night following us around but I didn't even notice them taking the pictures and they captured some truly great moments. They made us feel very comfortable. Best photographer on the Treasure Coast . Thank you Brad!

Kate

Married on 12/31/2018

Phenomenal photog!

The proof is in the pictures! Brad is an excellent photographer and his team has their timing down pat be for lighting So many beautiful spontaneous moments captured, each shot beautifully lit and framed! You couldn't have staged better shots! He was punctual and made us feel very comfortable as he clicked the group shots away. The only comment I have (and it's not a criticism from me but it depends on the person) is that as a professional there to do a job he will politely ask that others not try taking the same shots at the same time as people tend to want to direct the shots and you know what they say about too many cooks... especially when you already have a high chair caliber chef! The rest of the night, he was like a fly on the wall in the best way. He got so many excellent shots without being intrusive or taking us out of the moment. He wowed the guests with a slideshow of photographs from the morning at the reception and everyone remarked on how amazing they were. There is an awesome mix of candids, posed shots and so many that appear straight off of the pages of a magazine. I cannot wait to see the album! Every. Photo. Is. Perfection!

Joann

Married on 11/11/2018

Fantastic memories are all captured because of Brad

Brad outdid himself especially with the beautiful sunset he was able to capture for our memorable day.
Being a bride and wanting every moment to look back on is exactly what I got.
Brad and his wonderful son didn't miss a minute.
We have over a thousand photos to choose from and Im not even exaggerating they are all just gorgeous. I never realized what all is involved in capturing a wedding until it was all over and I was able to view the images.
From the getting ready photos to the last image of the fireworks brad was right there.
These heart felt memories are all mine since the actual wedding flew by in a blink of an eye. We definitely recommend brad a million times for kindness and fantastic skills. Thank you Brad!!!

Brittany

Married on 07/28/2018

Brad was great!! His photos are beyond amazing! He's very professional, but also fun and very easy going! He came to my condo thirteen miles away from the venue for my getting ready photos an hour and half before wedding time and stayed the entire evening!! Even though I live over three hours away I'm most likely coming back for a boudoir shoot (if he does them, forgot to ask)! Definitely book him!!

+ 7

photos

Brad's Creative Images's reply:

We loved being a part of your big day!!! Thank you so much for the kind words, and yes, we certainly would love to do a boudoir session with you!! Just say the word! Congrats again!

Ashley

Married on 05/27/2018

Brad Barr and his assistants did an amazing job covering our wedding ceremony and reception. The care and attention to detail was exemplary. He was able to get fantastic shots on the beach despite the weather conditions . He captured all the emotions and fun of the entire event. He compiled a fantastic summary video that we enjoyed sharing with our friends and family who were in attendance. Brad and his team stayed the entire event snapping photos and sharing a photo slideshow from the ceremony and our photography session on the beach. We received after our honeymoon the high quality photo book which captured the day's events in a beautiful keepsake. We thank Brad and his team for all their amazing work and incredible photos they captured for our special day. We highly recommend Brad Barr and his team!

Nadera

Married on 04/28/2018

Brad is excellent. After seeing his work, he was the only photographer we would have for our wedding. I am so pleased with the pictures that he created for us. Best around for sure!

+ 7

photos

Ryan

Married on 04/15/2018

Brad was great! The weather was not cooperative at our wedding but Brad was able to use the storms to create really amazing pictures. Would absolutely recommend.

Katie

Married on 12/01/2017

If you are looking for the best photographer for your wedding, look no further! Brad with BCI photography was amazing to work with from start to finish. He was very quick to respond to all my questions and flexible to work with my busy schedule. He helped me time my wedding perfectly, to get the most amazing pictures,with a beautiful sunset. Brad was very professional and did an amazing job capturing our special day. We were blown away by the beautiful photos! I was also thrilled with how quick we got the photos!! I was able to view them the next day!! Brad is very talented and edits the colors to make the pictures so vibrant. I have so many compliments on how beautiful the pictures are. I have already recommended BCI photo to my friend, and will cherish all the beautiful photos they took for us for life.

Shannon

Married on 11/18/2017

I am so happy that I had BCI Photograph my wedding!!!! I couldn't have asked for better Photography team!!! All my guests loved the interaction and photos are proof of that!!!!! My pictures exceeded my expectations and there were so many shots that I didn't notice there was a camera crew there!!!! I would recommend Brad and his team to ANYONE!!!!!!!! I will be using him in the future!!!!

+ 7

photos

Haylee

Married on 11/10/2017

I could not be any more pleased with Brad & his team! My wedding conditions were not quite what I'd hoped for but you'll never be able to tell by my pictures. Brad went above & beyond for me and make sure I had memorable photos(rain and all)!

Cheryl

Married on 06/03/2017

Brad's team was amazing! We discussed ahead of time what we were looking for and he came through with the best photos! They knew our venue well so they knew exactly where the best photos would be taken! We would highly recommend BCI for any occasion you may need a proffesional photographer.
The Cote' Family

Kathy A.

Married on 05/28/2017

Brad and team did an awesome job at our Wedding and helped us throughout the whole process making it the most special day and created special memories. Thanks for making our day the best!!!!!
Are you interested?
Send a message