43 Reviews
Recommended by 100% of couples
Quality of service

5 out of 5 rating

Average response time

5 out of 5 rating

Professionalism

5 out of 5 rating

Value

5 out of 5 rating

Flexibility

5 out of 5 rating
6 User photos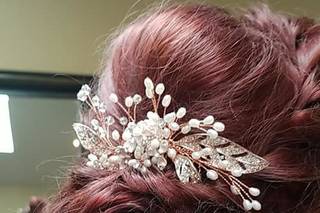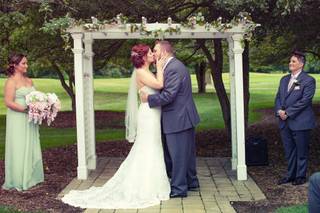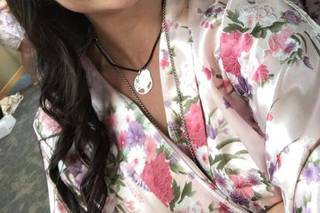 + 2

photos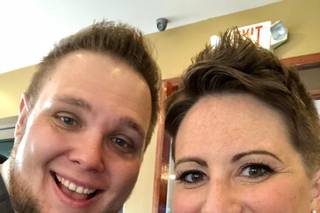 Ashley

Married on 06/23/2018

All the ladies at Borrowed & Blue Weddings, LLC were amazing. From the 1st time I contacted Joanna through my engagement photos and finally the day of my wedding I have no complaints. Day of they came to my venue and were able to do hair and makeup for my mother, my four bridesmaids, and me. On top of that they did makeup for the mother of the groom and the best woman. Let me tell you everyone looked amazing! Plus they brought emergency kits and mimosas! Joanna was super helpful when I'd email and was able to add thing for me when I asked. Also I loved that I got to meet the woman doing my hair and makeup at the trial so that I got to know her and we could talk about what I wanted for my big day, it made me feel more comfortable on the actual day. Overall I would recommend Borrowed & Blue Weddings, LLC to any bride.

+ 3

photos

Krista

Married on 10/14/2017

LOVED Joanna and her team at Borrowed and Blue Weddings. Joanna is professional and responsive in her communication, which is appreciated and aleviated a lot of stress when other vendors were not to responsive! I absolutely loved my hair and makeup for the wedding and I actually think the bridesmaids' hair and makeup looked the best I've ever seen for a wedding. Highly recommend Joanna and her awesome team for your wedding beauty services!

Erin

Married on 08/19/2017

Joanna and her team were absolutely wonderful! From her flexibility in scheduling my hair & makeup trial when I was in town (I live in Chicago), to the thoughtful goodies she brought on my wedding day, everything about my experience with Borrowed & Blue Weddings was extremely positive. I knew what I wanted my hair to look like and Joanna totally nailed it! And Diana did my makeup beautifully. All the girls in my bridal party who got their hair & makeup done were also extremely pleased with both the quality and affordability of their services. Plus Joanna and her team are just awesome people -- it was a blast to spend my wedding morning with them! I highly recommend Borrowed & Blue Weddings!

Are you interested?

Send a message

Jessica

Married on 06/10/2017

I've heard of Borrowed & Blue Weddings since long before we decided to plan our own wedding; so I knew from the start that the only choice was to hire Borrowed & Blue Weddings. Joanna, the owner and coordinator, was in close contact from the very beginning and put my mind at ease regarding the timeline. I sat back and let her do what she was best at and never had to worry about 1 thing concerning prep time, makeup, and hair for our big day. The makeup was stunning, thanks to Kimber - and the hair was immaculate, thanks to Joanna & Brittalia. It was an outdoor wedding in sweltering heat and I didn't give a 2nd thought to my hair or makeup all day and all night long. In fact, I woke up the next day looking like I could walk down the aisle once again. Best decision ever to hire Borrowed & Blue Weddings!

Heather

Married on 06/03/2017

Organizing and planning on-site hair and makeup was easy with Joanna, and the team of stylists and artists she works with is amazing. They were professional and everything ran smoothly from the time they started, they were also very friendly, laid back, and enhanced the overall experience of getting ready for the wedding. The team used reference pictures to create a unique look for each bridesmaid and they all raved about how great they looked and felt. Our hair and makeup looked great even after being outside in hot, humid weather and dancing for hours. I felt confident after getting the trial and the ladies I worked with were very open to suggestions and some changes on the day of the wedding. I would highly recommend Borrowed and Blue to other brides who want the convenience of on-site hair and makeup.

Amber

Married on 05/28/2017

Borrowed & Blue was amazing! Joanna was very professional and accommodating from the very beginning. They are LGBT friendly which was very important to us. She did a great job of pairing us with stylists/artists that fit our look and style. On the day of the wedding they all arrived promptly and came with mimosas. They did a great job of keeping things moving in a timely manner, we were even done early. They all went above and beyond to make everyone look good and feel special. I was very impressed with everyone's final look. I would recommend any bride to Borrowed & Blue Weddings as they do a really great job and are affordable. Thanks again Joanna and team for helping to make our day special!!!!

Amber

Married on 05/28/2017

Borrowed and Blue knocked it out of the park! I usually do not wear makeup and they made me feel so comfortable. When I had my trial, I didn't know what to expect, but the team set me at ease and made my hair and makeup look amazing. On the wedding day, the team that was selected for myself, my wife, Mother in Law and bridesmaids were amazing! They brought mimosas and made emergency kits for all of us girls. They did an exceptional job and all of the girls were pleased with how they looked. We danced all night and my hair didn't move one bit! I would recommend Borrowed and Blue to anyone getting married!

Sara

Married on 05/27/2017

This company is hands down the best company I got to work with for my wedding. The ladies are wonderful, caring, thoughtful and talented. Working with them was a highlight for my wedding day. You would be a fool not to hire them! They are the BEST. Absolutely the BEST.

Jessica

Married on 05/20/2017

Jesska did an awesome job on my makeup for my wedding! Loved her friendly personality and how easy she was to work with. I really thought that Jesska went above and beyond, from picking out several lip colors, to bringing an emergency kit & mimosas on the wedding day. I felt beautiful & cared for the whole day!

Rebecca

Married on 04/29/2017

Very responsive via text or email. Joanna took care of getting payment via PayPal from all of my girls. The team included 2 girls on hair and 2 girls on makeup including one girl that prepped hair. They brought mimosas and showed up even before my bridesmaids arrived! They came to the house and made every girl feel beautiful! Especially me!! I had a hair and makeup trial 2 weeks before my big day and Diana listened to what I wanted changed and Joanna personally curled and prepped my extensions. I will highly recommend borrowed and blue weddings to any bride!!

Stephanie

Married on 03/25/2017

Joanna and all of the ladies were amazing! I would recommend this team in a second, everyone was very friendly and professional. We ALL loved our hair and makeup. Can't say enough good things.

April

Married on 09/17/2016

Joanna is the absolute best!! I had some major issues with the original hair and makeup team I booked and decided to cut the cord and hire Joanna's team. I did a makeup trial sending pics and descriptions of what I wanted and Joanna found the most perfect match for me, Noura. SHE WAS FABULUOUS. The wedding day I felt prettier than ever, even better than my trial. After rescheduling my hair from the old vendor to Borrowed and Blue within 3 weeks or so from the wedding day Joanna was nothing but helpful. She was able to get some amazing girls and I was nervous since I didn't have a trial, but my hair was gorgeous! My bridesmaids were also looking so beautiful and all were happy. I cannot say enough thanks to Joanna and her team! They brought us Mimosas, emergency kits for the bridesmaid and myself, and were able to be at the hotel at 6am. Our completion time was supposed to be 10am but it worked out even better and we were done by 9am!!! I truly owe so much to this beauty team for making my day so special! Thank you all!!! Highly Highly Recommend! :)

Alyson

Married on 08/20/2016

Joanna and her team did an excellent job styling my wedding party and I for my special day. They conveniently traveled to me, everyone was pleased with their hair and make up, and the photos look great :)

Mary

Married on 08/06/2016

If you're hair style isn't 'run of the mill' - Pay the small extra fee to meet with stylist before day of wedding for 'dry run' with bride. Our stylist did a great job - but meeting ahead of the wedding day gave her a chance to work with bride's hair & consider alternatives. As a result, the stylist returned with additional photos & options & the bride was exceedingly pleased with her hair on wedding day. Her hair style is older style - shorter & very wavy/curly.

Amanda

Married on 08/06/2016

Joanna and the Borrowed and Blue team drove all the way to Grayling MI to do my hair and makeup so that I wouldn't have to go to a salon I had never been to on my wedding day. They did such an amazing job on my hair and makeup!! I got so many compliments including from my photographer who kept telling me she couldn't believe how well my hair and makeup were holding up throughout the wedding. Thanks Borrowed and Blue for making my special day that much more beautiful.

Mary C.

Married on 08/06/2016

Joanna and her crew were wonderful to work with — very response, helpful, and sensitive to my vision for my (bride's) hair and bridesmaids' styles. Our stylist was kind, accommodating, and patient. Very grateful that I chose Borrowed & Blue for my wedding day!

Courtney

Married on 06/17/2016

Joanna and her team were absolutley wondeful. Joanna is very attentive and extremely quick to respond to emails. I found the company on Wedding Wire and figured why not. I couldn't be happier with the service. Each one of the girls who came did exactly what myself and each bridesmaid wanted. Every single person turned out beautiful. They even let us add an additional girl to have hair and makeup services done the day of. I would 100% recommend this company to anyone. They were awesome!!!

Joanna and her team came recommended from my friend's wedding earlier this year. We had a big group of 10 ladies who all wanted different variations of hair and make-up. Borrowed and Blue accommodated the different requests of all - some wanted airbrush, some wanted lashes, the moms wanted simple hair styles, etc... Plus, I even added full services for an extra bridesmaid on the day of! Joanna is so sweet that she brings little extra hair-care packages for ALL the girls (the bride gets an extra special one) as well as a fun beverage treat! To further add to the flexibility, I decided to change my hair from what we did at the trial, and it was still fabulous. Borrowed and Blue has a team of all professionals who made us feel beautiful. I was very pleased with how everything turned out, but also with the overall experience of the on-site bridal services, which to me is why you would want an on-site team. A Great vendor team to work with.
ps. I wore hair extensions for the first time ever...and it looked amazing. Thank you to Joanna for the suggestion and integrating the into my hair.

Kristen

Married on 05/14/2016

Joanna and Diana were great! Joanna did a great job on my hair and Diana was amazing with makeup. They came to my bridesmaid's house to work on us the morning of my wedding, so the girls not getting hair or makeup done could relax on the couch. They also finished with everyone exactly on time, which I'm sure can be challenging to do. Joanna was always very prompt in all our email communications and she is so sweet. :) They made me feel beautiful for my wedding, thank you!!

Amanda

Married on 05/14/2016

Joanna made sure everything was perfect. She was unable to come herself but she told her associates exactly what I wanted. The entire day was easier and they even came to my hotel room to do everything. Everyone was so nice and made sure my bridesmaids loved what they got and made sure that I liked it too. They even gave us emergency kits for our hair and make up if disaster happened AND they brought mimosas. I could not have asked for more.

Sara

Married on 12/23/2015

Joanna and her team were amazing! Joanna herself does an amazing job, and you can tell that she is really passionate about helping brides on their special day! She provides fantastic services at a fair price- well worth the value you receive! Joanna was extremely accommodating when I asked her about adding on makeup services only ~2 weeks before the wedding, and when my mother-in-law decided to add an additional person to the hair and make-up list as we were getting ready the day-of! I was extremely happy with the way my hair and makeup looked, and it definitely lasted the whole day and could've kept on going! I would highly highly recommend her to any brides-to-be!

Joanna has been my hair stylist for over 10 years and it was meaningful to have her do my hair on my wedding day. I felt beautiful! Thanks Joanna!

Jaclyn

Married on 10/16/2015

If you are a bride-to-be living in the Metro-Detroit area, Borrowed and Blue Weddings is a vendor you must consider for your day! After being referred by a friend with great taste, I quickly emailed the company and Joanna wrote back to me the same day requesting information about me, my wedding day, and my vision for my hair and make-up. I requested a specific hairstylist, Kim, and she booked her right away! I left the makeup artist up to Joanna based on the information I gave her about me, and she did a wonderful job pairing me up with my makeup artist, Avis. Both ladies made me feel beautiful on my big day, and made my husbands heart melt! The ladies traveled to meet my bridal party in Detroit at our venue (Detroit Golf Club) and helped kick off the big day with positive energy, smiles, and great company. We began hair and makeup at 8:30 am, had a first look around noon, and spent a few hours taking pictures in downtown Detroit with the wedding party. Through it all, my hair as well as my bridesmaids hair stayed put and our makeup looked fresh when we all walked down the aisle at 5:30 pm, 9 hours later! The team provided my bridesmaids, mother, and I with delicious cocktails and day of emergency bags! The also came prepared with some sewing materials and were able to help a bridesmaid fix the hook on her dress! We felt prepared for anything! Thank you for helping to add the final touch to me and my girls on my big day!

Kathryn

Married on 09/06/2015

I am incredibly happy I booked Borrowed and Blue for my wedding! Joanna was incredibly flexible with my hectic schedule and very prompt with all communication. Avis came out for my hair and makeup trial - she is very creative and able to work with me (a normally not glamour person!) to find the right look for my wedding. Avis made me look and feel incredibly beautiful for my wedding! My bridesmaids were equally happy with their hairstyles the day of that were done by Joanna.

Amanda

Married on 08/01/2015

Joanna did my hair for my wedding. We had a trial beforehand and I wasn't completely sure what I wanted to do and she really listened and helped decide what would make me happiest.

On my wedding day, Joanna did a fantastic job with my hair!!! I couldn't have been more pleased. It was a sticky, rainy summer day and my hair lasted all throughout the night even in those conditions. I didn't have to worry about fixing it myself, which was a big concern of mine.

Joanna is very talented, I am so happy I chose her for my wedding! Also, she was just so encouraging and caring, which is important for stressed out brides-to-be!
Are you interested?
Send a message