32 Reviews
Recommended by 100% of couples
Quality of service

5 out of 5 rating

Average response time

5 out of 5 rating

Professionalism

5 out of 5 rating

Value

5 out of 5 rating

Flexibility

5 out of 5 rating
Awards
64 User photos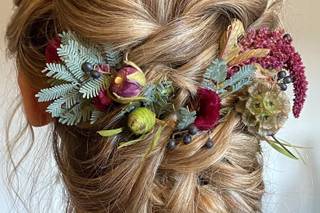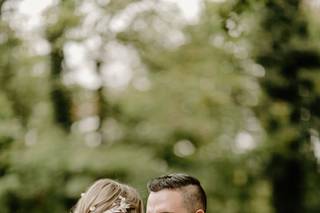 + 60

photos
Lauren

Married on 10/15/2022

Hire this woman

Stefani is my absolute favorite person. She and her sisters are SUCH sweet souls and do beautiful work. My whole bridal party felt totally gorgeous and they all actually looked like themselves. They were so sweet with my grandmother and just really made our getting ready process fantastic. When I had to reschedule my wedding due to covid, she was the one of the very first vendors I spoke to. She was so kind and supportive and I truly picked my new date to accommodate her schedule and I don't regret it! She is worth her weight in gold. *I will add professional pictures when I receive them

Danielle T.

Married on 10/01/2022

Absolutely Delicious

No no no ya'll don't understand… Stefani and her team are ABSOLUTELY AMAZING!!! She made me feel like a forest fairy goddess and made all of my bridesmaids look absolutely delicious. She is so easy to work with and her ladies made my ladies feel so very loved and beautiful. I cannot compliment Stefani and her team enough. She is the absolute best and complimented my vision with ease. Don't even get me started on my hair… insane. I would book her and her squad IMMEDIATELY.

Samantha K.

Married on 05/22/2022

Incredible talent!

Stefani was absolutely incredible to work with! She is so sweet and her work is flawless! She absolutely nailed my vision and everyone in my bridal party was so happy with their looks as well. If you're looking for the boho braid of your dreams, hire her!

Are you interested?

Send a message

Carolyn F.

Married on 05/14/2022

Amazing experience

Stefani and her sisters did an absolutely amazing job on my wedding day for me, my bridesmaids and the mothers. I found Stefani originally through Philly mag and knew she would be a great pick.
All of my ladies absolutely loved their hair and makeup. Everyones hair complimented them perfectly and their makeup was flawless and lasted all day. Stefani even helped to calm down the nerves of myself and my mom who was a bit nervous to have makeup professionally done. I would 100% book Stefani if you are interested in her. You wont regret it.

+ 3

photos

Poornika K.

Married on 12/04/2021

Stefani is amazing

I reached out to Stefani in 2019 for my wedding in 2020, and she was more than happy to be my hair and makeup artist. Because of COVID-19, I changed my wedding plans multiple times. Stefani was responsive to all of my emails, and she was very flexible and understanding, which made wedding planning less stressful for me. She answered so many of my questions throughout the whole process. When I met her on the day of my hair and makeup trial, it felt like I was catching up with an old friend. Stefani has a beautiful soul and made me feel comfortable the whole time. I wasn't sure what exactly I wanted makeup-wise, and she was more than willing to create a look for me. There were only a couple of things that I wanted to change, and Stefani listed to all of my feedback. On the day of my wedding, she made me look exactly how I hoped I would! My hair and my makeup took my own breath away, and I love seeing how I look in my wedding photos. Stefani and her team also did hair and makeup for my bridesmaids and my mother, and every single one of them was really happy with how they looked. My mother especially had been worried about how her makeup would turn out, and she couldn't have been happier with her makeup after it was done. All of my bridesmaids had different hairstyles from each other, but they all matched the dreamy, romantic feel that I had envisioned for the wedding. Overall, Stefani and her team have so much talent. I highly recommend booking them for your wedding!

+ 3

photos

Natalie M.

Married on 11/05/2019

Stef is amazing!

When I was looking for a team to do me & my girls hair & makeup for my wedding, everyone I talked to recommended Stef. and HOLY COW did she do an amazing job. Stef is the sweetest person first and foremost, and wants to make every girl feel like a the most beautiful person in the room on wedding day. She was so quick to respond with questions and emails, flexible & so much fun to work with! When we did my trial (which 10/10 recommend every bride do), there were a few changes I wanted to make on my wedding day, and Stef was so sweet and made sure my hair was exactly how I wanted! I could not have felt more beautiful on my wedding day, and my girls LOVED their hair! I couldn't recommend Stef more. She is the best!

+ 3

photos

Chelsea

Married on 11/01/2019

Stef is a H&MU wizard.

Wow! I could not be happier with hiring Stef and her team for my wedding. Not only is she incredibly talented (she made me look effing amazing) but she is also such a sweet, fun, and kind person! When it comes to hiring vendors for one of the most important days of your life, you need positive vibes and nice people to help you have your best day possible, and Stef definitely did this for me on my wedding day! I had her stay some extra hours for touch ups and I am so glad I did—it was extremely windy on my wedding day and she was there to make sure my hair and makeup stayed in place for all of my outdoor pictures prior to our outdoor ceremony! She is amazing and her work honestly speaks for itself! Highly recommend!!!

+ 10

photos

Melissa

Married on 10/12/2019

Stefani is the best!

Stefani was amazing to work with and helped me turn my ideas for hair and makeup into an even better reality! My bridesmaids and I were all extremely happy with how our hair and makeup turned out. I truly felt beautiful for my wedding day! (and wow, she is such a genius at adding floral pieces to add an extra wow factor to hair styles!) Stefani and her whole team were very professional, but also brought a great sense of humor. I would highly recommend Bonafide Ginger to anyone planning their big day!!

Lauren

Married on 08/31/2019

The Bonafide Glam Dream Team!

Where do I even begin!? Stefani and her team were an absolute Dream to work with! They made each and everyone of my bride squad feel perfectly gorgeous! Usually there is one person not happy with thier hair and makeup in a wedding party, but not with the BONAFIDE GINGER SQUAD! EVERYONE LOVED THIER HAIR & MAKEUP! I found Stefani on Instagram, and fell deeply in love with her artwork! She was one of the first vendors I booked, because I know she gets booked up so quickly! BOY am I happy I booked her and her BONAFIDE SQUAD! I had my trail, which I went to her house and felt so comfortable! Then I decided to go with extensions on the wedding day. She ordered them, and they matched my hair perfectly ( keep in mind I have highlights in my hair) THEY WERE PERFECT! I get to keep them too

+ 17

photos

Kimberly V.

Married on 04/28/2019

Cannot express my gratitude enough!

Stefani made me feel like such a princess on my wedding day! She was extremely personable, and hilarious (which was great for helping me relax the day-of). She provided a perfect schedule of when everyone would be getting hair/makeup done. My bridesmaids looked beautiful, and they were extremely pleased with her work. I am forever grateful for her, and her magic which helped me feel and look my best for my wedding day. Thanks girl, you rock!

Jamie U.

Married on 04/27/2019

Hair was amazing!

Stefani and team recently did hair for my bridal party and me. They are amazing! I showed Stefani a picture of what I had in mind and she customized it for me. I loved my hair and it held up all day (even with lots of wind)! I bought extensions from Stefani and they were totally worth it. They added so much fullness,which was the look I was going for, yet they looked completely natural and no one knew I was wearing extensions. All the bridesmaids looked incredible and received many compliments from guests. I would definitely use her services again!

Randi

Married on 10/07/2018

Just Hire Her Already!

I was probably MOST nervous about picking a HMU artist for my wedding. I was legit terrified. I don't wear make up. I blow dry my hair, but that's it - I don't use product, I don't even own a curling iron. My photogs had said it's important to get an on-point HMU person because they can ruin the whole schedule of your day if they're not professional. I asked them for a preferred vendors list and Stefani was on it. I honestly wasn't sure how much I wanted to budget for HMU. But I had virtually no bridal party and knew I wouldn't necessarily have the required 6 services many HMU artists want. Stefani immediately appealed to me - she was quick and thorough in her responses, - she was super supportive, - her instagram was KILLER. Oh damn, I thought, these women look GOOD. I was so scared for my trial, but Stefani was down to earth, easy going, fun to talk to and clearly knew her stuff. I had my HMU done professionally a couple other times for other people's weddings and I never liked it. The make up was too dark and they never quite understood how I wanted me hair to look. They didn't do a bad job, but you really want to love the way you look for your wedding! The trial went great! And I knew I was going to be so happy on my wedding day. And I was MORE than happy. I was ecstatic. As good as the trail went, the wedding day went even better. I looked at myself in the mirror every damn chance I got. I kept waiting for my hair to fall apart or my makeup to run/fade/flake. But I kept thinking I looked amazing. Stefani took the thing I was most scared of and made it one of my most favorite parts of the wedding - husband aside :) Thank you so much.

Casey

Married on 07/21/2018

Stefani is a kind soul with an outrageous talent for hair and makeup. She made me feel like the absolute most beautiful version of myself not once, but TWICE, on my wedding day. It down-poured, and my beautiful hairstyle that Stefani so carefully crafted was washed out about 40 mins before my ceremony. Luckily, I had hired her for her additional refresher services, so she was able to craft ANOTHER hairstyle so that I didn't look like a wet dog on my own wedding day! Additionally, Stefani and her team did a phenomenal job on my bridesmaids and Mom's hair and makeup - everyone looked cohesive and stunning, and everyone just had such a good time getting ready for the day with these ladies. Hiring the right people for your day is extremely important - but hiring your hair and makeup friendor is right at the top of the list. Hire Stefani and you will NOT regret it, ever. Also, bring her cheezits & chips ahoy and she'll love you forever :) Thank you Stef + team!!!

+ 3

photos

Megan

Married on 07/06/2018

Stef's work speaks for itself, so she doesn't even need my review (check out her Insta). But when it comes down to it, the investment in feeling confident on a day of non-stop pics (+ smiling + sweating + crying) is priceless, so I'm leaving one anyway to say I appreciate her!!

Sarah

Married on 05/19/2018

Stefani is absolutely amazing. She is honest, hilarious, and seriously talented. She and her team made my bridesmaids, mom, mama-in-law, and me into the absolute best-looking versions of ourselves on my wedding day. They did it with patience, fun, and an expert, relaxed vibe that kept the morning laid-back and fun. I have never, ever felt more gorgeous, and yet, still exactly like myself. Our day was humid and rainy off and on, and Stefani offered a service that allowed her to stay and touch up my curls and make up after I went running through the wet grass with my brand new husband, in search of the best wedding photos. If Stefani is available on your date, and you're considering her, book her! It's the best choice you'll make. Seriously.

Jess

Married on 11/24/2017

She took what i had envisioned and made it even better, she gave me the confidence I needed on my special day!

Jaclyn

Married on 10/07/2017

I cannot recommend Stefani highly enough! I almost never wear makeup or use hair products, so I was thrilled that she was able to both make me feel glamorous and like myself. She also did hair and makeup for my mom, my maid of honor, my bridesmaids, and (due to a medical emergency) my husband! Everyone loved her services and the outcomes of her artistry. If she is available on your wedding date, there should be no question who to book!

Megan

Married on 09/10/2017

There are actually not enough positive adjectives in the WORLD to describe Stefani and her team! From our first contact, Stefani was responsive, professional, friendly, and knowledgable. I've had my hair professionally done many times in my life and have never entirely liked it. I thought those beautiful, romantic, soft, boho styles were something that only existed on pinterest and not in real life. Wrong. Stefani EXCEEDS any and all pinterest pictures I've ever seen. I couldn't stop staring at how gorgeous everyone in my bridal party looked! We had people all night stopping the entire bridal party to say "I have to take a picture of your hair!". Her and her team made the morning of my wedding so fun and carefree! They felt more like lifelong friends that belonged in the bridal party!! They kept the conversation and fun going which helped keep my nerves at bay. Given the choice again, I would pick her and her team one MILLION times over!!! I can't express enough... she's WONDERFUL!! Book her now before she gets snatched up and becomes a big star in LA!!

Caitlin

Married on 06/09/2017

I found Stefani through my venue. I saw her work via her Instagram and was in love. Her boho-chic style is exactly what I love and wish I could create myself. Her make up looks are wide ranging and I thought the finish product looked exquisite every time. When I finally met Stefani for my trial, I didn't feel so nervous any more about my looks. She's instantly inviting and friendly and she wants you to look and feel your best on your wedding day. 5 minutes after walking out of her house I said to my sister, "I don't feel self-conscious about the wedding anymore." I looked BEAUTIFUL which is something I don't say about myself often, or really ever. My hair was every mermaid fantasy and my makeup was divine. Whenever I emailed her, I would get such a quick response. She answered every question and never made me feel silly or dumb which something I felt a lot through the wedding planning process. Who knows how much something costs? Is it really worth it? I'm not a beauty expert either but she made me so at ease. Little note- my mother and I have a strained relationship. On the morning of my wedding as we were getting ready, my mother threw a fit and Stefani whisked me away to the bridal suite of my venue and finished my hair and makeup in there. She's a smart cookie and has a heart overflowing with compassion. Some would say she was just my make up artist and hair stylist but I look at her as so much more. Book her immediately. I knew I wanted my photos of this day to look magical and alluring and pastoral and it was. Every photo is great because I had a great base. I had great hair and makeup that lasted all night. I wanted to love myself in my photos and Stefani helped me love myself in reality. I thought I would be caked with make up, but she really didn't use as much as I thought she would use. I felt stunning and that's all thanks to Stefani. I felt like a goddess (and looked like one too) because of The Bonafide Ginger. Hire this great lady right now!

Courtney

Married on 01/01/2017

Can I give 10/5 stars? No, wait... can I just label her "The Best" and call it a day?
Stefani was my makeup artist and hair stylist for my 1/1/17 wedding. This is the most difficult review to write because there are so many good things I want to share, but I don't have the words to say them! Book this girl (literally right now) for your wedding, or any other special day!
Stefani has an extraordinarily talented eye for what will look best on YOU, specifically, and she blends that with the amazing talents of listening and execution. No matter what you envision, it's going to turn out way better than you would have ever dreamed because she knows not only how to replicate, but also how to tweak and create to make everything so much more beautiful. And if you don't know what you want or even what would look good, just ask her. She knows and she will work with you and you will be so amazed! Stefani is AWARD-WINNING for a reason.
Stefani goes above and beyond for you. Everywhere I turned the day of my wedding, she was there helping me out! She did so much more than any makeup artist would think to do. One of my bridesmaid's had an issue with hair color, and Stefani went out of her way to fix it the night before in a hotel! Also, I cried probably every 5 seconds on my wedding day, and there she was - touching me up like I was on the red carpet. And I can't forget how she helped with my portraits! She was right there, by my side, making sure everything was in place despite the wind and the cold and the tears.
Lastly, I think you should know that she's an amazing person. I feel like I became so close with her over the course of my wedding planning. She laughed and joked with everyone while getting ready, danced with me and my girls during the reception, and cried with me throughout the day. Heck, she texted me afterwards to let me know that she cried watching my wedding video!
Seriously, do yourself a favor, bride-to-be. Book Stefani.

Stephanie

Married on 10/02/2016

Stef was absolutely fantastic. We planned our wedding from Seattle, so her site and featured work on Instagram initially hooked me. As soon as she responded to my inquiry, I knew she was perfect. Communication was prompt and personal and the day-of service was exactly what I needed. She made me feel special and lovely. You will be completely enamored with Stef and it is beyond obvious how much pride she takes in her work.

Danielle

Married on 08/13/2016

I do not known where to even start ! From day one, Stefani was very responsive, helpful and friendly regarding any questions, comments and concerns I had. I trusted her so much that I had her use her creative /artistic ability to do whatever she envisioned regarding my makeup and hair for the big day. I felt like a million bucks to say the least ! She knows exactly what to do with some glittery eye shadow! And don't get me started about my bridal party. Each girl her and her team worked on was absolutely gorgeous. I would recommend this to anyone, all day every day !

Tam

Married on 07/30/2016

Stefani is a wonderful makeup and hair artist. She is organized and detailed oriented, and on time with our appointments. My wedding is unique because we had two separate ceremonies: the Vietnamese Tea Ceremony and the Wedding ceremony in the afternoon. The Vietnamese traditional tea ceremony is early in the morning, and Stefanie arrived on time at 6:30 in the morning to get me ready. She did a fantastic job on my hair and makeup on my most special day and I am grateful for her service. One of the most important parts about the hairdo and the make up is that it lasted for an entire day, which is perfect for my afternoon Wedding ceremony and the reception. Thank you for making me feel and look beautiful on the most important day of my life.

Katie

Married on 06/18/2016

I can't say enough great things about Stefani! I didn't even do a trial run for my wedding day and my makeup was absolutely stunning. She made all my bridesmaids look gorgeous as well. My Hair on the other hand was a dream come true, the most amazing braid/ updo with flowers added to my hair from my florist. I think my hair was top 10 maybe even 5 of my favorite things about my special day.
Thank you, thank you, thank you, for making me feel so beautiful

Julia

Married on 06/11/2016

Stefani takes beautiful care in what she does and you can tell she loves it. Our wedding photographer, Brianna Stevenson of Brianna Wilbur Photography, works with Stefani often so I had seen Stefani's work on many different posts. I knew Stefani had to be great to work with when I saw photos from our photographer's own wedding. Knowing that and talking with Stefani for the first time made me instantly relaxed and happy to work with her. Stefani did my makeup for my engagement pictures, as well as my makeup and bridal party's makeup for the wedding. We received great compliments about our hair and makeup. Stefani created a timeline that kept us right on schedule. She was able to accommodate nine of us (6 bridesmaids and moms) by bringing in two others, Katie and Kortney, to help. They all did a fantastic job and everyone, even my picky friends, was impressed. Stefani had the option to stay until the reception started for touch-ups. We were so lucky she offered this! It was a very hot day, so we came back from the ceremony/pictures, and badly needed freshened up. Stefani made me a whole new hairstyle for the reception, which was unexpected and perfect! It also really helped that Stefani was great to talk with and made the process fun. We were so lucky to have Stefani.
Are you interested?
Send a message