116 Reviews
Recommended by 100% of couples
Quality of service

5 out of 5 rating

Average response time

5 out of 5 rating

Professionalism

5 out of 5 rating

Value

5 out of 5 rating

Flexibility

5 out of 5 rating
19 User photos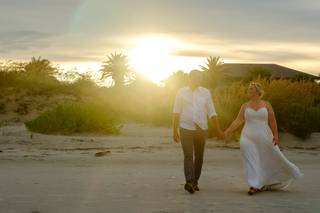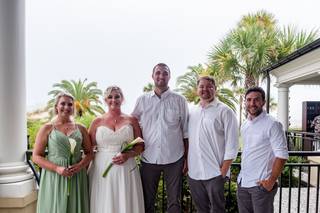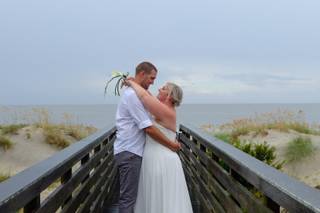 + 15

photos
Matthew N.

Married on 10/08/2021

Best Photographer in the Biz!

When you become a member of the BBP Family, you truly become family. From Day 1, Bobbi was enthusiastically engaged with our wedding. She spent lengthy amounts of time getting to know my husband and I, offered suggestions, introduced us to contacts, and was a true champion of our day!

Tina was a godsend! She was always quick to return emails, professional, and patient with us as we navigated planning a destination wedding in a pandemic.

Bobbi has been around the business a long time, and it truly shows! We chose The Mackey House as our venue, and she clearly has a wonderful working relationship, not just with the venue, but also our wedding planner. It's these relationships that created a seamless experience on our actual wedding day; being flexible with the rain, and running a tight and efficient ship enabling us to take as many photos with our friends and family as possible. And the photos turned out better than we could've imagined! Bobbi truly captured all of the love and emotions of the day! And there was ALOT of love!

It should also be noted that being a LGBTQ+ couple, Bobbi and Tina were huge advocates for us as we met vendors and navigated the entire planning process!

We could gush on and on about BBP, but I'll leave it with my very first sentiment; when you become a member of the BBP Family, you truly become a member of the BBP Family!

Bobbi and Tina, Eddie and I miss our chats along the way, and can't wait to take you both out upon our return to Savannah! Thank you! Thank you! Thank you!

Rob L.

Married on 04/09/2021

Our vote for Most Fabbo Photographer!

Bobbi Brinkman Photography was hands down the best choice for capturing our special day. She is professional through and through, and even spent extra time visiting our venue several months before our event. The quality of her photographs, her calculated approach to building relationships with her clients so that she can best capture the moment, combined with her strong ability to work with and lead the other members of our hired professional team make her an A+ recommendation.

Cory F.

Married on 12/05/2020

Professional Fun Expert

We have been trying to figure out how to give Bobbi the review she deserves and it is nearly impossible! What an incredible photographer. She is a master of being detail oriented but she doesn't let it interfere with you or your partner so she is still capturing both of your true personalities. Bobbi and Tina both went above and beyond a photographer's duties, even before wedding day. Whenever we had a question in the planning process whether it was needing a vendor recommendation or guidance on the marriage license - Bobbi or Tina were a call, email or text away ready to help. I can't recall once when either of them said "no" or "sorry I can't help with that". On wedding day - I have a hard time believing it would have gone as perfectly smooth as it did without Bobbi there. She knew exactly where we needed to be and when so we could capture perfect shots in Downtown Savannah and at our venue, The Mackey House. We can't thank Bobbi & Tina enough for all they did, truly.

Are you interested?

Send a message

Kelsey S.

Married on 08/07/2020

Perfect wedding team!

Bobbi and Tina were a fabulous team to work with. Tina was an excellent officiant who made our ceremony so special. Bobbi then captured the whole wedding perfectly. She even offered her quick thinking from years of experience and professionalism to keep our dreams of a beach wedding alive by suggesting a new plan when Mother Nature decided to storm right before our ceremony. She went out of her way to make our day perfect.

Samantha

Married on 11/16/2019

Great experience!

Bobbi and her whole team were beyond amazing. She was a key part of our day and way more than just a photographer! We had lots of rain and few issues with the venue, but Bobbi was able to navigate them all and still capture some truly gorgeous photos. Can't thank her enough!!

Britney

Married on 06/08/2019

Phenomenal.

We had a small wedding in Georgia on June 8th 2019. We are originally from Kentucky so we had to plan for a destination wedding. Bobbi went above and beyond to help us with everything should could ! Not just photography. She gave us recommendations on multiple vendors and people to hire to help us out on our special day. I was blown away by how helpful she was. Not to mention the pictures ! Absolutely breathtaking. There was a small storm the day of our wedding and she knew EXACTLY when to be out for pictures and where. The sunset photos are ones I will cherish forever and I'm so glad that we not only chose Bobbi, but that she chose us! I HIGHLY recommend her and her team ! She knows what's she's doing and worth every single penny. Thank you so much again Bobbi and all the other wonderful people on your team❤️

+ 4

photos

Julie

Married on 05/26/2019

Above and beyond!

Bobbi and Tina are an amazing wedding team. Tina made us feel like old friends from day 1, and her communication style was so comfortable and friendly. We both felt like we could go to her for advice or questions in any area of wedding planning.
I am not comfortable in front of a camera at all, but working with Bobbi, walking around the city and chatting, the photos didn't feel forced at all, and I couldn't believe the turn-around time! Her website indicates one of the fastest photo turn-arounds in the area, but I was still shocked at how quickly we received all of our beautiful photos.
The photographer is one of the most important wedding decisions you'll make (you'll have these photos long after other details are forgotten) and I can confidently say you won't regret hiring Bobbi Brinkman for your special day.

Savannah

Married on 05/25/2019

Bobbi is the best!!

Bobbi captures moments like you wouldn't believe. She truly just has an eye for it. She is also extremely helpful with getting everyone and everything in order. I am so happy I found her!!! I can not thank her enough for all that she has done and all the beautiful pictures she takes. You are truly the definition of Fabbo!!! 💕😍🙌🏼

+ 2

photos

Jessica S.

Married on 01/19/2019

Best Decision EVER

I'm completely honored to be part of the BBP Family. From my first phone call to my last photo on my wedding day, I knew I made the right decision having Bobbi as my wedding photographer. She truly knows what she is doing and helped so much in making things run smoothly on my big day. She'll never know how much I appreciated all her hard work. Tina was also extremely helpful and always every responsive when I had any questions. Thank you so much!

Casey C.

Married on 11/10/2018

Excellent! She is amazing!

Bobbi rocks!!! We were supposed to get married in Mexico Beach but Hurricane Michael ruined our plans! We were able to get a new venue (the Westin...also amazing!) at Jekyll Island. Bobbi worked with our wants and our budget and also fit us into her busy schedule. She was amazing from the start...gave so many tips and hints and was just amazing to work with! And our pictures turned out amazing, simply beautiful. We would recommend her to her to anyone!!

Alexa

Married on 10/06/2018

Bobbi is the best!!!

My husband, Steve, and I highly recommend her to shoot your wedding!! She and Tina were great to work with from the start - extremely detailed communication and great recommendations for vendors and lessons learned from other weddings. Bobbi knows and works well with many vendors in the area, which you don't really think about until you realize how much that helps the weekend of the wedding. She was able to keep the wedding party and family in line and focused so everyone could enjoy cocktail hour. She even fixed my wedding dress straps during the reception when they broke! Most importantly, we LOVE our pictures and were cherish them for the rest of our lives. Thank you Bobbi and Tina!

Lauren

Married on 09/29/2018

I could say so many amazing things about our experience with Bobbi Brinkman Photography that I am finding it difficult to know where to start. Bobbi was the first vendor I hired after we selected our venue in Saint Simons.
She was the first photographer to respond to my initial inquiry and had already taken the time to get to know as much as she could about my husband and me by reading our Knot website. We talked for over an hour and I knew she was the one for me.
Throughout the twelve months that followed Bobbi and her fabulous partner, Tina gave me recommendation after recommendation on vendors and their local SSI knowledge that eventually lead to us having not only the most perfect wedding day, but wedding weekend and engagement as a whole.
Fast forward to our actual wedding weekend and when I say Bobbi went above and beyond I feel as though that is an understatement. Even before she was scheduled to start our day-of photos she was coming in and out of the Bridal Suite helping me make decisions that ultimately made for an even more perfect day.
Lastly, but most importantly, her photography and creative is beyond words! I never thought we would be the couple that had pictures of themselves up on canvases everywhere but after seeing her photos of us I wouldn't know where to stop! She has a way of making you feel so natural in front of the camera and truly make your relationship and connection come through in the photos. As Bobbi says, "print your photos" and she will give you SO many reasons to do so!

Megan`

Married on 09/22/2018

It's difficult to give a review for Bobbi and Tina that I feel adequately describes how fantastic they are. Put simply, Bobbi Brinkman Photography is the best of the best. The quality of work speaks for itself - each photograph is stunning, beautiful, and captures the emotion and personality of both your best day and the people in your life. Her work excellently captures the classic moments you'd expect - but also authentic, emotional pieces of your day that you'd never have expected to cherish so much.

More than that though, Bobbi Brinkman is a class act. Her and Tina go eons above and beyond the call of duty to help make your day absolutely perfect. I had both the normal questions and concerns, and those associated with being a destination bride. I can say with full sincerity my wedding day would not have been the absolutely perfect experience it was without Bobbi and Tina. Truly, I credit the two of them with so much more than just beautiful photos that will depict the best day of my life for years to come.

Bobbi and Tina have hundreds of clients at any given time. But, during the time I was planning my wedding, I truly felt like mine was the only wedding they were working on - their professionalism and personal care is unmatched. My family and friends all commented how kind and inclusive Bobbi and her team were during the wedding day, and all have since commented how absolutely gorgeous the photos from the day are.

Bobbi, Tina, and Lauren, I am forever indebted to you for the care you took while I was planning and photographing my special day. The best wedding planning decision Bryan and I made was hiring you and your team. Thank you for providing me with a lovely experience and photos that I will cherish for the rest of my life. Thank you for being kind, generous, and becoming more like friends to us. Thank you for being the perfect example of customer service, the picture of professionalism, and being completely perfect. We miss you already.

Amanda

Married on 06/07/2018

Bobbi and her wife Tina were wonderful to work with. The photos were beautiful and Bobbi really makes the day stress free and fun! Thank you so much for capturing our day so perfectly!

Peter

Married on 04/21/2018

To say Bobbi was an excellent photographer is an understatement.

Bobbi is THE wedding photographer to have in the Savannah area. From our first correspondence with her and Tina we knew it was going to be the right fit! Their quirky personalities felt like they were part of our family.

When we finally met on our wedding day - we felt that comradery immediately. Tina started helping pin boutonnieres on the guys in the wedding party and Bobbi took pictures of our invitations, welcome bags and candids before we officially started our session!
She knew all of the perfect angles and spots around Forsyth Park to get the best photos and managed our wedding party of 17 with ease!

When we arrived at our wedding venue she kept us laughing throughout our couple photo session at the Mackey House. We had sent over the order of family pictures ahead of time and after the ceremony we zipped through it. Between Tina and Bobbi they were truly the dynamic duo.

After dinner at the reception, our day of planner was nowhere to be found. We were too busy doing table touches with our guests and didn't realize that we were 30 minutes behind schedule (since we didn't have our phones or watches on us). Bobbi immediately took over and coordinated our sibling toasts and mother/ son dance. For this we are incredibly grateful. We already lost 30 minutes of dancing and would have been at least another 30 if Bobbi didn't notice that and do something!

We received our photo gallery about 2 1/2 weeks after the wedding and I can't begin to tell you how happy we are. She documented EVERY moment of our special day including all of the decor, food, cupcakes, etc at the venue. All details I was worried weren't going to get captured by photo.

Bobbi Brinkman Photography is the BEST option for your wedding. <3

Kathleen

Married on 04/06/2018

When we decided on a destination wedding in Savannah, we knew we would need a lot of help from people who knew the area best. When we found Bobbi and her team we could not have been more thankful! Bobbi and Tina were so helpful during the planning process, they really put my mind at ease even when I would stress about the smallest of details. Bobbi knows the Savannah area so well and through her busy schedule she really takes the time to get to know her couples. So when it came to suggesting locations for photographs she really knew what style and look we were going for.
I stressed a little bit the day of the wedding about keeping things on time, but Bobbi was so oraganized and prepared that we got every single shot we wanted in. Our guests could not stop singing her praises the next day. She was so fun to work with and helped make the day a blast!
We even got our photos back in just over 2 weeks!!! I told myself before the wedding that if we get just a couple photos that I love I would be happy. I never could have imagined that I would have dozens and dozens of amazing photographs. I spend a lot of my free time since the wedding just staring at the remarkable and beautiful photographs that she captured. Thank you so much Bobbi for capturing the best day of our lives. We have the best of memories!!

Libby

Married on 03/31/2018

Loved working with Bobbi and Tina - we did an out of state wedding so we were not familiar with the area and Bobbi took us to gorgeous spots to get some amazing shots! We just got married two weeks ago and we already got our pictures back from them and they are so perfect - they are worth every penny!

Hayley

Married on 12/30/2017

Stop searching! Planning a destination was hard, but having Bobbie and Tina there was the best decision we made! They were so helpful in recommendations for other trustworthy vendors, they answered ALL of my questions, and they made our wedding perfect. Our photos turned out amazing, Bobbie is one of the best and she is affordable. I promise you won't regret this decision. They love what they do and it shows! Forever grateful to have them a part of our big day, they made it unforgettable.

Tara

Married on 12/09/2017

When planning my destination wedding in Savannah, I relied heavily on reviews to make vendor selections. In the hopes of helping a future bride, I'm writing to share my phenomenal experience with Bobbi Brinkman. From our first phone call, I knew she was the best person for our wedding. In selecting your photographer, you need someone that will record the special memories of the day and Bobbi does just that! She gets every special moment and even those moments that you do not notice. In reviewing our photographs, we were amazed at not only the quality of the pictures, but the memories that were a blur during the wedding day are forever captured for us. I believe that some people think any photographer will do, but I am here to remind every potential bride that pictures of friends and family will be so important when the pictures are all you have left. I will forever treasure the memories captured in our photos.

In closing, you will work closely with your photographer and you need someone that will make sure everything is the best. Bobbi and Tina were always looking out for me. They were responsive and helpful even taking over things the day of, as needed. I truly could not imagine my day without Bobbi. The stress of the day had gotten to me and upon her arrival, I immediately felt relieved. If you want an extremely talented photographer and absolutely FABBO person, look no further than Bobbi Brinkman.

Peyton

Married on 11/04/2017

Bobbi Brinkman Photography did an AMAZING on our wedding photos!!! They turned out beautifully and I could not be more pleased. Bobbi made the photo taking process easy and fun. I highly recommend BBP for any event you need photographed.

Nancy

Married on 11/03/2017

Bobbi and Tina are the absolute best! I am so glad my coordinator introduced me to her because the memories she captured were unbelievable. She was so kind to include an engagement session for us even though the wedding was only 4 months away.... and we had been engaged for over two years! It was a great way for us all to get to know each other. She is very accommodating and will do pretty much anything day of to get the perfect memory on photo. The quality she produces is phenomenal and can't wait to share all the amazing moments with family and friends.

Jackie

Married on 10/06/2017

I wish there were 5 more stars to give!
Bobbi was the only photographer who's photos make me want to be there and know the people. I knew immediately she was the one I wanted for our wedding. I could not believe she was available on our date which was only a few months away.
We had a very small wedding and somehow I thought that meant it should go smoothly, haha. Fortunately, Bobbi took the challenges of the day in stride and was somehow able to help guide us through special moments that she captured... well, as only she can.
We have spent the last week talking about how lucky we were that Bobbi photographed our wedding. Now that we've seen the gallery, all I can say is it exceeds our expectations or even what we could have hoped for. Our photos look like a page from South Magazine, they are stunning! Bobbi is an amazing artist and we will treasure what she has done for us.

Mary

Married on 09/30/2017

Bobbi and Tina were both absolutely amazing! They were in constant communication with us throughout the entire planning process. They took the time to get to know us so they knew exactly what our plans and expectations were. But as the saying goes, "The best-laid plans ofmice and men often go awry," and our wedding was no exception. We had to move our ceremony from the beach to the park due to bad weather. First, Bobbi gave us straight talk about the conditions on the beach and the problems they presented to everyone involved. After we agreed to change the ceremony venue, she helped coordinate the changes with us at the hotel and with our wedding planner, Ally Moline, at the venue. Her and Ally made a great team, and they did a remarkable job of making the changes appear seamless and keeping everything on schedule. Bobbi even stayed longer than contracted to capture some of the fun moments after the formalities of the reception had ended. We were able to access our photo gallery in less than 2 weeks, and we were very pleased with the quality of the photographs. When you first speak to or meet Bobbi, you quickly learn that she loves what she does. She's a consummate professional but also one who is not afraid to tell it like it is. Bobbi and Tina brilliantly captured every moment, and we are so proud to be a part of the BBP family! I will recommend Bobbi Brinkman Photography to anyone looking for a wedding photographer near or far.

Jen

Married on 08/19/2017

Bobbi was wonderful! She truly went above and beyond for our special evening. She braved a storm and helped replace our band that decided to leave during the ceremony due to the rain. We couldn't be more thankful for the way everything turned out! The photos turned out beautiful and captured our special day. Thank you again! Tina is also wonderful with communicating. I would certainly recommend them for any event! They make you feel warm and welcomed ????

Nicole

Married on 06/22/2017

We LOVE, LOVE, LOVE working with Bobbi and Tina – they are an all-star duo. We were a semi-last minute destination wedding and I was on the search for a photographer on Jekyll Island. I went through what seemed like 100s of websites and found Bobbi – her works speaks for itself…AUH-mazing. Called and left a message and within minutes she called me back. Her knowledge for the area and resort, put me at ease. She gave recommendations on ceremony location and places to check out. I knew she was it. Her and Tina kept in touch over the next couple of months with well wishes and updates on the day of. She was extremely responsive and listened to what I envisioned. Being a small wedding – my now husband, three kids and minister – we didn't do much pre-planning. Bobby was extremely flexible and put at all at ease. She was amazing with the kids, they laughed and had the best time and you could see that in the photos.

We could not thank Bobbi and Tina enough for making our wedding day so amazing. Oh…and I just got our photos -6 days later (I know!!) and they are perfect. I am so excited to share with family and frame on the wall. They top-notch professionals. We can't wait to book them for next year's anniversary trip!! ?

Are you interested?
Send a message