Reviews
4.9 out of 5 rating
Quality of service

4.9 out of 5 rating

Average response time

4.9 out of 5 rating

Professionalism

4.9 out of 5 rating

Value

4.8 out of 5 rating

Flexibility

4.9 out of 5 rating
98%
Recommended by couples
5 User photos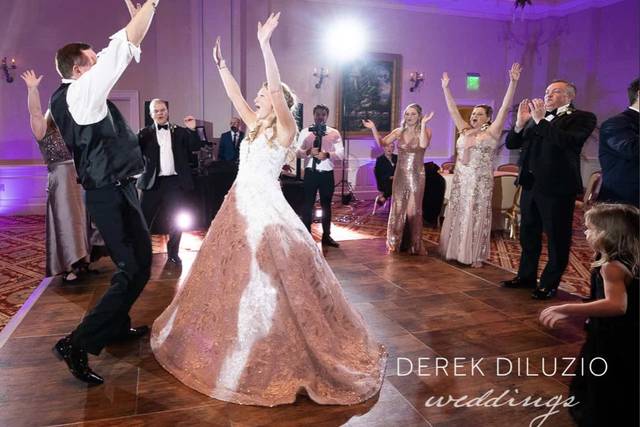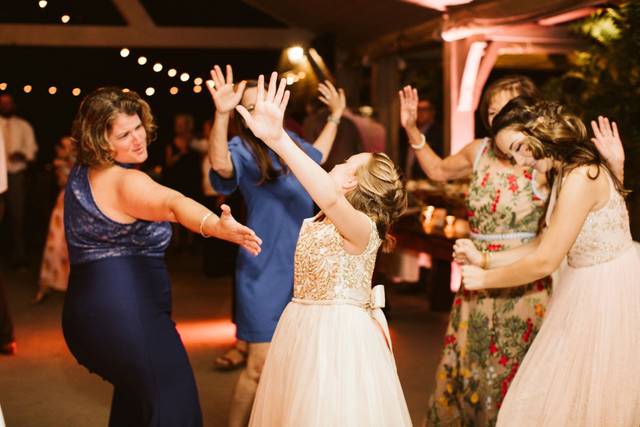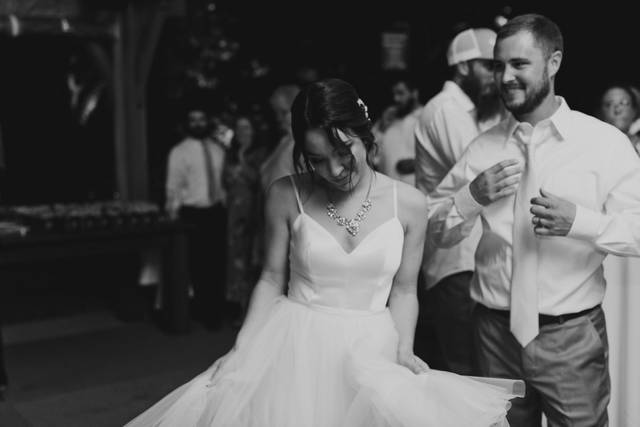 Monet F.

Married on 04/02/2022

Dylan made the night so much fun!

Dylan made the ceremony and reception so much fun. He was very responsive when I had questions and played every song on my playlist I provided. A week before my wedding we talked about how the night would go and it made me feel comfortable because he was well organized. He has been doing this for 20 years and is very experienced. i would recommend him to anyone. Thanks so much Dylan. You made the dance floor so much fun!

Mrs. Fisher

Erin W.

Married on 07/16/2021

Highly recommend this DJ vendor!

My husband and I were so pleased with the services by Blazin Sounds Entertainment! We were traveling from out of state for our wedding, and our photographer recommended this company. They were very responsive and great to communicate with leading up to the big day. Chris was our DJ and did a GREAT job at keeping the crowd dancing the night away, per our request. The up-lighting was a great suggestion and so glad we did it. Thank you for a night we'll never forget!

Annelise S.

Married on 06/19/2021

Outstanding DJ made for the best party!

DJ Chris from Blazin Sounds did the music for our wedding reception on June 19th and was absolutely phenomenal! Chris did an outstanding job of working with us on different types of music for dinner and transitioning into dancing - our guests loved it. There was never a moment when the dance floor wasn't full! The uplighting Blazin Sounds is able to provide also enhanced our reception space and made it feel like the party it was. Leading up to the wedding Dylan and his team were easy to work with, attentive, and always professional. The planning document they send helps to get a sense of the style of the wedding, the guests, and the couple which was wonderfully helpful. We can not say enough good things about DJ Chris and the whole Blazin Sounds team and would recommend for anyone looking for entertainment. Thank you!!

Are you interested?

Send a message

Jen

Married on 04/10/2021

Wonderful to work with!

We truly enjoyed working with Blazin Sounds. Our DJ, Chris, really took the time to understand what kind of vibe we were trying to create. He was knowledgeable, laidback, accommodating and professional. After speaking to him, I completely trusted that he knew what he was doing and could read the room. The whole team was wonderful to work with. Highly recommend!

Ashley G.

Married on 07/18/2020

So much fun!

He did an excellent job with not only taking my music taste and preferences in mind, but adding the perfect song to keep my wedding party going. It was so much fun!

Blazin Sounds Entertainment's reply:

Thanks for taking the time to leave us a review. We truly appreciate it and it was an honor for us to be a part of your big day!

Paige

Married on 08/31/2019

Party of a Lifetime

Dylan was absolutely amazing. From the ceremony, to the toasts, to the first dance, to the dance party, he delivered exactly what I wanted flawlessly. He and his co-DJ were the picture of professionalism, and I could tell he was really listening to me when we did our consultation the week before the wedding. Not a single song was played that I didn't like, and people were dancing all night. Worth every (reasonably priced) penny. Thank you Dylan!!

Nicole R.

Married on 08/28/2019

Fantastic!

LOVE working with Dylan!!! We have worked together for years, and it is always a pleasure. He is kind, timely, and knows how to get a party going! I am always completely comfortable referring him to our clients, and look forward to working together again soon!

Kelly M.

Married on 10/14/2018

very professional

Dylan was a relief. He was so professional. We gave him a detailed list of songs for our wedding reception and he delivered exactly what we requested. We didnt have to worry about a thing!
Thank you Dylan. You were fantastic!

John

Married on 09/22/2018

Outstanding Event

My wife and I could not be happier with Dylan and Blazin Sounds, he did a great job at our daughter wedding. Many of our quests complimented how well everything flowed and what a great job Dylan did through the evening. The old saying is true, you get what you pay for. I'd highly recommend using Blazin Sounds and booking Dylan for your next event.

Lindsay

Married on 05/05/2018

My wedding guests will be talking about the music at our reception for YEARS! I made sure to pick out a top notch wedding DJ so that my music-loving family would enjoy themselves, and I could not have found a better, more professional DJ! Dylan's associate, Alex, was amazing. He read the crowd and changed the song halfway through if he could tell people were fading. He even switched the song after 30 seconds when I told him I didn't like it (the ONE song out of the entire reception that I didn't like)! He dealt with all of our music changes before our wedding day and answered by text quickly and professionally. Highly recommend Blazin' Sounds if you want to make sure you'll have a great event!

Lauren

Married on 09/23/2017

Dylan was great to work with- he was responsive, completely open to our ideas, and extremely professional. We were looking for a DJ that would not be cheesy and who we could trust to entertain our diverse group with ease- and Dylan did a great job! Our venue was rustic and had limited infrastructure for sound, but Dylan was a total pro- the sound was perfect all night and he transitioned between our ceremony, cocktail hour and the reception beautifully. He played all the songs we requested and totally fit to our style without us even having to explain it to him. Our entire group- from youngest to oldest and those with a wide range of music tastes were dancing all night! We didn't want the party to end- many of our friends said it was the best wedding they'd ever been to! Thank you Dylan for making our day unforgettable!

Matt

Married on 08/04/2017

Dylan made for a perfect night! Everything was spot on. Very professional and courteous to all. He mixed in everything at right times and kept everyone on the dance floor. Never a dull moment. Every guest said they had a great night of fun. Would definitely recommend! Great time and made our wedding night a night to remember!

Lindsey

Married on 07/22/2017

Dylan was great to work with and most of all he made the music planning process simple and organized. I personally didnt know how much planning went into the big things as well as small things and I can honestly say Dylan was more than helpful and made a very stressful time stress free. If you want to have fun and also want your guests to have fun--Dylan and Blazin Sounds is your best choice!

Stephanie

Married on 06/18/2017

We are so glad we chose Blazin Soudns Entertainment for our wedding! Dylan and his Associate were amazing and kept the dance party going all night long! They were professional, punctual, and great at reading our mixed crowd (my side of the family is Latin and my husband's is American). I was dancing the ENTIRE night...from start to finish along with our guests! Dylan truly went out of his way to accommodate us and provide an excellent service!! He listened to every detail we discussed during our phone conversations and was on point with every song at the right time (entrance, cake cutting, slow dances, etc.). It was the best party ever!

Amanda

Married on 05/27/2017

The major goal of this wedding/reception was that we wanted everyone to have fun. Dylan delivered. There wasn't a moment after the music began that the dance floor was not packed. He knows how to read the crowd and the vibe of the moment and play what needs to be played. His equipment is beautiful. I had no idea what I was looking at but I knew it was top notch.

The most important thing I would say about Dylan is that he is PROFESSIONAL. If you want a clown for a DJ or someone to entertain Dylan is not the one. He is very behind the scene but I couldn't have been more pleased. The bride and groom worked with Dylan to pick the music and although I have not sat and talked with them about that process I believe it was a breeze and Dylan accommodated their wishes.

Words really can't describe how happy I was with Dylan.

Katryna

Married on 05/20/2017

The music at my reception was easily one of my favorite parts of the event. Dylan is an outstanding DJ, and I could not have been more pleased with his work. So many of my guests commented about how impressive the music was - and a few were convinced we had provided a playlist. Nope. We gave Dylan some basic information about our style, and he asked that we just let him do the work. It was honestly so perfect. Songs that I had forgotten even existed kept our guests dancing. It fit our vibe perfectly, and I wasn't worried for one second about what would play next. One detail that shouldn't go ignored is the inclusion of lighting. It's easy to forget how important lights are to creating atmosphere at a venue. It is absolutely worth adding this feature to showcase your venue at its best. Dylan was an absolute professional and so easy to work with. Recommended with all my enthusiasm!

Janet

Married on 10/29/2016

Dylan was fantastic! I planned a destination wedding, so had to work with all vendors long distance. From the first phone call, I knew that Dylan was the DJ for us. He is super friendly and personable and he put me at ease immediately when I explained that music was really important to both of us, but we had an older crowd for the wedding so needed to make sure it was appropriate. Dylan explained that one of his strengths is reading a crowd and he was spot on with the music at our reception. He also made it very easy to work with him by providing an easy-to-use form where we could list our favorite bands and songs. I listed about 15 bands and I am pretty sure he played at least one song from all of them. I also asked for a specific type of music during cocktails and dinner and he delivered. Several of our guests mentioned how great the music was and by the end of the party, we had everyone dancing -- from age 89 to age 29, I truly believe that the music provided by Dylan was THE key ingredient to our totally fun wedding reception ... many people said it was the best wedding they've ever attended. And, most importantly, the my new husband and I had a blast and danced all night. Thank you, Dylan!

Tammy

Married on 10/15/2016

Dylan and Jason were so easy to work with during my daughter's wedding. They were so professional and provided a wonderful evening full of entertainment to our guests. He played a variety of music that we were able to choose and have input on. Everyone was dancing and on their feet during the entire event. It was wonderful! The planning and detail that went into the event was quite evident. I did not know Dylan, but he was recommended by another DJ who was not available. I was hesitant that he himself was not providing the service , but his response to me was he would not employ someone who would be a negative reflection of his company. I appreciated that, and he did not disappoint me at all. Jason, did a superb job and Dylan worked with us every step of the way! Thanks guys! You were amazing! I would highly recommend Blazin Sounds Entertainment for all of your DJ needs in the Asheville, NC area!

Elijah

Married on 09/24/2016

Dylan was great! We had a blast!

Taylor

Married on 08/13/2016

We were blown away by the professionalism, willingness, communication, and execution that Dylan and his Blazin Sounds Entertainment provided. I was in a bind to book a DJ last minute, and Dylan not only worked efficiently to find someone for us, but also honored our budget with thoughtfulness and generosity. Our wedding reception couldn't have run more smoothly, and it is largely in thanks to Michael, our DJ, who handled announcements, music, and the fun atmosphere. Thank you guys for being a team we were proud to work with and could depend on for our big day! All the best, Taylor and Will Wellman.

Dona

Married on 07/19/2016

Dylan was fabulous! When I first met him at the reception he said just gets a feel for the crowd and goes from there. Boy did he get our feel, and everyone had a great time! Would recommend him every time! Thank you Dylan
Phillips/Gash Wedding

Davidson

Married on 05/14/2016

I'm a true music lover and dance enthusiast, with high hopes for my own wedding reception turning into an awesome dance party, so I set out to find the best DJ in the area. My greatest fear in hiring a wedding DJ, was that I might not find a true professional. I did not want an elementary school teacher look-alike, who merely has a playlist, and "does weddings" a few times per year. Dylan far exceeded my expectations and my wife couldn't be happier with him. First of all, he has a superior setup to any other professional DJ I have ever seen. He has amazing sound coming out of those speakers and a sleek DJ booth that showed no wires and really looked classy. The DJ can really make or break any occasion, and Dylan truly made our night unbelievable with great dance music! Even guests who "don't dance", were out on the dance floor all night long! My 89 year old grandmother was dancing until 11 pm! He did an amazing job reading the crowd and playing the perfect songs to keep everyone excited. His blend of various genres (including house and techno music at our request) was amazing and I struggled to find a break from the dance floor. My wife and I extended the party by an hour, and Dylan did not skip a beat! He also did a great job at illuminating our reception hall! The uplighting really made the venue glow (and the lights even changed to the beat of the music!). I can't say enough positive things about Dylan and Blazin Sounds and would recommend them without hesitation to anyone looking for a DJ. My wife and I can't wait to come up with another excuse to throw a party and have Blazin Sounds handle the entertainment!

Nikki

Married on 03/12/2016

Planning a destination wedding in Asheville was extremely exciting, but also came with certain challenges of living in Miami. We were able to familiarize ourselves with many vendors, such as photographers, videographers, floral, etc. by seeing a lot of their work and knowing pretty much what we would be getting. The DJ selection however, was very stressful. Not only is it more difficult to know exactly what the DJ would be like, what songs would be played, and how they would interact / lead the party…but we also considered it one of the most important aspects of our wedding. Our group of guests were dancers, partiers, and people that love to have a good time. When my husband and I look back at the weddings we had been guests at that we enjoyed most, it was mainly due to the music, atmosphere, and "fun". Our families are also of Hispanic backgrounds, and we were therefore interested in having music from all sorts of genres.

There is no way to sufficiently describe and explain how unbelievably awesome Dylan was at our wedding. Our guests all had a blast and it was mainly thanks to him! We were spoiled by a fancy meal, amazing decor, and the Biltmore Estate beauty, but my best memory of the reception will always be the nonstop dancing, the awesome party, the hysterical laughing and singing, and the looks on all of my guests faces, both that night and in all my pictures, as they had an absolute blast. Dylan perfectly mixed the perfect songs from the exact genres we had hoped. The only downfall was the fact that we couldn't extend the party even longer than we already had. Not one guest was ready to leave, but they do say that's what makes a great party.

Working with Dylan before, during, and even keeping in touch with him after the wedding has been an absolute pleasure. He is unquestionably talented in what he does, but is also a great person, which I think says a lot. I would love to tell you more. Email me at Nikkis0902@gmail.com :)

Dylan was really a pleasure to work with. I contacted him about 6 months before our wedding date as my wife and I were trying to decide on hiring a DJ or a band. Dylan provided us with a lot of great information to help us make the decision that best suited our wants and our budget. Throughout the process, Dylan was available through phone and email to answer any questions we had. Dylan provided music for both our reception and our ceremony. He helped us with making appropriate song choices after talking to us about our style and preferences. His website and resources were very helpful to us as we planned for the wedding. About a week prior to the wedding, we had more regular calls to go over the timeline, ceremony, and reception. Dylan worked independently with our wedding planner to make sure that his timing, introductions of our wedding party and his set up for the ceremony and reception were correct. It was nice for us not to have to worry with that detail. Because we had a lunch wedding, we were really worried that people wouldn't dance during the reception. Dylan worked his magic and made sure that those fears quickly went away. The combination of the setting, lighting, and music made it feel like we were at a club dancing the night away. We had many guests come up to us during our reception and at the after party just to tell us how much they enjoyed the music and the DJ. They were all really impressed with his song choices, his mixes and his transitions. Overall, we had such a great experience working with Dylan and would highly recommend him for anyone who wants to have an awesome reception without any worries. Thanks Dylan for making our big day that much more special.

Dylan was absolutely fabulous to work with for our wedding in July. He made the planning process easy! His knowledge about the industry is expansive and his ideas and suggestions were spot on. His website made it easy to customize the kind of music you enjoy. We had a super fun and energetic dance party and he kept the party going by reading the crowd. We received rave reviews from our guest and are so thrilled with his entire performance. He was professional throughout the entire process and a joy to work with! Thank you Dylan!!
Are you interested?
Send a message