Reviews
4.9 out of 5 rating
Quality of service

4.9 out of 5 rating

Average response time

4.9 out of 5 rating

Professionalism

4.9 out of 5 rating

Value

4.9 out of 5 rating

Flexibility

4.8 out of 5 rating
98%
Recommended by couples
79 User photos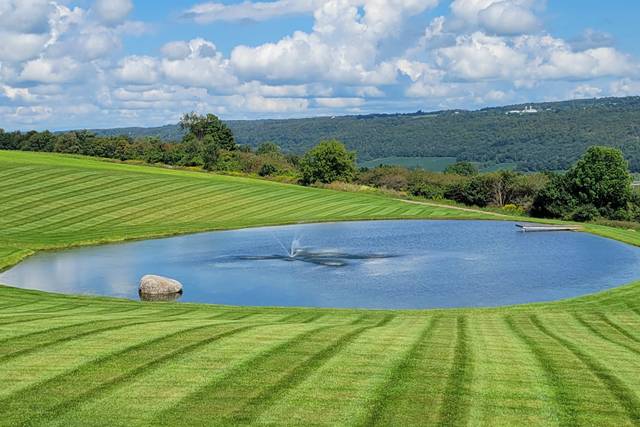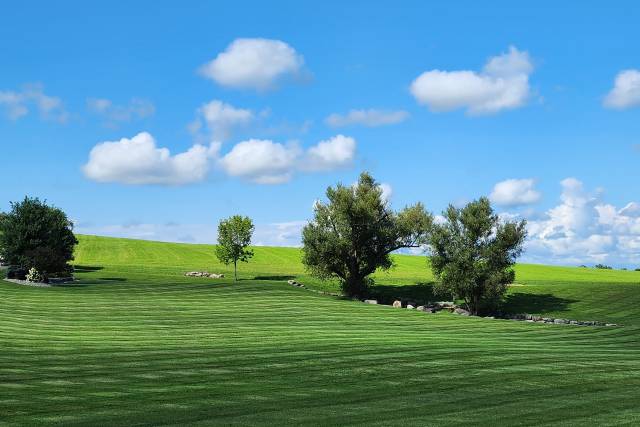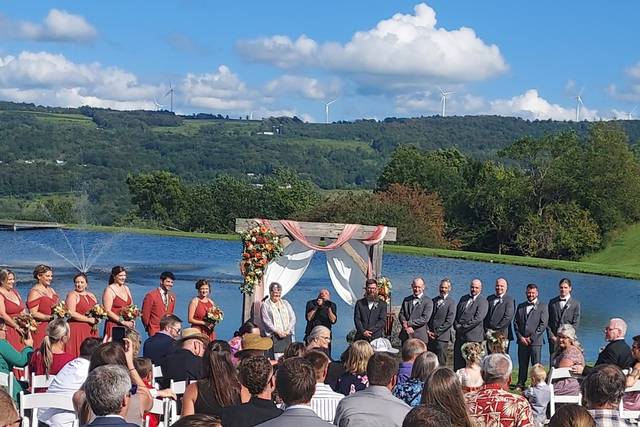 + 75

photos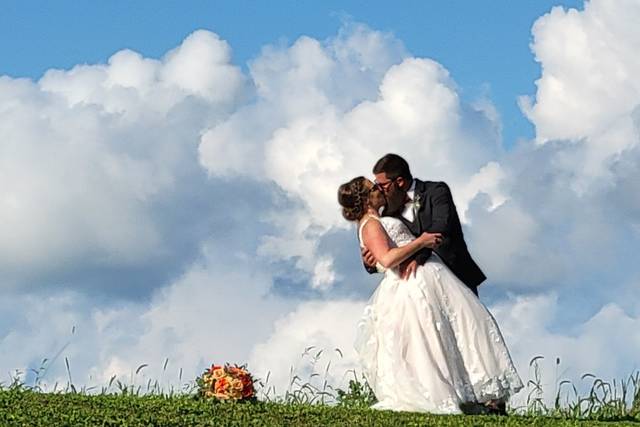 Jamie

Married on 08/26/2023

Exceeded any expectation I thought I had

I'm not entirely sure where to start with this review because everything exceeded any expectation I had in my head for my wedding. We had looked at one location prior to pulling up to the Best View Barn. I vividly remember looking at my, then fiancé, and before the van stopped, we knew then! [we booked it that week!] Just the property itself sold us, but then we met Kari and we knew we had easily found our venue! The owners, the staff, the views, everything was just perfect. The rolling hills, the immaculately cut grass lines, the landscaping [AND THEIR NEW WATERFALL!], the windmills on the backdrop mountains – picture perfect, and not to mention the perfect Red Barn! The inside is beautiful and the bathrooms were huge! They kept the rustic look and feel while making it manageable for all guests – we really loved how they didn't remodel and "redo" the inside to make it more modern – part of what sold us was the original barn look! Our guests (and even those that just saw pictures online) continue to ask where this venue is and for their website. I recommend this place to everyone I talk too – I just wish we could hold another event there someday! I hope others choose this venue, because trust me, it will exceed all of your expectations. The price was definitely reasonable at first glance – then with all of the help from Kari and her family – it was well worth it. Let me also add in, they offer a small price to clean up for you! All we had to do was pick it up the next day, that alone took so much stress off of us!! Kari was very upfront with the rules of the property, which we loved – and was ALWAYS willing to answer my weird questions, over the 20 months we planned this! She was there for us and we could tell – she wanted us to have the perfect day – which is exactly what we had. Kari's husband and father were equally amazing and friendly, and the bartenders were so friendly – I felt like they were there as guests – as did my guests! Everyone was comfortable with each other, communicative, and honest – what else could you ask for? We had no idea how to plan or what to even ask – Kari helped us achieve the perfect wedding day that we will never forget. We're so happy with everything and are so lucky to have left with new friends!

+ 15

photos

Alexis S.

Married on 07/17/2021

Wedding Day

Best View Barn's name says it all! The view and the venue itself is truly beautiful. Kari was super helpful throughout all the various stages of planning (and postponing and re-planning) a wedding! I had a million and one questions throughout the process and she was quick to respond with an answer; always putting my mind at ease.

The morning of the wedding she was a life saver! She was running around all over the place to make sure we had everything we needed and tying up all the loose ends! She ensured me she would handle everything and that's exactly what she did! Our wedding day day was the the best day ever! 💕

+ 7

photos

Mckayla C.

Married on 05/22/2021

Bride Review

Kari and her team at the Best View Barn are absolutely amazing!!! Kari thought of every detail, was extremely responsive and helpful with all questions/concerns, and when the day came, she made our vision an absolute reality!!! She was on top of everything and orchestrated our special day so perfectly. Her expertise with weddings as well as her professionalism is what made our wedding so perfect. The venue is SO beautiful, well kept, and even has a gorgeous bridal suit! You cannot go wrong when booking with Kari!

Are you interested?

Send a message

Claire M.

Married on 10/04/2020

Such a beautiful venue

Best view barn is hands down one of the most beautiful venues in CNY! All the planning was super smooth and easy and Kari was always helpful and quick to respond to any question. I don't know what I would've done without her the day of the wedding! Everything went so smooth and she was there to help with any little (and big) thing all day long!

Haley

Married on 08/23/2020

Amazing!!!

I haven't even had my wedding yet an I am so impressed with this business. I have had some conflicts and Kari has been nothing but accommodating and incredible. I can't wait to get married there!

Maeve B.

Married on 08/01/2020

Best View Barn for the Best Day Ever!

Getting married at Best View Barn was the absolute best decision we made when it came to our wedding. We knew before even taking a tour that Best View Barn was it, and I'm so glad we were able to have the best day of our lives at such a beautiful setting. Everything I could have dreamed of came true, and Kari made every step of the process, especially the wedding day, absolutely perfect. Kari was wonderful to work with, and everyone involved in the wedding agreed. She made sure to accommodate every request, was a great communicator throughout the process, and helped to put my mind at ease so I could just get married without worrying about a single thing. Being able to trust that she would make everything run smoothly was essential when getting married in a pandemic, and she helped to make it the best day ever even though it looked different than what we originally planned. I could not have imagined getting married anywhere else, and I would highly recommend Best View Barn if you're looked for a classic, elegant barn setting for your wedding day.

Allison

Married on 11/02/2019

Most beautiful day ever!

ATTN ALL BRIDES: If you want a beautiful wedding, with a built in wedding coordinator who will make sure your day is stress free, then look no further than Best View Barn. It's called "best view" for a reason...it's stunning. And it doesn't just stop at the outside, the inside is just as gorgeous. We, unfortunately, couldn't have our wedding outside due to the weather, but the ambience inside (in the separate ceremony space, might I add) was just as perfect. Every bride is going to stress out on their big day, but Kari tries to alleviate as much of that as she possibly can. Take it from me who freaks out over the smallest details and can't trust anyone with "my vision," I promise you'll be able to trust Kari..she will take care of it all without even batting an eye at the slightest hiccup-she handles everything with such professionalism and ensures that the day comes together even better than you could imagine. Guests were skeptical when they received our invite to a "barn wedding;" they didn't know what to expect. All of those guests left saying that it was one of the most beautiful, elegant weddings they have ever been to. Between the uplighting, the string lights, the drapery, the windows..this venue is so versatile it can fit any "theme" you're going for. Thank you Kari and the rest of the team at best view for such a perfect day!

Taylor

Married on 10/12/2019

The best!

This is the first review I've EVER written - because Kari and her crew 100% deserve it. I was the typical nervous-about-everything/million questions bride and Kari calmed my nerves every step of the way (she is extremely organized!). The barn is just the cherry on top; the bridal suite, balcony for extra tables, large deck and the impressive lawn make for a really nice flow. HIGHLY recommend !!

Morgan

Married on 10/05/2019

Best View Barn is just as the name sounds, THE BEST VIEW. I knew I wanted to get married there the moment I walked through the doors and saw the view. The valley, the hills and windmills are absolutely stunning, lets not forget about the pond either. I booked my wedding and ceremony at this location because of the friendly service and beautifully restored barn! I cannot wait for 2017!!


Maureen

Married on 08/30/2019

Kari is amazing!

We had my son's wedding at Best View Barn. The entire wedding was planned from Miami with myself as the go between. I can't stress enough how professional Kari is. She has great vision and helped with many ideas that turned out to be spot on. The ceremony was also held at the venue. She set up our decorations without being asked. The bridal room was fantastic as we had hair and make up done as well. The entire event was flawless. Kari and her staff are amazing. I would recommend this venue. Like the name it truly has the Best View and staff.

Kimberly P.

Married on 08/30/2019

Best Wedding Venue around

Big Thank you to Kari and Best View Barn for giving us the dream wedding i have always wanted. Kari was so helpful and was always there to help with anything, quick to respond to emails or phone calls. The Day of the wedding i was so relaxed because she told me that its going to be perfect, and it was. If your not getting married here your wasting your money, you wont find a better venue. A true dream wedding location.

Jennifer

Married on 08/10/2019

Best View Barn is incredible in every single aspect!

Best view barn is absolutely amazing! My husband Collin and I just got married here and it was everything we ever dreamed of and more. We knew from our first visit that this is where we wanted to host our wedding. Kari and her entire family and staff are so wonderful. They went above and beyond to make our day perfect. We have already gotten compliments galore from our family and guests about the barn and how beautiful it is. Thank you Best View Barn for our PERFECT wedding day!!

Allison

Married on 07/14/2019

Outstanding

They were absolutely amazing! All of our meeting went great and the day went by so smoothly! The Staff there is great on the day of they are truly hard workers! I am so great full that we were able to have our wedding here if anyone is look for an amazing venue with literally the Best View I would Pick this a million times again for anyone!

Brooke

Married on 07/13/2019

Truly the BEST venue

The venue is to die for!!! I had the most magical wedding and I'm so glad this is where I had it! The venue is breathtaking and I can't say enough great things about Kari. She made my day stress free and pays attention to every detail to make sure your wedding day is nothing but perfection!! My guests also all fell in love with the venue. Huge huge thank you to Kari and her crew for the best and most memorable wedding day at your beautiful venue! Much love - The Murlings 7.13.19

Erika

Married on 07/06/2019

There is a reason why this place is called THE BEST VIEW!

My husband and I got married in July of 2019. This has taken us so long to write because we have wayyy too many amazing things to say about this venue. First, we could have not asked for a better wedding coordinator. Kari is absolutely amazing! She responded promptly to our many emails, gave great advice on other vendors, kept me more calm on the big day, and made sure everything was set up beautifully. Her and her family have done so many beautiful upgrades to the barn and are still continuing to do this! This was the first barn that we looked at when searching for the right place. We knew right away that this was where we had to have it. One of the main reasons why we chose the Best View was that they had a plan B. Growing up in Central New York we knew that there would be a big chance of the weather not cooperating. We just so happened to be that lucky couple that got rain throughout our day. Thankfully, the Best View has an entire separate room of the barn to hold a ceremony. It was the last thing I had wanted to do, but I am so happy that we did it inside! 1: It ended up down-pouring during the ceremony 2: It was stunning inside (our pictures prove it). If you are looking for a rustic wedding in the Central New York area, you will not regret going with The Best View Barn. You will not regret it!!

+ 8

photos

Jerrica W.

Married on 06/22/2019

Magical. Stunning. Breathtaking.

From the moment we meet Kari we knew we were in good hands. Kari is very precise, there are no surprises with her! Her organizational skills are exceptional. My questions were answered almost immediately. Kari's communication skills are personable and professional. Our day was perfect! Nick and I have been together 8 years this year. We have two beautiful children 6 & 2. We are so happy that our babies were able to witness such a magical day filled with so much love. The venue is breathtaking, our guests still rave about it! Our photos are absolutely beautiful! Our wedding day will forever be one of our favorites! A huge thanks to Kari and her family for all of their hard work!

Love,

Jerrica & Nicholas Williams

+ 16

photos

Audrey

Married on 06/15/2019

Perfect barn experience

Kari and her staff were absolutely fantastic. She was always on top of everything and made sure we weren't forgetting anything leading up to our big day. She was extremely responsive in her communication and made everything so seamless. The barn is gorgeous, including the inside of it and the outdoor portion with the picture perfect view of rolling hills and windmills. She was very helpful with the coordinating leading up to, as well as the rehearsal and the day of the wedding. She constantly checked in with me on our wedding day, making sure we were good and to see if we needed anything, which I really appreciated! Best View Barn is such a beautiful venue, and we're so lucky we got to spend our special day there.

Victoria M.

Married on 06/09/2019

Gorgeous ///

The venue is gorgeous! We booked the venue for June 9th this year and the weather, location, and barn were perfect. The space is immaculately maintained and we cannot recommend it more. Since we booked our wedding, Kari has been so accommodating and professional. She was so helpful through the planning process and made sure we could seat all our guests. Thank you Kari so much, for making our day run smoothly!

Alyssa

Married on 06/01/2019

Dream Country Wedding

I've always dreamed of having my wedding in a barn, something that felt like a barn and fit with my easy going country ways yet was still beautiful, elegant, and really felt like a wedding venue not just a barn. Best View Barn was exactly that and more. A year and a half ago it was the second place we had looked at and I knew it was the one right away! We had our wedding there on June 1st, 2019 and the forecast was rain, rain, rain and we lucked out and the weather was so amazingly perfect we had a hard time getting our guests inside to dance because they all wanted to be out on the huge deck or outdoor patio playing cornhole and enjoying the best country views around. You barely even have to decorate the barn because of the lights and just the overall rustic beauty.

Kari was exceptional, she literally knows everything. The ins and outs, all the answers to any question or thought you may have or if you don't have any like me because I was just so clueless she helps get you there. She coordinated the whole wedding day to flow so smoothly. Her whole family really knows what they are doing on the wedding day, the place was so clean and perfect and taken care of and so were we.

If you're looking for a classy, elegant, beautiful (you can really make it what you want), perfect, country barn wedding Best View is THE place! Recommend 100%, couldn't have pictured my wedding anywhere else!

Sarah

Married on 11/03/2018

Amazing Venue

Absolutely thrilled with the venue and service we received from the amazing family at Best View Barn!! Thank you for EVERYTHING, Kari!!! 😊❤️

Brad

Married on 10/07/2018

We held our wedding at BVB and cannot recommend it enough. It is an absolutely beautiful venue - the area, the view, the trees, the pond, and of course the space itself. The inside of the barn is gorgeous and the owner has updated it nicely and kept it well maintained. We had countless comments from guests about how unbelievable the venue was. The process of visiting and making the arrangements for the wedding was very seamless. The owner, Kari, is very accommodating, professional, and easy to work with. Throughout the planning stages and on the actual day of, she was tremendous to work with. She truly made every effort to ensure that our day went off without any issues. Overall we were so pleased with Best View Barn and we would easily recommend the venue a thousand times over.

Matthew S.

Married on 09/22/2018

Beautiful functional Venue

Kari and her team at Best View Barn were amazing and made our wedding day absolutely perfect. As soon as we saw Best View two years ago we knew it was where we wanted to get married. They have made so many wonderful improvements since then and it really shows their commitment to make their venue the best in every way. Kari and her family were so easy to work with and everything we were promised was delivered and much more. The functionality of the space fit all of our needs and the personality of the team made it easy to plan our wedding day. We are so glad we chose Best View and would recommend to everyone.

Kristen

Married on 08/24/2018

Kari as her staff were amazing! We hit some bumps on the along the way, but Kari was right there to get us through it. Everything turned out amazing for our wedding! We couldn't be happier.

Alicia

Married on 08/04/2018

Last year when I toured the barn I knew it was absolutely the perfect spot to get married. The setting there is so beautiful. After getting married there this past weekend I'm SO happy we chose them. Kari was such a pleasure to work with. She made sure everything was taken care of so that I could have a beautiful, stress free day. I cannot say in enough words how amazing she is and her venue is!!

Tracy

Married on 07/21/2018

My husband and I chose BVB for our July 2018 wedding based on the guest capacity, originally. When we saw it in person, our decision had been made. WOW! We still have guests commenting on the venue alone. The price is very reasonable considering what is included. Bar is an additional cost but there are a ton of options to choose from. As a side note, all of the beer is served in cans. This didn't bother us since it went with the overall rustic feel of the wedding, but I figured I would add that note. There isn't any AC in the barn (as of right now) but they provide very large fans and keep the doors wide open the whole night which allows for a wonderful breeze to come through. The bridal suite (located upstairs) does have AC and is beautiful! We hired Three Lil Birds Cakery (Homer, NY) for our desserts, The Munching Moose (Syracuse, NY) Caterers, The Groove Line DJ's (Baldwinsville, NY) and Tides + Pines Photography (Clinton, NY) which were all FANTASTIC!
Are you interested?
Send a message