Reviews
4.9 out of 5 rating
Quality of service

4.9 out of 5 rating

Average response time

4.8 out of 5 rating

Professionalism

4.8 out of 5 rating

Value

4.9 out of 5 rating

Flexibility

4.8 out of 5 rating
97%
Recommended by couples
36 User photos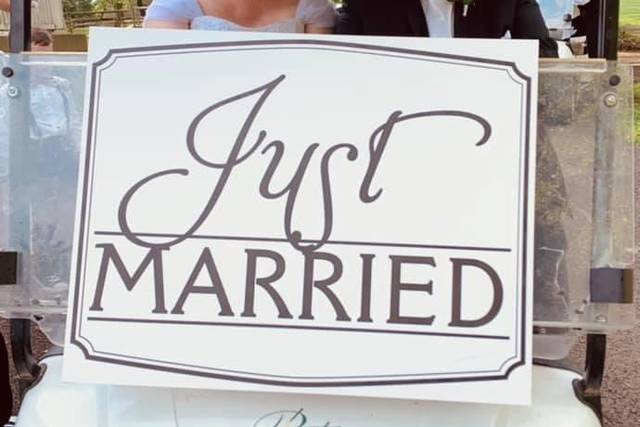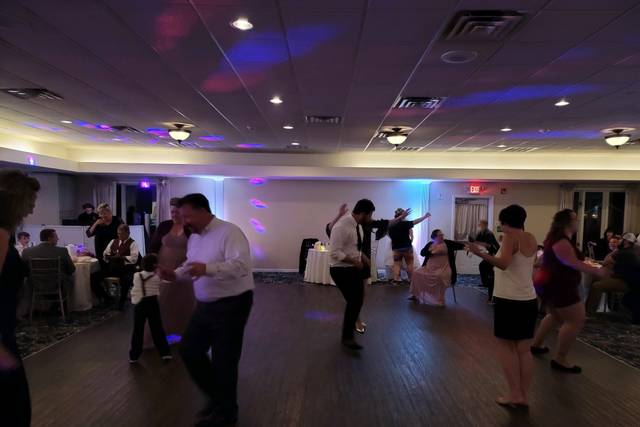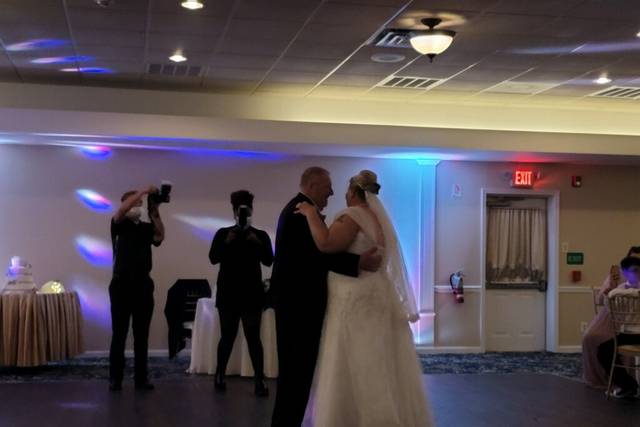 + 32

photos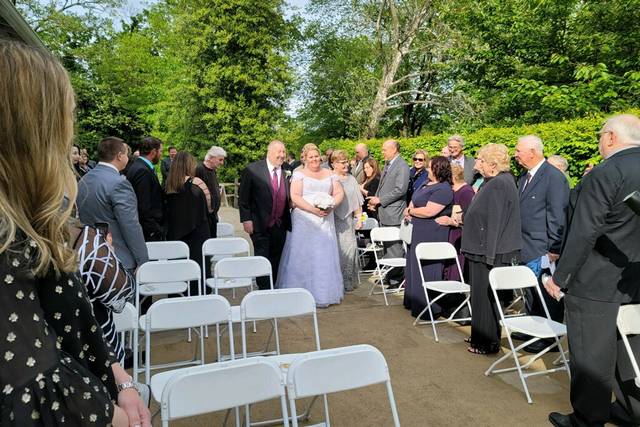 Kimberly

Married on 05/08/2021

Absolutely Perfect

We had our wedding here on 5/8/21. We could not ask for anything else, it was absolutely perfect. Toni and Danielle are the nicest people I have ever met. That really made our wedding amazing. The whole staff are very friendly and helpful through the whole wedding process. We will definitely be using them again for any event we may have in the future and will definitely be recommending them to everyone we know. Thank you for our perfect wedding that we will have the memories to last us a lifetime. Mr & Mrs Freitag ❤️

+ 6

photos

Lea B.

Married on 10/19/2019

Perfect Wedding

They made my wedding perfect!! Tori and the staff were perfect from start to finish! Tori went above and beyond with every detail of the day! The setup, food and the flow of the day was perfect!

Breana

Married on 05/25/2019

A perfect day

We got married 5/25/2019 and it was beyond perfect. From Toni helping in every way she could to Danielle, the bar staff, and every single staff member that made the night possible. It was the most amazing night! I could not have asked for a better venue to have my wedding at. Thank you BTCC!! - Kevin & Breana Agan

+ 3

photos

Are you interested?

Send a message

Kelly

Married on 08/18/2018

Unforgettable!!

If I had to use one word to describe my wedding at The Bensalem Township Country Club; Unforgettable. From the moment my future husband and I took our tour, we didn't have to look any further. Anything I wanted they would accommodate. Kelley sat with me for hours as we talked all things wedding! I knew it's where I wanted but she made the choice just that much easier!! As the months came closer to our wedding, Kelley stayed on top of everyone and everything involved in our big day!! She called me often to make sure I was having the time of my life as a fiancée. The months turned into days and our rehearsal dinner was here before we knew it! BTCC made my rehearsal dinner and my birthday, an unforgettable night with my closest family and friends! From their amazing food to their exquisite desserts, I knew that in just 2 short days, my wedding would feel just like this but even better!!! August 18, 2018, the day my husband and I became a family of 8. Unforgettable. Bridal suite was ready for my girls and before you knew it I was hiding in there getting ready for my FIRST LOOK! Kelley and Toni made sure I was looking my best as they pushed open the back doors and I got to tap on my almost husband!! Unforgettable. The moment he turned around, Unforgettable. His tears, Unforgettable. The moment BTCC & KISS photography created for us, Unforgettable. 1,000 pictures of the bride and groom and then it was almost time to do what we've all been waiting for!! 5:30pm is what the invitation read, but the rain was coming and their expertise kicked in and with ease they had everything ready for 5:15pm and here I came! Toni helped all the ladies round their corner and walk to the alter. Kelley gave me a big hug and there I went with my Daddy on my arm! The rain held off, the vows were exchanged (including our children's vows) and it was time to partayyy! Every little detail was SO perfect. It's what I wished for, since I was a little girl, and it was all thanks to BTCC!!! If you're looking for a venue, look no further. They. Are. The. Best. Period!! Xo

+ 11

photos

Amanda

Married on 09/29/2017

Me and my husband got married October 29, 2017, and The Bensalem Country Club was the perfect venue! We had the ceremony at the gazebo, and it was beautiful. Kelley had it decorated with corn stalks, hay bales, and pumpkins. It complemented the blue dress the girls wore, and the sunflower bouquets.It was also a beautiful place for pictures! The hospitality we received was outstanding. We received many compliments on the food, sweet table, promptness bartenders and how seamless the night progressed. Kelley, Diane and the whole team went above and beyond our expectations, and made sure our wedding day perfect.

Kelley offered suggestions here and there leading up to the day of our wedding, and recommended vendors that she knew would provide excellent service. She was also always available to answer all of our questions and concerns leading up to the wedding day.

Everything turned out beautiful and our guests had a great time. The Bensalem Country Club is beautiful, provides excellent service, and was the best place for our wedding!

Apri

Married on 06/09/2017

Kelly was really amazing. She was there for every step of the way! I would recommend Bensalem Country Club to all my friends and family that are looking to have a wedding.

Jessika

Married on 06/10/2016

They were awesome! They definitely know what they are doing when it comes to weddings. Food was great, everyone loved the food! Very accommodating to any request you have (for example, my family is Argentinian and they made a special Argentinian dish for the wedding).

Susan

Married on 07/18/2015

I LOVED Bensalem Township Country Club from the moment I saw it! The golf course provides for beautiful scenery and everything is in the same location, so you aren't losing half your guests when they are at the bar! The dance floor is a great size and the set up of the hall is perfect.
What really made BTCC great for our wedding was the service. Andrew was wonderful to work with. I could call or email with questions and get a timely response. He definitely worked with me and my husband to make sure everything was perfect!
On the night of the wedding, Andrew constantly checked in with me and my husband to make sure we enjoyed the food, had a drink, and to remind us to take some sunset photos on the golf course.
Many of our guests have contacted us saying how nice the venue was and how delicious the food was.


Rachel

Married on 05/22/2015

We had a wonderful experience here with Andrew. After making an appt to tour the facility we arrived to meet Andrew who immediately made us feel welcome. He was AWESOME to work with!! He was always very receptive to the questions and requests that I had. As we left our tour we looked at each other and just knew we were going to get married here :) Upon picking our day and scheduling our day with him he brought us in for an initial meeting he was great in explaining everything to us to a T. He also had many of great suggestions for photographers and DJs. Our tasting here was another amazing day!! Just so happened everything they had made for us to taste was what my now husband had picked out off the menu that we had picked!! Food was great!! Champagne was great (and I hate that stuff lol) The week of my wedding Andrew was great he let me bring in my surprise grooms cake 2 days before the wedding so my husband had NO idea!! The night of the rehearsal even though it was raining ran very smoothly inside the building even though there was another party going on! Then the day of Andrew was great, made sure we were taken care of at every step. Made sure all the details and effort I had put into creating an environment were executed perfectly!!! He made us feel great and was like another member of our family!!! The servers and bar tenders were all super nice and friendly with my friends and family. EVEN the cooks that came out through out the evening were super friendly!! I would recommend this place to anyone and everyone!!!

We had our wedding on 5-16-15 at the Bensalem Country Club and the day was absolutely perfect due to the attention and service of the country club staff. Andrew, the banquet manager, made sure that every detail was handled. From our beginning planning stages, to rehearsal, to the day of the event, he was friendly, helpful, and extremely accommodating. During our event, the service from servers and bartenders was also amazing. The staff there worked hard to make sure everyone was taken care of. The package and pricing that they offer for the service and extras you get is outstanding. As for the food, I received several compliments from guests that the food was delicious. I've had several items off of their menu and everything is always cooked to perfection. I've been to several weddings in the past few years and the service and quality has not even come close to meeting that of the country clubs.


Katie

Married on 10/04/2014

Bensalem Country Club is truly a diamond hidden in Bensalem. The grounds are beautiful (our outside photos came out beautiful!!), the food was INCREDIBLE, and the way they decorated the reception hall for our event was amazing! The staff was incredibly professional especially the coordinator, Andrew. I can not say enough good things about Andrew. He made all of the planning leading up to our reception super easy and the day of our wedding went so smoothly. He greeted all of our guests, made sure everything ran on time, and kept in touch with my husband and I the entire time to see if we needed anything. Nothing was too much trouble for him during our entire experience with him.
It's clear that Andrew and his staff strive for perfection and for our wedding they most definitely achieved it. I would recommend this venue to anyone I know not only for receptions but for any event.

Michelle

Married on 08/30/2014

Everything everything EVERYTHING was wonderful. Andrew and staff were so friendly and so so so helpful in helping us prepare for our big day. Everything went by perfectly and Andrew was always waiting with a glass of wine for me. I can't say enough about BTCC and their staff. Highly recommend!

Ann M.

Married on 11/01/2013

We celebrated our wedding at the Bensalem Township Country Club on November 1, 2013 and were thrilled beyond words. Andrew Meehan was extremely responsive to all of our ideas and he and his staff made special efforts to make the evening everything we dreamed of and more.

When I first approached Andrew about doing something a little bit different than the norm he listened carefully and came up with a plan to make my "food station" idea come to life. Thanks to his expertise we were able to make some additions to our event that helped make our celebration stand out among the best. Andrew pointed us in the direction of a phenomenal band that rocked the house all night long. His cigar bar idea took our celebration to the next level.

During the planning stages Andrew was always available and treated us as though our celebration was the most important event he was working on.

When we walked into the Rose Room Friday evening we were thrilled. Andrew's staff and their attention to detail did not go unnoticed. The votive candles, up lighting, chair covers, centerpieces and decorated patio transformed the Bensalem Country Club into an amazing venue for our 218 guests.

We have been inundated with phone calls and emails from many of our guests since our celebration telling us what a wonderful time it was. The compliments poured in over the hors d' oeuvres, the mash potato martini bar and especially the stir fry station. Many of our guests mentioned how wonderful and attentive the staff was. The stir fry chefs in particular were a hit as they were entertaining and professional while serving up their craft.

Many guests commented how beautiful the Country Club was. Andrew and his staff showcased an amazing evening that will surely make the Bensalem Country Club a place to consider for someone's next affair. Thank you so very much Andrew Meehan & the BTCC Staff!!!

Steve & Ann Marie Erdman

Jen

Married on 08/30/2013

The Bensalem Country Club was an excellent choice. My husband and I worked well with Andrew, the banquet coordinator, and everything went so smoothly the of my wedding. He was very accommodating to all our requests. We couldn't have been happier with our decision to get married and celebrate there. All of our guests had a great time too.

Lisa

Married on 08/09/2013

We can't say enough good things about the Bensalem Country Club! It was a fantastic choice for a wedding venue and Andrew was so accommodating and easy to work with. The grounds and the reception room are both beautiful. The all inclusive package was very affordable and exactly what we were looking for. Our guests our still raving about the food and how much fun they had. I highly recommend the Bensalem Country Club!

The best time I had at a wedding in a long time. From the food, service, and of course Andrew, the best thing to happen to the wedding industry. Andrew is very professional, he makes your day special through the whole process, from signing up, to when we left at the end of our reception. You will NOT be disappointed!!!

Danielle

Married on 07/28/2012

Absolutely beautiful venue! The manager Andrew was great. Very accomadating through the entire planning process! The chef did a great job and the staff and servers were so pleasant and nice.

Mr And M.

Married on 06/11/2011

Andrew was awesome and bended over backwards to fill our every need. The country club was modern and was great for pictures. I had even mentioned early as a joke in one of our meetings that I loved rice krispe treats and could go with just that on our sweet table and when I showed up Andrew had ready a pile of rice krispie treats set at my bridal parties table for me. It was awesome!

Amanda

Married on 09/18/2010

I could not have asked for a better ceremony/reception site! Andrew and his staff were great to work with and made all of my visions for my wedding day come true. The new renovations have made this place even more beautiful for an event. My day was picture perfect and BTCC had a big part to do with it!

Cindy

Married on 01/31/2009

Our banquet manager, Andrew, was amazing on the day of my wedding. He made sure everything flowed beautifully. The food was great and everything was just how I imagined it would be, thanks to Andrew! I highly recommend the Bensalem Township Country Club for your wedding/reception.

Connie

Married on 06/15/2018

What an amazing day! From the Ceremony to the food to the attentiveness! Everyone still talks about the food and how accommodating the staff at Bensalem Twp. Country Club was! I would highly recommend this venue for any special occasion. We can't thank Kelly Nigra enough for her guidance through it, I really don't know what I would have done with out her!

Lana

Married on 01/30/2016

Bensalem County Club is beautiful. Andrew is great to work with. Their prices are very very reasonable. Food and Desserts at our wedding were great.

Thank you, Andrew!

Diane

Married on 07/07/2012

We had a great experience having our reception at the Bensalem Country Club. The food is excellent! For your per person price, in addition to the food and alcohol, the cake is included along with a dessert table and your table centerpieces!! very good value! Andrew is a great host and even came to get us at a point during the reception because the sun was setting over the golf course and it made for great pictures! Definitely pleased with everything :)

Ericka

Married on 09/13/2008

We were so happy with the service provided by the Bensalem Country Club. We had our ceremony at the beautiful gazebo which looked great in our pictures and wedding video. The food was delicious and the staff was great. They provide a great weekend package!

Danielle

Married on 05/27/2018

We just had an intimate brunch wedding at the BTCC. Aside from a few hiccups at the reception, all was perfect and I would recommend them happily to friends and family. The food was delicious, the rooms were decorated beautifully, and our guests had a great time. Thank you for everything!
Are you interested?
Send a message