145 Reviews
Recommended by 89% of couples
Quality of service

4.4 out of 5 rating

Average response time

4.5 out of 5 rating

Professionalism

4.4 out of 5 rating

Value

4.5 out of 5 rating

Flexibility

4.4 out of 5 rating
22 User photos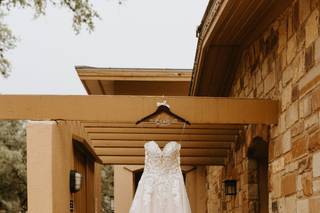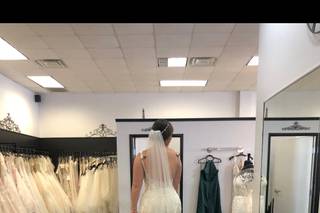 + 18

photos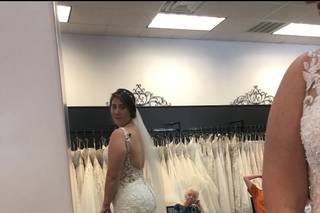 Rehana

Married on 12/18/2021

Amazing staff

I purchased my wedding dress last March 2021 for my December 18, 2021 wedding.
From the day we went for dress shopping to the day I picked up my dress they were very helpful.
Faith my consultant was very accommodating and flexible with her time.
Would totally recommend them!

Emily F.

Married on 04/23/2021

Excellent Options for all Sizes

The dresses they had we're beautiful and there were so many choices not only in bridal but also for the bridesmaids. They were super helpful and so kind throughout the process of finding my dress. I also felt very safe during COVID with their processes.

Mackenzie R.

Married on 01/16/2021

Best experience I've had ever!

I had Faith for my appointment and i truly got so lucky. I went in there with an open mind and she knew exactly how to find what i wanted. She knew exactly where to pick from and i fell In love with my dream dress. Everybody needs to go see her!!!

Are you interested?

Send a message

Brittany R.

Married on 10/17/2020

Great service

I came to Belle Saison after having a terrible experience at David's bridal. The woman helping me was so patient and pulled any and all dresses i wanted to try until I found my one. She really went above and beyond.

Raylynn S.

Married on 06/06/2020

Wonderful!

Scheduling an appointment was very easy. My consultant was Faith, and she was perfect!!I felt comfortable and welcomed. I am a bride who knew what I was looking for, and Faith got to know my dream dress details. I actually tried on a dress and said "this is almost it." Faith pulled another dress and she got it! It was my dream dress! Purchasing was simple and easy, they even applied a discount! My dress came in much quicker than expected. They do not have an in-house seamstress but they do have a recommendation list. I chose Linda Young our of Lockhart and she was very reasonably priced, and altered my dress perfectly! Her lace work was incredible! I have her information if anyone needs it! You can also get it from Belle Saison I'm sure!

Helen E.

Married on 05/22/2020

Very personalized

I love Belle Saison, Faith helped me pick out my dress and I got the very first one I tried on!

Trish E.

Married on 02/22/2020

Very professional and helpful!

My experience with Belle Saison have been very pleasant. During my appointment, our consultant, Amy, was very helpful in finding the right dress for me and for my body type. I was able to get an idea of what I want through my own research, but Amy's recommendations made it very easy to lock down the dress for me. I ended up going with an off shoulder ball gown dress, which was perfect for our wedding day. My dress was absolutely stunning and I enjoyed every minute wearing it! The overall experience with Belle Saison have been very good from dress shopping to getting the dress prepped for the big day. I would highly recommend them for any bride-to-be looking for a good bridal shop with lots of options and warm service!

Harley B.

Married on 10/26/2019

Fate! Amazed! Never wanted to leave!

I went to Blue Bridal for my very first "wedding dress try on" and it didn't feel right and it has to feel right... So I headed to Belle Saison Bridal just to see if they had any appointments for December and they did! I went with my mom for the first try on at the new store and found thought I found the dress! I asked to book another appointment for December 22nd so my family and friends could join and it was the easiest process ever! Faith was amazing! I tried on more dresses on my second visit and found "THE ONE" surprisingly it was a totally different dress.

I highly recommend this shop!



Belle Saison Bridal's reply:

Thank you Harley! We love our brides and are so happy you found "THE ONE" We look forward to seeing you soon!

Cari

Married on 10/12/2019

Service that exceeded expectations

You would expect good customer service from a bridal salon, but what I experienced went far beyond those expectations. My consultant, Amy, was patient and professional. She was encouraging if I wanted to try on different styles than what I said I wanted, just to see how they looked. But made sure to never bring me a dress over the budget I had given her and was reluctant to pull one dress that my sister liked until she was sure I and my mom were 100% ok trying on a dress over budget. We tried on so many dresses and went over our "time slot" that Amy's next appointment arrived. However we never felt rushed to leave or make a decision. Most impressive was when it came down to veil. After my dress came in, Amy helped me select a veil and confirmed that it came in Ivory (to match my dress). When the veil arrived it was bright white. Amy immediately got me an appointment so I could try on the veil with the dress to see how it looked… no go. While I was fretting looking through the racks, Amy spoke with her manager and came back to tell me that they were going to do a custom order for me of the beading I wanted on the color veil I wanted at no additional charge. Perfect! An appointment I thought was going to be stressful resolved in 15 minutes! Or so I thought…. A couple of weeks later Amy called to let me know that unfortunately, the manufacturer couldn't custom make me a veil. However, once again, Amy had proactively gone into problem solving mode, done research, and had already ordered me THREE new veils to try on. Amy's number one pick was EXACTLY what I had wanted, and again, no additional cost to me! I was so impressed by the extra time and effort that was spent finding resolutions to my issues before they even informed me of them. Now THAT'S customer service!

Chelsea S.

Married on 09/28/2019

Dream Dress Found!

I found what I thought would be my "Dream Dress" on The Knot's dress gallery and Belle Saison was one of the only bridal dress shops in Texas that had a sample available. I called the shop to confirm the gorgeous Maggie Sottero dress was there and told the consultant I felt it was "the one" even though I hadn't tried on a single dress, yet. I knew it probably sounded silly to her, but she didn't make me feel silly. They worked with me to get an appointment the next day and I drove almost four hours by myself to rule this one dress out. Well, trust your gut, fellow brides! Faith was my consultant and she is AMAZING!!! She made me feel like a princess and validated my choice like we had been girlfriends for years. She took pictures of me, Facetimed my bridesmaids so they could see me in The Dress, chitchatted with me while she took my measurements so I didn't feel awkward in my underwear with a perfect stranger, and my dress ordered so I could get back on the road before rush hour traffic started. Bottomline: I would HIGHLY recommend Belle Saison. They have a HUGE selection of every style of gown you could imagine and the consultants know every single one of them, so you will find your Dream Dress just like me! xoxo ~ Chelsea

Laura

Married on 07/13/2019

Amazing experience!

Had an amazing experience with this bridal salon. Brittany was so sweet and patient and I didn't feel rushed or stressed at all here. I found my perfect dress and it ended up being really different than what I had envisioned initially! Great establishment, helpful and priced right for what I had in mind.

Tori

Married on 06/21/2019

Beautiful!

Getting my wedding dress and bridesmaids dresses was awesome! They stored my dress and it was easy to walk in and pick it up before the big day! Staff is very friendly and helpful and they have a wide selection of dresses

Cheyenne

Married on 06/01/2019

Super amazing!

Every employee was so kind and helpful. They made sure we got the correct colors and sizes! Such a smooth process!

Mackenzie

Married on 03/30/2019

Amazing Experience

I had nothing short of an amazing experience with Belle Saison Bridal! Their team and the vibe in their bridal salon make your experience so personal and special. Belle Saison carries top of the line designers and their consultants really takes your style and preferences into consideration when pulling dresses for you to try on. Iliana was such a pleasure to work with! She is super knowledgeable about the designers and she made me feel beautiful and confident when trying on dresses. She helped pin my hair up, put a head piece into my hair, and place a veil on me when trying on dresses so that I felt confident in choosing the perfect dress for me. Belle Saison was very professional and organized when it came to letting me know when the dress was ready for pickup, explaining my options for alterations, and offering me packages for cleaning, steaming, and preserving my dress. I would recommend Belle Saison Bridal to anyone for any bridal attire needs you may have!

+ 5

photos

Alyssa

Married on 12/08/2018

I had such an amazing experience at Belle Saison and with my consultant, Kristin! I had been to two other chain stores to try on dresses and was starting to dread the experience. At these other stores I felt pressured and like an inconvenience with each dress I tried on. My experience at Belle Saison couldn't have been more different! Kristin was so energetic and attentive! She just seemed to understand what I was looking for, even if I didn't have the words to describe it. She was very careful to respect my budget so there was none of the awkwardness or pressure I had felt at other stores. I ended up walking away with a beautiful Mori Lee dress, a stunning veil, and a great care package for an amazing price! Thank you so much Belle Saison and Kristin, I'll definitely be referring all my friends your way!

Belle Saison Bridal's reply:

Thank you, Alyssa! We look forward to being a part of your wedding!

Haileigh

Married on 10/26/2018

Best dress buying experience

I went dress shopping last November for my Oct 2018 wedding as I had family in town for Thanksgiving.
We had been to 2 other bridal places and went to 1 more after Belle.
I am not a sample size bride and at some of the other places they would cram me into either the only 3 normal sized gowns or would shove me into the smaller sizes. Belle never did this to mean. They had a great range of selection as well as sizing in shop so that I could actually see what I was buying.
Our helper was absolutely amazing. She saw what I was picking and actually picked my chosen dress after only seeing 2-3 styles i liked. There also wasn't the upsell you get at other places. She new what my price range was and ensured I stayed in it.
Once my dress came in I was able to have them hold it, transport it for fittings, steam it and clean it making my life easier.
Thank you so much to the awesome staff at Belle Saisson!

Vanessa

Married on 05/26/2018

Belle Saison was so helpful! I came in with my budget and the kind of styles i was looking at online, and they picked dresses out according to what they thought i liked. I went to other stores before hand and did not get the same service as I did at Belle Saison. I found my dress here and absolutely love it! I am so glad I came to this shop, it was so worth the trip (came from San Antonio).

Jessica

Married on 01/04/2018

I had a great experience at Belle Saison! I went to this shop because they had a designer that I absolutely loved! I went to one other shop prior and actually thought I found "the dress", but it wasn't my favorite Pinterest pin (which was at Belle Saison). I tried on the dress that I've been eyeing for months and was a little disappointed that I didn't have that moment. However the girl that was helping me (I forget her name) asked me what was missing about the dress. I told her and she said "I have one more I'd like you to try on". I tried on her suggestion, which was a mix between the dress from the other shop and my Pinterest dream dress, and didn't want to take the dress off! I'm so grateful that the staff know their inventory like the back of their hand or I would have missed out on my perfect dress! I absolutely recommend going here while dress shopping!

Deylen

Married on 08/27/2017

I found the dress of my dreams at Belle Saison Bridal! I went to 5 different stores around Austin area and found the perfect dress here. I'm petite, so I had a very difficult time finding gowns. I am only 5'2 ft. The lace all over the dress has a unique pattern which would've been ruinned if the dress was cut straight across. However, Belle Saison was able to order my dress with specific measurements for my height! How awesome is that?! The dress arrived few months after and it was absolutely stunning. I couldn't be happier with the entire experience at the store. I decided not to do alterations with the recommended seamstress given mixed opinions on reviews. I went to an independent seamstress, one of the best in the area - Victoria McLane (512-665-4674). I highly recommend her!!!

Emilie

Married on 05/27/2017

Belle Saison was so wonderful! Other bridal salons that I went to made me feel like I needed to rush and get out of there. The folks at Belle Saison were accomodating and let me take as many dresses to try on as I wanted. When I put "MY" dress on I knew immediately! I can't wait for it to come in in January!

Kim

Married on 05/26/2017

I had a great experience finding my dress at Belle Saison back in November of last year. I almost cancelled my appointment at Belle Saison because I had already tried 4 or 5 other places that weekend and was tired of looking. I am so glad I decided to go instead! I was helped by Brittany and she steered me toward several options (and eventually, "the dress!"). Brittany was great at only showing you dresses within your budget and was never pushy. The first time I went into Belle Saison I actually went by myself, so Brittany was very helpful in providing feedback on the dresses and I was able to narrow it down before I came back with my mom. Some may be put off by the fact that Belle Saison does not have an in-house seamstress like many other bridal boutiques do. However, I came to realize why this is actually a plus. My particular dress (a Maggie Sottero) came in both a "long" length and a "short" length. So I was actually able to order the short length and not have to have any alterations on the length of the dress (which can run you several hundred dollars). I was never offered the option to purchase a "short" length dress at any other boutique, so part of me thinks the other boutiques only offer one length for a dress so that people will spend money having it altered by their in-house seamstresses. Plus Belle Saison recommended an outside seamstress who did a wonderful job on my dress!

Audreana

Married on 04/01/2017

I LOVED Belle Saison! I went to two different places before making an appointment at Belle Saison. Everything was great and they were so accommodating and patient. I tried on about 7 dresses and actually tried on the dress I chose 3 different times and every single time Brittany was so patient! She helped me figure out what style I liked and she even picked dresses for me based off of how I felt about the dresses I tried on so far. They have a HUGE selection and plenty Mori Lee styles (my fav!) Plus they also offer your bridesmaids up to a 30% discount if you order through them, and they are also storing my dress/transporting it wherever I need it to go as well! I loveeeeeee them! Great, professional and extremely patient with an indecisive bride like myself!

Kristin

Married on 02/10/2017

I bought my dress here for my wedding back in February. I am so happy I chose this dress shop. I had waited too late to order a dress and the staff here went above and beyond to help me get the perfect dress in time for my wedding. They were so flexible with making time to meet with me even though I was completely clueless about the dress buying process. I was very impressed with the wide range of styles and price points this shop offers.

Katelyn

Married on 01/15/2017

I found my dream wedding dress at Belle Saison Bridal! This was the second place I searched and absolutely loved the service we received here! I had a large group of family/friends with me and they accommodated us happily! They had an amazing selection of dresses too! I got to pick out several I liked first, and then once I knew the styles/designs I liked best, Amy was awesome and helped pick out similar designs she thought I would love, and I definitely did! My perfect gown ended up being a ballgown Allure Bridal dress that brought me to tears I loved it so much! I received so many compliments at our wedding on the dress as well :) I would definitely recommend shopping here!

Claire

Married on 01/02/2017

Belle Saison was exactly what I was looking for. As soon as I walked in I knew I was going to find my dress there. They had so many different styles available and still everything was so classic. We worked with Sarah and she was so amazing! She was super informed about all the dresses which made it quick and easy. She was also honest, which I loved!
We got our Bridesmaids dresses here as well and they turned out great! They had a larger selection than I was expecting and they weren't horribly ugly like a lot of bridesmaids dresses.
Are you interested?
Send a message