93 Reviews
Recommended by 99% of couples
Quality of service

5 out of 5 rating

Average response time

5 out of 5 rating

Professionalism

4.9 out of 5 rating

Value

5 out of 5 rating

Flexibility

4.9 out of 5 rating
69 User photos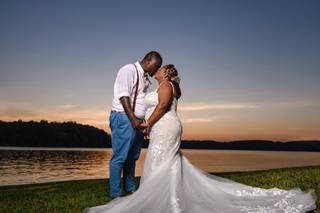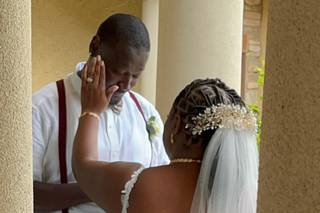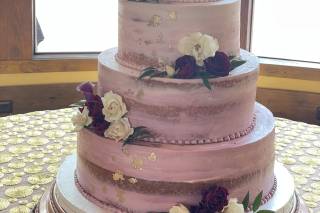 + 65

photos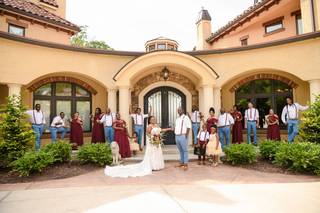 Featured

Tiffany K.

Married on 05/22/2021

Look no further

Bella Collina is INCREDIBLE!!! My heart was set on this venue years ago. I didn't tour anywhere else. Joe and Erin made the entire experience so easy. I was never stressed about anything during the planning process with them. Day of Interviews allowed me to pick all my vendors all in one day, eliminating all the calling around and searching for people available on the same day. My wedding was a fairytale wedding. It was exactly what I dreamed about all those years ago when I fell in love with their venue. All my guests have commented on how incredible the staff of Bella Collina was. Even the smallest of details, they were on top of it. The day ran so smooth. Something was always going on to entertain our guests. At least half our guests have reached out to us to tell us that was the best wedding they had ever been too.
I feel obligated to tell everyone engaged couple I know to entrust their day to Bella Collina. There is NO WAY you will be disappointed. Everyone went above and beyond to make my day perfect! Not even one hiccup! I'm a Bella Bride for life!!
Thank you Joe!

Gloria B.

Married on 07/22/2022

Your search stops here!

There are no words on how amazing our wedding day was! We enjoyed every second of our day. Everything we asked for was done. Our guests were in awe of the beautiful mansion. Having all the vendors in one place is amazing. There is no way I would have been able to coordinate that and having it run so smoothly. Everyone I had the pleasure of meeting and working with at Bella is super nice and friendly. I have no words for Ma, I unfortunately don't have my parents and her gentle, calm, motherly love was just what I needed at the very moment she gave it. Having a wedding at Bella Collina was more than I ever imagined. It was truly a fairy tale! There is not one thing I would have changed! Our day was perfect and we could not ask for anything more.
Erin, Kara, MA, Joe and all other Bella staff thank you for an amazing experience. I'm proud to say I'm a Bella Bride!

+ 2

photos

Mahasa P.

Married on 05/14/2022

Exceptional venue, look no further⠦

We got married at this beautiful venue on 5.14.22. Our wedding was absolutely breathtaking. No other word could describe Bella Collina Mansion besides MAGICAL! Our guests are still commenting on how stunning Bella was & they'll forever talk about our day. The staff…Where do we begin!!! The owner Joe Destafino=AMAZING HUMAN BEING. Joe & his director sweet Erin made us feel soooo special & welcomed from the 1st day. We had been to Bella as guests for a friend's wedding in fall of 2019. We had the best time ever. I had NEVER heard of Bella. We fell in love immediately & I told my now husband when we get married my true desire is to get married here. I knew Bella was the ONLY venue before we were even engaged and I'm so grateful my husband saw the same beauty. It's a beautiful hidden gem. Bella is so special to our hearts. Bella's staff is family to us. They were nice and helpful from beginning to end. When I say they put so much time, love and hard work behind the scenes it's an understatement. We had so many personal issues due to surgeries, Covid, a family member possibly not being able to arrive on time from overseas and dealing with rain on our special day. Joe held our hand every step of the way and constantly came up with a new solution. He always had plan A, B & C. We were NEVER in the dark or surprised. There wasn't a time that he ever missed one question and believe me I had sooo many questions. He has an answer to EVERYTHING. Every single thing has been thought of. He has it down to a science. My husband & I call him genius! 😊 He was so invested in us and his ONLY mission was to make sure our day was truly perfect. There was a fire at Bella 2 months prior to our wedding with so much damage. There wasn't one single wedding that was missed. The staff worked tiresly to make sure all of us couples get to have the wedding of our dreams regardless of so much repair & stress caused by this awful fire. We couldn't even tell there was ever a fire. Bella was, is and will ALWAYS be so strong & beautiful. You will NEVER find another venue owner who cares more about his couples more than Joe and you'll NEVER find a stronger army right behind him. It's truly a white glove service. Joe & Erin were so prompt every single time and rest of the staff was so dedicated. Bella family exceeded our expectations and we are forever grateful. I recommend anyone who is looking to have a MAGICAL wedding experience to choose Bella Collina. Being a Bella bride is truly an honor. You'll forever have beautiful memories. 💕#BellaStrong #ForeverPaula #5.14.22

+ 4

photos

Are you interested?

Send a message

Lauren F.

Married on 04/11/2022

Absolutely amazing!!!

My husband and I had the absolute best day at Bella Collina. They made everything come together so perfectly and the day went so smooth. We literally cannot say enough good things about this place!!!! Please do yourself a favor and get married here :)

Jessica B.

Married on 03/19/2022

Dream wedding!!!

STOP VENUE HUNTING! This is where you want to get married. This venue is so much more than just a location (although that's perfect,) it's your dream wedding made so simple and worry free. My husband and I just got married this past Saturday (3/19/22) and it just so happened to be the first wedding after an unfortunate fire just 5 days prior. The owner, Joe, is the first person I'd like to praise. With this being a first for his career, he moved mountains to make our wedding happen as if nothing had ever gone wrong. We're talking 5 days and nights of the most extreme makeover. With credit due to SO many people, Joe still was the pillar for not just coordinating the restoration, but calling every single worried bride (me included) and being fully transparent throughout the entire process.

You can read so many amazing reviews about Joe's BOSS app used for vendor contact, scheduling, invoices, and so much more. This simplifies what would normally be a chaotic mess since now all your vendors are on the same page.

Erin, the Director of Operations at Bella Collina is who I spent most of my time talking to. She was the main point of contact from the first walk through at the venue, to the day of interviews (this is where they bring in multiple preferred vendors to the mansion for you to meet and they scheduled the whole thing!) Any little question I had about the wedding, I would just send a quick message to Erin in BOSS and get a response in no time! She is AMAZING!

Kara was our month/day of coordinator. She outlined and ran through our rehearsal with us the Thursday before and was pretty much my life line the day of the wedding. I can't imagine hiring someone better myself! Her along with the entire staff made any problems disappear before I even knew there was one. She coordinated everything day-of with the vendors while I stayed the whole day in the "getting ready quarters." When it came time for sunset pictures, she was the timekeeper so our photographer could do her job without needing to constantly check the time. I could go on and on but you get the picture… she's great!

The whole day ran smoothly and I can't take credit for any of it. I spent my day with my girls getting ready and hardly lifted a finger. Definitely something to consider if you are a worrier or just want to ACTUALLY enjoy your wedding day :)

Almost a week later and every day we get more messages about how amazing our wedding was to all our guests. It does go by fast and it feels a little like a dream now but hearing "It was honestly the best wedding I've ever gone to!" is exactly what I hoped and dreamed my wedding would be.

Victoria

Married on 10/16/2021

This venue was THE BEST for our wedding. They have a whole system down that makes your wedding day run smoothly and efficiently.

INCREDIBLE IN EVERY WAY. Bella gave me the wedding of my dreams. From day 1 they were helping me plan and followed my ideas of having the traditional aspects of a wedding but making them my own. The vendors they provided were impeccable. All of my guests were AMAZED at the venue and how beautiful it was. I love this venue and the staff, thank you all for giving us our dream wedding and making it not only the best night of our lives but our guests as well ! Every single one told us that was the BEST wedding/night of their lives.

Christine M.

Married on 06/05/2021

Best decision of our wedding!

Going with Bella Collina for our wedding venue was by far the best decision we made during wedding planning--besides getting married, of course ;-] From the start Joe and Erin made us feel like family. I read tons of horror stories in different wedding groups from other brides about things going wrong on their wedding day with their vendors and/or venue. We NEVER had to worry about that with Bella, we knew that every one of their vendors would show up and give 100%. I actually got to enjoy wedding planning because I knew they had everything under control. The communication was outstanding, the vendors were professional and accommodating, and they made our day the absolute best day of our lives!

Dana T.

Married on 03/06/2021

Fairytale Wedding (even during COVID)

I could write a book with the number of positive things I have about my Bella Collina experience. The wedding process was painless and less stressful that's for sure (since they literally have so many vendors included in their all inclusive packages). I am know to be a bit of an overachiever and literally researched and talked to 15+ venues, but we toured Bella first....Let's just say we went home, toured a venue the following weekend but all we did was talk about how it wasn't like Bella. Just take tour, talk to Erin or Joe. You will see what I am talking about

+ 2

photos

Ashley G.

Married on 11/08/2020

Absolutely the most beautiful venue ever!!!!

Words can't even express how amazing our wedding experience was at this venue. We planned our wedding for almost a year and a half and Joe and his staff were with us the entire way. We recently were married Nov 8 2020 and every single vendor with this venue was amazing, so attentive, so passionate about making this the perfect wedding for me and my hubby. The mansion is absolutely gorgeous and stole my heart from the moment I stepped foot inside. I can't even imagine our perfect wedding anywhere else. I really can't speak more highly of this venue. Joe and Erin and all of their staff are phenomenal!! This is really a Bride's dream come true castle. Even my guests were all in awww with the beauty of the mansion and the wonderful staff!!!!

+ 3

photos

Amanda B.

Married on 10/10/2020

Incredible Experience and Amazing Staff

First of all, how organized this venue is with coordinating your wedding and every day leading up to that is incredible. The venue owner, Joe and his staff will bend over backwards to make your day special. They have done so many weddings that you hardly have anything to do or worry about when it comes to your wedding day. Our wedding day at this venue is definitely memorable, thanks to Joe and his amazing team.

Randy B.

Married on 10/10/2020

Father of the bride

I highly recommend Joe and his staff the The Bella Collina Mason. They made my daughter's wedding day perfect . They work hard to make the ceremony and the reception flawless. Joe and his staff were so pleasant to deal with they made the planning so easy. Thanks again Joe for a wonderful day.

Brittny A.

Married on 10/03/2020

Dreams Do Come True

As a little girl I've always dreamed of having a 'fairytale' wedding and Joe and the staff at Bella literally made it come true!! I am just in awe at how beautiful our day was and I wish I could do it all again just for fun!! Fabulous venue, awesome staff and flawless execution! They really do know what they're doing!

Marina

Married on 09/15/2020

Fairytale wedding

Amazing team . Made my dream come true.

Seless N.

Married on 09/12/2020

Bella Collina - The BEST venue

Where to even begin!!
When we found this venue, I would say that my husband and I had already toured over 10 other venues before Bella Collina and we had seen a few others that we had liked but none that we were set on that had quite the "wow" factor that Bella Collina has! We were actually just looking through venues and Bella Collina popped up and we read all the reviews and saw the awesome ratings and knew we had to check it out! From the moment we drove up the driveway and set eyes on the venue and the scenery. I knew without a doubt this would be where we would be getting married. The location is just so beautiful and the mansion is exquisite. It was perfect!

Erin gave us a tour of the mansion and we instantly fell in love with everything that day. She was super friendly and answered all our questions! My husband and I both agreed that day that it was where we wanted to get married. We soon met the venue owner, Joe, and happily secured our date!

Joe and Erin are both super friendly and easy to communicate with. My husband and I were super impressed with how everything was set up and how easily it is to get things scheduled with them. Their communication with us was spot on! They are so easy to work with. Something we really enjoyed was something called "Day of Interviews" where we got to come in and meet some of Bellas preferred vendors and then pick the ones we would like to work with. This helped take away a lot of the stress that lots of other engaged couples have to go through with finding vendors separately.

Since our wedding ceremony was planned to be outdoors by the lake, when it came down to the last couple of days before our wedding and we had to make a decision about whether to move the ceremony inside or not because of the weather. Joe was absolutely amazing at making sure that we still got to have our dream wedding by watching the weather and helping us plan accordingly down to the last couple of hours! :)

We got to have our first dance out on the balcony overlooking our guests out on the patio, which was breathtaking! All of our friends and family have been talking about it for the past couple of weeks since our wedding.

Thanks to Joe, Erin, this amazing venue, and staff we got to have our dream wedding. It was everything we could have ever imagined! You can really tell that they love what they do and it shows. Thank you for helping us have our happily ever after! You really showed us that you genuinely care :)

Bella Collina exceeded our expectations and went above and beyond what we could ever have imagined a wedding venue doing. We felt at ease on the day of our wedding in their hands.


Lisa

Married on 05/24/2020

Perfect wedding venue and experience

Bella Collina was such a beautiful venue. And the staff made sure everything was easy leading up to the day and on the day made everything smooth and perfect!

Kevin C.

Married on 05/06/2020

Best Wedding Venue in North Carolina!

Professional, dedicated, and beautifully crafted doesn't even begin to describe the experience you will get at Bella Collina. By far the very best wedding venue in North Carolina, without a doubt. Trust me, my wife and I looked all over the state and Bella Collina blows all others out of the water! Most professionals who run wedding venues may be good at what they do, but Joe and Erin are at the top of the game. Both of them really LOVE weddings which you can really feel throughout all your experience with them. Joe and Erin facilitated our dream wedding at the peak of COVID-19 and still made it the best experience of my life! Who else could possibly do that?! Their BOSS network of wedding professionals and BOSS software/app make chaotic wedding coordination a breeze. Joe delivered an incredibly special and unique wedding experience that still has all our guests saying, WOAH! From a stunning venue, kneeboarding on the lake in the morning of our wedding, our first dance on a juliet balcony, coordinating all the professionals weeks before and the day of, squeezing in dancing outside while he carefully watches rain radar, and leaving by boat shortly after, Bella Collina delivers the ultimate VIP experience. There's no one else you want planning your wedding other than Joe and Erin. They will never BS you, always give you their honest and open opinion, and will deliver a wedding day neither you nor your guests will ever forget. I would give them 10 stars if I could. The only thing I could wish for is for my friends will have their weddings at Bella Collina in the future so that I can experience their wonderful service all over again! Again, if you're looking for a wedding venue, stop right now and call them immediately.

Sarah E.

Married on 05/06/2020

Real Life Fairytale

There is no where like Bella Collina. Joe and Erin run the mansion likely a finely tuned machine and they are committed to you and your wedding. Even through the COVID pandemic, they made sure that we were able to have the wedding that we have always wanted. Joe was always available to answer questions. My husband and I had extreme anxiety over the wedding and Joe always took the time to make us feel less stressed and confident in his team. We were originally supposed to get married March 28th and had to reschedule. Joe took the time to contact all our vendors for us and made the process so easy. I am thrilled that we chose to get married at Bella Collina, because I honestly think if we would have chosen a different location, we would still not be married.
The day of the wedding was like a fairytale. Everything was magical. Joe and Erin coordinated the entire day and they were there if we had any questions. The staff makes you feel like the king and queen of the mansion. They made sure our day was stress free and that we were always taken care of. They make sure you eat before everyone else and that you are actually put first on your special day. They give you special moments alone with your spouse that would normally be overlooked.
Besides the staff, the mansion itself is breathtaking. I have never seen such a beautiful home. From the bridal tower, to the lake front view, it is absolutely amazing. You also do not have to stress about the weather. Joe has a solid back up plan and is flexible. He watches the weather from hour to hour and can seamlessly switch arrangements when possible.
I honestly wish I could relive our wedding day over and over. Bella Collina gave us the most extraordinary day we could have possibly imagined. We have such happy memories as do our guests.
If you are considering Bella Collina, you should do it ! You will not have one regret. You have waited for this day your entire life and they make it one you will never forget. They are committed to making your day happen and they will not let you down.

Thank you to Joe, Erin, and the entire Bella team. We will miss you guys ! Keep the magic going !

Jessica

Married on 11/16/2019

All-Inclusive Fairytale Wedding

Bella Collina Mansion is hands down the best venue to host your wedding! It's all inclusive, so that's already an advantage. What we paid for our wedding is what some venues have the nerve to charge just to rent the building. We didn't have to go looking for vendors, because Bella already had the best vendors working directly with them. It's a one stop shop, and well worth it.

When we first reached out to them, they responded promptly and answered every one of my 1,000 questions with a smile on their face. Upon our first arrival to the venue, goosebumps went down our spine. The house is immaculate. We met the entire staff and vendors, all of them treating us as if they've know us our whole life. You feel the love as soon as you walk through the 12 foot doors!

On the wedding day, they're by your side each and every step talking you through what to do next and answering any questions you may have. Trust me, you'll have more questions than you could ever imagine. They're so calm during all of this, which you end up feeding off of. I went from nervous and not knowing what to do next to calm and confident in my next move. I wouldn't have been able to survive my own wedding day without them. My parents even want to renew their vows there and both my best man and 12 year old nephew want to only get married at Bella. Yes, this perfect venue made my 12 year old nephew think about marriage rather than batman. Truly amazing.

I highly suggest the boat ride for the groomsmen the morning of the wedding. It costs a little extra, but we had a blast playing in the water at 11am and it distracted our minds on the big fact that it's a major wedding about to occur shortly after. Before the boat ride we were all uptight, but after we were so relaxed as if we were back at home in the basement on a Sunday shooting pool and watching football. I also did a boat departure after the wedding, which was epic!

A couple of days after our wedding night, my wife realized she couldn't find a custom gift that she treasured so much. She reached out to Bella, who reviewed the camera footage of where she had it last, and then told us to check a certain spot in a particular plastic bag. Sure enough, it was there! Do you know how much camera footage you have to go through to find such a little gift?! I feel like I owe them all a steak dinner just for that kind gesture because my wife was in tears looking for this. They literally go above and beyond for you, treating your wedding as if it's there own.

My wife and I have a list of over 150 names that we would name our first child, even our first dog. Bella was never on the list. After experiencing the perfect wedding from start to finish hosted by Bella Collina, we both agreed that if we have a daughter, her name is going to be Bella. That right there goes to show what type of venue this is, how warming and welcoming the Bella Collina family is, and most importantly, how perfect the most important day of our life went.

Thanks again Bella. We will forever be in debt to you!

Love,

Mr. and Mrs. Dillard

Sarah N.

Married on 11/02/2019

Told repeatedly it was the best wedding our guests have ever been to

Joe and Erin nailed it. I'll be honest, I was skeptical of all of the 5-star reviews and people saying their guests thought it was the best wedding they'd ever been to. It's the biggest party you'll ever throw and you don't have any experience in throwing it. Wedding planning is a stressful experience, but take comfort in knowing that Joe and Erin have done this hundreds of times. They know how to throw this party and ours went off without a hitch (well, except for us actually getting hitched!). From the time I showed up that morning, everything was going on behind the scenes and they only needed me for a couple of things right after I walked in the door. I wasn't interrupted the rest of the morning. I'm an over-planner and even though the evening didn't go in order of my schedule, such are weddings and the order of how things actually went was probably better than what I had planned. Joe and Erin's responsiveness during the whole planning process was impressive. I would always get a response within a couple of hours during the weekdays. Their "day of interviews" process is also great. You get all your major vendors booked over the course of an afternoon! Joe oversaw the whole wedding and orchestrated it perfectly. Our guests were so impressed by the scenery as it really is a decoration in and of itself. Thank you, thank you, Joe and Erin! Take it from a former skeptic, save yourself the hassle of taking time off of work over several weeks to meet with vendors and trying to negotiate contracts, and save yourself the stress of coordinating all on your own and just book! I hope your day will be as beautiful as ours was on 11/2/19.

+ 5

photos

Jordan

Married on 09/27/2019

What Dreams Are Made Of

Joe, Erin, and their team are everything you would hope for in a wedding venue! They were very responsive with any question we had and made the entire process super easy for us by making sure we had every last detail covered. If something went wrong on the wedding day, I definitely did not know. They handle everything down to the wire so that the bride and groom do not have to worry about it the day of. Plus the venue is just beautiful, what more could you ask for besides a mansion on a lake! My wedding day was everything I dreamed of and it was made possible by this team and venue.

Kassi G.

Married on 09/21/2019

Beautiful and Effortless

From the beginning, the entire staff at Bella Collina and Joe have been absolutely wonderful to work with. They honestly go above and beyond to make sure that your day is EXACTLY what you want it to be. They are transparent about the house rules and are very detail oriented to make sure that all aspects of wedding planning are covered. On the "day of" interviews, they make it so easy by allowing all of the vendors to come to you! This made it very easy for me as I was planning my wedding as an out of town bride. They also provide a 45 day meeting which covered literally every detail of the day that you can imagine. Joe kept our best interest in mind and provided excellent ideas to us to accommodate not only our needs, but our guests needs as well. On the day of our wedding, Joe even offered to take the groom and his party out on his boat as they waited anxiously for the ceremony to start. Not only did Joe and his staff go above and beyond in keeping our timeline on track, but they make sure to make you feel comfortable throughout the entire day. The gave me a pep talk before I walked down the grand staircase (which is beautiful, but a lot scarier standing at the top than you would imagine); they brought cocktail hour food to the wedding party after the ceremony and before pictures to make sure no one went hungry; they also adapted our schedule beautifully when some parts of the wedding went a little longer than what was scheduled. Honestly, we could not thank the staff at Bella Collina enough for making our day perfect and for making us feel like part of the Bella family. They are phenomenal to work with and I would recommend getting married there a million times over.

Kim

Married on 08/31/2019

Exceeded all our expectations!!

It was flawless from beginning to end! When we were inquiring about venues to hold our wedding and celebration, a photographer friend of ours commented on Bella by saying 'it is run like a well oiled machine'. WOW!! And does it ever!! The day, the venue, the vendors, owner and all of those that contributed. PERFECT is the word that comes to mind. Even with COVID thwarting our original plans, Joe went above and beyond to accommodate and make our wedding day the fairy tale we were looking for. We can't say enough...we highly recommend Bella to anyone!! Kim and Tom

+ 3

photos

Angela

Married on 04/20/2019

Amazing venue and beautiful

Our day was amazing and we choose the perfect venue for the perfect day.

Lya R.

Married on 01/04/2019

If you are on the fence, go with Joe!

There aren't enough words to describe to wonderful and perfect our wedding was thanks to Joe and his team! Every question you have, Joe has an answer. No addition planner is necessary because of how organized Joe and his team are. One our day of, I didn't have to lift a finger or worry in the slightest. We would chose Bella Collina 100 times over! 10 out of 10, if you want a stress free planning process choose Bella

Dawn

Married on 11/17/2018

Dream wedding at a Dream Venue

I found Bella Collina on a wedding website, and as soon as I showed the online photos to my husband we knew it was the place for us! They make the wedding planning process very easy. We were planning a North Carolina wedding from Pittsburgh PA, and Bella Collina made it as stress free as possible for us. With a network of A+ preferred vendors and packages for all budgets, I can't imagine a more professional team. We knew we wanted a lake view, and the views at Bella Collina do not disappoint. There are so many options for ceremony and reception locations on the property, so every wedding can be as unique as you want it. We ended up with a ceremony on the deck in the month of November. You would think this impossible, but Joe monitored the weather conditions until the day before the wedding and made sure to give us everything we wanted! Our guests complimented the smooth transitions throughout the day and the venue itself they kept referring to as "A Fairytale Wedding." I could not agree more! Bonus points: a lovely bridal quarters with enough space for your whole crew to get ready, a super cool grooms suite for the guys to hang out, photo op in so many locations, Juliet balcony for your first dance (private and dreamy), you barely need decorations since the house is so gorgeous (money-saver), a smooth flow from ceremony to cocktail hour to reception to dancing and cake since it is a home so the layout just makes sense! Take a look at the pictures on their website-it is EXACTLY as beautiful as it seems!
Are you interested?
Send a message