35 Reviews
Recommended by 100% of couples
Quality of service

5 out of 5 rating

Average response time

5 out of 5 rating

Professionalism

5 out of 5 rating

Value

5 out of 5 rating

Flexibility

5 out of 5 rating
Awards
3 User photos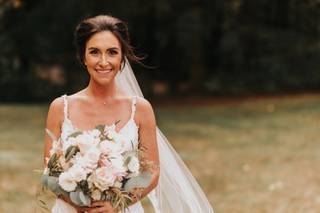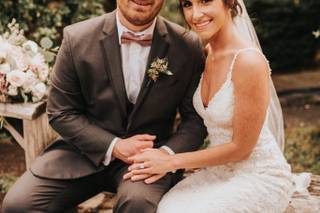 Adrienne

Married on 09/22/2018

Stunning Makeup and Hair

From my trial run to the day of my wedding I had the best experience with Yana and Emily for my wedding make up and hair! They made my wedding day makeup and hair, along with all 6 of my bridesmaids look absolutely stunning! They were both so easy to work with and they really captured each girls vision and what they wanted. I would highly recommend using this company for any wedding or special event! They are fabulous!!

Beauty X Yana's reply:

Thank you Adrienne! You and your party were amazing to work with! Thank you for letting us be part of such a special day!

Amber

Event on: 11/07/2016

I am a professional musician who hired Pro Beauty for a music video shoot. Not only was my make up & hair on point, but they helped me stay focused and peaceful before a very long stressful day. Their attention to detail and knowledge of what was needed was exactly what I was looking for. I'm so grateful I had them.

Cheyanne

Married on 10/11/2016

Yana and her assistant did a great job on my wedding day!

Are you interested?

Send a message

Olya

Event on: 07/10/2016

Yana is amazing! She did my make up exactly how I wanted. She made me look and feel so beauriful! I recommend Yana to everyone who wants that PERFECT make up look!

Jeanne

Married on 07/03/2016

Emily and Yana were extremely responsive and flexible. Emily did both my bridal hair and makeup along with my daughter's. I got a ton of compliments. I would recommend Pro Beauty!

Ashley

Married on 07/02/2016

Yana and her team is the best out there! If you are looking for flawless and perfection you have found your hair and make up artist! Yana and her team go above and beyond to make sure that you have exactly what you want. Their attention to detail is perfection. They are extremely professional. We had an amazing time with them getting ready. We laughed and had nothing but good vibes. Yana and her team insured that I was taken care of and had no stress. I feel I got so much more than my amazing hair and make up for my wedding. I promise you, this team is the best out there!!!! If you are looking for the best quality and the best for your money, this is it. I will recommend Pro beauty to every one I know for any event! Do your self a favor and contact them. It will be the best decision you have ever made. Thank you Yana and your team for making my experience so extraordinary. I could not imagine my wedding day with out you! My family and bridesmaids have been ranting to everyone on how amazing you and your team are. Thank you so much you are truly a Diamond in the ruff!

Justine

Married on 07/02/2016

I loved the experience so much! They were professional, light hearted, quick, and of course amazing at their craft. She listened to what my inspiration was and brought it to reality. My hair and makeup were flawless all through out the night. Even in this NW humidity Thank you so much for a wonderful experience!

Heather

Married on 06/18/2016

I can't say enough good things about these ladies! They did an absolutely amazing job. What I love about Yana's makeup artistry is that she accentuates what features you already have. She really does pull out what's already beautiful about you, then just makes it pop. This is so much better than just having heavy makeup. She is a true artist. Emily was able to create exactly what we wanted for hair too. Both these gals knew what they were doing, they were efficient, they were friendly, and they were damn good. Hire them and let yourself relax knowing you will be amazing-beautiful. They are well worth it. Thank you ladies!

Lily

Married on 08/28/2015

I had my wedding hair and make up done by Pro Beauty and they did a wonderful job!!! Everything was done in a timely fashion and just the way I wanted it to look.

Sonja

Event on: 07/15/2015

I LOVE YANA!!!! She did my hair and makeup for a family photo shoot and I can't even begin to explain how invaluable the experience was! Not only did she make me look as amazing as I could be, it also took away the stress of me having to worry about doing it all myself and having it look okay. She new exactly how to play up the hair and makeup for the camera and outdoor lighting, and at the same time make it all look completely natural!!! I will always have her "do me up" for any future special occasion!

Angel

Event on: 07/06/2015

Yana turned me into a princess. I couldn't stop smiling when I saw my reflection. I felt so pretty on my special day. I still looked like me, but a prettier me because of Yana's artistry.

Liana

Married on 06/21/2015

So happy with all the times I've worked with Pro Beauty Makeup + Hair. Each time the service, quality and talent is met and plus more. I would highly recommended working with this incredible team of talent. Thank you for beautifying me!

Shawna

Event on: 06/17/2015

PRO Beauty Hair & Make-Up is phenomenal! The owner, Yana, is fun and professional and made me look fantastic and beautiful for our staff photos! I wish I could hire her daily to do my make-up but she gave me several tips that have improved my own cosmetic application! I would recommend her hands down above any other make-up and hair service!

Jeanine

Event on: 06/17/2015

Yana is brilliant with makeup and hair! She knows exactly what to do so that the natural beauty of people will be captured by the camera. I experienced that firsthand at our event. I highly recommend Yana!

Lily

Event on: 06/13/2015

I had my hair and makeup done by ProBeauty (which was also doubled as a trial for the big day that's coming up in August). Both the hair and make up were done perfectly!!! I went out and was dancing until 2am that night (had to test out the product of course!) - and both the hair and make up lasted the whole time, still looked like new even in the middle of the night when I came home.
Can't wait to use them for the big day next month!

Savanna

Event on: 06/06/2015

I felt do pretty and beautiful!

Deborah

Married on 05/16/2015

I went to Yana and her team for my Wedding on May 16, 2015. They were absolutely amazing!! Yana made sure that everyone was prompt and aware of EXACTLY what I had in mind. Yana was full of beautiful ideas and always had a special touch to add. I will be honest there was so many moments that I just felt like I was going to lose my mind from stress and Yana and her team were able to calm me and ensure me that they had it under control. That they did! The day of the wedding i have to say was the least stressful day from the moment I started planning my wedding. I knew that they had it under control. Yana was with me every step of the way while the rest of her team took care of my mother, daughter, sister and all my maids. I can honestly say I have never experienced such professionalism and comfort from any other event I've been a part of. My bridal party was shocked that me being a control freak was just able to just have complete trust in Yana and her team. The passion that Yana especially, showed was remarkable. I am forever grateful to Yana and her team for making my special day a success. I felt just the way every girl talks about feeling on their Wedding day, a beautiful Princess. Thank you from the bottom of my heart! I am forever grateful and I feel truly blessed to of found Yana and her team. I would recommend Yana and her team to any girl no matter what your style. They will listen to you and make Magic! ♡♡

Jessica

Event on: 05/01/2015

Yana is great at giving creative ideas, listened to what I wanted and made me feel very confident about my look.

Christine

Married on 04/18/2015

Yana has been doing my hair and make up for many years and I would recommend her to everyone! I have had to go to other artist on accasions where she was on vacation, and I have seen the difference in the creativity and drive. I feel like I can tell her in a few words what I want, and she delivers exceptionally. She has done my make up and hair for weddings and events, and every time has lasted for the entire event without a flaw! I feel like a princess (lack of better words but true) when in her studio. She is precise and imaginative.

User2235295

Event on: 02/19/2015

Makeup consultation, very knowledgable, took the time to explain all the steps needed for flawless foundation application.

Larisa

Married on 10/18/2014

Yana was super flexible with her schedule, creative, up to date on trends, resourceful, and great personality to be around. I strongly recommend her!

Larisa

Married on 10/18/2014

Yana was super flexible with her schedule, creative, up to date on trends, resourceful, and great personality to be around. I strongly recommend her!

Natalya

Married on 10/18/2014

I had my makeup done for a wedding where I was the maid of honor. The service was superb! Was complimented all night about how great I looked. 10/10 would recommend.

Aubrey

Married on 08/30/2014

To me, makeup is extremely important. Especially for my wedding day. I did not want somebody at the MAC or Sephora counter to do my makeup who can be hired off of the street. I really took my time in looking for the right style of makeup look I wanted for my wedding day. I found Yana on craigslist or google. I looked at so many places. I thought her prices were fair. Her emails and texts were fast responses which are very important to a bride who is stressed out and needs answers right away. My two bridal trials went awesome! I had more of an idea on what I wanted for the wedding day with my trial. I had three out of five bridesmaids get their makeup done by Yana and it was absolutely amazing. They looked flawless and they felt like models. I absolutely loved my makeup. I asked for a bit darker eye look so as not to look so young. (I have a baby face) Four bridesmaids along with mine was done by someone else through Yana, I personally liked Yana's hairstyling more. But we were crunched on time and she made sure we'd get through the time crunch. All in all, PRO Beauty makeup is a FABULOUS decision if you're needing your makeup and hair done. Also, her studio/salon is the cutest ever.

I had hair and makeup done by Yana, absolutely loved it!
Are you interested?
Send a message