76 Reviews
Recommended by 100% of couples
Quality of service

5 out of 5 rating

Average response time

5 out of 5 rating

Professionalism

5 out of 5 rating

Value

5 out of 5 rating

Flexibility

5 out of 5 rating
7 User photos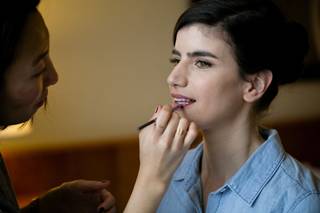 + 3

photos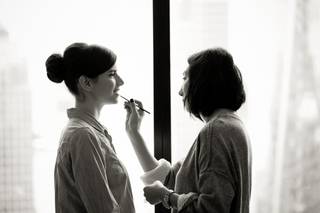 D C

Married on 09/25/2022

Grace is a versatile hair and makeup artist!

Grace did an incredible job doing makeup for all of our bridesmaids and groomswomen! She worked efficiently and was even able to accommodate a last minute makeup request from one of my bridesmaids. She was also flexible with the schedule - I had her change locations in the middle of the morning to do the groomswomen hair and makeup in the groom's suite, and she was able to make it work.

Grace is such a versatile artist - we had women of all different skin colors and hair types and she was very skilled in adjusting her style to fit each woman. I highly recommend working with Grace!

Margo

Married on 10/16/2021

Absolute Perfection!!!

Working with Grace was an absolute pleasure. Immediately from my trial, I knew hiring her was the best decision I could make. She is talented, gentle, calming, professional, and kind. I showed her a few images of what I was envisioning and she made me feel and look more beautiful than I even thought possible. She was able to provide hair and makeup for my bridesmaids and myself (9 services total) all before an 11:00am ceremony! I am a redhead with rosacea and very fair skin. In all my prior makeup experience, the product has rubbed off my face from sweating and moving but the hair and makeup Grace did stayed gorgeous literally until I went to bed at 1am!!! I can't stress enough how thrilled I am with how I looked on the day and in the photos, all thanks to Grace!

Ivy L.

Married on 10/12/2019

Feel and look beautiful!!

Grace was very patient and flexible throughout the whole process. She was professional and gave me good advice on what might or might not work with my face shape. This is especially important because I'm someone that doesn't do makeup on a regular basis. I looked AMAZING in all the pictures yet I still look like myself. I highly recommend Grace to anyone looking for makeup service for her special day!!!

Are you interested?

Send a message

Audrey U.

Married on 08/10/2019

Hire Grace!!

Grace was AMAZING. I was looking for someone who had experience with Asian faces, reasonable prices, and talented, and Grace hit it out of the park. Not to mention she is just a lovely, wonderful person, and a joy to have around on your wedding day. Thanks again, Grace! SO happy she was part of our special day.

Karen

Married on 08/03/2019

Amazing makeup for summer wedding

I am so happy I found Grace and trusted her great reviews. She tried different styles with me during my trial. She traveled to my NJ venue, even though it was a little far for her. We started at 6:30am and she was so punctual with her schedule for each bridesmaid. Everyone's makeup was so natural and beautiful and stayed the whole night. As the bride, I loved my makeup and got so many compliments. I was worried about my updo but it stayed put the entire day. Thank you Grace!

Hire grace!

I am so happy I chose Grace Weng to do hair and makeup for my wedding. I wasn't sure what I wanted other than I wanted to look natural and like myself. With very little direction, Grace made me the absolute best version of myself. We had an end of July wedding and everyone's makeup lasted all day long. In addition, Grace had my naturally stick straight hair, which has never held a curl, maintain a soft touchable wave well past midnight. I had booked Grace for the full day to do different makeup for the evening reception vs. the church ceremony and it was well worth it. Grace went ABOVE AND BEYOND, following me to four different locations spanning 80 blocks to remove my veil for photos and do touchups throughout the day. Lastly, I want to note the stellar job Grace did with our engagement photos. When she showed up, she told me it was really windy and if my photos were outdoors, she'd adjust the products to make sure it wouldn't look messy or blow in my face. She must have sprayed an entire can of dry shampoo in there, but as she promised, my hair was bouncy and light but stayed in place despite the strong winds. If you have any hesitation, DON'T!, and book Grace immediately!!

Josephine

Married on 04/27/2019

Grace is amazing!

I would definitely recommend working with Grace. She is so sweet and very professional. My make up and hair was flawless for my wedding day and all of my bridesmaids and both mothers loved her work as well. You will not be disappointed!

Rebecca

Married on 09/08/2018

I posted this on Yelp and wanted to share here as well: Grace is a gem. She did makeup for me, my mother, mother-in-law, and sister for my wedding, and I've never felt more beautiful. She really listens to you and customizes a look to suit your wants and needs, unlike other artists I did trials with who just seem to be applying the same cookie cutter contouring and colors to every bride. Grace's application is flawless and she has such a light touch that you could hardly tell I had anything on my skin, it just looked naturally luminous. When I went to wash my face at 2am, after hours of dancing and partying, my first thought when I saw my reflection in the mirror was "Wow, my skin looks great!". I cannot recommend Grace enough if you're looking for natural, glowing makeup, and to look like the best possible version of yourself.

Jennifer

Married on 07/28/2018

Grace did an amazing job on my wedding day!!! I was in a rush to find a hair and makeup artist only a few months before my wedding because my previous MUA fell through. At the recommendation of a friend, I contacted Grace, who responded promptly and scheduled a trial right away. After my trial, I had a few suggestions for how I wanted my makeup to be on the actual day, and she did a great job incorporating my feedback. She is such a kind, lovely person and super easy to talk to, which definitely calmed my nerves on the morning of. I absolutely LOVED my hair and makeup. She also did hair and makeup for my mom and mother-in-law, and they looked beautiful!

Stacey D.

Married on 07/21/2018

Wonderful!

Grace was wonderful to work with! She was responsive, professional, warm and did an amazing job on my bridesmaids and family's hair and makeup. I had a large bridal party and family to cover for hair and makeup, so I ended up hiring two hair & makeup artists to cover us all. She was incredibly flexible, and I really appreciated her staying through the ceremony so I could get touched up after sobbing my eyes out during the ceremony! Everyone looked incredible!

Karen

Married on 04/21/2018

Grace did such a great job with my bridal make-up/hair, as well as my bridesmaids and mom. Everything was perfect and she is also quick to respond and very easy to work with. Would definitely recommend!

Jessica

Married on 10/07/2017

I hired Grace for a trial hair and make up before my engagement shoot and was happy with her service so I also hired her for the day of my wedding. Grace is very professional and yes she is a one woman show. She did my hair and make-up along with four other ladies who did their hair and make up, with one person having only make-up done and another person getting their hair done. I was worried with the timing but Grace is a pro. She finished everyone and we were all happy with the results. I feel like if your style is more on the natural side and not over the top, Grace is your person! I didn't feel "overdone" for my wedding and still looked like myself. Thank you, Grace!!

Winnie

Married on 10/01/2017

Grace did my hair and makeup along with my mom's and my mother-in-law's as well. Both my mom and my mother in law raved about how beautiful their looks were and how happy they were with Grace! Needless to say, I was really happy about my own hair and makeup as well! I booked Grace almost a year in advance and when she said she was available I was super excited to have her for my wedding! She is great and a good value and you really won't regret it!

Winnie

Cindy

Married on 09/30/2017


34 friends
33 reviews
3 photos
Share review
Embed review
Compliment
Send message
Follow Cindy L.
5.0 star rating 11/6/2017
I hired Grace to do my hair and makeup as well as 4 other bridal party hair. I tried 4 different makeup artists before I decided on Grace so I did research! I really cannot recommend her enough. I had everything done at the venue and she was early of course and wasted no time getting to work. She is such a calming influence on a hectic day and the final outcome was even better than when I had the trial with her. I have never looked more beautiful in my life. The makeup was flawless and not cakey or overdone. I looked like the best version of myself and I had so many people come up to me afterwards raving about my makeup and hair. The best part? It stayed alllll day. Well into the sweaty dancing and afterparty. The worst part? That I can't have her do my makeup everyday because I truly have never felt so confident and gorgeous. Thank you Grace for making me feel incredible.

Justin

Married on 06/25/2017

Grace was so wonderful and easy to work with! She made me feel so beautiful on my wedding day. She listened to what I wanted my makeup and hair to look like. I just sent her some pictures and she knew the look I was going for. I got the package deal for 6 services for my grandma and mom as well and they looked fabulous! My mom looked and felt so beautiful! It was also important for me to book someone who was used to doing Asian makeup and spoke Korean. My wedding was early in the morning and she came at 4:30am to start! Grace was so accommodating. My makeup and hair lasted the WHOLE DAY! I couldn't have asked for anyone better. And her prices are reasonable! I would recommend booking her for your wedding in NY!

Jennifer

Married on 05/20/2017

I highly recommend Grace for both hair and makeup. I hired her for my wedding in May 2017 to do hair and makeup for myself and four of my bridesmaids. Amongst the five ladies, she took a hr for each of the bridesmaids and 1.5 hr for myself. She was right on schedule for each of the ladies! Which is very much appreciated when the day is already so busy.

I did a LOT of research before finding her and her rates are very reasonable compared to many others as she stayed with us from 7:30 AM through 6 PM- plus she traveled to New Rochelle, NY, without adding on travel fees. I like that her package included airbrush and false lashes as a lot of other places will charge these as add-ons to packages.

We did a first reveal before the ceremony and Grace was with me during our photoshoot, she helped fix my hair and makeup during the photoshoot, including putting on and taking off my veil. She also did touch ups after the first photoshoot and again, after the ceremony!

I did a makeup and hair trial with her in January 2017. I personally have watery eyes and can't wear certain eyeliners as they smudge easily on me. So she came back a second time to do another trial using a different eyeliner, without an additional cost, which she bought specifically for me (because of my watery eyes) and it stayed on all day. Also, the eyeliner stayed on throughout the whole wedding day as well (even though I cried a lot) so the trial is highly recommended.

Overall, she's very friendly, open to working with your preferences, gives good advice and very professional!!! I highly recommend Grace, don't bother looking elsewhere.

Jessica

Married on 05/13/2017

I am so glad I booked Beauty with Grace for my wedding day! Grace was always responsive to emails and flexible. Upon meeting Grace at our hair and makeup trial, I knew we were in good hands because she was attentive, communicative and very talented! On the wedding, Grace was punctual and fantastic at working with me and my 4 bridesmaids to achieve our looks. She was laser focused for 5 and a half hours! I also appreciate that Grace allowed me do some of my own makeup without making me feel like I offended her. Grace was with us through the photos for touch ups, and even kindly helped my groom with his stray hair. We all loved working with Grace, and would highly recommend her to any bride! Now I just need another special occasion to work with Grace again!

Rosalie

Married on 03/26/2017

I would highly recommend Grace to do makeup and hair! She did my hair and makeup for my wedding day and the bridesmaids makeup and my moms makeup and hair as well. I loved how she was able to capture our natural beauty and enhance it! She is truly talented! I felt so beautiful on my wedding day and the girls loved it as well! She was able to do my moms hair and makeup and we were very impressed!
My bridal party was very multicultural with Asian, African American and Latina, she knows how to make all of them beautiful. My hair was so beautiful as well! I showed her a picture and she knew what to do right away! I was deciding if I should apply a hair accessory but it was too big for my head, she was able to cut come pieces off from it and fit it beautifully to my head.

My hair and makeup lasted the whole wedding and my sister was impressed that my curls lasted the whole night even when I was sweating!

Grace was very punctual and came on time and she finished all the girls in a timely manner! Lets just say she was on point! She made me calm and comfortable. She was very professional, patient and friendly! If I had any special event I would utilize her services again!

Rachel

Married on 12/03/2016

I cannot recommend Grace enough! She was always very responsive (even when I had a million questions, and last minute changes!), super punctual, and such a calming demeanor. She also knows how to use her time effectively - I had 4 bridesmaids, my mother and myself and she was finished ahead of schedule - and never felt rushed or like we were pushing for time. And we all looked great! I'm a sweater and am really bad with makeup staying on my face but I pretty much looked exactly the same from beginning to end! I didn't even want to take my makeup off at the end of the night lol. I have a few bridesmaids who are also very picky and particular about their hair/makeup and they loved how they looked too! They even want to book her for their upcoming events! On top of all of that, her pricing is SO reasonable, especially compared to the work she puts in! Do not hesitate to have Grace for your hair and makeup, you will be so happy you did. Thank you Grace!

Joanne

Married on 11/05/2016

One of the first things I did when planning my wedding was start my search for a makeup artist. Having had a previous bad experience with a makeup artist who did not understand how to do eye makeup on monolids I knew that I needed to find someone who was skilled at it. I booked my trial with Grace and couldn't have been happier with how it turned out. She was very skilled and worked with me to create a look that was both bridal and comfortable for me. The day-of she arrived timely and did beautiful work not only on myself, but on my mother and MIL. Everyone was incredibly pleased with their looks. Her prices are great and she was very flexible when I was still working on my day-of timeline. I would definitely recommend Grace!

Leslie

Married on 11/05/2016

Grace is truly awesome! She did my makeup and hair for my wedding on November 5th, 2016.
There were 6 people total to get their hair and makeup done and timing-wise, my venue didn't allow all of us to get ready at the bridal suite. So 2 people had to get theirs done at the hotel and the rest of us at the venue. Grace was super accommodating with this circumstance and made it super easy for all of us. Also she made sure everybody got their hair and makeup done on time, and everybody absolutely looked gorgeous. Not only I was happy with mine, but all of my bridesmaids and my mom were happy with their looks. :) I felt confident and beautiful throughout the night thanks to Grace! If I happen to have another special occasion in the future, I would definitely ask Grace again.

Jenna

Married on 10/30/2016

Grace was amazing! She did my makeup as well as 7 of my bridesmaids, my mom's hair and makeup, my grandmother's hair and another friend of mine's hair and makeup. We all did airbrush makeup and lashes and it looked flawless and lasted all night long. Grace was so professional and sweet and calming throughout the entire day. She was so wonderful to have around and her makeup skills are the best. I would highly recommend her to anyone. Thank you so much Grace!

Lashawn

Married on 10/09/2016

I was extremely lucky to have found and hired Grace to do my (and my mom's) hair and makeup on my wedding day (10-9-16). I had read nothing but great reviews and saw pictures of her beautiful makeovers and I knew her classic, simple and glamourous technique would suit my style perfectly. She is one of the most reliable, responsive, professional and nicest people I've met. For my trial I was undecided between 2 looks and she tried them both until I was happy with the end result. She was even receptive to a last minute change in hairstyle on the day of the wedding. She can do natural makeup equally as amazing as she can do a more pronounced look. And her hairdo skills are amazing! Rarely can you find someone that's great at doing both... she is definitely a force to be reckoned with! Not only is she at the top of her game, but her fees are very reasonable! I can't recommend her enough!

Christine

Married on 10/08/2016

Grace was one of my favorite vendors to work with during my wedding! The make up came out beautifully on all of us, and my bridesmaids and I have different skin tones, coloring, and styles. The elegant looks she created made us all feel amazing, and we love how we look in the photos. Grace was also extremely easy to work with, and has a really nice, calming personality.

I am not a big makeup person, so it was a little daunting and overwhelming to try and find a makeup artist for my wedding day. I found Grace online and her reviews all mentioned her amazing talent as well as her warm personality. I took a chance and emailed her to book a trial for the day of my engagement shoot. She was extremely responsive with email and support patient when we had to reschedule several times due to bad weather. Finally the day arrived and she was at my house right on time to help me get ready. We tried out a few options for my hair and then on to the makeup. She totally understood the natural look I wanted and was accommodating with my wish to keep my glasses on for both the shoot and the big day. It was very easy to talk with her, and she made me feel completely relaxed during the whole application process. When it was time for the reveal I was so pleased with how everything came out. I just looked like a slightly glammed up version of myself. All of my features were highlighted but it didn't look caked on or fake, it just like a prettier me! I was excited to see what my now husband would think and he loved it! The pics came out great too, and the hair and makeup lasted several hours of heat and sweating!
On the day of the wedding, Grace came to my parents house to do various services for the women in my family and was flexible to add new people when necessary, all while staying in my timeline. The price was very fair and well worth it for what we got! Again, my makeup lasted all night and I never felt uncomfortable in it, or really need any touchups other than lipstick. Thank you so much Grace!!!!
Are you interested?
Send a message