9 Reviews
Recommended by 66% of couples
Quality of service

3.9 out of 5 rating

Average response time

3.1 out of 5 rating

Professionalism

3.2 out of 5 rating

Value

3.1 out of 5 rating

Flexibility

3.3 out of 5 rating
7 User photos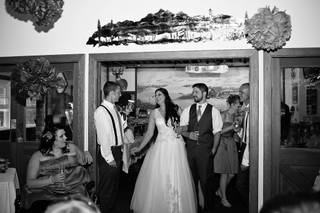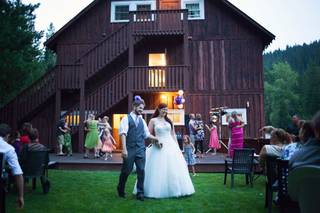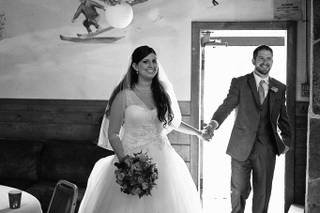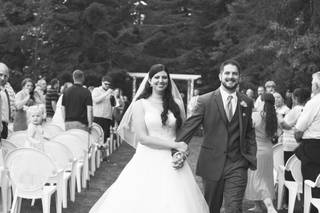 + 3

photos
Christina

Married on 06/08/2014

My husband and I chose Bear Creek Lodge for: location, value, outdoor/indoor option, and the personal/professionalism of the owners. We wanted a location that would be convenient for our guests but also provide us with a beautiful, natural outdoor location away from the noises of the city. The value was wonderful for our needs. At the time of our contract signing in 2013, Bear Creek offered: catering up to 100 people, venue, clean-up, alcohol service, linens, and a night stay for bride/groom for under $4,400. (The alcohol service was optional at a fixed cost) This amount included an 18% gratuity and 8.7% tax which was stated clearly in our contract. We found the owners very friendly and accommodating. Our guests were very impressed with how beautiful the grounds were and how relaxing the indoor reception area was. I highly recommend Bear Creek Lodge.

Anthony

Married on 08/11/2013

Great Value and even Greater Memories.

My wife and I had the best wedding imaginable here at Bear Creek Lodge on Mt. Spokane. Sam, the owner, is a great man with many duties and responsibilities surrounding his establishment. I do not agree at all with the other reviews on this website. He offered us an affordable wedding in August 2013 with flexibility a few hours beforehand to setup our own handmade decorations. The reception and dinner was amazing and every guest, around 75 people, commented on how great the food was. Our summer wedding here is one of the highlights of our lives. We couldn't have asked for more. The ceremony was something my wife and I have always looked back at as being truly amazing. The courtyard area where the ceremony takes place is fantastic with flower beds on the side, green grass, and a wedding alter that suited it all very well. We escaped the summer heat of Spokane in early August, being just a short drive up the mountain, to find ourselves comfortable with temperatures in the 70's. Come up to the lodge and meet Sam and to see the venue in person. You will not find anything better for the money.

+ 4

photos

Jason S.

Married on 09/11/2010

Wonderful Rustic Memories

Let's be honest here. I originally wanted a backyard BBQ but my wife wouldn't hear it! XD Also, the invite list slowly grew from the dozen immediate family to over 100+... and we needed a place for the out of town family to stay (about a third). This was the perfect venue because there was no need to drive from hotel rooms to the venue; everyone was right there ready to go!

Sam and his team did all the catering decor and coordinating, and everything turned out AMAZING! The surrounding environment was great; trees were starting to turn color, the weather was fair and there plenty of shade from the sun. We took tons of pictures outside. Ended up eating drinking and dancing the night away. Groomsmen/bridesmaids didn't need designated drivers, we had rooms! Also in hindsight, I'm glad we didn't have hard alcohol at the party. With that many people there's AT LEAST one person that gets out of control with the hard stuff; leave that drama for the bachelor/bachelorette parties.

Thanks again for the good times!

Are you interested?

Send a message

Brittany A.

Married on 09/28/2019

Made Great Memories!

Although our wedding did not go exactly as we had hoped for, and several things had happened that we couldn't have prepared for (freak blizzard was one of them) we made some memories that will last a lifetime. Sam was aware that there were a few issues that resulted from the storm and thus agreed to refund us a portion of our costs.

Steve

Married on 09/28/2019

Unexpected Weather

My daughter was married here on September 28th, 2019 and Spokane had seen a record breaking blizzard hit at the mountain. Due to this, several changes had to be made last minute. The owner agreed to refund us a portion of our costs. Although we had some unexpected events, the location is beautiful!

Jamie

Married on 07/18/2015

We picked this lodge way in advance for our wedding. The owner Sam, was very hard to deal with. He was rude and talked to us like we were stupid. He was always short and right before the wedding when we were trying to get our final cost he was even ruder and hung up on my now husband because he was busy. The day of wedding was ok. We had the lodge reserved from 1pm to 11pm. Well they locked the doors at a little before 10 pm and wanted us to leave. I would not recommend this company to anyone.

Response to emails and inquiries were delayed throughout the planning process including confirmation that payments had been recieved and request of the final bill. The final bill was sent a week after request and only allowed us 5 days to make adjustments and finalize payment. Changes were made at the last minute and while it was frustrating for them, they honored those changes to allow us to save money and stay within our budget. Staff was very friendly on the day of and helpful in all aspects. They allowed us to decorate the patio the day before for the ceremony and had everything set up so that we could decorate tables the day of. We stayed in the lodge overnight the night of the wedding which was very convenient and pleasant. Staff checked in with us several times throughout the event to ensure satisfaction. We wish there would have been more consistent communication while planning the event. Also, more information about the costs of services outside our original package would have been appreciated to avoid last minute stress in finalizing payment. Overall it was a pleasant experience and we were happy with how our wedding and reception turned out.

Casey

Married on 08/06/2016

The day was beautiful as the venue itself has a lot to offer. The owner Sam however left a bad taste in everyone's mouth and my guest left talking more about how rude he was rather than our wedding. He was difficult to deal with in the months leading up to the wedding as he never called anyone back and gave different info every time we spoke. I wanted to get as many details as possible taken care of in advance and I had to wait on slow email respons and phone calls. The week before the wedding he tells me not one of my camping guest had actually called to make a reservation? In other words he told me 20 guest who don't know each other all told me the same lie that they made a reservation? He was the common denominator as they didn't keep record of anyone reservations. It also would have been nice if he had templates of table arrangements for the reception. I had a hard time coming up with the right amount of center pieces. I was informed one number that I planned for and it was about 10 tables short. I also reserved every room in the lodge and created a rooming list for my guest based off the only resource he offers for room accommodations (website). The website is very vague in what his rooms actually accommodate as it may say room #12 has three queens and room #15 has three queens, however it doesn't say that room #12 and #15 have the same three queens in them and you can only enter through one door. I had complete strangers practically sharing rooms and beds! Luckily I thought about it friday night at rehearsal to double check and had to move people around so it would be less uncomfortable for people. The staff was slightly put out by my request for extra bedding and pillows in every room due to this issue. Food, staff, and cleanliness were mostly good and Sam was on good behavior for the day of. I don't think he has any business being in the wedding industry. He is rude and controlling and I wanted nothing more than my guest to remember us on our day not him

Sarah

Married on 06/11/2011

I got married at Bear Creek this year (2011). Originally, I planned on writing a scathing review because of the hell I had been through dealing with the owners. However, there were changes on the weekend of the wedding that allowed for my opinion to change slightly. Here's the lowdown: I planned my wedding for one year prior to the date. My husband and I signed with Bear Creek after we were offered a family-reunion style wedding from Friday through Sunday that included 15 rooms, catering,and a ceremony and reception venue for $7500. Over the course of the next year I often felt like a huge annoyance because I sent so many e-mails to Sam (the owner) with questions about the venue to help me plan my wedding. Sam answered almost all of them in a very timely manner, however, a few times I was offended by the rude responses (he later said he was joking). Unfortunately, the problems started when I began setting up my family in the "15" rooms at the lodge that I was promised. It wasn't until a separate visit to Bear Creek that my mother noticed that a handful of rooms were connected by an open doorway and shared one bathroom. I almost lost some family members that were not comfortable with this arrangement. I was able to work it out myself but was very angry for the extra confusion. The next problems occurred when we realized that our overall cost was going to be a far cry from the $7500 we were expecting. It did say in our contract that there would be an 18% gratuity added but I hate to say that we assumed that would be within reason. The costs started really climbing when we began adding the 18% to the lodging (there is no turn down service), to the cost of holding our event at the venue, and each and every possible item we had to pay for. The best example I can give is the gratuity on corking fees. There is a $12 corking fee charged to every 750mL of wine that we brought in ourselves. I purchased 3 boxes of wine at WinCo for a total of $31. When you calculate the corkage fee and gratuity for those boxes it came to almost $300! That is an exorbitant amount for that amount of alcohol. The gratuity is also applied to any and all alcohol purchased from Bear Creek. It also became necessary to tell our guests to bring cash if they wanted to purchase anything other than what my husband and I had pre-bought for the reception because, if anyone chose to open a tab or use a credit card, an automatic 18% would be added to their cost as well.
My husband, maid of honor, and myself had a final meeting with Sam and his wife, Karen, a few days before the wedding to make final payments and make sure all the details were in place. At this meeting Sam told me that he had been reading my wedding blog (to be fair, it is a free internet). They tried backtracking about the problems I had faced with the connected rooms by telling me that their website clearly states which rooms are adjoined. I will swear on everything that, at the time I was planning the room set-up, the website said nothing of the sort. The good thing to come out of this is that Sam and Karen have changed their website so there is no further confusion.
At the same meeting Sam brought up some poor reviews that had been posted online about Bear Creek. Without being completely blunt, he blamed me and/or my maid of honor for writing the reviews which we had not done. He claimed that one of the reviews specifically mentioned the date of my rehearsal dinner. Later that evening, either he or his wife forwarded all the reviews to me in my e-mail. I don't know why they sent them to me but I did read them and I realized that none of them had reference to my wedding weekend. I felt extremely angered and stressed just days before my wedding. I had been lied to and was being forced to deal with their issues that had nothing to do with me. At this point, I gave up all communication with either of them and turned it all over to my father who was just getting into town for the wedding.
Now that most of the bad review is out I can explain why I have raised my review from 1 star to 3. My wedding weekend was completely perfect! I'm sure it was obvious to Sam and Karen that both my husband and I were very unhappy and that must have convinced them to try extra hard to please us for the weekend. Their efforts were obvious. The location looked wonderful and Sam was great to all my guests (I had read other reviews claiming that he can be kind of rude or short if people get in his way). The kicker came on Sunday as we were packing up to go. I had forgotten to leave my card with Sam to cover all the corkage fees as well as anything we would be charged for going a few people over on our rehearsal dinner or farewell breakfast. I told my mother that I was going to take care of it but she reminded me that my father was going to handle all the business dealings with Sam. When my dad came back from their conversation he told me that Sam had just said not to worry about it; that we were square payment-wise. It honestly saved me hundreds of dollars. I don't know if he did it because he was just relieved that the whole ordeal was over or because he was still putting in all that effort to make up for the past year. Either way, it was much appreciated. However, I wouldn't expect that regularly which is why I feel people need to be aware of the over-zealous 18% gratuity.
So, overall, it was worth it to me to have 1 year of hell in order to have the perfect wedding weekend. Would I recommend getting married at Bear Creek Lodge? No. I would recommend Belle Victorian Gardens. The nights I cried because I was having such a horrible time with Bear Creek I was wishing we had chosen Belle Gardens. It is an incredible place but, more important, Pam (the owner) is one of the best people I have ever met. I promise I don't know her outside of planning my wedding and I'm not advertising her for any reason other than that she was amazing even after I told her we had chosen a different venue. She always remembered me and was incredibly supportive.