Reviews
5.0 out of 5 rating
Quality of service

5 out of 5 rating

Average response time

5 out of 5 rating

Professionalism

5 out of 5 rating

Value

5 out of 5 rating

Flexibility

5 out of 5 rating
100%
Recommended by couples
8 User photos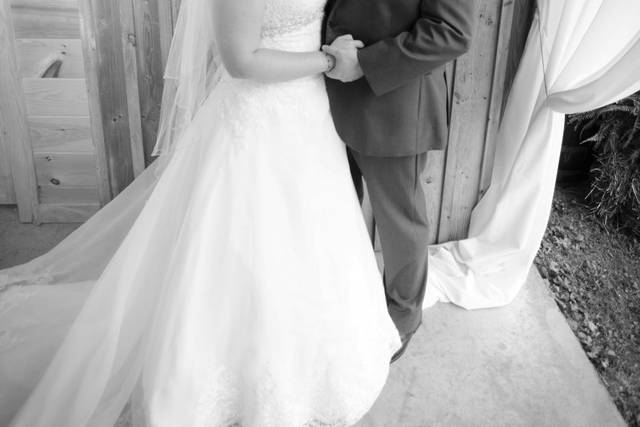 + 4

photos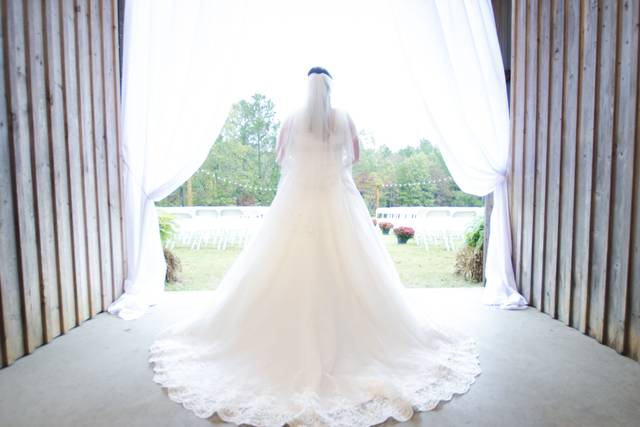 Maria

Married on 09/04/2022

What an amazing photographer

Crissy Bayless was literally the best. She could navigate both fussy babies and family members with ease. Super friendly and easygoing, extremely professional and reliable, and has a great eye for details and shots. My husband and I are so happy that we choose her as our photographer.

Samantha J.

Married on 03/26/2022

Incredible photographer with the BEST attitude!

Crissy and her assistant Lisa were INCREDIBLE! We received the 800+ photos back from our wedding, tried to narrow it down to 'just' the ones we absolutely loved, and still had over 300+ photos in our favorites album!

Crissy has actually been our wedding photographer for three years. You see, we initially booked way back in 2019 for a 2020 wedding, which was postponed multiple times due to lockdown. We knew rescheduling would be a hassle but we were determined to find a date that specifically worked for Crissy because of the amazing experience that we had during our engagement shoot.

I'd like to share a few points that really made Crissy and Lisa stand out to us:

* Incredible flexibility and organization. We had postponed 2 years, but Crissy was so willing to work with us as we rescheduled 3 times to find a date when we could safely celebrate. She had all of our original paperwork years later, and when the 2022 date drew close, we were able to resume conversations as no time had passed.

* Such a FUN and easygoing attitude! My husband and I are complete goofballs, who did not make it easy for Crissy & team to pose us in romantic ways. We were constantly giggling, but Crissy found a way to highlight the glee and quirkiness in a way that still captured the love in our hearts and eyes.

* If you are awkward taking pictures, then Lisa and Crissy are completely the right pair for you. Lisa realized very quickly that I just do not know what to do with my hands and gave me very specific instructions on where to place them. It was such a relief to have that extra bit of instruction done in a way that was still playful and never patronizing.

* We had a lot of last-minute changes with family photos, and Crissy was easily able to revise on the fly.

* GREAT WITH DOGS! Of course, our pup had to be included in some of our photos, and Crissy (a dog lover herself!) was able (at our request) to make our pup a centerpiece of our engagement photos.

* Crissy and Lisa felt like part of the bridal party. We laughed with them the entire time and just had a complete blast. They put us at ease, and in doing so were able to capture genuine smiles.

* The pictures are gorgeous. We are struggling to narrow it down to just a few to send to family and friends. We loved so many photos that we specifically bought a digital frame to display them all alongside some printed ones.

We chose Crissy based on a fabulous recommendation from a friend, and I will be passing that same recommendation on to anyone else I know getting married. Crissy is fabulous, able to handle even the most quirky families & friends, and captures the moments where you were having too much fun to even realize pictures were happening.




Maura

Married on 06/11/2021

Best wedding photographer

Crissy was very easy to work with. She was entertaining, professional and delivered great photos!!

Are you interested?

Send a message

Martha W.

Married on 08/30/2020

Fantastic Wedding Photographer

Crissy was amazing to work with for our engagement and wedding photos. In the time of COVID it is priceless to have a photographer who is so flexible and understanding. Crissy stuck with us through a change in date and then a change from our initial venue to our backyard wedding. Not only was she flexible but she managed to get my 6yr old to smile for so many photos and all my wedding guests commented on how nice she was and easy to work with. And, we got our wedding photos 7 days after our wedding. Unbelievable! Would highly recommend!!

Jill W.

Married on 07/26/2020

Great experience

I highly recommend working with Crissy as your wedding photographer. From the initial meeting onwards, she was always friendly, professional, flexible, responsive and helpful. She helped us find a beautiful spot for the engagement session and we loved how the photos turned out. When we had to cancel our initial March wedding date because of corona virus restrictions, she worked with us on a new date and adjusted to our impromptu ceremony. I am so happy we chose Crissy to capture our special day!

Mark A.

Married on 05/24/2020

Wedding photo memories

We used Crissy and her partner for our backyard wedding and it was fantastic! Due to the pandemic we had to reschedule 3x and Crissy was nothing but supportive and responsive throughout the entire process. We will be using her again next year for the "big wedding" and we can't wait to work together one more time. The photos came out beautiful. She also made a rather "crummy" day (married during a tropical storm) - a magical memory! Highly recommend Crissy for any photography needs!

Megan

Married on 06/15/2019

Amazing experience!

Crissy and Lauren were just awesome to work with! We had a beautiful day but so much wind!! They did amazing! They were so sweet and wonderful to work with! I would highly recommend them!

Damien

Married on 06/29/2018

I can't recommend Bayless Photography highly enough! They gave us an incredible deal- from a free engagement shoot and photo booth at the reception to getting digital copies of thousands of photos included, we got SO MUCH for our money. More importantly, Crissy and her assistant Lisa did a phenomenal job with our engagement and wedding photos- they were awesome with the kids (and our dog at the engagement shoot) and made sure to take every single picture I wanted. They were out in the scorching heat photographing for hours and never once complained or tried to rush us. They are true professionals with top of the line equipment and must have spent hours photoshopping out parked cars/ traffic cones in the background of some of our group shots just so we could take pictures in the shade. They also got us a sneak peak of our wedding photos within a few days and literally thousands of edited photos within a weak and a half. I would absolutely recommend without reservation.

Mary

Married on 03/17/2018

Wonderful!!

Crissy and her partner Jay were amazing! Gave us amazing photos for our perfect day.

Sarah

Married on 11/11/2017

One of the most important things about my wedding day were the photos to remember the event forever. Bayless did an amazing job! They were so professional and sent me all of my photos from the wedding and rehearsal so quickly. Bayless has a great questionnaire to fill out to help pick out the photos you want for your big day and makes everything so easy and simple. I loved all of my photos so much and my family did as well. Looking at them helps relive how wonderful the day was!

Danielle

Married on 09/30/2017

Crissy and Sarah were absolute perfection on my wedding day! They could see from the first few pictures that I didn't love being the center of attention, but somehow I managed to stay calm and collected for the entire day because they created such an atmosphere of fun, love and happiness. I was so grateful that that they were there to capture those moments.

Crissy was extremely communicative after the wedding and I received all of my beautiful photos within just a few short weeks. I highly recommend Bayless Photography for your wedding (or any event)!

Bridget

Married on 08/26/2017

We LOVED having Crissy as our photographer! For two people who do not like getting their photos taken, Crissy made the entire experience easy, fun, and enjoyable! Working with Crissy was not just a wonderful experience, she also produced the most beautiful photographs, capturing all the special moments that could have easily gone missed. Crissy designed out wedding album that we will cherish forever. Can't thank Crissy enough!

Devon

Married on 07/15/2017

I loved working with Bayless! They were always willing to answer my questions, and the photos are amazing! We had such hard time picking our favorites :)

Melissa

Married on 11/11/2016

The photographers were great very friendly and they took amazing photos I'm so happy I had them to capture my big day

Kim

Married on 10/16/2016

I wish I could give Bayless more than 5 stars. Since the moment I met Jay and Kim, I knew that our wedding would be remembered beautifully by the photos they captured. It was awesome having two photographers, one for close ups and one for wide angle shots and they captured all of our special moments and emotions of our wedding day. Jay and Kim were very friendly and fun and I couldn't have wanted anything better. My husband and I were blown away by our wedding photos and we continue to receive tons of compliments on our pictures and how amazing they turned out! The owner Crissy was very easy to communicate with and kept us updated on the editing process of our photos. We were amazed by how many photographs they took and we received a USB drive with all our photos. My husband and I will highly recommend Bayless Photography for your wedding or special event.

Arianna

Married on 10/14/2016

We came across Bayless Photography through our wedding venue. From this first time I spoke with Crissy I knew she was the perfect fit for us! Crissy was very accommodating with our schedules when it came time for meetings and she was extremely helpful throughout the entire process. Crissy was very quick to respond to emails and phone calls.
When it came time for the wedding day she was not only on time but early with her other photographer. She took the information we had given her for a "vision" for pictures and she incorporated everything we could imagine and hope for.
We received our sneak peak about a week after the wedding and it definitely left us wanting more. We were over the moon with how great they came out.
We got the rest of our pictures back about a month later. We were very happy with how they came out. She captured all the moments we could imagine.
She is knowledgeable, professional, friendly and just overall a great person to have around, especially during such a stressful time.
We are soooooo happy with the service and quality of our wedding photos. We would recommend anyone and everyone we know to use Bayless Photography and will be hiring them again for future needs (family photos, etc.)
Thank you Crissy for your hand in making our day amazing!!!

Meredith

Married on 10/01/2016

Crissy was a fantastic photographer! We got married on October 1st, right in the heart of wedding season, but Crissy never made us feel rushed or like we didn't have her full attention. She was also incredibly sweet and fun to work with on our wedding day. She gave us a sheet to fill out several weeks before the wedding, and she used that on the day of to guide the formal pictures that we wanted, which made it so easy to get them done! She and her partner also got wonderful candid shots, which were so much fun to see! I had a few shots of some family heirlooms that I wanted taken, and those turned out beautifully as well.
What impressed me the most was that she had not photographed at our venue before, and she actually took a trip to the venue on her own time and met with the in-house coordinator and took a tour, so she a sense of the layout and what would and wouldn't work for the pictures.
We had our full pictures (over 600!) back in less than 6 weeks, which for the busy time of year was not bad at all! I could not recommend her enough!

Adriana

Married on 09/25/2016

Crissy is a wonderful photographer who anticipates the needs of the bride and groom and does everything she can to ensure things run smoothly--without drama--on the wedding day. I cannot imagine having anyone else shoot my wedding. In addition to her professionalism, attentiveness and great eye, Crissy is also a really nice person. She clicked with us immediately and blended well with the rest of our guests at the wedding. Everyone wanted to have their photos taken by Crissy and as a result, she got some really awesome shots. We were so happy with our final photos that we have hired Crissy to shoot other events for us. I highly recommend Crissy!

Emily

Married on 09/24/2016

We chose Bayless Photography because they were one of the preferred photographers for the package deal our venue offered, and we felt like we were getting the best deal for our money. We were so happy with our choice! We worked with Crissy, the owner, on all of the details, as well as to set up our engagement session, and she made everything so easy! We had two photographers on the day of and everything was so smooth. Corey and Jay were super efficient and got all of the shots we wanted (as well as the ones we didn't know we wanted!). I wish we had a few more portraits of my husband and I, but there is only so much time on your wedding day and it goes by so fast! They threw in a free photo station and props, which was a huge hit with the guests. And they gave us a fantastic deal on an engagement session too. All of the pictures came out wonderfully, and the editing was very nicely done. We got a USB drive with all of the photos afterward--they took a TON--and could also order some professional prints through their website. They make great Christmas gifts!! I am so glad we trusted Bayless Photography to capture our big day. They did an absolutely fantastic job and I would highly, HIGHLY, recommend them!!

Vicki

Married on 08/06/2016

I would highly recommend Bayless Photography. I had a lot of trouble finding a photographer with lack of responsiveness and a cancellation. I wish I would have saved the headache and e-mailed Crissy Bayless first thing. She responded to me immediately and put me at ease. She is extremely responsive, professional, helpful and an excellent photographer. I wouldn't even call around, just book Bayless, it's worth it. Crisssy is prepared and goes over all the shots and timing well in advance of your wedding day. She works with all the requests you have and makes sure you have a great time but also get GREAT photos. Crissy and Jay were awesome on my wedding day and everything ran so smoothly. If you wanted to move on to the next photo or the cocktail hour or the reception, they made sure to work with you and ensure you enjoyed the day. I LOVED the photos we received and how quickly we received them. Crissy even follows-up with you after you receive everything to make sure it all is to your liking. You can't go wrong with Bayless, seriously.

Kate

Married on 07/01/2016

Balyless Photorgraphy was the best choice for our wedding. Our photorgraphers were amazing! We had so much fun taking our wedding photos and our guests loved them too! We had multiple people come up and tell us how awesome and kind they were!! HIGHLY recommend Bayless Photography!! Thank you so much for helping to make our day perfect!

Becky

Married on 05/28/2016

Crissy was very accommodating when we were planning for my daughter's big day! My daughter had several requests regarding the types of shots and the different people she wanted in them and Crissy had her checklist with her to be sure they captured every single one! Crissy and Jay were very professional and very patient with our large bridal party of 20 people, including 2 young flower girls. They even came to our house to take pictures of the girls getting ready as well as taking outdoor shots around a swimming pool. Jay left to take pictures of the groom and groomsmen at the venue. We also had a photo booth set up at the reception that our guests thoroughly enjoyed! I've noticed many of them using those shots for their FB profile pictures. We have a lot of memories in the digital/CD library we received very quickly after the wedding. There were so many excellent pictures that we've had a hard time narrowing down the ones to print for the keepsake album. I highly recommend Bayless Photography for any event!

Cristy

Married on 05/21/2016

My only advice is to just do it! Crissy and Jay were an absolute pleasure to work with, and I couldn't be happier with my photos! They are SO beautiful and masterfully shot. Do not hesitate to work with them - not even for a second!

Crissy did a super job taking pics for our 27th wedding anniversary.

Kristie

Married on 04/23/2016

Bayless photography was anything I could have asked for and more! Crissy was so fast to communicate with any questions- no matter what time I sent an email, I heard back within an hour. Jay photographed my wedding and heard exactly what I wanted and executed with ease. He put my husband, who hates taking pictures, at ease. He was great with our whole bridal party and family. Our posed pictures and ceremony pictures are near perfection and the pictures from the reception were spot on to what we were wanting (more action shots there). Getting the pictures was a better experience than any friend or family member has had with their wedding pictures and I highly recommend.
Are you interested?
Send a message