Reviews
4.9 out of 5 rating
Quality of service

4.9 out of 5 rating

Average response time

4.6 out of 5 rating

Professionalism

4.9 out of 5 rating

Value

4.9 out of 5 rating

Flexibility

4.9 out of 5 rating
98%
Recommended by couples
Awards
28 User photos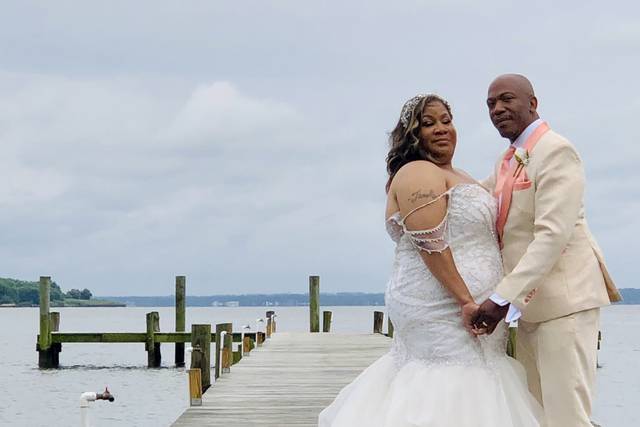 + 24

photos
Casie D.

Married on 07/06/2023

Amazing venue, food, and staff!!

Initially my (now) husband and I chose Bayfront for their beautiful waterfront views! The Catering by Uptown staff was amazing and they were so accommodating all around. The coordinators we worked with, Ya-Maila, Michael, and Veronica were super easy to work with and they made our planning experience stress free. The thing that solidified that Bayfront was *our* venue was the fact they had everything for us! We didn't have to worry about linens, China, lighting, food/drinks or decor and our day was truly perfect all thanks to CBU!

Leslie B.

Married on 09/23/2022

You won't regret it!

I recently got married at The Bayfront Club and it completely exceeded my expectations. My day of coordinator was Karyssa, and she was amazing from start to finish. My ceremony started late due to shuttle issues not involving the venue, and Karyssa made sure to keep everything flowing. She kept me sane & calm. The food was also excellent. All of my guests kept telling me how amazing the venue was! I would recommend to anyone - this place is off the charts!

Tameka C.

Married on 07/09/2022

Best Decision Made

There is nothing bad to say about the Bayfront Club. The service from day 1 and communication was superb. Even when faced with some challenge, they worked with me in every aspect. Ya-Malia communication was Wonderful. Niecy, day of wedding coordinator was outstanding. She made my day so easy and stress free. If I had to do it all again I would still choose The Bayfront Club!

+ 3

photos

Are you interested?

Send a message

Kim

Married on 05/14/2022

Amazing experience at the Bayfront Club!

We loved our coordinator, staff and location! Everything went so well and we are thankful!

Emma D.

Married on 03/09/2022

Effortlessly

Words can not express how Grateful my Husband and I are. The whole teem was excellent. Special shout out to Shonda. She was MAGNIFICENT. She went over and beyond for us....

Krysten W.

Married on 11/07/2021

Enchanting Time

We use this venue on November 7th 2021 for an evening wedding. The day my wife saw the venue she fell in love with the atmosphere and wanted to book it immediately, so we did. The inside was spacious, beautiful with many color and lighting options. The rear grounds where the wedding takes place was amazing, new deck, new arch, and new sod. There was nothing to dislike about the venue grounds. The day of coordinator (Chelsea) we had for the wedding was perfect, she was top of everything, dressed appropriately and handled anything we needed during our day.

The day of, the food was as we wanted, filet cook medium and you could cut with a spoon. The chicken, melted in your mouth and the sauce to die for. We honestly couldn't ask for a better place for our special day. We also had the crab dip which disappeared as fast as it was brought out, and all the Hors d'oeuvres were tasty. I do recommend this location for anyone, its all inclusive and was worth the money spent.

Now, we did hear some bad reviews on Facebook groups about this place, especially the food and Wedding Planner changing. Our wedding planner did change midway through the process and there was a 72hr delay for email responses. The food critique, I addressed in an email about our concerns and what we expected from them on our day. We did get a wonderful response from the Head Chef ensuring that our day would be prefect and it was.

overall I give them 9.5/10, would be a prefect 10 but the email delay annoyed me, 72hrs seems long when spending $15k+ at a location. A simple "I look into it and get back with you" would have sufficed as a fast response, vs 3 days later.

The Scanlons

Ashley C.

Married on 10/15/2021

Phenomenal. Nothing short of perfect.

Catering by Uptown and Bayfront Club absolutely exceeded our expectations. My husband is Bolivian and it was very important to us to have Bolivian food as a part of our wedding day. Not only did we have a traditional Bolivian dish, but it was incredible. All of our guests loved it. It stayed true to the Bolivian roots and was delicious. They went above and beyond to make that possible for us. On top of that, the cake was amazing and also the miniature desserts they prepared for us were raved about by our guests. Bayfront Club looked absolutely stunning and they set up my decorations to the tee of how I wanted it. Everything was nothing short of perfect. Stephanie Hutson, our coordinator for the day, was absolutely phenomenal. We cannot say enough good things about her. Without her I don't know how the day would have run smoothly. She was an absolute angel. From making sure the timing of my entrance song was set up perfectly to fixing my dress when the bustle broke. Thank you to the Bayfront Club and Catering by Uptown team, you all are amazing!

April

Married on 09/17/2021

Honestly Could Not Have Asked for a Better Experience!

Our big day was made so much less stressful thanks to the help of the Bayfront Club staff from beginning to end!!

The venue itself is absolutely beautiful from the wooden floors and elegant interior, to the manicured lawn and waterscape lining the property.

Cassidy was a HUGE help in allowing my husband and I to allow the vision for our wedding to be brought to life, especially with our non-traditional ceremony. She was always timely with responses to emails, and attentive to every detail.

The food was great and cooked well, and drinks were flowing all night thanks to the staff and bartender. Our cake tuned out perfectly too!

The staff was superb with every detail and took very good care of us throughout the night and even beforehand. Highly recommended!!

Ariana

Married on 05/15/2021

A blessing in short notice

My husband had been planning our wedding for close to two years. We had it all figured out with the help of our wedding planners. Then of course, covid happened and we had to change our venue last minute from a PA location to an MD location which is what state we live in anyway. PA restrictions were still in force and we ultimately had to make the decision to get our money back and look for another venue. For almost two weeks we were on a hunt. We always wanted water front but many of the other venues were out of our price range. We wanted to keep our date as well because we had all our vendors booked. Thank God I found the Bayfront Club. From the moment we contacted them to the very end of our wedding, we were on cloud 9. Katie was our coordinator and Anne P was the first person we spoke with over zoom. Both of them were excellent. The venue itself is a gem, with wonderful views and wonderful landscaping. The venue was the perfect size for our 145 guest list. The venue was clean and parking for the guests was great. Our wedding was a dream.

Brianna M.

Married on 09/19/2020

The Best "Worry Free" Wedding

We got married 10/03/20 and had literally just started planning April 2020. The venue itself is beautiful even without decorations. Shonda let us email with changes even just two days before the wedding. Brittany(or Brittney? Blonde curly hair) was the best day of coordinator we could have asked for. She had our schedule but didnt force us to do anything-if I had a bride fit that I wanted to play a game longer or not do introductions yet she said "whatever you want to do. Its your day" she made sure everyone was in their place and ready when WE said it was time. Our Dj failed miserably for most of the night, but she even made me feel better about walking down the aisle in silence(not by choice). Everything was set according to my controlling diagrams and handled how I would have done it myself. We got a lot of compliments on the food as well. We had out lawn games outside and an escape room. They worked with our vendors really well.

+ 4

photos

Mary D.

Married on 03/20/2020

Bride and groom

Thank you to Bayfront Club who made our "COVID" wedding everything we wanted! Our initial wedding was set for March 20th but just 4 days prior our wedding was canceled and postponed. We set a new date of July 10th and although that wasn't promising, the Bayfront Club and Catering by Uptown team helped make our dreams come true. They were 100% responsive to all of our questions and needs and provided us with the upmost respect for what we were experiencing. I couldn't have asked for a better day, venue, and team!

Melissa

Married on 05/10/2019

May 2019 wedding

Our wedding was perfect!!!! This venue is beautiful!! Our day of coordinator, Cassidy, was amazing and the day was flawless. Literally 45 minutes before the ceremony it began to rain, and it was moved inside swiftly. Myself and my new hubby were able to relax and they handled it all. The food was amazing! The drinks were great! And all of the staff was attentive and friendly! The food, bar, cake, tables, chairs, linens, plate ware, and coordinator is included in the price. It was truly the best day of our lives!

+ 3

photos

Eva

Married on 06/24/2017

Eileen, Day of Coordinator, is amazing.

Bayfront Club was a beautiful venue and the food was great - guests send their compliments to the chief. But Eileen, our day of coordinator, is the star of the whole day. She was incredible and had everything under control (including my husband's 5 yo nephew during the ceremony!). Everything was set up how I wanted it, everything ran on time, and she is just the sweetest lady to work with. Props to catering by uptown for holding on to such a stellar employee for so long!

Ashley P.

Married on 05/11/2022

Beautiful wedding venue!

The Bayfront Club and Catering by Uptown made the experience of planning a wedding during a pandemic as smooth as possible! We were drawn to the venue because of its previous life as a moose lodge that my now husband grew up in. However once we found out the amazing packages offered we were sold. Catering by Uptown provides a fairly all-inclusive package, including venue, food, drinks, cake, and a lot of décor options, at an affordable price. The staff was so nice to work with and accommodated our needs.
The Bayfront Club itself is a gorgeous venue with beautiful picturesque water views. The food and cake were amazing. Having our wedding at the Bayfront Club was everything we dreamed of!

Alexis F.

Married on 08/21/2021

simple and magical

The Bayfront Club and Catering by Uptown made wedding planning so simple! We picked the menu, decor, timeline, everything in 1 meeting and could make our changes in the portal which made everything so much easier while not living in the area. We loved the whole process and ended up with a magical wedding! Everyone we worked with was professional and helped us create our perfect day! Our only complaint was that as we progressed in planning, we switched team members/contacts making it difficult to know who we should be contacting during transitions from planning to production to our day of supervisor. However, we loved each of them and could not have been happier with how the day turned out. We kept waiting for a big wedding fiasco to drop, but Chelsea was so helpful on our wedding day and made sure that everything went smoothly, and we made it through the day so effortlessly! Plus, our families were happy to be hands-off during set-up and tear-down so they could truly enjoy the day with us!

Angela O.

Married on 07/24/2021

The frustration was worth it

Our wedding planner wasn't great to work with. She had poor communication skills and I felt (especially a month before the wedding) that she kind of checked out and seemed to leave out information she could have given us months in advance. Everyone else we worked with though, seemed to know exactly what needed to be done and they were very attentive. The wedding day was beautiful! We had so much fun. The staff was great! They made sure the bridal party, as well as, my husband and I ate and drank during pictures, and the bar tender remembered all of our guests drinks (which our guests loved!)
So even though, working up to the night was frustrating, the final product was definitely worth it!

Samantha B.

Married on 07/02/2022

Beautiful venue

This is a beautiful venue. Also, the wedding cake was incredible !
Are you interested?
Send a message