38 Reviews
Recommended by 99% of couples
Quality of service

4.9 out of 5 rating

Average response time

4.9 out of 5 rating

Professionalism

4.9 out of 5 rating

Value

4.9 out of 5 rating

Flexibility

4.9 out of 5 rating
Awards
16 User photos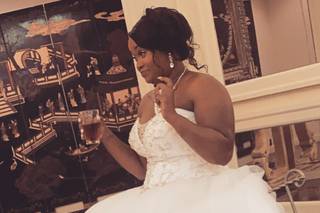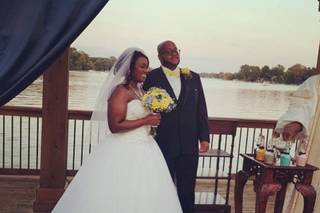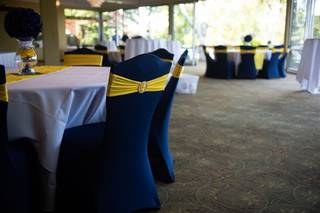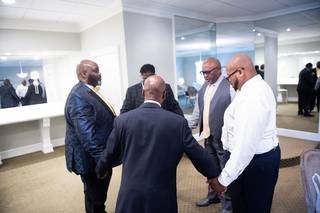 + 12

photos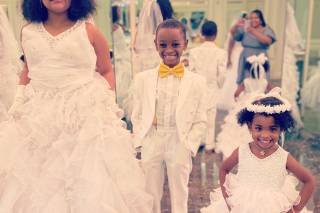 Kathleen P.

Married on 05/01/2021

Murphy wedding

We found them after our original venue was not going to be open when we were planning our wedding. Bay Pointe was super flexible and able to meet all our needs. Justin was so helpful. Everyone kept telling us how beautiful the venue was and how good the food was.

Alyssa M.

Married on 04/24/2021

Professional, Incredible Experience!

I have nothing but top reviews for Bay Pointe, Glen Oaks and Oak Management. We had to make a last-minute pivot after our postponed wedding could not happen at our original venue, Glen Oaks, due to state of Michigan pandemic protocols. Bay Pointe could accomodate our downsized event since they have the capabilities to make a patio space. Bill and Brian from Glen Oaks and Nick from Bay Pointe worked seamlessly together to make this happen. While I heard horror stories from other couples about their venues during the pandemic, this organization had nothing but solutions and building protocols to make this a safe and fun event. The food was incredible and we continue to get compliments. The "getting ready suite" was dreamy. Everywhere working there is very practiced at making a wedding run smoothly and is very committed to making this the best day and celebrating with you. I would absolutely recommend Oak Management to any metro Detroit couple getting married!

Kara M.

Married on 11/07/2020

Perfect Wedding Venue

My son's wedding was at Bay Pointe this past Saturday and it was absolutely perfect. The food was excellent, staff was very accommodating and the setting on the lake was great. (We even had fireworks across the lake!) Bay Pointe was very helpful in working through having a wedding reception during this Covid-19 time. We may have been on plan c or d but the end result was perfect!

Are you interested?

Send a message

Genia D.

Married on 08/23/2020

A Day Ill Always Remember ❤️

Made the experience beautiful despite COVID-19

+ 6

photos

Joriane M.

Married on 10/18/2019

Exceeded our expectations

They made the day run so smooth and easy!! They even busted out some peroxide when I had a stain on my dress before walking down the aisle. Couldn't have asked for anything better in making our wedding exactly the experience we wanted. Oh and people could not stop talking about how good the food was!!

Lindsey N.

Married on 08/16/2019

Wedding day Review

From the day we walked into Bay Pointe to the last moment of our wedding day our experience was flawless. My husband and I were so blessed to work with this awesome venue and their wonderful staff. First off the venue is absolutely beautiful!. My husband and I said I do in front of the lake in August of 2019 and the view alone would take your breath away. The bridal suite was everything a bride could dream of on her big day. And the reception room paired beautifully with our decorations. However, despite how beautiful this venue was it did not compare to how attentive, polite, and amazing the staff was. We would highly recommend this venue!

+ 2

photos

Coleen

Married on 04/28/2017

My daughter picked this venue out a year before their wedding. Bay Pointe Golf Club did an amazing job, and went out of their way to insure everything was perfect. All the guest gave me compliments on the venue, the appetizers, and dinner, they loved everything. Our guest said it was the nicest wedding and the best food they had every been too in their life. The bride, groom, and I are still getting compliments… But most of all, the Bride and Groom were so Happy and they Loved every minute. We could not have had such a beautiful day. Oh, we just got the proofs back from the photographer, and talk about an amazing setting inside and out. WOW.
I would highly recommend YOU for all weddings!!! Amazing job!!


Courtney

Married on 10/07/2016

Bay Pointe was amazing to get married at. My family and friends loved the venue and scenic view of the lake. The management team handled all details so that I did not have anything to worry about the day of. I was married on a Friday and was able to set up the reception room the night before which was amazing to have everything ready and nothing to worry about the day of. The bridal suite was beautiful and so fun to get ready and take pictures in with my bridesmaids. They accommodated all special needs for my elderly grandparents too. They worked well with all my vendors so I did not have to work out any details. The food was amazing and the buffet had a great selection. I would recommend Bay Pointe to anyone getting married in this area.

GORGEOUS venue. The bridal suite is the perfect place for a getting ready photoshoot!

Cynthia

Married on 07/16/2016

We were married here recently, and we are so happy we chose Bay Pointe. They have recently re-built their deck and gazebo by the lake, and it is gorgeous! We had so many compliments on the amazing buffet and fruits and sweets table. Even now, we have many people telling us how it was the best food they'd ever had at a wedding.
Planning with Justin and Katie was a breeze, they were extremely helpful and accommodating. I couldn't have experienced a better day!!! Thank you to everyone at Bay Pointe who helped us have the best day ever!

***EDIT - it's been 5 months since our wedding, and we STILL have people mentioning how awesome the food and desserts were! haha!

Amanda

Married on 06/25/2016

So glad my brother picked Bay Pointe to host his wedding reception, and it wasn't because my parents had their reception there over 30 years ago. It is because Bay Pointe knows how to host a perfect event from beginning to end. And when I say beginning, I really mean from the moment we submitted an inquiry and on.....The tour was very informative and the negotiating/contract phase was seamless and easy. Bay Pointe was very receptive and accommodating to all of our needs and always answered our questions quickly and favorably during the planning process. The weeks leading up to the wedding were stress-free because Bay Pointe had been so organized and helpful. On the actual wedding day, the venue was clean and beautiful, the staff was professional and friendly, the food and beverages were delicious, and the night was just magical. Our family could not have asked for a better wedding venue....Thank you to all the staff at Bay Pointe.

A huge shout out to Justin, who for far exceeded our (very high) expectations. He really is a "diamond" in the wedding industry!! He was such a pleasure to work with and we are so grateful for his willingness to go above and beyond to make our event perfect! (He even wore a purple tie the night of the wedding to go with the theme!) Thank you, thank you, thank you Justin!

I would HIGHLY recommend Bay Pointe Golf Club.

Tasha

Married on 10/03/2015

The amount of compliments we received after our wedding is amazing! The location, staff, and food are just a few of the things that we heard positive feedback from! We look back on our very special day, and can't imagine having gone somewhere else. If you truly want the perfect place, look here and you will find it!

A special thank you to Justin, Sondra and Brittney! We couldn't have done it without the three of you!

Erica

Married on 07/25/2015

My husband and I were married at Bay Pointe Golf Club a week ago. We continue to hear "that was the best wedding ever" from all of our guests. It truly was the best because of Justin, Brittany and the entire staff at Bay Pointe. Throughout the entire planning process, Justin went above and beyond to make sure every question was answered and every detail was perfect. What I love about Bay Pointe is that they are very flexible and will accommodate whatever you may want. We had both our ceremony and reception there and when weather became a bit threatening, Justin jumped in and came up with many plan B options. He really put us at ease. The staff made sure every guest was satisfied and having a good time. The venue itself is beautiful and picture perfect. The dressing room is gorgeous and not like any other I had ever seen. My bridesmaids were able to get ready there and had plenty of room. The boys had their own separate area that was also very spacious. Brittany was there throughout the entire night and took care of every little hiccup. I didn't find out about those little hiccups until days after because she handled them so seamlessly. The food was amazing and the bartenders were very accommodating. I toured close to 10 venues before I found Bay Pointe. It soars above all of those venues in every aspect while still being very reasonably priced.

Brides (and grooms) to be, put this at the top of your list as you start your tour of venues. You will not be disappointed!

Lauren

Married on 06/20/2015

Justin and his staff at Bay Pointe were the BEST! We absolutely loved our experience here. We got married outside and were able to decorate exactly how I wanted – it looked better than expected! Being right on the water was just stunning. They were so flexible with set-up and, because they weren't booked the night before, allowed us to come in prior to our rehearsal dinner to make all of our centerpieces (we had a DIY wedding). The day of, my girls and I got ready in the bridal suite, which is so big and beautiful. It made for a really intimate and special experience – made me feel like a princess for the day! And the coordinators would bring us trays of champagne, shots, whatever we wanted. It was awesome. Service was impeccable the day-of and I must mention… the food. OH MY GOSH THE FOOD! We received no fewer than 30 comments from people that night saying it was the best wedding food they'd ever had. It was honestly the best steak we've had at a wedding, or anywhere else for that matter. To this day, people still talk about the food at our wedding. Book your wedding here! You will not regret it!

Alisha

Married on 04/25/2015

Our wedding ceremony and reception were PERFECT, and a big thanks goes to Bay Pointe for making that happen. I'm not even sure where to start! The location is beautiful, the food was AMAZING (we got a ton of compliments about the food and service), and the staff was very accommodating and nice. Justin was great to work with. We were planning our wedding from out of state, so we must have emailed him a hundred times with questions, right up until the last week. He gladly answered all of our questions and was so easy to work with. While getting ready in their incredible bridal suite, he made sure us girls had everything we needed. I can't say enough about Justin and how great he was! The staff was great as well. Not only were our guests happy, but they made sure my husband and I got appetizers and drinks while we were finishing up pictures. We could not have asked for a better wedding day!!

Kathryn

Married on 04/18/2015

Awesome! Staff is great and very helpful! couldnt Have imagined going anywhere else!

Jaime

Married on 10/04/2014

I can't express enough how fantastic Bay Pointe is! The wedding planning process couldn't haven gone more smoothly with the help of Justin! The day of the wedding Justin provided me and my bridal party with fresh fruit, a cheese platter, and mimosas. The day of my wedding it was 42 degrees and raining on and off. The plan was for the ceremony to be outside overlooking the water and with the weather I wasn't sure it was going to happen. The rain stopped 30 minutes before the ceremony and Bay Pointe responded quickly to make my dreams of an outdoor ceremony come true. The reception was a night to remember. The food was absolutely amazing, from the appetizers to the main corse to the late night snack it was delicious and very plentiful. Two months later our guests are still talking about how amazing our wedding was thanks to Justin and his amazing staff!!!!!!!!

Allie

Married on 07/05/2014

Justin and the staff at Bay Pointe knocked it out of the park! We held our ceremony in their waterfront location and it was beautiful. Justin was extremely flexible with the specific set-up requests that we gave him. We were able to decorate the venue with almost no limitations, this was an excellent bonus! We selected the buffet dinner - it was superb! I have never in my life eaten such delicious food. I remember sitting with my husband while we were eating and saying "o.k. everyone, let's just take a minute to ingrain the memory of this meal into our brains..." The sweets table replaced our cake upon our request and it didn't disappoint. Our guests marveled at the number of cakes and treats that they were presented with! The artistry in the presentation was mind-blowing. There were fruit sculptures and everything!
It was the best day of our lives and Justin helped to make that possible!

Megan

Married on 06/20/2014

I can't say enough good things about this venue. The location is beautiful! There is a gazebo on the lake to get married under and the inside was recently redone and looks gorgeous! There are large picture windows that open completely to a large deck that over looks the lake and gazebo. If you plan on getting married there, the bridal room is beautiful. It's large and spacious and there are mirrors everywhere, it's a gorgeous spot to take pictures before the wedding. Also, in comparison to many of the venues that I had looked at prior too, who ever books the place has it to themselves for the entire event. You don't have to share or worry about party crashers from other events drifting over to your event. My husband and I are big into food, so food was an important factor for us. They did not disappoint, everyone to this day is still talks about how good the food was. We opted for the buffet option because for the same price we were able to have a much larger selection of food (there were at least 20 salads on the buffet table, 4 meats, and a pasta choice). It was so good, my husband actually sought out the chef and thanked him. Now onto the staff. Justin was so helpful with planning the wedding and ensuring our wedding went smoothly. Before the wedding he answered all of our questions quickly. The day of the wedding he was awesome. It rained on and off most of our wedding day and we were scheduled to be married outside on the lake. He assured me he would wait till the last minute to make the call and he was true to his word. About 15 minutes before the wedding was supposed to start he came into tell me it was misting outside. He gave me the option to go or to bring it in. I said lets go for it and he got his staff out there to start wiping off chairs. He kept everything moving and we were able to be married out by the lake. I can't thank him enough for that. Him and his staff were very attentive and helpful for the rest of the night as well.

Christine

Married on 09/15/2013

Bay Pointe was bar none, hands down, the most gorgeous venue of all, in the greater Detroit area. The grounds are beautifully landscaped and the view of the Middle Straits Lake is just breathtaking. The staff was very helpful and accommodating to our needs. I was impressed most of all with the food. Even my vendors raved about the food. The bridal suite is out of this world ladies as well. Justin and Whitney are absolutely wonderful.

Stephanie

Married on 08/04/2012

I fell in love with Bay Pointe the second I walked in the door and knew I wanted to get married there! Bay Pointe is an elegant venue, the reception area is beautiful! The ceremony site is on Union Lake and truly stunning! The staff at Bay Pointe is truly outstanding. Justin and Nick, the managers were extremely organized and always had an answer for every question I had for them! They went out of their way to make sure the little details I wanted were carried out. The wait and bar staff were fantastic, the food was to die for and there were never any lines at the bar! On the day of the wedding, Justin brought the girls cheese and fruit platters and mimosas and at the end of the night they made me a pizza because I had been dancing when the late night snack was brought out! Overall, Bay Pointe made this part of the wedding planning SO SO easy, I owe Justin so much of this, he really runs an excellent venue!

Nichole

Married on 07/14/2012

I don't even know where to start... Bay Pointe Golf Club was absolutely amazing. Justin was quick and thorough when responding to questions. We loved being able to spend all day in the side room of the locker room getting ready. It had several seats with large mirrors and a wonderful 3 sided mirror you would see in a dressing room. Make-up and hair came to us, the staff made sure anything we needed, we had. We had lockers for the bridesmaids and my mother-in-law to keep their belongings while we went to the church and during the reception. It was so nice to be able to get photos outside before the ceremony and before the reception. It is beautiful there by the lake with the flowers and the trees.

The food... was amazing. As the bride, I didn't have a lot of time to eat but the food was delicious! Usually when I go to a wedding, I eat light beforehand because either the portions are light or the food is dry and dull. My guests commented to me that when the saw the salad (which was large, unlike most weddings), they thought the dinner would be small. They were surprised not only by the portions but by how excellent it tasted. Most guests said it was the best food they ever had at a wedding!

The guests enjoyed the patio and the view by the lake during the cocktail hour and even after dinner. It was a beautiful night with a gorgeous view!

Bay Pointe was accommodating, helpful and fantastic. We loved the venue and the staff. I couldn't have asked for a more wonderful day.

Check this venue out and you will be happy you did.
They were a little higher price range than we were planning on and they were very accommodating in creating the perfect package for us.
4 things people remember the most: Food, Drinks, Music and Atmosphere - Bay Pointe provided 3 of the 4 and did an exceptional job!

Marisa

Married on 10/22/2011

We had our ceremony and reception at the facility, which is absolutley beautiful. Our wedding day was absolutely perfect and it couldn't have been done without Justin Post and the staff at Bay Pointe. Justin went above and beyond our expectations, from the meetings, to the the rehearsal, and the day of events. We highly recommend this venue!!

Kathy

Married on 07/02/2011

I looked at over 20 different locations around metro detroit before deciding on a venue for my wedding.

I had both my ceremony and reception at Bay Ponte. I can't say enough good things about them and in specific Justin.

From day one he was almost always available to answer every one of my questions with confidence. On the day of the rehersal he set up tee times for all of the groomsmen to play a round of golf before the rehearsal started ensuring they would be there. He has the banquet room already set up for us to come in on friday(a day early) to put everything out that needed to go out. During the rehersal he worked with the entire bridal party lining them up and catering to our every need.

On the day of the wedding he was at the venue early and made sure my vendors had full access to the room to set up everything. He went out his way to cater to my every need, bringing us some refreshments in the bridal room and making sure the guys were taken care of. For the ceremony, Justin went out of his way once again to make sure the timing was just right for me to walk down the isle. After, he had his staff promptly start passing appitizers and refreshments to all of my guests, which was much needed as it was a 90 degree day outside. As the evening went on, every detail was taken care of for me. There were even a few details I missed and he promptly addressed them. Before Justin left for the evening he found me and made sure I did not need anything else from him, which was very professional to do. He could have just left and not said anything at all. He let myself and my mom know who was in charge when he was gone just in case anything came up. I only had one minor issue and it was taken care of by Justin, promptly and with professionalism the very next day without any hassle.

Overall Justin truly made my wedding day the best day of my life. Bay Pointe is a very beautiful location, the food is out of this world- I am still getting compliments on it, and the staff really goes out of there way to make the day go by as smooth as possible. The cost was well worth it to have them be so attentive.



I would reccomnd this venue to anyone that is looking for a great place to have a wedding.

Victoria

Married on 06/18/2011

I struggled to find the words that would adequately describe our recent experience with our family wedding at BayPointe. As an event planner in my daily life, I felt a particular responsibility to pull off the "picture perfect wedding"...the pressure was on and my expectations were very high. I braced myself for the inevitable slew of things that could go wrong. But...they never happened. The staff at BayPointe was so fabulous that they far exceeded all of my expectations. I have worked over the years on major events with lots of vendors and not one of them holds a candle to the folks at BayPointe. Everyone and I mean everyone is incredibly accommodating. The venue, the food, the service...all of it TOP NOTCH. In addition, the layout and beauty of BayPointe's facilities allows you the opportunity to create a magical experience for your guests. The venue space allowed us to create four different environments, our guests experienced an enchanted evening that unfolded a little at a time. Following the beautiful outdoor ceremony overlooking BayPointe's lake...our guests were immediately led to our cocktail hour in a spectacular room featuring walls of glass that open completely onto several tiered decks with views of the lake to die for. Following cocktail hour, our guests were then led into the reception room for yet another totally different experience. It was absolutely beautiful! Everyone kept asking us "how did you find this place". Every step of the way the staff at BayPointe worked with us to make sure every detail was executed perfectly... and they were!! A special kudos to BayPointe manager Justin, we felt like he was part of our family by the time the wedding was over. Lastly, brides... you will be flabbergasted by the bridal room...the best one anywhere. Victoria R.
Are you interested?
Send a message