238 Reviews
Recommended by 99% of couples
Quality of service

4.9 out of 5 rating

Average response time

5 out of 5 rating

Professionalism

5 out of 5 rating

Value

4.9 out of 5 rating

Flexibility

5 out of 5 rating
21 User photos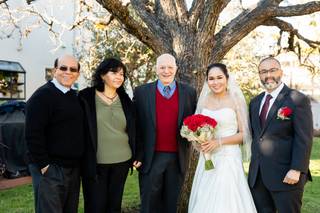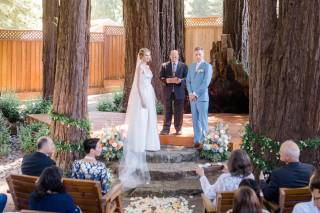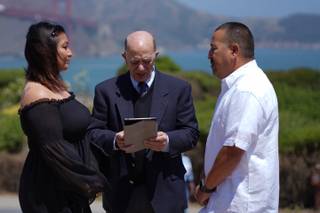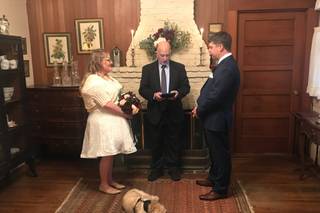 + 17

photos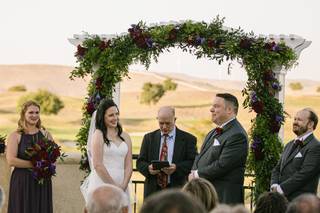 Featured

Aura

Married on 12/09/2021

Our ceremony is now a memory for a lifetime!

Rick transformed our ceremony from (what we may have thought) an important formality into a truly meaningful moment. He spoke to our journeys and those of our families, and it was clear to us that he took the time to reflect on what all of this meant for us. We were extraordinarily moved and grew more connected through our vows.
Last but not least, Rick offered to perform the ceremony in his sunny backyard under a splendid pear tree; peaceful chickens wandering around completed the idyllic atmosphere.
We couldn't have wished for a better way of celebrating our union. We will forever be grateful for Rick's crucial role in those 30 minutes that changed our lives!...

Anastasia M.

Married on 04/15/2022

Great experience!

It was our best decision to ask Rick to officiate our small ceremony. He made it feel very special! As a bonus he sent us a video of the ceremony which none of our family took 😂we highly recommend Rick!

Alona

Married on 01/11/2022

Great Experience! Accommodating and Genuine.

Me and my husband were looking to have an elopement ceremony. I found Rick via Wedding Wire and sent him a request. He called me within 30 minutes and confirmed our date. Rick was so accommodating considering our date was the day before Thanksgiving and with less than a 30 day notice. He sent us an email asking to about how we met, shared experiences, etc. He incorporated that into our wedding vows in a way that felt like a recap of mine and my husbands relationship. He married us under a Pear tree where he married his wife over 25 years ago. It was very sweet. Overall, it was very a great experience and I am very happy we had Rick to ordain our wedding.

Are you interested?

Send a message

Jigar B.

Married on 12/24/2021

Marriage Ceremony

Rick provided us an excellent experience in planning and conducting our Marriage ceremony. He kept all invitees engaged with his beautifully crafted speech and delivery. We absolutely loved the humor and emotional touch he added in his speech!
Most of our invitees were experiencing an American wedding ceremony for the first time, and all of them truly enjoyed the experience!
Rick took deep interest to know my wife and I personally so that he could craft a speech that reflects our relationship.
I would absolutely recommend him to anyone who is looking to get married!
Thank you, Rick! You made our big day even more memorable!

Khanasa A.

Married on 12/17/2021

Great for wedding experience

He's professional
Good choice

Christian R.

Married on 12/04/2021

Amazing!

A great experience!! Completely blew away expectations. Rick was amazing, everyone teared up. I would recommend 110% :D

Julie

Married on 12/03/2021

It by far exceeded my expectation

Thank you for being an important part of it

Trevor S.

Married on 08/27/2021

Rick is incredible!

Rick was a huge part of making our wedding something truly special. I can't thank him enough for how happy he made me and my wife on our wedding day.

Jackie

Married on 08/13/2021

Beautiful ceremony, made our special day so special

We were so happy that we decided to have Rick officiate our wedding. He told our story in the most beautiful way in his speech, he gave amazing advice for our married life and just made our special day even more special.
We're grateful.

Sarnjit S.

Married on 08/05/2021

Best Marriage

I highly recommend this wedding vendor. Our officiant Rick was very professional and made the wedding as best possible during this time of the year. Rick not only married us but also helped with the application process and was available when called!

Nadia C.

Married on 07/09/2021

A fantastic experience!

Rick was absolutely WONDERFUL as our officiant!! My husband and I are non-wedding people. We don't like the fuss and hoopla. So how do two non-wedding people get married? We found Rick! My husband and I felt really good about him as soon as we got to talk to him. He is warm, friendly, and sweet. Truly the kind of person you want doing this very important job for a very meaningful and emotional moment in your life.

What Rick brought to our wedding and the whole experience of our ceremony went beyond anything I could have imagined. He really took in and reflected on who we are as a couple based on the information I provided him. His words were beautiful, thoughtful, and very moving. I am so happy that he married my husband and I. 😊



Alice G.

Married on 06/27/2021

Wonderful officiant!

Rick was a wonderful officiant, and he put so much care, attention, and thoughtfulness into our ceremony. At our very first meeting with him, he took the time to learn more about our story and love, and was then able to translate our relationship into a personalized wedding ceremony. He's an excellent communicator, and very responsive. I highly recommend him!

Monica B.

Married on 05/22/2021

Rick Kaplowitz- Renewal of vows

Rick was extremely professional. He took his time to explain to me in detail what the experience would be like. I listened while I explained what my husband and I wanted. He even gave us insight as we were not very familiar with San Francisco. Our ceremony was absolutely beautiful and tailored just for us. His words were absolutely touching to both myself and my husband. I cannot say enough great things. If you are looking, look no more. Rick is your man for an amazing experience.

Anisha A.

Married on 04/23/2021

Definitely recommended

Rick was at the location well before time, he gave us options to choose the perfect back drop at the Manhattan beach, he did an excellent job.. me and my husband will cherish this memory forever... everything was beautiful about this day, Rick made it easy for us. Thank you Rick!

Mangesh

Married on 04/23/2021

Best wedding officiant.

We were blessed to have to Rick to perform the ceremony at our wedding. Rick was able to accommodate our request on very short notice and he was flexible.

Scott E.

Married on 02/12/2021

Great insight!

Rick performed a meaningful ceremony with great insight into our needs in a timely, affordable and comfortable manner. Without much to work with, his words divined the nature of our relationship, its challenges and its promise for the future. He emphasized the positivity of it all and was flexible during COVID to allow us to share with our family afar.

For point of reference, we did a simple elopement in his backyard. Very nice place and handy to get to.



Syril B.

Married on 02/02/2020

Everything was perfect!

We got engaged on Dec. 29, 2019 and we wanted to do an elopement/civil wedding on 02-02-2020 (we wanted to secure this date). We found Rick at the very last minute for a simple elopement. He is very professional and kept communication with us throughout and explained the process in detail. He asked for "our story" and he delivered every special moment of our story in the ceremony beautifully. We couldn't have asked anyone to marry us. This was a very specially day and everything was perfect thanks to Rick!

Emily P.

Married on 12/21/2019

Rick is the best!

I just got married on December 21.
Rick created a wonderful ceremony for our wedding, it was very thoughtful and kind.
Rick was very flexible and accommodating to us in location.
He is truly a kind and caring person.
Thank you Rick for making my wedding memorable.





Allison

Married on 11/08/2019

Recent wedding

Rick was our officiant for our wedding this past weekend and we couldn't have asked for more. He personalized our service and made it special. We felt like we knew him for years. I highly recommend using Bay Area Ceremonies if you are looking for an officiant.

Leticia A.

Married on 10/19/2019

Entertaining and Memorable

My husband, family, guests, and I greatly enjoyed Rick! He made the ceremony fun to experience for our guests and memorable for my husband and I.

Stephanie W.

Married on 10/13/2019

He Set the Tone for our Perfect Day

Rick was a great choice to officiate our wedding in October 2019. After reaching out to him, he welcomed us into his home to learn more about us individually, as a couple and what we're looking for in our wedding. Rick has a warmth about him and we felt comfortable instantly. He was the first officiant we meet with, and we didn't bother meeting with anyone else because we knew he was the one we wanted.

Leading up to the wedding Rick was great about providing the script for us to edit as needed, and he sent gentle reminders to submit revisions and send our vows. At the ceremony he was engaging and set the tone we wanted for our special day - warm, welcoming and lighthearted.

Rick is a professional, he knows what he's doing and he's accommodating. We couldn't have chosen a better person to officiate our wedding. Thank you, Rick!

Roger H.

Married on 10/04/2019

Rick was perfect for our little wedding

Our wedding officiant "Rick" was prompt, courteous, pleasant-mannered, and created a perfect little speech for our wedding that I felt covered our values as a couple. I never felt rushed in the slightest, and he made it seem like we were the only ones he was doing (in reality he had another that same day he said when I asked). My wife and I wanted a very low-key wedding in the woods that we had hiked many times before our marriage, and he took my advice on the location and made it work for all of us! He also took care of all the necessary paperwork after, so we didn't have to worry about those technicalities during this very special time. I would definitely recommend him to a friend, be it a small or large wedding.

Arielle

Married on 06/22/2019

We highly recommend Rick!

We loved having Rick as the officiant for our wedding. He really took the time to learn our story and wrote a beautiful ceremony which reflected our personalities and relationship fantastically, and captured the tone and style we were looking for in a wedding ceremony.
He was very organized and communicative with us throughout the process, and his easy-going nature helped calm our nerves leading up to the ceremony. He went through all of our options for every stage of the ceremony (things we hadn't even thought of!) and we decided together what we wanted to include. He also setup a recording of the ceremony which we really appreciated afterwards.
Overall, we thought he was very professional and experienced and we would recommend him to anyone looking for a thoughtful officiant!

Julie

Married on 03/09/2019

Wonderful ceremony

Rick created a wonderful ceremony for our wedding. His ceremony was kind, thoughtful and humorous. Our guests commented on the wonderful personal details Rick included. I can not imagine it being better.

Charles B.

Married on 02/09/2019

Rick is one in a million.

Quite honestly a couple could not ask for a better officiant for their wedding than Rick. His warmth, intelligence, kindness and thoughtfulness will make your special day incredible. Rick will surprise you with how amazing his attention to detail is. He will lower your stress level, brilliantly guide your decisions and share in your joy. We are in your debt Rick. Thank you for being who you are.
Are you interested?
Send a message