26 Reviews
Recommended by 96% of couples
Quality of service

4.8 out of 5 rating

Average response time

4.8 out of 5 rating

Professionalism

4.8 out of 5 rating

Value

4.8 out of 5 rating

Flexibility

4.8 out of 5 rating
Awards
30 User photos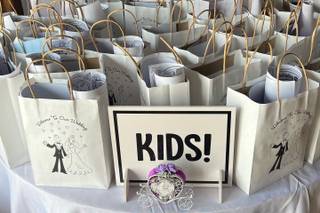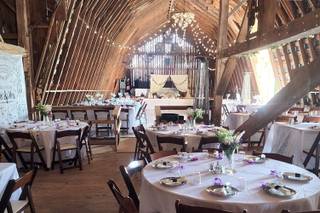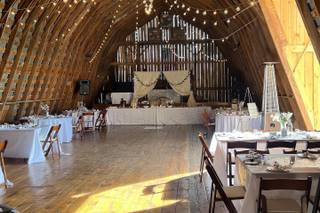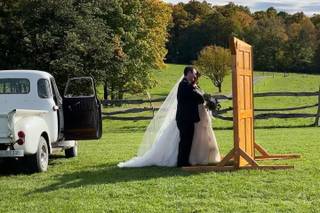 + 26

photos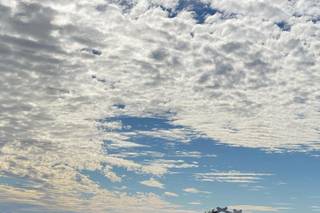 Barbie

Married on 10/01/2022

Barbie Broedel

Hands down - the Best Wedding Venue in Central New York!
No words can describe how wonderful they made our day!!
They gave us plenty of time to set up and worked so hard to make sure our day was beautiful!
We even believe that they pulled some strings so that the weather was gorgeous. Our vision fell into place and our day was just magical!!
Thank you to each one of you, who helped make our day one to remember!
Highly recommend !!!

+ 9

photos

Danyelle

Married on 08/28/2021

Seriously the best venue ever! I have 3 barn venues in my hometown of Roxbury NY and none of them were even close to my budget or my wants and needs. I didn't want to travel, but the second I set foot in Barnes Barn and met the Barnes family I knew that was going to be our venue. It was the most BEAUTIFUL ceremony, and the family was so accommodating I feel like they are a part of my family now! This is why far the best barn venue ever!

Brittany M.

Married on 06/05/2021

Perfect! Was the center of the best day ever!

The Barnes barn was the perfect place for our wedding. The Barnes family is a pleasure to work with and they are so friendly and accommodating to make sure the barn is ready for your special day. They take great pride and it shines through every inch of the barn. We loved the rustic feel and the history that is shown throughout the decorations in the barn. I couldn't have picked a better place to have our wedding, and I wish I could host a party there every year! You will not regret choosing them for your venue!

+ 4

photos

Are you interested?

Send a message

Kaitlyn H.

Married on 10/24/2020

Beautiful venue

We chose to have our ceremony and reception! When you rent with them you have access to the barn all week for set up and all day Sunday to clean up. The Barnes family was very helpful and responsive. The barn is large and beautiful. I can't say enough about what an amazing day we had!

+ 2

photos

Emily

Married on 07/27/2019

Loved this place

We went with Barnes for our venue, the ceremony spot on the hill is absolutely gorgeous, our photos are spectacular. They give you the entire week to set up, have no restrictions like other places, and are so flexible and accommodating. They have great bathrooms, tables and chairs, a bar area and fantastic lighting already in place. Lots of outdoor space and the Barnes family is incredibly nice. The doorway that we had put together for the outdoor ceremony came apart the night before from tipping over, and Barnes without skipping a beat, fixed it so it would stand in the breeze and decorated it in time for the ceremony and they never even told us, we happened to see them to working on it, they are wonderful people. When I started planning I was overwhelmed by the amount of things venues said we couldn't do or had to do, but I had the wedding I wanted, in my way, on my terms, and Barnes gave me the place to do it, and the ability to do what we wanted. I could not have asked for a more amazingly special place. Everyone asked us why we were getting married inNorth Brookfield, all of our guests said they totally see why we picked this place, I want to go back again and again. Thank you for making our day More amazing than we could have ever hoped. Book this place!

Margo

Married on 09/30/2018

Totally perfect location

Unlike many fo the barns in the area, which serve as a "destination," for folks from city, Barns Barn is really affordable. the place is beautiful-- we had out ceremony on top of a hill with a beautiful view, and used the barn for the reception. It is spacious, well decorated, and has a lot of personality. They are easy to communicate with (by text) and helped us set up the ceremony site. They are really nice, a family-run business, and the place was totally perfect.

+ 3

photos

Kevin

Married on 06/09/2018

I couldn't possibly be more appreciative of the Barnes crew for their hospitality, kindness and willingness to do anything for us. The barn was spectacular and we received compliments from people all day and night about how we chose the coolest venue ever. If you're considering a barn wedding, you NEED to talk to these people. THANK YOU!

Cannot say enough about how amazing it was to get married at Barnes Barn. It was absolutely wonderful. They were amazing people to work with - friendly, person, and flexible.
We were able to visit the venue a few times - to take measurements, photos, and share the place with family months before our wedding.
Then having access to the location for the whole week before our wedding was so convenient and it made decorating and setting up so much easier and fun!
During the wedding our guests loved being able to spend time dancing, but also enjoy the outside area.
The views from the ceremony location are breath taking.

I have already recommended the barn to friends and coworkers who are recently engaged and would recommend it to anyone else!

Julicia

Married on 05/05/2018

The Barnes Family is absolutely amazing to work with. The place is beautiful and can't wait to have our 5/5/18 wedding at Barnes Barn.

Whitney

Married on 06/03/2017

Everyone had a great time at our wedding with the ceremony and reception at the Barnes Barn! Not only is the view amazing, but the barn is gorgeous, spacious, and flexible for however you want it set up! The owners are amazingly sweet, nice, and extremely helpful. Bathrooms with running water, both indoor and out, tables and chairs were all included too. The big Bridal suite was a bonus for all the brides out there. If you're looking for a good spot for an outdoor or barn wedding, look no further!!

Sarah

Married on 10/15/2016

The Barnes Family is amazing. I could go on and on singing praises about Barnes Barn. They made the entire experience of booking our venue space all the way through to our 160 guest wedding a basically stress-free experience. If you want a beautiful, flexible and perfect reception venue you cannot go wrong with Barnes. The family is 100% responsive and went far and beyond to make our wedding a perfect one!

Dan

Married on 10/15/2016

If you're willing to put a little effort and personal flare into your big day, the Barnes family provide an excellent venue with stunning views! We couldn't be happier with the outcome and have already recommended Barnes Barn Events to friends looking for a cost effective place to get married with plenty of freedom for everyone to enjoy themselves. Make sure to check out the view from the top of the hill!

Amanda

Married on 10/08/2016

If you are planning a wedding and looking for a barn venue, or even a rustic place, you will 100% not be disappointed with Barnes Barn! As soon as my now husband and I first saw this beautiful venue we knew right then this is where we wanted our wedding to take place! Between the breathtaking views and the amazing barn this was everything we dreamed our wedding would look like and more! And having a family run business they know the importance of making your special day run as smoothly as your own friends and family know! Hands down the best venue and I highly recommend this place to anyone and everyone!

Maegan

Married on 09/10/2016

We couldn't have asked for a better venue to have for our wedding. It's a family run business and they were more then accommodating throughout our process. Megan was there to answer any questions I had about the venue whether it was day or night and was willing to meet and show the barn whenever I asked. They recently got brand new tables and chairs which are beautiful and match the barn perfectly. We also had our ceremony on site on top of the hill overlooking the valley and was beautiful. They have a homemade arbor that you can use for no extra cost that added to the beautiful view. It's next to her parents gorgeous log cabin and they were there letting us use whatever we needed. I've never felt so comfortable and relaxed knowing that they were there to help. Her brother parked all of my guests and made sure they got on the shuttle up the hill as well as there during the reception to move tables and chairs after dinner if need be. What I loved about this venue as well was that you get the barn for the whole week before which gives you plenty of time to set up and we even had our rehearsal dinner there. They have games set up for guests to play and there is already a rustic decor inside with a beautiful mason jar chandelier. They were so relaxed and flexible with whatever we wanted and is just simply a beautiful barn and view for any country wedding. I recommend this to any couple looking to do a barn wedding or any couple looking to do their own planning. It was alot of work but I loved that I was able to pick every detail of my wedding, they never said no! Def a mus if you love the outdoors!

Ashley

Married on 08/27/2016

We cannot even begin to explain how beautiful EVERYTHING at Barnes Barn is. Our wedding was our dream come true, from the beautiful view up on the hill to the rustic, beautiful barn just across the road where we had our reception. The Barnes Family is so nice, VERY easy to work with and very reasonable about all requests. They gave us access to the barn (up on the hill if we wanted) a week ahead and locked it each night! We were able to email them, call them and even text them when we had any questions. On the big day they were there incase we needed any help with anything. The BEST part about all the ways to contact them was how FAST they responded every time. If you are looking for a beautiful, affordable, family ran venue this is by far the best choice for your dream barn wedding.

Kathy

Married on 07/02/2016

The Barnes family went above and beyond my expectations. Not only were they there throughout the day of, the family was so open and willing to do anything we needed. From feeding the anxious bride snacks so I didn't pass out before I walked down the aisle, all the way to staying out late to start a fire for the wedding party. They went out of their way to make sure we had everything we needed without even asking. If you want a down to earth wedding experience with real people there to assist, I would 100% recommend this venue. I personally loved being able to decorate the venue the whole week before the wedding, it really allows you to take your time and not be as stressed during such a special time. The gorgeous views overlooking the hillside are breathtaking, and left my guests talking. The whole experience was incredible and couldn't have been possible without the whole family helping! Thank you!

Christie

Married on 05/14/2016

We would not hesitate to recommend Barnes Barn to anyone looking for a simple, yet fabulous venue space. The barn lends itself to be the perfect setting for any event. 5 stars for sure!!

We had our wedding there this past weekend and would not have changed a single thing about it or the whole experience we had with the Barnes family. Every one of them extended their assistance in more ways than we could have ever imagined. They were extremely easy to contact, always available to answer any questions we had, willing to meet with us and open the barn at our request, and beyond friendly and hospitable.

If asked to do it all again, I would not even consider another venue, I'd choose Barnes Barn again and again!! Thank you to Megan and the rest of the family for helping to make our wedding a night we truly will never forget!!!

Cherie

Married on 10/10/2015

There are not enough things that I can say about Barnes Barn and the family! This barn was an absolutely perfect venue for anyone who is looking for a barn venue. The barn is huge and has a lot of room for anyone having weddings having less than 100 to over 200! We had about 200 guests at our wedding and everyone fit very comfortably. The area that I live in, barns are becoming popular and are raising prices to crazy amounts, and Barnes Barn has kept their pricing so incredibly reasonable which helps make any wedding special regardless of your budget!! Megan, the daughter is a great event coordinator who is very flexible and let's you even come check out the barn when someone else is setting up for their wedding so you can see different ideas! I wasn't able to do that since I was planning from states away, but she went over and beyond and sent me pictures of every wedding held there and their ideas before my special day! The best thing to me is that the only do one wedding a week, which some people might think is odd, but as a bride, was AMAZING. They give you the whole week, if not a couple of days to set up the wedding so that you can take your time and set up the wedding of your dreams. A week before the wedding, there wasn't a bridal suite which they were originally going to build by my day, but another couple needed the space, and I kid you not by 3 DAYS the bridal suite was done and looked amazing!!!!!!! Every single one of my guests loved the barn and have been asking about it ever since. A couple of my friends have already contacted the barn about weddings because they loved it so much. Oh and the ceremony site.... ABSOLUTELY BREATHTAKING. One of the most amazing views I've ever seen, and my guests were in awe, especially with the peak fall colors shining through the valley. I seriously wish I could get married there every single year, and have the Barnes family be a part of my day over and over again!!!!!

Katie

Married on 08/29/2015

So, this is an update from a review that I left before we had our wedding. Now that we have actually experienced the whole event last week, I feel the need to gush more about Barnes Barn and the whole Barnes family! Last weekend was the best weekend of our lives and we owe it in large part, to the Barneses and their amazing property. They made the setup (which they allowed us to start the week prior), the ceremony, the reception, and even the cleanup (which we didn't complete until the Monday after our wedding) a complete fairy tale. Yes -- even cleaning up after our wedding was delightful! North Brookfield is roughly a 4.5 hour drive from where we and most of our family and friends live so we had a difficult time explaining to people why we had chosen this venue. As soon as people saw our ceremony location, which was up on the hill overlooking the valley, and the barn, which is a completely gorgeous, warmly lit, huge space, we were flooded by our friends and family telling us that they immediately "get it" and that they have never been to a more beautiful wedding. We hardly feel as if we can take any credit for that -- the scenery and the barn need no work at all to be outrageously impressive. Have your wedding at Barnes Barn. It'll be the best decision you ever make!

Katie

Married on 08/29/2015

My fiance and I are getting married at Barnes Barn this coming August. I cannot begin to describe how fortunate we feel that we found Barnes Barn as our venue. We live in Brooklyn, NY and we were looking to get married in a barn a little closer to the city but as soon as we visited Barnes Barn, we knew it was perfect for us -- the space, the grounds, the price, the flexibility, the people, the vibe. It is completely unlike the other wedding factory venues we had viewed that upcharge for everything, restrict you to which vendors you can use, and impose tons of rules and regulations on your day. To the contrary, the Barneses are so accommodating. They will be as helpful or as hands-off as you like. Megan Barnes, the venue coordinator, provided suggestions for caterers, transportation companies, hotels, and photographers to check out in the area but we were under no obligation to book with them. Anyway - back to the barn! It is huge, beautiful, gorgeously lit and the options for how to set it up are endless. We were struggling to find a venue that could hold our ~200 person crowd and Barnes Barn can handle it no problem. They also have lots of amenities in the barn that not many others have like on-site bathrooms, refrigerator and sink. As I mentioned, we haven't gotten married yet but we have seen the ceremony spot up on the hill. The views of the valley are unlike anything I have ever seen. I can't wait to get married there! My fiance and I also attended the barn dance that the Barnes throw every summer. It was wonderful to see the barn full of people and it gave us a sense of what it will look like on our wedding day. We knew that the Barneses were hosting and we didn't want to bother them but they greeted us so warmly, introduced us around and even taught us to square dance! We left walking on air and feeling like family. The Barneses understand that weddings are meant to be celebrations and we couldn't be happier to have ours Barnes Barn.

Clarissa

Married on 08/22/2015

Barnes Barn is the perfect venue! The Barnes family is so easy to work with and their property is gorgeous. We were given a whole week to set-up and Mr. Barnes checked in on us frequently to make sure we had everything we needed. We were allowed to choose any location we wanted on the property to have our ceremony, and it was great to be able to have our ceremony and reception at the same venue. The barn itself is spacious and allows for endless possibilities for set-up options. It also barely needs any decorating because it already looks so rustic. Also, our reception lasted two hours longer than we had expected and the Barnes family had no problem letting everyone stay a bit longer. We had such an amazing ceremony and reception, and we wouldn't have changed a thing about our day. We're so glad that we picked Barnes Barn as our venue!

Ashley

Married on 07/25/2015

This venue is the absolute best venue to have your wedding at. From the moment I called to come see it until days after my wedding the Barnes Family was absolutely incredible. Everytime I needed to come see the venue (multiple tea prior to the wedding) they were flexible and always got me in with a "no big deal" attitude and smile. We were able to start decorating the whole week of the wedding which is so incredible and they only have 1 wedding a weekend which was so nice not to be rushed out. Anything that we needed they provided, it is just seriously the most breath taking place in the area with views that will be imprinted into you and your guests minds forever. Every single guest's minds were blown and they compliments are never ending! If you want the most special and enchanting wedding then The only way to go is the Batnes way! Thank you so much Barnes family! A day we will never forget becaise of you sharing such a beautiful barn, home, and time with us. You will forever hold a special place in our hearts!

Much love,
The Austins

Joanna

Married on 08/30/2014

The Barnes' were extremely accommodating, professional and helpful. Not to mention, it's the most beautiful place I've ever been for a wedding. I've had multiple guests commenting that night, after, and still commenting about how beautiful our wedding venue was. Also, I've had several (engaged) couples inquire about the venue who were not at our wedding, but saw pictures or heard from people who were there how truly magnificent it is. If we had to do it all over again, there's no doubt in my mind, the location would remain the same! We instantly fell in love with The Barnes Barn!

Cheryl

Married on 07/23/2005

John and I were so glad we decided to have our wedding at the barn. The scenery, the food, and the barn itself help make our day unforgettable. Our guests still can't stop talking about what a great place it is! Thank you again to the Barnes family for helping every step of the way.

- Cheryl & John McGurk

Shelby

Married on 07/28/2018

It was a wonderful run through and viewing of the campus. Definitely more than what I could have expected. Certainly something I will always refer out for others.

Can't wait for my wedding day to fully enjoy the magic to come from this place!
Are you interested?
Send a message