71 Reviews
Recommended by 98% of couples
Quality of service

4.9 out of 5 rating

Average response time

4.9 out of 5 rating

Professionalism

4.9 out of 5 rating

Value

4.9 out of 5 rating

Flexibility

4.9 out of 5 rating
8 User photos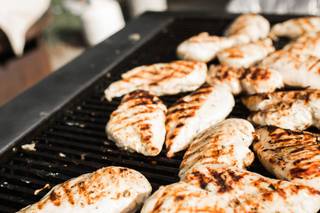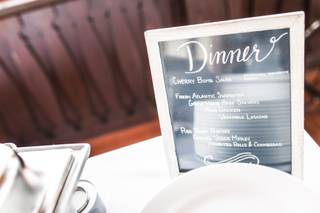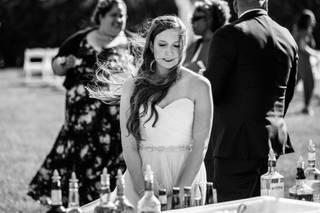 + 4

photos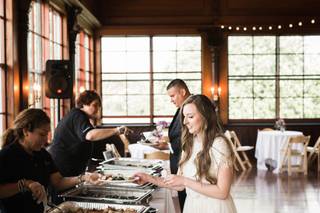 Featured

Meagan S.

Married on 10/12/2019

Incredible food and service!

B&M was by far the most incredible, expectation-exceeding aspect of our wedding. We planned our wedding from out of state, so we never got a chance to sample the food despite it being offered. We based our hiring entirely on reviews. We had high expectations based on what others had said, but even so B&M exceeded them. Not only were they incredibly affordable for what they offered (we did lobster bakes for 75 guests, appetizers, and bar), but they were so incredibly kind and helpful throughout the planning process and day itself. People raved--I mean raved--about the food. And we loved it too! They even insisted we take the leftovers home, so my family who were local to the area got to have more lobster and accompaniments for the next few days. They did a wonderful job setting up and cleaning up--and they even helped us dispose of some items that were not their technical responsibility to help with. Seriously, you will not regret your decision to hire them!

Shannon

Married on 10/08/2022

Amazing food and service

I recommend B&M Catering to anyone looking for a unique and fun option for your catering service. B&M has many options for you to choose from or mix and match to make your own food choices for any event! My husband and I had the pleasure of using B&M catering for our wedding on October 28, 2022 which is peak season for events. We asked them with very short notice and they went out of their way to make our big day happen! They are based out of Providence, Rhode Island , but made the journey up to our reception venue in North Brookfield Massachusetts. Since it would be impossible to keep the food warm for such a long trip they north their own grills and equipment to make the food on site for us to ensure everything was warm and fresh.
B&M's food is unbelievable. We had the marinated BBQ steak tips, BBQ baby back ribs, pineapple teriyaki chicken, cornbread, Mac and cheese, garden salad, and apple crisp for dessert served buffet style. All of the food was perfectly cooked and tasted out of this world. All of our guests kept coming up to us saying how much they liked the food and at the end of the night people were lining up to take home bowls of it. They made more than enough for our 90 guests including those who went for seconds and even thirds.
They also went out of their way when they arrived to the reception site to move some tables that had been getting dripped on as the wedding was in a tent outside. B&M's also cut our cake and laid it out for everyone despite it being a cake from an outside buisness. At the end of the night they even provided means for us to wrap up and transport all the extra food home.
All of the staff was extremely friendly, efficient and responsive. The company is also very fairly priced , including their very low travel fee.
If you're looking for a reliable catering company that will go out of their way to help make your event amazing then I recommend B& M's Catering!

Amanda S.

Married on 06/18/2022

You won't regret it!

The food was outstanding! Our wedding was two months ago and we are still getting compliments on how good it was. B&M Catering was recommended to us by our venue, the Endicott Estate. We worked with Tim from the start. He was very helpful and accommodating throughout the whole process. The service was fantastic and the team was super attentive, professional, and friendly the whole night. They really outdid themselves and we loved that we got to take home the leftovers.

Are you interested?

Send a message

Linda

Married on 10/23/2021

Highly recommend

I was planning a 25th anniversary party for my sister and brother-in-law and were looking for something different. They had a big formal wedding reception 25 years ago so we decided to do something a little bit more casual for the anniversary. We decided to do a pig roast. I did a search and found B&M Catering. They had great reviews and a great menu selection. I called them and spoke with Erin who is very pleasant to deal with. The day of we had John and Chris working the event. John was the one that arrived early and set everything up and started to prepare the pig and food. Chris showed up a little while afterwards and assisted. We had about 50 people and everyone raved about the food, not one complaint. We went with the chicken and pig menu and then we also added a cheese platter for an appetizer. They did a great job preparing everything right on site and servicing the event. There was plenty of food and lots of leftovers which they do leave with you. They also allow you to have your own food and beverage as well which is nice because some companies do not allow that. I would definitely book another event with them in the future. They made it so easy and did such a great job.

Marla B.

Married on 08/28/2021

Fantastic!

B&M was fantastic! Our guests loved the food and the portion sizes were anything but small. Tim and crew were amazing and supportive through the rescheduling process and with any covid concerns. Highly recommended!!

Charlotte K.

Married on 07/02/2021

Excellent catering company!

B&M catering was fabulous! The staff was very friendly and helpful. All of our guests commented on how great the food was. They checked in often and made sure we were all on the same page for expectations. They cleared empty plates and made sure the trash was all taken care of. All of the food was absolutely delicious!

Alisa I.

Married on 04/16/2021

Flavorable, Budget Friendly, Professional, Don't hestiate!!!

They were AMAZING! We were unable to have a tasting due to Covid, so we were a bit nervous, but our venue recommended them and we had heard good things. They were more than willing to listen to and work with our budget and go with the food we wanted. They also worked with us on table cloths and everyone working for them was so personable! (I constantly am craving that pulled pork and mac and cheese since the wedding) The buffet style went so well and they wouldn't even let us walk because of my dress and brought the food to us! They were just all so sweet and professional, they answered all questions for us throughout, and made sure to stay in contact. We could not be any happier and would not hesitate choosing them again for an event. We were so happy!!!

Staci G.

Married on 10/03/2020

One of the best

B&M Catering Co. is one of the best. We unfortunately had to cancel our wedding due to COVID19, but B&M's team was super responsive, very professional and I would absolutely hire them again for an event or if/when we have a big party to celebrate our wedding. The food is amazing, the staff friendly and knowledgeable and a pleasure to work with!

Christopher S.

Married on 08/29/2020

LGBT friendly & professional

My husband and I were looking for an LGBT friendly caterer near us to provide services for our wedding. From the moment we walked in the door, we were greeted with friendliness and professionalism. With Covid concerns, number of guests changing, choice of dishes and flatware, menu tweeking, this process was very stressful. However, the people at B&M Catering were amazing! They must see the stress all the time. They were so calm and accommodating to our needs and were always following up on the minor details of our wedding. We had so many little concerns, and on the day of the wedding, everything went off without a problem. Even things that I forgot about, the caterers remembered. They were friendly and unobtrusive and set the pace of the dining so flawlessly. We decided on a clambake in August. They cooked the lobsters away from the tent, set up tables and food line area and bar. B&M's recommendation to drop the clam chowder was a very good observation from them since the day was hot and humid. Professional all the way. B&M made us feel that our day was special. We were married on August 29th, 2020

Mark A.

Married on 05/24/2020

best BBQ ever!

Tim and his team at B&M are awesome! We used them kind of last minute for our backyard wedding and they did a heck of a job. Even through all the different protocols and struggles with the pandemic, Tim was very responsive and supportive throughout the process of planning our backyard wedding. The quality of the food was superb! Nothing but compliments all night from our guests. The crew even packaged away ALL of the leftovers (and let me tell you there was A LOT of leftover food!) and they put it in our fridge, which to me is above and beyond. We also hired the bartender through B&M and he was super fun and kept spirits high even in the crappy weather. Nothing but good things to say about this company, I HIGHLY recommend them for any of your catering needs!

Lynsey

Married on 10/12/2019

Incredible Food & Service

B & M Catered our backyard wedding and it was amazing! Food and service was fantastic, even guests kept telling me afterwards how great the food was! We did a custom menu of BBQ Steak Tips and Salmon which worked out perfectly. They even accommodated separate plates for allergies and vegan. Day-of service was also spot-on. Everything was on-time, delicious, and went so smoothly. Tim even came over to our table as soon as food was served to make us a plate of everything we wanted. Bride and Groom were top of mind all night and I cannot say enough great things about them. Highly recommend them to anyone looking for an on-site cooking and serving vendor. Thanks B & M for helping to make my dream day perfect!

Jenn D.

Married on 10/12/2019

Outstanding experience!

We hired B&M to cater our wedding in Fairhaven, MA, on Columbus Day weekend. From the moment we started working with them, they were absolutely fantastic! We were hoping to find someone who could do a lobster bake, and B&M Catering can do it all - they offered a wide selection of options for menu choices and combinations, as well as linen services and bar services. We went with the Ultimate Beantown Clambake - our guests were blown away by the quality, and quantity, of the food. Everyone said it was hands down the best wedding dinner they'd ever had! The staff was also amazing; everyone from the account managers to the on-site staff were friendly, helpful, easy to work with, and highly professional. The price was affordable and the quality of service and the food was top notch. They helped make our wedding day one to remember!

Laura F.

Married on 09/08/2019

Excellent Food, Service and Value. Thank you Susan and Lucy!

B and M brought an entire New England Clambake to our wedding reception at a private home. What's amazing is that they brought everything with them they needed to prepare lobsters, clams, mussels, potatoes and more, as well as a grill to prepare delicious sirloins. They only needed water for the extremely large steampot with which they cooked. Talk about efficient!
The food. Fresh, delicious and plentiful. Unless you don't like fresh Maine lobster steamed to perfection or fresh hot cornbread, you have nothing to worry about with B & M.
Susan and Lucy. I hope I have these names correct, because these two ladies handled the entire party, and they were gracious, friendly but professional, and took each request in easy stride. They really deserve so much credit for their outstanding service to our family and friends. So thank you ladies!
Pricing and setup. Personally, for the quality and quantity of food & service we received, we almost view B & M as a bargain!
You can tell from the response to your very first email that a high level of customer service and communication is the way B & M does business. They are not just responsive, but eager to offer suggestions that may enhance your affair and/or save you money.
If you're planning a wedding or any affair outdoors, we couldn't recommend B & M enough. It sounds like a cliche to say they exceeded our expectations, but that's exactly what they did. Bravo.

B&M Catering Company's reply:

Hi Laura,

Thank you so much for the kind words!
We are so glad to hear that Susan and Lucy exceeded your expectations and the food was well received. I will certainly pass along your praise to these two ladies.

It was a pleasure assisting you these past couple of months, and we look forward to the opportunity of working with you again in the future.

-Stephanie, B&M Office

Sally F.

Married on 08/25/2019

Simply The Best

We chose B & M to cater our August wedding and were absolutely thrilled with the results! From the initial tasting to final cleanup, everything was handled professionally and efficiently. The selection of menu options is vast and flexible. The food is perfectly delicious and quantities generous. Any leftovers are boxed up for you to take home. As we finished our photo shoot during the cocktail hour, we were amazed to see the B & M staff folding up chairs and taking down decorations from our ceremony site - completely unasked! We could not recommend them more highly for any occasion.

Bailey

Married on 08/17/2019

Best Experience!

Our experience with B&M for our wedding was amazing from start to finish. From the first time we contacted them and their team was so responsive and helped us set up our tasting. Then, when we thought we had everything all set with them, we had a sort of last minute change in venue and I kid you not, the staff at B&M (shoutout specifically to Tim!) were so calming and reassured us that everything was going to be absolutely fine. Their ability to totally change speeds when we changed our venue is indicative of the incredibly well functioned machine that is this catering company. I say machine, but what we really got was a direct and personal relationship with Tim along the way that made us feel like we were their only clients for our wedding day. The phone lines were always open, and we used them often! But never felt like we were being pushed aside and our concerns were always addressed with professionalism, respect, and total kindness. Then of course there was THE FOOD that people would not stop talking about to us after our wedding! We chose a stations menu because that worked the best for us and we were able to personalize it so that we got absolutely everything we wanted. To the B&M team/staff - thank you sincerely for making our day the best it could have been with wedding food that will be seriously hard to beat.

Kathi

Married on 06/29/2019

Great caterer! Food was great and displayed beautifully!

The staff at B&M catering were awesome! They were so easy to deal with and very conscientious! The food was great, reasonably priced, and very nicely displayed. They went the extra mile in ensuring that our wedding party was a success. Thank you so much!!

Kristin

Married on 06/01/2019

Delicious!

Absolutely the best decision we made was hiring b&m. Everyone loved the food! They were so easy to work with and have a fantastic staff!

Sydney

Married on 05/26/2019

Great food!

Everyone was raving about the food and we were sent home with PANS of what was left! So nice not to have to cook right away! They were great to work with and made sure everything was perfect right up to the last minute!

Stacy

Married on 05/25/2019

Fantastic service!

B&M Catering was one of the first vendors that we booked, as their menu options and pricing fit our needs perfectly, and the food tasting blew us away! They were extremely responsive and the tasting was so personal, with them providing suggestions based on our feedback. As a result, we ended up with a menu that we felt was exactly what we wanted and a great selection to please everyone. We knew we wanted a buffet, but wanted something that felt more upscale - we ended up being able to have mojo chicken, garlic herb beef skewers, and atlantic swordfish for proteins, which impressed all of the guests. We also chose B&M for bartending services, and the options that they were able to provide (full open bar) were great! The service throughout the night was wonderful, and the staff did an amazing job ensuring everyone had enough to eat and drink, tables were cleared in a timely manner, and the food was hot and fresh for everyone! They were expertly able to support both our outdoor cocktail hour (appetizers-stations and passed & full bar) and indoor reception (buffet & full bar). We would definitely recommend B&M for catering and bartending services!

+ 5

photos

Andrea S.

Married on 10/27/2018

Amazing experience

I would 1000% recommend B&M catering for anyone looking for someone for their wedding. They did a beyond Amazing job.

Stephanie went above and beyond to make sure my husband and I were always satisfied and happy the entire night. She even went out of her way to make sure I had an umbrella over me while I got out of the limo to go into the ceremony (it was pouring rain ) those are the little things that add up to Amazing customer service ! Which I appreciated a lot !
Also the food was fantastic , everyone was raving about it ! The whole company was so accommodating and fantastic with the rain and all. They cooked the food on site and had to do it all out side .. with pouring rain !! Impressive !
If your stuck between another catering company and B&M I would 1000% say B&M ! You won't be disappointed!
Thank you

B&M Catering Company's reply:

Andrea-
Thank you so much for the kind words! Your wedding day was absolutely breathtaking despite the rain. Glad to hear the guests raved about the food.
It was a pleasure helping you plan your perfect day, and we wish you and Ian the best of luck!

-Stephanie, B&M Office

Shilah

Married on 10/20/2018

Superior Service

Right from the get go, we were impressed by their quick response and invitation to come in for a tasting. This continued when we attended the tasting. We had a vague idea of what we were looking for in a menu and they nailed it. They completely got us and came up with a perfect menu for us and were willing to work within our budget. Every question we had along the way was answered promptly and immediately put our minds at ease. They were so accommodating.

The day of the wedding, Sue and the entire staff were so amazing. They took such good care of us and made sure that we were able to eat during cocktail hour and made us plates for dinner to ensure that we were able to sit and eat. This may seem like a small thing, but we greatly appreciated it. She continued to check on us throughout the night to ensure that our needs were met. She was just so wonderful!

Additionally the food was spectacular! We enjoyed it so much and received so many compliments from our guests. No one went hungry and we had so much food left over that we were able to donate it to a homeless shelter.

Jessica

Married on 10/19/2018

Quality and Professionalism at its highest.

I had B&M cater my wedding this past weekend. We are still getting raves from guests about it! Since our initial emails, tastings, final decision makings, and the big day, B&M were incredibly professional, patient, and just perfect. They happily answered all of my questions, no matter how silly. I even had many picky guests and dietary restrictions and they were so gracious and helpful to accommodate everyone. On the day of, they were so helpful (even with setting up things for the wedding that weren't their responsibility). They really showed just how much they care for their clients. They actively made sure my husband and I were eating and having a great time. They even brought our food to us so we wouldn't miss out. You have no idea how many times I've heard friends who said that they barely ate at their wedding. B&M made sure we were taken care of. Now for the food. It was absolutely delicious. Everyone was overwhelmingly satisfied. Most of our guests would stop me just to tell me how great the food was, and it really was. The crew even packed up all the leftovers and personally spoke to me about what was there, where it was, etc. They were just really the best. I couldn't have asked for more. They went above and beyond.

Alyssa W.

Married on 10/07/2018

Amazing in every aspect!

We used B&M for our wedding caterer! We could not have been more pleased with our experience from start to finish! When planning a wedding (as most couples know), response to emails/calls and friendly staff make all the difference and that is for sure an area that they are not lacking in by any means. Our emails/calls were answered so quickly and everyone was always so pleasant and helpful with their professional opinions! They were amazing when helping us determine our menu while also staying within our budget. Our guests ranted and raved about the food (the corn bread was an absolute huge hit)! Our vendors and venue commented on how professional and thorough the staff were and how they were such a pleasure to work with! I have to say the leftovers were amazing and we're so awesome to have after the long busy weekend! We would recommend B&M to anyone and would love to use them again at our next event! Thank you for such an amazing experience!!

Anne

Married on 10/06/2018

We worked with Stephanie, Tim and Mickey at B&M for our October wedding at Terrydiddle Farm and couldn't be happier with the results! From our initial email they went above and beyond to accommodate us in what we were looking for on our big day. We had a good amount of back and forth, working out proposals and finding just the right choices and amount of food for our guests. The tasting was amazing and we walked out of there with a menu that was sure to please (as well as tons of leftovers). We went with bbq steak tips, herb garlic chicken, cornbread, mixed veggies, mac and cheese with their amazing apple crisp for dessert and everyone we talked to loved it! Aside from the food, B&M was able to take care of our linens, cutlery and iced tea/coffee/water service too. On our big day we didn't have to worry about a thing which was a great feeling. We'd highly recommend B&M for anyone looking for a caterer for their wedding!

Kathy

Married on 09/07/2018

Thank you so much to the entire staff at B&M Catering and the crew of servers and bartenders who did such an OUTSTANDING job in catering my daughter's wedding. The food was wonderful and we can't say enough good things about the staff and service . The went out of their way to make my daughter's reception a success in every way! Thank you B&M Catering for helping to make this special day so unforgettable!!
Sincerely,
Rich and Kathy L.

Are you interested?
Send a message