125 Reviews
Recommended by 96% of couples
Quality of service

4.8 out of 5 rating

Average response time

4.9 out of 5 rating

Professionalism

4.8 out of 5 rating

Value

4.7 out of 5 rating

Flexibility

4.8 out of 5 rating
10 User photos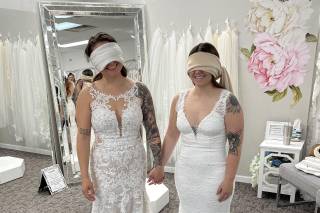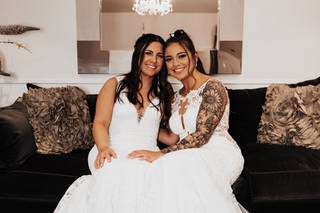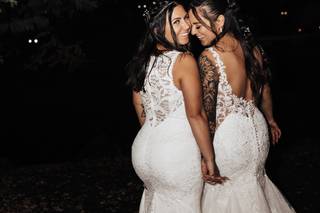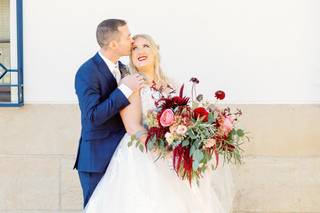 + 6

photos
Trudy H.

Getting married on 05/06/2023

Loved it!!

Had a great time. Very professional, Sam was the best!!!

Naleah

Married on 04/30/2022

The best!

B.B bridal was such a great experience! Ellie was so sweet and so very helpful!! They all are so kind and so professional! I found my dream dress and I had so much fun!!

Chelsea R.

Married on 10/17/2021

Best Bridal shop in Boise!

All of the ladies who work at BB Bridal are incredibly sweet and thoughtful! As a female couple, it was important to my wife and I that we did not see each other in our dresses before the wedding but looked great together. We both wanted to shop at BB with our friends and sisters on the same day too! And we are SO glad we decided to go for it! Sam has a special place in our hearts because she helped us so much throughout the process and has been available for questions leading up to and even after the wedding! She not only helped us find the wedding dresses of our dreams, but also made sure we didn't see each other while still experiencing all of the special moments that day. We LOVE BB Bridal in Boise and recommend them to everyone we know whose bridal shopping!

Are you interested?

Send a message

Christina

Married on 10/16/2021

Very professional staff, large selection of dresses!

The team at B.B Bridal Boutique were very helpful in directing a new bride all among the many styles of dresses. I had an idea of what I like in pictures but it wasn't until I tried on THE DRESS for me picked out by one of the styling consultants that I had that moment of "OH MY GOD, I'M GETTING MARRIED IN THIS DRESS!" They made great recommendations for seamstress and dress preservation. I got my dress and my veil there!

Anna

Married on 08/15/2021

Amazing and Helpful!

I cannot say enough good things about this store and the staff! As a covid bride looking for a second dress because the first one no longer fit I was a little less than thrilled to be doing so. My consultant Sam was so helpful and truly listened to my thoughts and found me options that I loved and worked in my timeline. The owner Stephanie was so helpful when it came to all the small details and making sure the pickup process was easy! Everyone was so helpful and made the entire process from try on to purchase (and finding someone for alterations!) so smooth I would highly recommend them to everyone I know!!!

Selena M.

Married on 11/06/2020

Amazing dresses

Great service, professional and very helpful nice employees

Crystelle

Married on 10/01/2020

Amazing!! Would highly recommend. Kind & accommodating associates.

All of the associates were super kind & accommodating. I came by myself and felt super comfortable with the girl helping me. I didn't feel pressured. She only showed me stuff I expressed to her I liked & within my budget. I actually ended up finding something I absolutely loved well under my price range!

Devin

Married on 09/18/2020

Love my dress and experience

My mom and I had a great experience here. We stopped in one day without an appointment and they still quickly had me into two dresses, while booking another day for full try-on experience. Love that my name was on the board as I walked in. They knew I was in a time crunch for buying a dress and alterations within 2.5 months. We bought off the rack. They were very responsive when I wanted to try on my favorites one more time to make a big decision. Treated my mom great! Recommended Alterations by Yvonne who also quickly had me fitted into "my" size dress officially. I had time to spare before my big day just admiring my dress. Thanks to all!!!

Jenn M.

Married on 05/02/2020

Enjoyable and stress free

The whole crew here is so warm and welcoming! They make you feel like it's just you in the shop and are great at giving suggestions on what is most flattering to your body. They truly want to make sure you find the dress that is perfect for you and still in your price range. They don't pressure you at all but offer sincere guidance while offering the pros and cons of each dress you try on. I was on a tight deadline for getting my dress and they made sure I tried on dresses that would all be possible to have in time and steered me away from ones that were out of the realm of possibility which was extremely appreciated. They made the whole experience enjoyable and they have an awesome selection to go through. Thank you, Stephanie and company at BB Bridal!

Brittany

Married on 08/03/2019

Dress Consultant

I had the best experience at B.B. Bridal. They were extremely personable and took the time to make sure I got the perfect wedding dress. Allison was such an amazing consultant. She was genuine, friendly, and has a good eye for wedding everything (belt, straps, veil, etc.). I would highly recommend B.B. Bridal!

Grace

Married on 06/29/2019

I had the BEST and most fun time at B.B. Bridal! Stephanie was such a responsive, knowledgeable, and delightful consultant who helped me find the most spectacular dress. She and Naomi matched my energy as I searched for a dress to match my whimsical and romantic backyard garden wedding. The selection here is small but mighty, and I was blown away by the variety of gowns I was able to try and the eventual gown I ended up ordering - I am SO glad I found this gem of a boutique.

B.B. Bridal's reply:

Grace, we can't wait to see you wedding photos because the dress you chose was perfect for you. Thanks for allowing us to be part of your wedding experience.

Jodie

Married on 06/23/2019

Amazing!!!!

I am so happy with my decision to go to B. B. Bridal to look for my dream wedding dress. It wasn't the only place I looked at but it was hands down the best experience all around!! Naomi was awesome to work with and helped make my experience so great! Highly recommend!!!!

Katie

Married on 05/10/2019

Beautiful bridal boutique and amazing staff

When I began wedding dress shopping, I had probably gone to 4 or 5 different bridal boutiques and just couldn't find "the one". After spending hours in a different local bridal boutique trying to find the perfect dress, I eventually left crying as the staff made me feel like I was only a commission and they didn't have exactly what I was looking for in a dress within my budget.

One of my bridesmaids suggested B.B. Bridal in Boise and took me there on a whim. As soon as I entered the store, I instantly felt invited by all the staff and was amazed by the quality and beauty in all the dresses they provided. The woman who pulled the dresses only pulled ones that were in my budget and to be honest, I could have bought three or four dresses they were all so gorgeous! I decided on a sale dress and was even offered an additional discount just because. I will forever recommend B.B. Bridal to all of my friends getting married as they made me felt welcomed and beautiful.

Jasmine

Married on 09/15/2018

I meant to write this review months ago but life has been busy.. I started my wedding dress shopping at David's Bridal like several brides do, and left feeling extremely discouraged and concerned I wasn't going to find a dress. I felt as though they didn't listen to what I was looking for and the gal helping me seemed clueless. David's Bridal reminded me of the Walmart of wedding dresses- all of the dresses were crammed into a clear plastic bag.
Without out knowing where to go next I reached out to friends for their advice and I'm so happy I did. I called B.B. Bridal and they were extremely flexible with my schedule and my bridesmaids who would be joining me. They got me right in. When we arrived we were greeted promptly and that's when I met Sammi, my consultant. I will start out by saying she was amazing! She listened to what I wanted, looked at pictures, asked questions and went over my price point. A couple dresses were even over my price that my bridesmaids were pulling and she made sure to make me aware of how much they cost before I tried them on. Through out the entire process Sammi was extremely helpful and personable. We chatted about our families and our kids and our wedding(s)-my plans. She made me feel incredibly comfortable and helped me find the perfect dress. My friends and I kept raving about what a difference Sammi made in in comparison to the consultant at David's Bridal.
Not only was my consultant great, all of the ladies were helpful and the dresses were hung in the open so you could actually view them. It was a night and day difference and I would highly recommend B.B Bridal to any bride.



B.B. Bridal's reply:

I want to thank you for allowing us to help you be a part of your wedding planning. We are always happy when brides find us and we are able to help. We love our jobs and the smiles we get to put on brides faces. We can't wait to see your wedding photos.


Megan

Married on 08/18/2018

Great little shop with beautiful dresses!

I almost didn't go to BB Bridal because I thought La Neige would be my "boutique" option. I am so glad I did because I ended up trying on a dress and buying it that same day! I found out about them at one of the expos and they had me set an appt during their trunk sale. I would definitely recommend this as I got a really beautiful dress for quite a bit lower than what I would have normally paid. The service was awesome. I felt like the attendants were paying attention to me and helped figure out what I wanted. (Because I still didn't really even know what I wanted at that point!!) They had a beautiful veil which matched my dress perfectly. They were a smaller shop but I thought they had a lot to choose from, lots of different styles and designers. They had a wide price range but I would say the majority of their dresses were over $1,000 (at least the ones I looked at). My dress came in faster than they predicted. They don't do alterations but they referred me to someone who did. Would definitely recommend BB Bridal to my friends and family!

B.B. Bridal's reply:

Thank you for the kind words. You looked amazing on your wedding day. When you find the dress you just know. I am glad you found it here with us. Congrats!

Ashley

Married on 07/28/2018

I seriously cannot say enough good things about BB Bridal! Everyone I interacted with was amazing. During my first appointment I tried on lots of dresses, but wasn't quite sure if I had found "the one." Stephanie called me to let me know they were doing a trunk show, and booked another appointment for me. Naomi was so sweet, kind, and patient with me as I tried on dress after dress. She offered candid and helpful feedback, had an eye for my style, and didn't pressure me in any way. When I finally made my decision, she and Stephanie were so helpful and flexible in squeezing me back in between appointments for measurements. Thank you SO much BB!

Bree

Married on 09/09/2017

Alexus was so great! I came back twice, and they were able to accommodate my large party of relatives- on a Sunday no less. I tried on the dress I bought at another shop in town but purchased it at BB Bridal because I liked the service I got a lot more. Thanks so much!

Molly

Married on 05/27/2017

I cannot say enough good things about my experience at BB Bridal! I was in Boise for just a few days and only had one day to shop for wedding dresses. I picked BB Bridal as my first stop because they are the only shop in Boise that carries Stella York dresses. I had emailed the store ahead of time about a certain dress I found online, and when I got to the store, it was already pulled and in my dressing room! My consultant, Sam, was AMAZING! She accommodated my large group of family and friends, and walked me through the process of picking and trying on dresses. I was so comfortable with her and she really listened to everything I had to say. I did not feel pressured at all!! I only had to try on 5 dresses, and it turns out, the one I found online ahead of time was the dress I picked! I told Sam that I was not going to be back in the states again until 2 weeks before my wedding next summer due to military commitments. She and Alexus did everything in their power to make sure I would get my dream dress and be able to have it altered in time for my wedding. They called their manager and their alterations lady to make sure everything would work out for me and my timeline! They put my mind at ease with what could have been a very stressful process. I could not have asked for anything or anyone better. I cannot wait to wear by wedding dress next summer! Thank you Sam and Alexus and the whole BB Bridal team!

Annie

Married on 11/25/2016

This was my first time trying on dresses, and Bailey made it such an amazing experience! She pulled dresses into the dressing room that I would never imagine wearing and one of them is the ONE!!!! There is more than enough room for the bridal party to be there (mine was 5 girls), and they were welcomed with open arms! This was completely stress free and the dresses are totally affordable. If you are looking for a dress you better hit this spot for sure!

Amaya

Married on 10/22/2016

I really enjoyed working with BB Bridal and Sam. I was working with a shorter timeline (less than 4 months) and they helped me get my dress with plenty of time for alterations. I chose and Allure gown and absolutely loved it.

Morgan

Married on 10/08/2016

I very much enjoyed working with the staff at bb bridal. I spent the morning at David's and was so discouraged and upset because their service was horrible.

Brittany

Married on 09/17/2016

I absolutely loved B.B. Bridal. I felt completely comfortable and at ease in the store. It was the second shop I had been to while dress shopping and even continued to go to a couple after that, but B.B. Bridal was by far my favorite. They had attentive staff, beautiful dresses and great prices. I found a dress I knew I loved but didn't buy it quite yet. I called a couple weeks later and asked if I could come in to try it on one more time and there were able to fit me in and gave me undivided attention while I was there. And the ladies who work here are so nice! I loved everything about my dress shopping experience and can't wait for my wedding in a couple weeks. Boise and surrounding area brides.. head to B.B. Bridal.. you won't be disappointed!

Andrea

Married on 07/16/2016

The only place in town that had the style of dress I was looking for. Friendly service from the moment I walked through the door. They even squeezed me in in-between appointments to try on dresses.

Brenley

Married on 07/09/2016

I loved my experience with BB Bridal! Bailey was so great to work with when picking out the dress of my dreams. With bridesmaids, moms, and lots of opinions, she made me so comfortable and reminded me that this was all about my wedding day and the day I had dreamed of. She was willing to let me try all sorts of different styles in order to find what really fit me the best. Thank you for an amazing experience!

Dani

Married on 11/07/2015

Visited the store twice and had to different girls help me, both were absolutely wonderful!
Are you interested?
Send a message